Discover the diverse world of bed headboards with FixingExpert Dubai! From classic to contemporary, our experts listed the 7 different types of headboards, providing insightful tips and advice for your bedroom makeover. Enhance your sleeping sanctuary with our professional guidance and transform your space into a stylish haven. Don't miss out on the ultimate headboard inspiration – visit FixingExpert Dubai today!
Discover The World Of Headboard Styles: Types & Varieties Explained
When it comes to bedroom decor, the headboard acts as a key element in enhancing the overall aesthetics and comfort of your sleeping space. However, you can make a perfect purchase only when you know all about the different types and varieties available on the market.
1. Traditional Headboards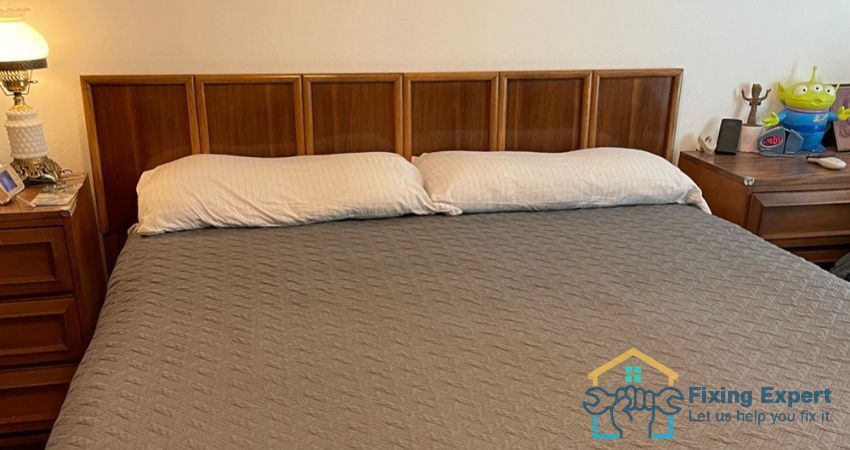 It is one of the most popular styles & is bed-frame mounted. Speaking of material construction, this type of bed headboard is made of various materials including wood, metal, and fabric varieties. You can make a purchase in the desired color and grain finishing option.
They typically feature more ornate designs with intricate details, such as carved wood or tufted sofa upholstery. Some popular styles include sleigh, panel, and poster bedheads. If you are looking for a classic, timeless look for your bedroom, a traditional headboard may be the perfect choice for you.
2. Upholstered Bed Headboards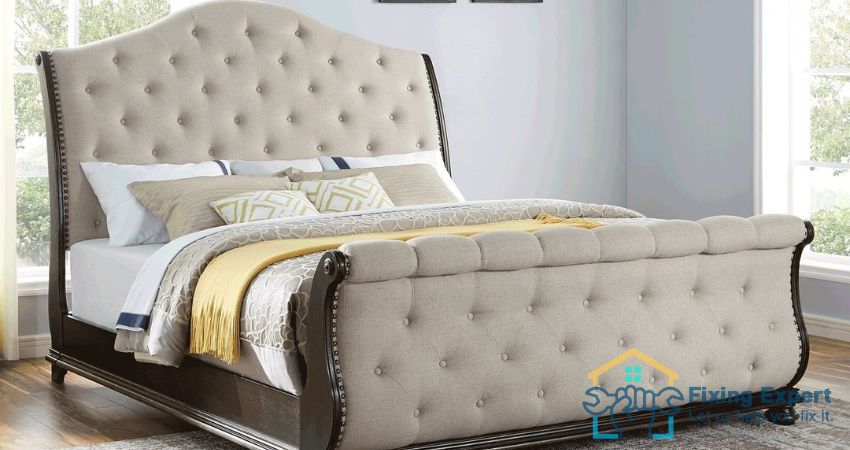 Speak of a stylish and comfortable addition to any bedroom and you'll find the name upholstered bedsteads. They are typically made with a padded or cushioned fabric covering. This type of headboard is available in a wide range of styles, colors, and materials, making it easy to find one that complements your decor.
Speaking of the variations available, you can opt for tufted, buttoned, and padded styles. Tufted headboards feature buttons or knots that create a quilted look, while buttoned varieties have a series of buttons that add texture and depth. Padded options are simply upholstered with a soft, cushioned material for added comfort.
3. Headboards Made With Wood
Wooden bed frames are a popular choice for their durability and classic look. They come in a variety of styles, from simple and modern to ornate and traditional varieties. They are often made from solid wood or engineered wood and can be finished with a stain, paint, or natural wood grain.
Common types of wood materials used in their construction include oak, pine, maple, and cherry. These bedsteads are easy to maintain and can last for many years. The three most popular varieties include carved, slated, and reclaimed wood bed rails.
Carved-style options are intricately designed with patterns or motifs, while slatted bedsteads feature horizontal or vertical wooden slats. Reclaimed wood bed posts are made from salvaged wood, giving them a unique and rustic look.
4. Metal Headboards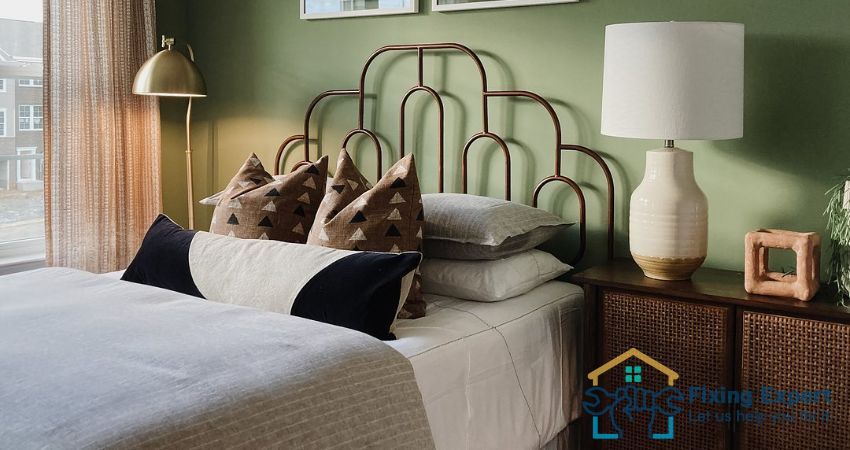 Metal bedsteads are a stylish and durable option. They come in a variety of designs, including wrought iron, brass, and steel. Wrought iron bed rails are known for their intricate designs and durability, making them a popular choice for traditional and rustic bedrooms.
The brass bedhead is elegant and timeless in design, adding a touch of luxury to any bedroom. Bedposts made of steel are sleek and modern, often featuring clean lines and geometric shapes.
On the whole, these bedposts are easy to clean and maintain and can last for many years. They are also versatile, as they can be painted or finished to match any decor style.
5. Platform Headboards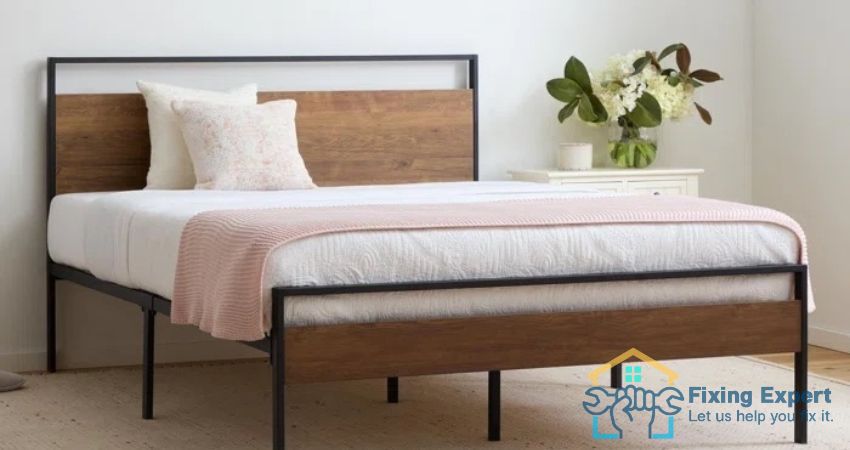 These bed rails come with storage options and feature a low-profile design. They offer a modern and sleek look to any bedroom and are often designed with clean lines and minimalistic features.
Platform bed heads are highly functional as they can double up the interior storage options. Because these bedposts may include drawers, shelves, and cabinets. This makes platform bed heads an excellent choice for smaller bedrooms or anyone looking to maximize their storage space.
6. Floating Headboards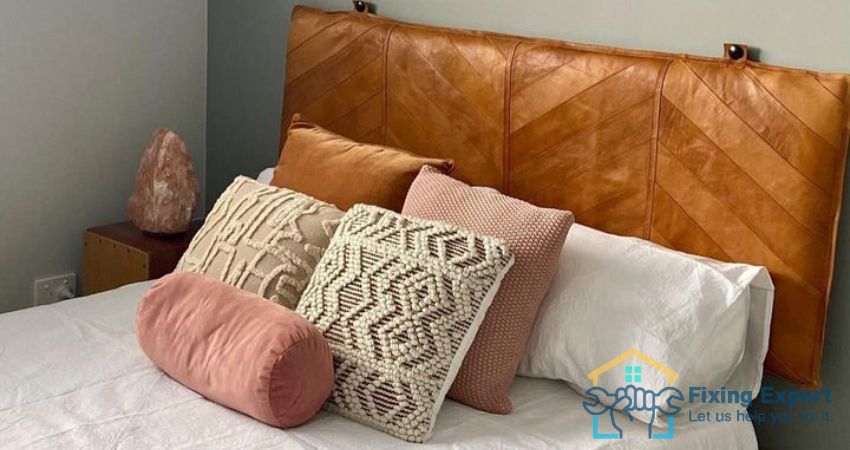 Also known as floating bedheads, these bedheads are available in a variety of materials, including wood, metal, and upholstered options. They are mounted directly to the wall and offer a minimalistic and sleek appearance to improve bedroom aesthetics.
Floating bed heads are highly functional, as they can be customized to include integrated lighting or floating shelves. To add further, the bedstead includes a soft and ambient lighting source with shelves serving the purpose of additional storage.
For those looking to scale up their bedrooms and with additional storage, nothing's better than floating bedsteads. Coming toward the installation options, you can instate these bed rails using brackets or French cleats & the weight and size of the bedpost are the deciding factors.
Headboards serve as a focal point in the bedroom and can enhance the overall design and style of the bed. Custom-made furniture allows individuals to choose headboard designs that match their personal taste, room decor, and desired aesthetic.
7. Bookcase Headboards
Seeking a practical and appealing headboard design with additional storage? Bookcase bedhead is your ultimate choice. Just as the name suggests, these bedsteads feature built-in shelves for ample storage of books, decor accessories, and other small-sized storage items.
These bedposts are the most favorable options for small-sized interiors because they eliminate the need for additional bookshelves or storage units. Speaking of material construction, you'll find these bedsteads come in different materials including wood, metal, and upholstered options.
In terms of sizes, you can have bookcase headboards that cover the entire wall area behind your bed frames while small-scale coverage is also an option.
8. DIY Headboard Options
Crafting your own bedhead is not a bad idea. In fact, it is a practical approach to refreshing your resourcefulness. Not to mention that you'll be adding a touch of your personality and uniqueness with a DIY bed headboard addition to your bedroom.
Some of the most creative approaches to DIY bedpost designs require you to repurpose old doors and shutters in your home garage. It's irrefutable that you'll need specific tools and materials like cutting equipment and fabric materials to perform this strenuous yet mind-refreshing task.
In short, crafting DIY bedsteads is a fun and rewinding activity that adds to the aesthetics and charm of your bedroom design.
9. Adjustable Headboards For Beds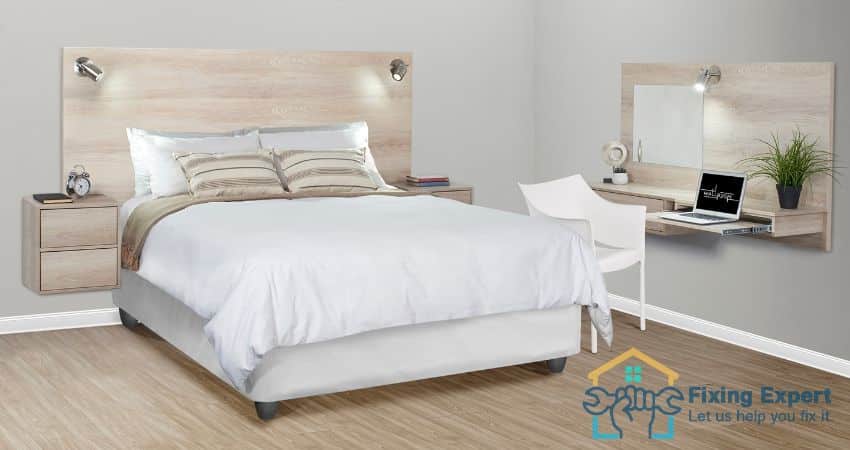 Like in the name, these bedheads come with a moveable panel to adjust the angle of the bedstead with bed frame movement. This bedpost style is getting attention from the masses due to providing a customizable sleeping experience.
These bed rails offer the benefits of added comfort and support while watching TV, reading a decor blog, and in various scenarios. They are also available in different sizes and multiple configurations like single-panel or multiple-panel bedheads.
Some Other Varieties Of Headboard Designs
In addition to the options explained, there are multiple options to look at when making a purchase for your bedstead. These include natural fiber, leather-upholstered, minimalist, and eco-friendly bed headboards.
Out of these options available on the market, people are considering bedheads crafted using sustainable materials like bamboo, reclaimed wood, & organic cotton (eco-friendly) to reduce the environmental impact. Hence, you can experiment to amp up the bedroom decor with any of these bedpost designs and styles.
Read More: 7 Different Types of Bedrooms Window Treatments
Headboard Alternatives: Considerations & Options That Are Compatible
Having a bedstead is not the thumb rule and you can always break this societal norm to induce your own personality and choices into the bedroom design. Some popular bed headboard alternatives include wallpapers, tapestries, and wall art design.
Wall decals are customizable designs that are applied to the wall behind the bed frame in place of a bedstead. These designs can be attached or removed at times. Tapestries are decorative fabrics/textiles that are hung on the wall behind the bed frame.
Speaking of artwork, you can hang paintings, prints, and photographs to personalize your bedroom decor and create a focal point in the interior. All these substitutes serve as an effective way to spruce bedroom decor while on a budget.
Make Perfect Purchases: A Buying Guide For Headboards
When it comes to purchasing a bedpost, you need to be mindful of some important factors including size, style, and material of the bedpost. In addition, you should always stay within your budget limit and try to compare and match your preferences.
It's important that you consider the design and style compatibility of the headboard and your bedroom decor. And, it goes without saying that the bedpost you consider should be made of durable materials for longevity purposes.
How To Care For & Maintain Your Bed Headboards?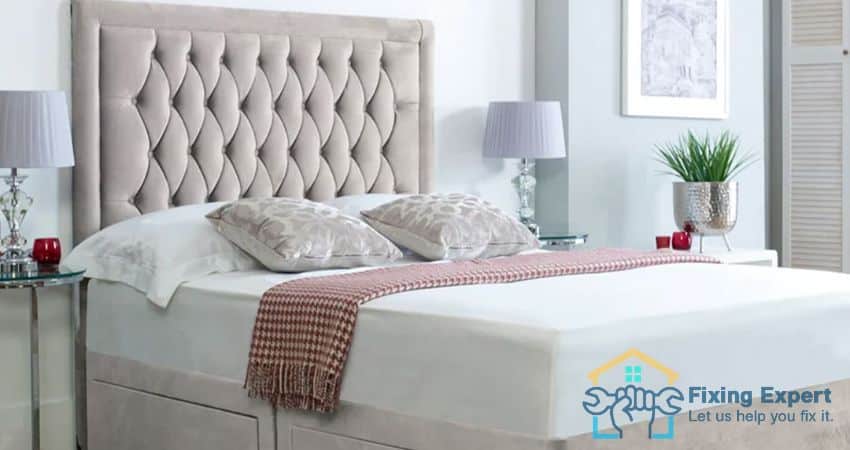 The maintenance aspect of bedstead is quite simple and straightforward. It requires you to clean the bedpost on a regular basis with a soft cloth or brush (depending on the material) for removing dust and debris.
For upholstered bed rails, regular vacuuming is necessary. Wooden bedheads demand to be polished or waxed every once in a while for shining appearances. It's advised that you should avoid using harsh chemicals or cleaners that damage the finish or fabric of the headboard.
FAQs–Frequently Asked Questions
1. How Do I Choose The Right Headboard For My Bedroom?
You should consider your budget and the material, style, and size of the headboard. Precise bed measurements are necessary and your personal preferences should always be prioritized.
2. Can I Use A Headboard With An Adjustable Bed?
Yes, adjustable bed headboards offer great comfort and support. They come in different sizes and various configurations like single or multiple-panel headboards.
3. Are Headboards Necessary Or Should I Go Without One?
No, headboards with beds are not compulsory and there are various alternatives to experiment with including wall art, tapestries, and wall decals.
4. How Do I Attach A Headboard To My Bed Frame?
You must line up the headboard's holes with those on your bed frame, then fasten them with bolts or screws.
5. What Are The Benefits Of A Padded Upholstered Headboard?
Padded upholstered headboards provide a soft and comfortable surface to lean against while you're sitting up in bed. Plus, they offer great support to your spine.