Our Curtain Rails Dubai Give Curtains The Best Look They Deserve!
Imagine you have a beautiful lavishing curtain but the curtain rail is not presentable and not suitable for the curtain. This will spoil the whole look. Curtain and Curtain Rails Dubai both make the look complete. There are a variety of curtain rails regarding their style, material, and size. Every rail is specific for curtain style and its fabric. So, choose your curtain rails wisely.
We at Fixing Expert offer you reliable and seamless curtain rails that embellish the charm of your window frame. Our team is an expert in suggesting the curtain rails according to your interior and in installing them nicely. Our curtain rails guarantee the perfect look of your window frame. 
Curtain Rails Dubai Magnifies The Beauty Of Your Space
As we all know that dressing up the window frame properly gives an elegant look to your room. Therefore, we should pay attention to every of its element, either it's about the curtain's fabric or about rails. We offer you the most trendy and reliable styles of Curtain Rails Dubai that suit your fabric and beautify the enhancement of your space.
So, choosing a curtain alone for your window dress-up is not enough. You really need to hang them with reliable and fine rails. Explore our website to get in touch with our team. Our up-to-date and stylish curtain rails will definitely give a prime look to your windowpane. 
Receive Flawless Installation Of Your Curtain Rails From Our Experts
Fixing Expert provides you a finishing installation that adds personal flourish to the room. We have expert decorators that could give you a proper suggestion according to your taste. Don't feel hesitate if you need our handypersons for exact measurement and reliable rails for your interior. They surely give their best advice to you guys.
For Curtain Rails Dubai, many factors like its styling, size, measurement, texture, and material, etc matter. But don't worry. Our team helps you to figure out this. Get in touch with our handypersons for seamless curtains installation. Our professional staff carries out many crucial tasks with the ease of cutting butter.
Factors That Need To Be Consider While Choosing A Curtain Rail
When you're installing or re-designing curtains in your room, bathroom, kitchen, or any space, its accessories make an enormous impact on the window frame. Curtain rail Dubai by Fixing Expert makes you confident about your interior's look and windowpane.
It is important to select curtain rails, and their accessories according to the interior so that will compliment your home's aesthetic. There are some factors that you must keep in mind while selecting a curtain rail.
Window Frame And Size
For some people, it's quite difficult to measure the exact size of the window frame and the wall. For this, call our professionals that make your measurement even more accurate and suggest you some expert advice. This is the first and integral step while making the choice. The right selection of window rails brightens the dark window frame.
Overall Look Of The Room
While choosing the Curtain Rails Dubai, look at your room. Observe your interior and choose accordingly. Like if you want to alternate your office's curtain, then the curtain rail should be classic and subtle according to the environment. But if it's your room, then match the vibe of your furniture with rails. 
Fabric Of The Curtain
For fabric i.e. silk, velvet, be wise. because all the look depends on curtain and curtain rail. If the fabric of your curtain is smooth and decent, then go with thin and fine curtain rails. If the fabric is quite heavy and princely, then you should install wooden rails.
Whether you're calling for curtain rails installation or to fix them, Fixing Expert direct provides accessories that meet your needs. There is a variety of curtain rail Dubai that's suitable for different fabrics and different interiors. By choosing the exact curtain rail, you can emphasize and change the indoor topic. Our curtain rail collection in your inside style setting is a fine decision to decorate its general appearance. Let's take an overview of our collection:
Metal And Plastic Rails
Metal curtain rails comprise steel, aluminum, and brass and are strong enough to lift the heavy curtain fabrics. While plastic curtain rails are inclusive of PVC (polyvinyl chloride) and are more flexible. Choose your rail just as suitable for your window frame.  
Wooden Rails
Wooden curtain rails Dubai by Fixing Expert give your space a classic and subtle look. They are not hollow from the inside. That's why they can easily manage the weight of heavy fabrics. We offer you wooden rails in an assortment of shapes and sizes to look over. 
Aluminum Rails 
The aluminum curtain rail comprises a high-quality aluminum metal that prevents the rail from rusting and made it long-lasting. They are used to holding medium-weight curtains. fixingexpert.ae presents you with fine aluminum rails that offer you an outstanding balance of strength, appearance, and value. 
Corded Rails 
Corded Curtain Rails Dubai is simple and easy to operate curtain rails. They have a chord at the side of the track that opens or closes the curtain by pulling. This protects them from dust and damage. 
Uncorded Rails
Uncorded rails mean they don't have a chord beside them. But no one can beat them in a classic look. We're a well-known website for interior decoration services and products. You can check our versatile and unique products on our website. (fixingexpert.ae)
Bay Window Rails
They're specially designed varieties of rails for bay windows. They're versatile and might simply bend consistently with the form of the window. You'll be able to explore its selection at Fixing Expert.
Ceiling Mounted Curtain Rails
We use ceiling-mounted curtain rails for clipping the curtain horizontally from ceiling to floor. This provides a captivating result to your space. 
Narrow Curtain Rails
They are so-called slim curtain rails as a result of their narrow-shaped. These are accustomed carry lightweight or medium-sized curtains. You'll be able to check wide Curtain Rails Dubai at Fixing Expert.
Wide Curtain Rails
They are wide in their form, and size and might carry serious or medium-sized curtains simply. These varieties of rail are excellent for princely material or heavily adorned ones.
Get an emergency call or appoinment.
Frequently Asked Question (FAQs)
The curtain rod could be a single line rod that's straight and slightly spherical in structure. Rails are an equivalent issue, however, it has some hooks and clips to carry the material. We have a tendency to used each for hanging curtains on top of the framing.
It's a general statement that the rail ought to be three to four inches extended from all sides
It's not vital as the short curtains are in fashion. However, in a very formal area, the curtain ought to simply bit the ground. For a chic and stylish area, an extended curtain floating on the ground may be the most effective possibility. It's completely up to the space.
For light-weight to medium curtain material, it'd be 35mm, and for medium to serious materials, it'd be 50mm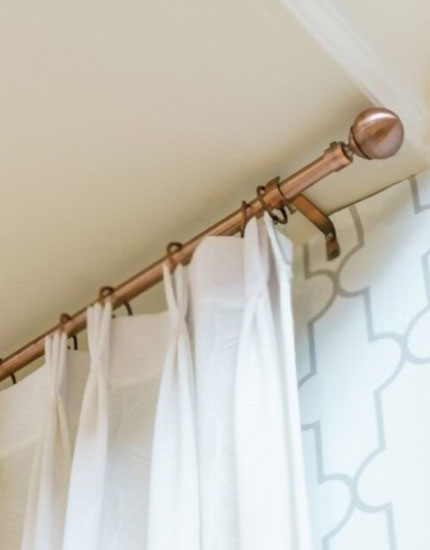 Why Opt For The Fixing Expert To Shop For Curtain Rails Dubai?
Fixing Expert isn't a typical service that simply serves the duty and storms away. Your satisfaction is our priority. We would like to create your life even easier by curtain rails. Once you're searching for the proper quality and seamless curtain rails Dubai within the emirates of UAE, then you don't have any higher possibility however to settle on us! Our curtain service team is associate knowledgeable in handling your everyday downside. We have a tendency to gift you a range of rails relating to their form, size, and magnificence that creates your house even additional appealing. We have a tendency to additionally offer you, custom-made rails underneath your customary vogue and magnificence. If you need any recommendations and advice, we are going to be there for you.