Embellish Your Indoor Window Frame With Curtain Hooks Dubai
For curtain installation, fabric and curtain hooks both play an integral role. If you have a lavish curtain but not suitable hooks or holders, then this could be a mess. Choosing fine Curtain Hooks Dubai is a crucial part of installing them perfectly. You have many options for designing your window panes. Now, it's totally up to you that how you are supposed to design them. 
You should not ignore the fabulous hooks of Fixing Expert. We know that you're queer about your interior decoration and want to give it a fantastic look. For this sole purpose, we're here in the market of UAE, because we care for you. Window-shop at our website and choose the suitable curtain hooks for your space which not only support your curtain firmly but also they'll also embellish the sight of the viewers. 
Choose The Best Curtain Hooks Dubai Installation Service In The Emirates Of UAE
There are different hooks for the different fabrics of the curtain. If you choose light hooks for heavy-weight curtains, then it could knock down all your looks. For fine suggestions, get in touch with our experts. They surely give their best advice for your window treatment. Installation of Curtain Hooks Dubai is also a tricky task for an ordinary person. 
For this, Fixing experts provides you the best handyperson that installs your curtain rings neatly. Seamless Installation is all need for the window treatment. Doesn't matter if you have perfect curtains and their belonging, its installation decides the whole look. If we do your installation, then a smooth window look is assured!
Curtain Hook Types | Get Yourself Best Suitable Hooks
Fixing Expert has a versatile collection of Curtain Hooks. Different hooks are available for different rods and fabrics. And it's necessary to choose suitable kinds of hooks for your fabric and rod.
But the question emerges: how can you come to know about the right hooks for your curtain? Don't worry, we're here for your all types of query and suggest you the best curtain rods hook for your windowpane. Let's take an overview of types of curtain hooks:
Pleated Curtain Hooks
Pleated Curtains hook comprises four projections that implant in the fabric and form three pleats. It also has a single hook behind it that hangs upon the rod. It is suitable for the transverse rod and perfectly adds elegance to the formal room.
Stationary Hooks | S-Hooks
They are S-shaped hooks. People extensively used them in buttonhole curtains. Insert one end of the hook in the curtain hole while swung the other end over the rod. Stationary Curtain Hooks Dubai are easily available on our website and the interesting fact is that we also provide you these hooks in wood or plastic material. 
Pin Curtain Hooks
These are the hooks with straight steel lines with a curved body. Insert these parallel lines at the back of the curtain pleats and the curved part directly hangs over the rod. These are easy-to-use hooks even an ordinary man can install them. 
Metal Curtain Hooks With Clips | Round Rings
Metal curtain hooks with clips are familiar with S-hooks, but these kinds of hooks have a clip at the top that is directly attached to the curtain pleats, and the ring is sliding in the rod. The majority mostly used these for frequently sliding curtains. 
Sew-On Curtain Hooks
They have a resemblance with pin curtain but there's a slight difference; they have a small eyehole at the curve body. These hooks surely bring a charming effect to your space. You can browse our website for more options and variety. 
Curtain Tie-backs Hooks
Curtain tie-back hooks commonly use to tie the silk curtain smoothly. These holders are available in an immense variety regarding their materials, shapes, and sizes. 
Decorative Curtain Hooks
Decorative Curtain Hooks are the most stylish curtain hooks Dubai. We specially designed these hooks to give your interior a modern, trendy look. Our designers attach different beads and gems to them according to the fabric. They are also available in a rustic form that makes your space even more vintage.
Get an emergency call or appoinment.
Fixing Expert Professional's Opinion Can Make Your Window Frame Even More Worthy
Right hooks for your curtain are all-important for its ultimate look. If the curtain hook doesn't belong to the fabric and interior, then it can topple all the looks of the windowpane. For this, you need an expert that suggests suitable rings for the curtain rods. Our professional handyperson will surely help you in make out the right decision.
The quality and material of the curtain rods also matter. If you have a designed rod and fabric, go with elegant hooks because if you choose decorative hooks, then this can stuff the whole site. In this way, try to make a perfect balance with your fabric, rods, and hooks. Now the question drives: how can you be sure about their quality?
When you buy curtain hooks Dubai from Fixing Expert, you can be sure of their excellent quality. You can visit fixingexpert.ae for fine curtain holders Dubai, which provide seamless hooks in quality and designs. 
Frequently Asked Question (FAQs)
This depends on the width of the curtain. The wider the fabric is, you need the more hooks. Approximately, maintain a distance of 4 to 5 pleats.
Metal hooks are mostly brass and zinc plated, so they are anti-rusted and long-lasting. You can also use metal hooks in the sunlight. However, plastic hooks are not in fashion anymore and are even not long-lasting. True, metal hooks are better than plastic hooks.
First, insert one side of the hook in the fabric's hem. Don't poke it too much. Then slide the back of the hook in the rod. Hang the curtain and you're done.
S-shaped hooks commonly use for buttonhole curtains. They are easy to manage and purchase. You can check these hooks on our website (fixingexpert.ae)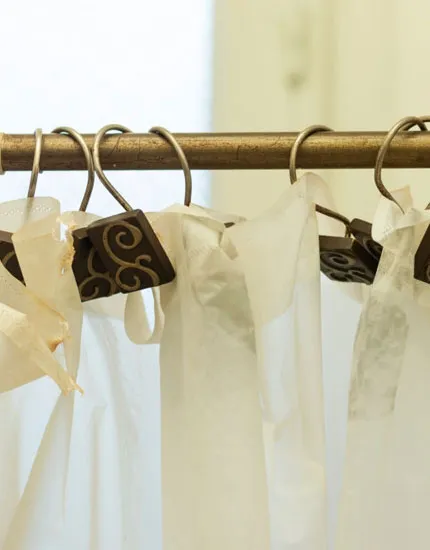 Why Only Fixing Expert?
Curtain hooks Dubai are famous and frequently used accessories that people love to add. Fixing Expert Dubai is a top-notch interior designer and interior product supplier in the emirates of UAE. We use pure metal for the manufacturing of the hooks, which can grip the fabric easily. These are indeed small accessories but surely give a pleasant look to your window frame. We designed most of our hooks as invisible hooks like they hide behind the curtain properly and give you a smooth look. They are pretty and small but do their job perfectly. Fixing Expert presents you with an immense variety of Curtain Hooks Dubai that makes your lifestyle even more graceful. We do not restrict our designers to certain designs. Our designers think out of the box and give their best to update your lifestyles.