Motorized curtains, also known as cordless curtains, are window treatments operated by an electric motor rather than being operated manually with cords. These curtains can be easily controlled via a smartphone app, wall switch, or remote control or can be integrated with home automation systems.
Enjoy The Perks & Pros Of Having Motorized Window Curtains
The upgrade from the basic version of curtains to this more-advanced option surely offers a lot of decorative and functional benefits. Here's a list of all the benefits that you can enjoy with the purchase of motorized window curtains.
1. Added Convenience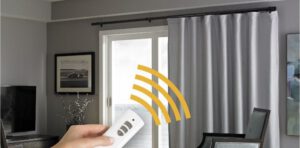 Speaking of the installation aspect, the rods and traditional brackets get replaced with smart tracks comprising an electric-operated functional mechanism. All that it requires is to install ceiling/wall mounts to the curtain track and fit it with screws according to exact measurements.
Similarly, you get to enjoy the efficacy and versatility of control options with remote control, smartphone app, wall switch, etc. What can be more advantageous than simply pressing a remote control button to avoid sunlight distractions to your peaceful sleep in the morning?
Additionally, you can pair motorized curtains with home automation systems to not even use a remote control to open or close your window treatments. Because smart home windows function depending on the incoming sunlight.
Another factor that contributes to your lifestyle convenience is that motorized curtains are ideal solutions for hard-to-reach windows in your home. Adding further, there is no need to step up a chair or ladder to open and close your curtains during different times of the day.
2. Enhanced Home Security & Privacy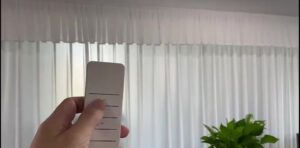 Motorized curtains also improve your home's privacy and security when integrated with the home automation system. With these curtains, you need not worry about theft or burglaries because the home windows automatically get shut upon forced entry.
Motorized Blinds Works Well for Privacy & Security
Hence, whether or not you're at home, there's no need to worry about the security and protection of your house. Coming toward the aspect of improved home privacy and noise reduction, smart curtains are beneficial as well. No need to mention that you enjoy the benefit of protection from the UV rays of the sun without even pressing a button.
3. Improved Energy Efficiency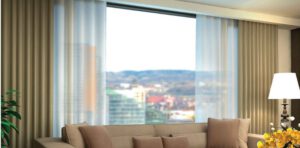 Smart homes are energy-efficient homes and there is no doubt about that. Installing smart window treatments like motorized curtains in your home reduce energy consumption to a significant extent. And, the ideal choice of curtain fabric material adds to the home insulation property.
4. Home Aesthetic Upgrades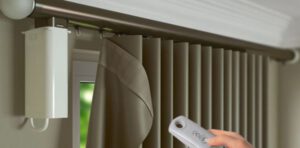 You can choose colorful appearances and delightful patterns for your choice of motorized curtains thus, adding to the home interior aesthetics significantly. In this context, there's a wide variety of designs, patterns, and colors available on the market to have a selection.
Revolutionize Your Home With Motorized Curtains
Also, you can place an order for motorized custom curtains to add a sense of personalization to your home design and decor. Last but not least, you can creatively add lighting fixtures for creating a soft, relaxing atmosphere in the interior.
5. Cost-Effective Solution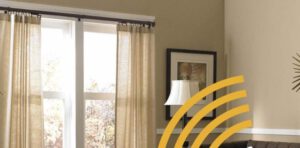 The purchase of top-quality motorized curtains is a long-term, valuable investment that allows you to keep up with the world of smart home solutions. Also, there's another benefit to installing motorized window treatments i.e. increased home value. Yes, motorized curtains are an advanced form of window treatment and therefore, add significantly to the resale value of your home.
Factors to consider when purchasing motorized curtains
Curtain Type: Consider the type of curtain you want to motorize, such as blinds, drapes, or shades.
Curtain Size: Measure the size of your window to ensure the motorized curtain will fit properly.
Power Source: Decide on the power source for your motorized curtains, such as battery or hardwired, and consider the location of electrical outlets.
Control Options: Determine the control options you want, such as remote control, smartphone app, voice control, or manual switch.
Integration with Smart Home Systems: Consider if you want your motorized curtains to be integrated with other smart home systems, such as lighting or voice assistants.
Noise Level: Some motorized curtains can be loud, so consider the noise level of the motor when making your purchase.
Brand and Quality: Choose a reputable brand and quality motorized curtains that are built to last.
Installation: Determine if you will install the motorized curtains yourself or if you will hire a professional installer.
Cost: Consider the cost of the motorized curtains, including any installation or additional hardware fees.
Warranty and Support: Look for motorized curtains that come with a warranty and good customer support, in case any issues arise.
The  Easiest Way to Install Motorized Curtain
FAQs–Frequently Asked Questions
1. How Do Motorized Curtains Work?
Motorized curtains comprise an electric track that can be controlled via different options. This electric track is powered by either a battery or a DC source of current and is connected to wires and sensors to make the track function.
2. Are Motorized Curtains Expensive?
Motorized curtains are more expensive than traditional window treatments but less expensive than electric blinds.
3. Can Motorized Curtains Be Installed In Any Home?
Yes, motorized curtains are compatible to be used in modern as well as traditional home interiors.
4. Are Motorized Curtains Noisy?
No, motorized curtains aren't noisy and it only happens in case of faulty apparatus.
5. Can Motorized Curtains And Blinds Be Installed In Any Window?
Yes, smart window treatments whether blinds or curtains can be installed in all windows like bay windows, skylights, rectangular-shaped, etc.
6. How Much Do Motorized Curtains And Blinds Cost?
The pricing factor for motorized window treatments varies and is dependent on various aspects namely the quality, style, dimensions, etc. However, the average cost ranges between $300 to $1000 depending on the version.