Matching curtains and cushions not only adds aesthetic of a space, but they also add an extra layer of texture and color. However, achieving a cohesive look can be challenging, especially when it comes to finding the perfect pairings. So, we'll explore everything you need to know about matching curtains and cushions to elevate your home decor.
Enjoy The Amazing Benefits Of Matching Curtains & Cushions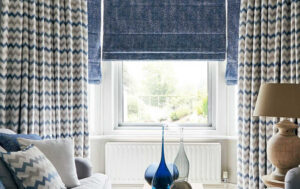 Before moving any further in the article, let's explain to you all the benefits of complimenting your sofa cushions with a matching curtain color selection.
You'll get the benefit of finer room decor and cohesive interior design.

This minute detail uniformity proves to uplift the aesthetics, charm, and elegance of the interior design.

Furthermore, the choice of patterns and prints for both these essentials will add depth, character, and interest.

You can make the sofa the center of attention in the room by positioning it in front of the window.
Designers Guide: 5 Best Sheer Curtain Ideas for Living Room
Popular Curtain and Cushion Combinations
Monochromatic
Complementary Colors
Bold Patterns and Colors
Neutral Palettes
Minimalist and Modern
How To Choose An Ideal Color For a Curtain & Cushion Combination?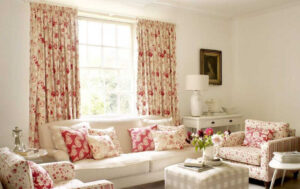 It's incredibly important to understand the basic principles of an ideal color selection for creating appealing curtain and cushion combinations.
In this concern, the ideal approach is to look for different color combinations that ideally suit your preferred choices. Never rule out the possibility of going for different shades of the same color.
Also, you can add prints or patterns to the curtain design that can be identically replicated on the cushions as well. For instance, you can have a herringbone-style striped pattern in blue color with a white background. Similarly, the floral curtain designs are easy to replicate on a small scale for appealing cushion appearances.
Don't forget to keep in mind the overall theme of the interior because there's no point in going bold and vibrant for curtains and cushions in soft-themed interiors.
Read More: How To Choose Curtains For Living Room?
How To Pick The Correct Curtain Panel For Your Windows?
Although it's a never-ending debate on the topic of ideal curtain selection, we're going to list out some important aspects that you should follow for valuable investments.
Always go for top-quality materials to enjoy the lifelong benefits of your valuable investment.

Choose the color and design for what you like and don't fall for the social norms.

Create unique and elegant window appearances by purchasing complementing accessories, hardware, and decorative tacks.

Always pick full-size curtains according to your window measurements.

Perfect curtain installations account for the smooth functioning of the window treatments; so don't compromise on this aspect at all.
How to Choose the Perfect Curtain Panel?

Ideal Tips & Tricks for Sofa Cushions Following
The next element of choice is the sofa cushions. You can make perfect choices without any second doubts by following the tips and tricks discussed below.
To decide the shape of the cushion, go for personal preferences while also considering the sofa style i.e. triangular, box-shaped, rectangular, round, square, etc.

Again, the choice of cushion fabric needs no explanation because the only option is high-quality and durable materials.

The cushion-filling material should neither make the pillow hard nor too soft but have an ideal balance for a firm, comfortable seating support.
How to Choose Perfect Sofa Cushions?
Some Important Factors To Consider For Buying Cushions & Curtains
To make an ideal selection for any interior element, you need to set out some important parameters and follow them. In this case, we've described the criterion below.
Fabric

: Your first priority should always be to get premium quality fabric material that can stand up to devastating conditions without wear and tear.

Measurements

: Without having precise know-how of the window size and available seating space, you can't determine the ideal size of curtains as well as cushions.

Appearance

: The only thing that makes a style statement is the choice of style itself for both curtains and cushions. Consider different varieties and make a comparative decision for appealing designs.

Budget

: Set out a budget before making any purchases to avoid financial discomfort in the future.
Tip: 7 Best Curtains For Bedroom 2023
Putting It All Into Equation
To summarize the above discussion, you should look for different colors and pattern combinations for matching the appearance of curtains and cushions. Also, the possibility to have different shades of the same color should never be ruled out of the equation.
Additionally, we've described some important selection parameters for both cushions and curtains to let you enjoy endless benefits.
FAQs–Frequently Asked Questions
1. How Do I Know Which Colors Will Match?
You can either talk to professionals or explore the internet for matching color combinations to idealize the different possibilities.
2. Can I Mix Patterns When Matching Curtains & Cushions?
Yes, you can mix patterns for complementing the appearance of curtains and cushions alongside adding depth, texture, and elegance to your space.
3. How Do I Measure For Curtains?
For length measurements, measure from the mark of the curtain rod all the way to the floor. For width measurements, add 1-2 inches on both sides to avoid glare distractions.
4. What Type Of Fabric Should I Use For Curtains?
You should prioritize getting premium-quality fabrics that can stand the wear and tear effects without losing their shimmer.
5. Can I Use Different Types Of Cushions On The Same Sofa?
While the answer is yes, it's recommended that you opt for such an out-of-the-way approach to have sofa cushions.
6. What Is The Best Cushion Filling Material?
For sofa seating cushions, the best filling is foam or polyester materials.
7. Where To Buy The Best Curtains & Cushions In Dubai?
Fixing Expert is the only reliable source when it comes to buying top-quality cushions and equally best curtains anywhere in the UAE.
Conclusion
Matching curtains and cushions can take your home decor to the next level, but achieving the perfect coordination requires careful consideration and attention to detail. By understanding the importance of coordination, considering factors like color scheme and fabric type, and implementing tips and tricks, you can create a cohesive and stylish space that reflects your personal taste and style.