As schools reopen in Dubai, it is important to ensure that students have a comfortable and conducive environment for learning. One way to achieve this is by investing in the right window blinds. Not only do window blinds improve the aesthetic appeal of a classroom, but they also serve a functional purpose by controlling the amount of light entering the room. We, at FixingExpert, will alleviate the top 5 best window blinds for schools in Dubai.
The Importance Of Window Blinds In A School Environment
Window blinds play an important role in a school environment for several reasons. Firstly, they regulate the amount of natural light entering the classroom, which can improve student concentration and reduce eye strain. 
Secondly, they provide privacy and security, preventing outsiders from seeing inside the classroom and ensuring that students are not distracted by external factors. Additionally, they can help to control the temperature of the classroom by blocking out sunlight on hot days, reducing the need for air conditioning.
Overall, window blinds are a vital component of a school environment, creating a conducive atmosphere for learning and ensuring that students can focus on their studies without distractions.
The Key Features Of The Desired Window Blinds For Schools
Let's portray a picture of the desired window blinds for a school environment. For this purpose, we've enlisted and briefly explained some important features below that must be included in a window dressing for classroom applications.
1. Safety Features
At first, the risk of entanglement is a major concern. It's due to hanging and swaying chains or cords of window blinds that can wrap around a child's neck leading to choking or strangulation. To address this problem, the ideal choice is motorized or cordless window blinds i.e. child-safe window treatments.
Quick Read: Best No-Drill Blinds
Another safety risk lies in the fact that children pull the window treatments out of boredom or during acts of play with friends i.e. window blinds may fall on a student. To alleviate this concern, you should buy top-quality brackets and screws for installation as well as make sure that the blinds are tightly secured in place.
2. Maintenance & Durability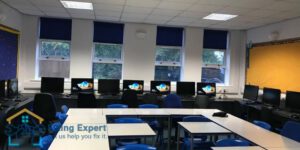 Classroom blinds need to be highly durable and of premium quality so as to endure wear and tear on a regular basis. Besides, the buildup of dirt, dust, and stains should not be easily visible. That can be made possible with the selection of dark-colored blinds or those with patterned surfaces.
3. Light & Privacy Control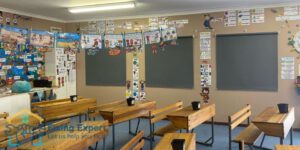 Window blinds for schools should be made of thick fabric materials so as to prevent the scorching heat of the sun from entering the classrooms. Additionally, it will keep the students more focused and attentive in class by ensuring that students don't get interrupted by outside factors. Not to mention that thick-fabricated window blinds will prove to be energy-efficient as well.
4. Design & Aesthetics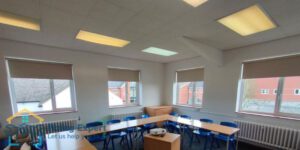 Modern schools have classroom interiors purposely decorated by the professionals with each coming session adding more to the class decor. Therefore, you should be selecting classroom blinds that complement the existing decor and style settings.
The Best Recommendations For School Window Blinds
Below, we've proposed all the best options from which you can surely have an ideal selection.
1. Roller Blinds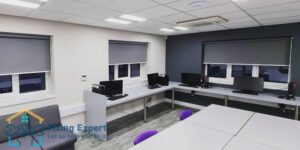 Roller window blinds comprise fabric or vinyl materials and are mounted on a roller operating mechanism that can be lowered or raised to function. Roller blinds let you control the amount of light entering the room and privacy levels.
They come in a range of styles, designs, colors, prints, materials, and control mechanisms. However, roller fabric blinds can pose difficulty to cleaning and maintenance that has to be done on a regular basis for aesthetic and longevity purposes.
Read More: How To Use Roller Blinds As A Projector Screen?
2. Venetian Blinds
Also called horizontal blinds, these comprise slats in horizontal position made of either wood, metal, or vinyl and connected by cords running along the length of the blinds. These are truly versatile and easy-to-clean window treatments and a top-quality purchase will let you enjoy the benefits of a valuable, lifelong investment.
Venetian window blinds make a noise when operated and also don't offer complete light control. However, that doesn't prove to be a troublesome feature when the installation is to be done in a classroom interior. Besides, you can adjust the position of the slats to have complete interior privacy.
3. Vertical Blinds
Vertical window blinds comprise a set of vertical louvers hanging from the top of the headrail in a window frame. These vertical louvers are connected on the bottom end with a thread or cord passing through. The position of the louvers can be adjusted for light and privacy control purposes.
Vertical blinds are great for rendering classrooms a sleek, modern, and sophisticated appearance. However, the louvers are separated if the bottom cord gets broken leading to tangled slats and problems. Not to mention the perks of supreme durability, choice versatility, and utmost privacy offered.
4. Motorized Blinds
You can spend a little bit extra to alleviate the concerns of tangled cords and strangulation hazards by installing motorized blinds. The two basic differences between traditional and motorized blinds are the operation mechanism and pricing factor. No doubt, you'll find electric blinds one scale up in both elements.
These window treatments can be controlled via a lot of options including remote control, wall switch, smartphone app, automated home integration, etc. Thus, the need to manually control window coverings gets alleviated.
Motorized blinds are ideally suitable for smart learning environments with futuristic design applications like high-end schooling domains and universities. Due to a large number of benefits, more and more schooling institutions are now shifting toward motorized blinds as ideal window treatments.
How To Maintain Clean & Keep Window Blinds Hygenic In Schools?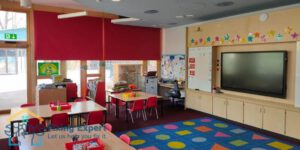 A healthy and safe learning environment not only promotes physical health but also mental soundness, increased focus, enhanced productivity, and better academic performance are also the benefits.
For this reason, clean and hygienic classroom blinds are the first priority. Here's how you can maintain and clean school window blinds.
1. Regular Cleaning
When you routinely clean classroom blinds, there's no accumulation of dust, dirt, allergens, and grime. You can use a soft, clean piece of cloth or a vacuum cleaner with a brush attachment to get rid of the accumulated debris.
2. Avoid Harsh Cleaners
Abrasive cleaners are the reason behind damaged fabric surfaces for window blinds. 
You can use a specialized cleaning agent or create a mixture of soap and water for DIY cleaning solutions.
3. Pay Attention To Repeatedly Touched Areas
Focus on cleaning parts of blinds that get frequently touched such as pull cords, lower fabric region, etc. Also, there should be proper sanitization and disinfection of high-touch areas at regular intervals.
4. Regular Maintenance
There should be functioning checks conducted on regular basis to ensure there are no problems with the operating mechanism. Make sure the strings or cords are properly lubricated alongside the tilt mechanism.
5. Professional Cleaning
It is recommended that professional deep cleaning services should be called every 6 months. Because only deep cleaning can ensure the proper functioning of the window blinds.
FAQs–Frequently Asked Questions
1. How Can I Ensure The Safety Of The Children With Window Blinds In School?
Prefer installing motorized or cordless blinds and inspect the blind structures regularly. Don't forget to clean the blinds for a safe and hygienic learning environment.
2. Are There Any Affordable Options For Window Blinds In School?
Some of the best and most affordable window blinds suitable for schools are vinyl, aluminum, and faux wood blinds. Besides, roller and cellular shades are equally as cost-effective.
3. What Are The Most Durable School Window Blinds For High Traffic?
The best quality aluminum and PVC vertical window blinds are designed to withstand the damaging effects of high-traffic interiors like classrooms. Besides, roller and cellular shades can also be chosen as alternate options.
4. Are blackout blinds a good choice for schools?
Blackout blinds are an excellent choice for schools that require complete darkness for presentations or film screenings. They are made from thick fabric and block out all light from entering the room.