Bifold doors are a great addition to any home, providing an attractive and functional way to open up your living space. However, if you're looking to take the afbppearance and functionality of your bifold doors to the next level, dressing them up is the way to go. In this guide, FixingExpert will show you how to dress bifold doors to give them a stylish and functional edge.
Why Bifold Doors Are A Popular Choice For Homeowners?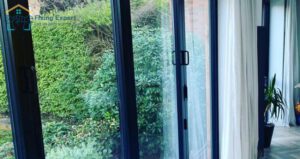 Custom Folding doors have become a popular choice for homeowners due to their ability to seamlessly connect indoor and outdoor spaces, creating a versatile and spacious living area. They create a vibe of elegant and modern aesthetics, allowing natural light to flood into the home and providing unobstructed views of the surrounding environment.
Additionally, they are easy to operate and maintain, making them a practical choice for busy households.
Which Wooden Pole For Bifold Doors Is The Longest?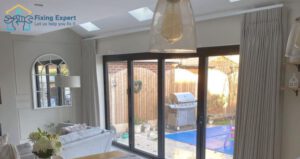 The length of the wooden pole used for bifold doors can vary depending on the size and weight of the doors. In general, the longest wooden pole used for bifold doors is around 16 feet (4.88 meters), which is suitable for larger doors that are up to 10 feet (3.05 meters) tall and weigh up to 500 pounds (226.8 kilograms).
However, it's important to consult with a professional to determine the appropriate size and weight capacity for your specific bifold door system.
Should I Have Curtains Or Blinds For Dressing Folding Doors?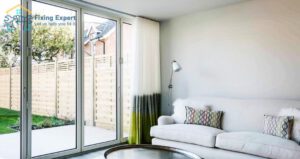 When it comes to dressing bifold doors, both blinds and curtain are popular choices. For curtains, you'll get a traditional and classy appearance while blinds used for dressing foldable doors will make your home look modern and sophisticated with an ultra-fine design feature.
Below, we've briefly compared both window treatment options for dressing bifold doors.
Material Construction: Bespoke Curtains are made of different types of fabric i.e. silk, cotton, linen, etc. Similarly, blinds come in a variety of construction options namely wood, metal, fabric, and others.
Incoming Light:

Curtains will surely block some of the incoming light, however, blinds can be efficiently rolled up the door for unobstructed interior illumination.

Cost:

Depending on the quality of material construction, the prices vary greatly. However, you'll find blinds cheaper than curtains for dressing foldable doors.

Available Space: If there's not much space on the top of the bifold door, you'll surely find it difficult to fit the curtain rod. In contrast, you can use peel-and-stick blinds or some other option for simple and easy applications.
Aesthetics:

The improvement of home interior aesthetics is the ultimate goal. That's why you've opted for folding doors in the first place. For this purpose, blinds serve the purpose rightfully because of their modern, stylish, and sleek appearance. Although, the choice of curtains is a matter of personal interest and equally upholds the scenario.
The Key Points To Remember When Dressing Foldable Doors
The following points highlight the important elements to remember when dressing bifold doors.
Make sure the color and style of your dressings complement the material of your folding door.

Choose simple and sleek dressings that won't cause any hindrance to the door's functionality.

The overall scenario should add to the interior theme, decor, and design.

The Bifold door dressing you choose should be easy to operate, maintain, and clean.

Take precise measurements of your foldable door before buying treatments for dressing.

Take into account the purpose and location of your folding door before dressing it.
The Different Types Of Dressings For Bifold Doors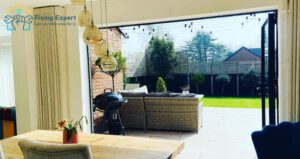 There's a vast collection of treatments available on the market you can have a selection of to dress your bifold doors. Below, we've enlisted the options with a brief explanation.
1. Shades (Roller or Cellular)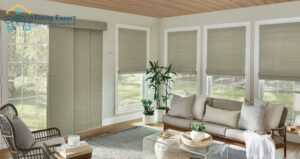 Roller or Cellular shades are energy-efficient and can help to insulate the room. They are available in a variety of colors and can be easily adjusted to control light and privacy. Similarly, roller shades are a popular choice for bifold doors. They are available in various colors and materials, provide privacy, and can be easily rolled up or down.
2. Vertical Blinds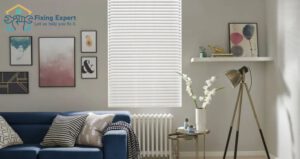 Another popular option for dressing foldable doors is vertical blinds. You can adjust them for privacy and incoming light with ease of control. Besides, they come in fabric, aluminum, vinyl, etc.
Quick Note: Are curtains or blinds better for sliding doors?
3. Curtains

If you've installed bifold doors for maximizing interior illumination, it's best that you opt for sheer curtains. They'll just filter light to create soft, calm, and relaxing indoors. Not to mention that you can easily get customized versions as well.
4. Panel Tracks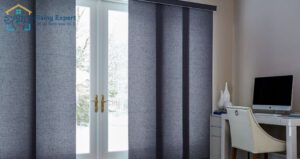 Speak of present-day coverage options and you'll hear the name "Panel Tracks" for dressing bifold doors. It is a heavy-duty option that is available in a range of materials and designs. Plus, you get to know the true meaning of energy-efficient interiors with this choice.
5. Bifold Shutters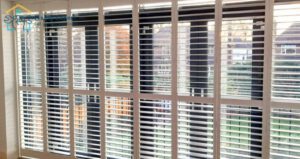 A classic and elegant dressing option for folding doors. If you want to cover a large-sized folding door, the best option is bifold shutters. They're easy to operate and control and suitable for large-scale applications.
A Comprehensive Guide To Dressing Bifold Doors In A Step-Wise Manner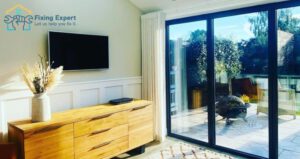 You can safely and precisely mount treatments to cover your foldable doors by following the steps explained below. All the tools/materials essential for the procedure are enlisted as well.
Tape Measure

Drill

Screwdriver

Level

Pencil

Hammer

Stud Finder (Optional)

Bifold Door Dressing

Decorative Tacks or Valances (If Needed)
1. Take Measurements
Measure the height and width of the doors accurately. This will help you choose the right size and type of dressing for your bifold doors.
2. Buy The Dressing
Decide on the type of dressing you want to use, taking into account factors such as light control, privacy, and the overall decor of the room.
3. Mount The Hardware
Install the necessary hardware such as brackets, screws, and rods to hold the dressing in place. Follow the manufacturer's instructions carefully to avoid any damage scenarios from happening.
4. Install The Treatments
Carefully install the bifold dressing and make sure that it's leveled and centered from both sides. For curtains, you need to hang the curtain panel using clips or rings. However, blinds can be attached to the brackets and secured in place.
5. Finalize The Installation
If you've to add valances, tiebacks, or some sort of decorative elements, now is the right time. Similarly, the slats of blinds are to be adjusted to proper positions for light and privacy control.
6. Test The Function
The final step demands you to test the functionality of the overall setup i.e. both bifold door and dressing. It should be ensured that bifold dressing doesn't interfere with the opening and closing of the door panels.
Creative Dressing Ideas For Bifold Doors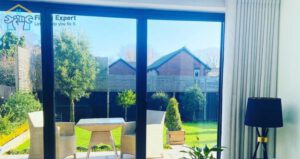 If you're looking to be unique and creative with out-of-the-way solutions for dressing your bi-fold door, we've explained below some options.
Can Painting Serve The Purpose Of Dressing Bifold Doors?
Yes, painting foldable doors is a great way to add a colorful splash or create a unique design that complements the decor of the room. To ensure a smooth and long-lasting finish, you need to apply the right materials and techniques. Follow this step-by-step guide for promising results.
Remove the doors:

Take the doors off their tracks and remove any hardware such as handles and hinges.

Cleaning & Sanding:

Remove any dirt, dust, or debris and sand the doors lightly to create a flawless, smooth surface.

Apply A Primer

: It's necessary to create a smooth and even surface for the paint to adhere better and last longer.

Painting The Door:

Once the primer has dried, apply the paint of your choice. Use a paintbrush or foam roller to ensure a smooth pigment application. Let the first coat dry completely before the second paint coat.

Reinstall The Doors

: Once the paint has dried completely, reinstall the doors onto their tracks and reattach the hardware. Test the door's functionality after reinstalling it.
Can You Dress Bifold Doors With Decals?
Yes, decals are a fun and creative way to add design or pattern to bifold doors without the need for traditional dressings such as curtains or blinds. Follow these tips for dressing bifold doors with decals:
Choose The Decals:

There is a wide variety of market-available options i.e. vinyl, fabric, paper, etc. Also, you can have various shapes, colors, and sizes. Make your choice accordingly.

Clean The Door:

There should be no dust, dirt, or grime over the door panels for long-lasting and strong attachments.

Measure & Plan:

Measure the size of your bi-fold door and plan out the placement of the decals. You can create a mock-up on paper or use a measuring tape and pencil to mark the position of each decal.

Apply The Decals:

 Peel off the backing and carefully apply it to the door panel, smoothing out any bubbles or wrinkles with a squeegee or credit card.

Seal The Decals:

Apply a clear coat of sealant (mostly polyurethane) to protect the decals against wear and tear damage thus, making them last longer.
What Is Stenciling For Bi-Fold Doors?
Stenciling for folding doors is defined as the art of creating images or visual graphics on the door panels by using pre-cut templates made from paper, cardboard, plastic, or vinyl.
The desired pigment is then applied to the door surface and over the template to create a distinct design or pattern. The procedure is described as follows:
Pick The Stencil:

Choose the stencil template that suits your design demands. You can either buy from the pre-cut varieties available on the market or DIY a template at home using cardboard. Similarly, the color of the stencil pigment or ink should be selected.

Clean The Bi-Fold Door:

The surface dust, dirt, and grime will cause imperfections and therefore, should be wiped off the door panels.

Secure The Stencil:

Position the stencil at the desired place and secure it tightly using painter's tape before proceeding to pigment application.

Apply The Pigment/Ink:

You can use a foam roller to apply the pigment over the stencil template for design imprints. If you're using paint as a pigment, you should better wipe off excess material to prevent drips. It's best to roll the roller just two or three times over the template.

Seal The Design:

Remove the template carefully after the application of the pigment. Be careful not to smear or smudge the design. The last step is to apply a sealant to the pigmented design for long-lasting benefits.
FAQs–Frequently Asked Questions
1. How Do I Measure Bi-Fold Doors For Dressing?
For bi-fold door width assessments, you need to measure the distance between two side jambs at the top, middle, and bottom of the opening. The height can be calculated by measuring from the top jamb of the opening to the floor.
2. What's The Difference Between A Bifold & Sliding Door?
As the name indicates, bifold doors function via folding in on themselves while sliding doors function in a track with individual panels sliding in front of each other to open and close.
3. Can I Paint My Bi-fold Doors?
Yes, folding doors can be easily painted for refreshed and elegant appearances. You can either take a DIY approach or buy the services of professionals for this job.
4. Can I Use A Tension Rod For Hanging Curtains On Bi-Fold Doors?
Yes, tension rods are in fact great for hanging bi-fold curtains because they do not require drilling holes for hardware installation.
5. How Do I Choose The Right Size Blinds For My Folding Door?
Take the measurements of your folding door precisely. For a proper fit and functionality, it is best to choose blinds that fall slightly short relative to the door measurements.