You've picked a pair of curtains for the room's window after conducting extensive market research, and the chosen curtains are now too long for the windows. If you're moving curtains from one room to another and the second room's window is smaller, you may want to consider settling the curtains.
Don't worry; you can easily hem your curtains to fit your needs. Hemming curtains is a fun project that anybody can undertake without any professional experience. The sewing method and the non-sewing approach are the two most common ways to hem curtains. Choose a method that works for you and go to work on the curtains.
Today, I'm going to tell you all you how to hem curtains, including methods, tricks, and anything else you need to know before hemming curtains. To learn all you need to know, keep reading this site.
Do you want to know how to hem curtains and what to think about when doing so? We'll provide you with the finest inquiries to get them installed and clear from the user's perspective. We'll teach you how to hem your curtains properly and how to make your best made curtains seem even better. We also provide the greatest available services so that you may obtain them all from us and make an informed selection.
Why Should You Hem The Curtains?
Why hem the curtains, you might wonder? This question has a straightforward answer. When curtains are not the right size for the window, they must be hemmed. The curtains are usually of standard sizes, but the windows are not. Every room has its own size and style of window.
The only way to manufacture curtains that fit the size of the window is to hem them. Because hemming curtains is simple, anyone may easily modify their curtains and will get know how long enough curtains should be. Checking the fabric of the curtains is one thing that must be done before hemming them.
The fabric may shrink after washing, so check the curtain description to learn more about the fabric. If the fabric has the potential to shrink, wash the curtains before hemming them to fit your window. One should hang the curtains before hemming it so you could get the real idea.
Method 1: Hemming Curtains With Sewing Method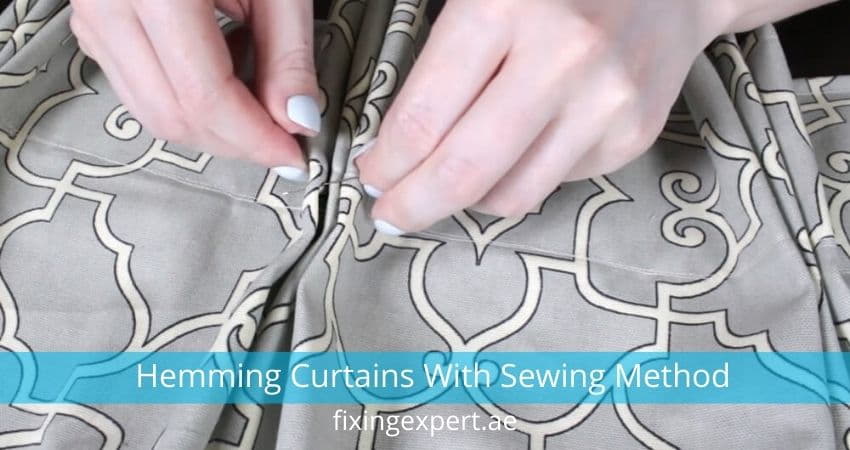 The stitching method is the most frequent way to hem curtains. Although this approach is time-consuming and difficult, it is the most practical. Hem curtains perfectly so that everyone may adapt their curtains to the size of their windows.
Method 2: Hemming Curtains Without Sewing Method
If you don't want to sew your curtains for any reason, there is another solution. There are two ways for hemming curtains that anyone may utilize to make the curtains fit their needs.
Non-sewing techniques for hemming curtains have the disadvantage of being permanent, and you won't be able to recover the previous length of the curtains if you wish to put them on larger windows.
Conclusion
Now that you know how to hem curtains with confidence, you can effortlessly modify your curtains and draperies to fit the size of your window. I've included both sewing and non-sewing ways so that everyone may choose what works best for them.