Looking for a simple solution to keep your curtains neatly in place? Adding magnetic tape to your curtains can be a quick and easy fix. So, we'll guide you through the steps needed to attach magnetic tape to your curtains, allowing them to stay securely in place even on windy days.

Our step-by-step instructions are easy to follow, making this a simple DIY project that anyone can complete. Say goodbye to pesky curtain movements with this helpful tip!
The Step-By-Step Explanation Of Putting Magnetic Tape On Curtains
After you've gathered all the essentials to put magnetic strips on curtains, you can proceed with the first step of the process as explained.
Materials/Tools Required To Put Magnetic Tape On Curtains
Below, we've listed all the supplies/equipment needed to put magnetic curtain tape for hanging the curtain panels.
Magnetic Tape

Ruler

Scissors

Fabric Glue

Surface Cleaner

Measuring Tape

Pencil
1. Prepare The Curtain Panel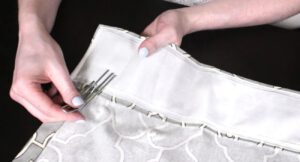 First things first, you need to disassemble your window curtain panel i.e. remove the curtain & drape rods and take out the rod from the curtains. Next, you have to place curtains on a flat surface. Don't forget to lay the curtain panel upside down. That's because the curtain surface facing the windows has to be lined with a magnetic strip and not the other way around.
2. Measure & Cut The Magnetic Strips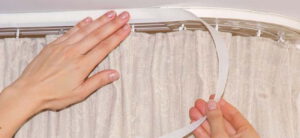 Now, you have to measure the length of the curtains using a measuring tape. Make sure to get two or three reading assessments to be 100% sure for accurate measurements. Otherwise, it may lead to tape wastage alongside time and effort.
After taking accurate measurements, you have to cut the magnetic tape strip into small yet equal parts precisely. Prior to that, you have to measure the distance between the regular pencil pleating of curtains and mark the areas using a pencil.
Adding further, you'll get the top part of the curtain (upside down) marked with a pencil in straight yet discontinued lines. Only these pencil markings are the points that require magnetic strip attachments and the discontinued areas will form curtain pleats.
Here, you'll have two choices to cut the strips into pieces. First, you can cut all the strips once and get the curtain panel lined with them correspondingly. Second, you can cut each strip individually at the time of every attachment. The choice is yours, but we recommend you take the first approach.
3. Get The Curtains Lined With Magnetic Strips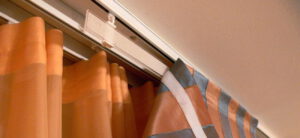 Now comes the tricky part in the process i.e. lining the curtain panel with magnetic tape. For this purpose, you can use super glue or some other strong adhesive material for strong attachments, in case the curtains are heavier. However, lightweight soft curtains can be hung only using magnetic strips.
For lining the strips, you need to start from one end of the curtain panel and press the strip over the marked surface. Do this for all the strips and get it done like this. From time to time, you need to ensure that the strips are at a balanced level and are not placed under or over a certain margin.
4. Attach The Curtains To The Windows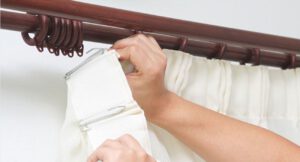 At last, you just need to attach the curtains to the window frame for hanging purposes. In this concern, you have to remove the back of the adhesive liner placed on the magnetic tape. For attachment, you have to firmly press the curtains against the window frame or concerned surface for a few seconds. And, you're all done securing curtains with magnetic tape liners.
Why Should Magnetic Tape Be Used on Curtains?
Curtains sway and swivel when windows are opened and this can put your home's privacy at potential risk of intrusion. Besides, curtain panels are not properly fixed against the window frames and therefore, major heat losses from the interior are quite common.
Is there any way to fix the curtains against the windows properly so as to completely protect the interior privacy? Yes, you can put magnetic tape on curtains to make this happen.
The Advantageous Features Of Magnetic Tape/Strips
Magnetic tapes are flexible, adhesive strips made up of strontium ferrite or neodymium. These strips or tapes come in long, narrow bundles of circular rolls. These tapes are lined with sticky material on one side and on the other side, there is adhesive or non-adhesive backing (depending on the type you choose).
These tapes are used for hanging curtains, picture frames, artworks, and other non-heavy items against various surfaces like walls, windows, glass panels, etc. Following are the benefits of using magnetic tape in the interior.
Magnetic tapes eradicate the need to drill holes for hanging artwork, picture frames, etc. Thus, interior decor and design remain unscratched and unharmed.

Magnetic tape for curtain hangings can fix the curtains properly against the windows and therefore, add to the interior privacy protection.

Magnetic tapes come in adhesive and non-adhesive backing options for stronger grips on slippery surfaces like glass panels.

These tape strips can be used for labeling filing cabinets, whiteboard displays, packaging and storing objects for long periods, etc.
Choosing The Right Magnetic Tape
The ideal choice of magnetic tape is necessary because only then you'll be able to secure your curtains properly. Magnetic tapes are available on the market in two different variants i.e. adhesive backing and non-adhesive backing.
If the magnetic strip is to be attached to the wooden window frame or wall surfaces, then both of these variants are the ideal choices. Similarly, the strength of magnetic tape is also a great factor and can't be overlooked.Depending on how heavy the drapes are, you can buy magnetic strips that are ideal to support the weight of the curtains.
In this case, different brands/manufacturers have mentioned the essentials that you can hang using their tape. Simply put, you should always buy the best quality magnetic tape with the strongest adhesive strength.
FAQs–Frequently Asked Questions
1. Can Magnetic Tape Damage My Curtains?
No, magnetic tape can't harm the curtains in any way. Even when magnetic strips are to be removed from the curtains, you just need to wash the curtains in warm water to eradicate the effects of sticky tape adhesive from the surface.
2. Can I Reuse Magnetic Tape Once It Has Been Installed?
Most commonly, magnetic tape strips once applied lose their stickiness or attachability power. So, second-time usage will not provide strong attachments and sometimes, you may even not be able to use them for the second time.
3. Is Magnetic Tape Stronger Than Regular Adhesive Tape?
Yes, the adhesive power of magnetic tape is far more as compared to regular tapes used for attachment purposes.
4. Can I Put Magnetic Tape On All Types Of Curtains?
Yes, you can secure all types of curtains using magnetic tape strips. However, the adhesiveness of the magnetic tape has to be considered accordingly for heavy and lightweight curtain panels.
5. Do I Need To Wash My Curtains Before Attaching The Magnetic Tape?
Yes, it's preferred to wash or clean the surface of the curtain prior to tape attachments. Because clean curtain surfaces can easily get attached to the magnetic tape liner and vice versa.
6. How Much Weight Can Magnetic Tape Hold?
Magnetic tapes can support the weight of curtain panels up to 15 lbs. However, you can choose the variant with adhesive backing to increase the weight-bearing capacity up to a significant extent.
7. How Do I Remove Magnetic Tape From My Curtains?
You have to be extremely careful not to tear the fabric while removing the tape from the curtain fabric. For strong attachments, you can soak the curtain panel in warm water for 10-15 mins to ease the magnetic strip removal process.
8. Is There A Special Tool Required To Cut Magnetic Tape?
No, magnetic tape strips can be efficiently cut using scissors or any other tool used for cutting household items.