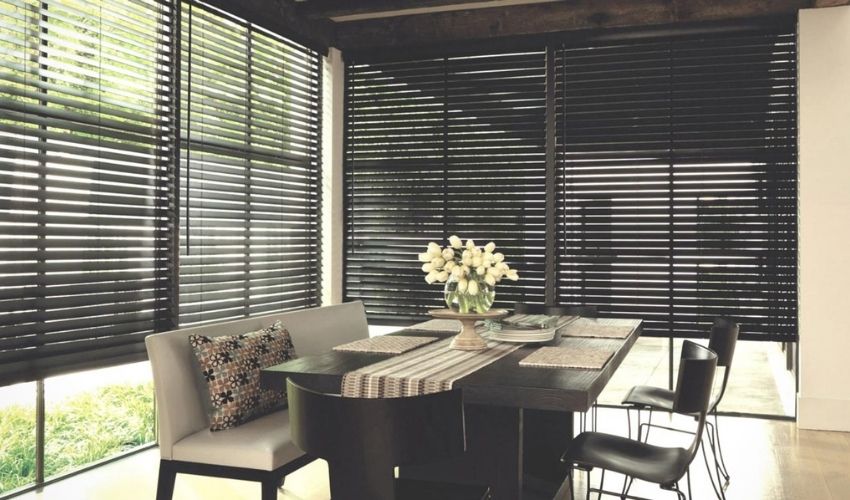 Window treatment is an essential element for every home because it helps us in getting privacy, block out the external light, reduces sound, and much more. Blinds brought an industrial revolution in the era of the 19th and 20th centuries for home decor. Blinds are a type of window treatment that is designed by using hard slats which can control the light entering your room and also give you privacy.
Blinds are installed at the top of the window frame and are usually made up of different materials like wood, faux wood, vinyl, plastic, and metal. Blinds are also used for giving a modern touch to any room's interior. They can also provide insulation and help to keep a room warm in winter and cool in summer.
There are different types of modern window blinds that can give you all the functionalities. But choosing the best one would be a confusing task for anyone. To help you, we bought a tutorial on how to choose the perfect modern blinds for your home. We will discuss various types of trendy blinds along with their functionalities so that you can decide easily.
Steps To Choose The Perfect Modern Blinds For Your Home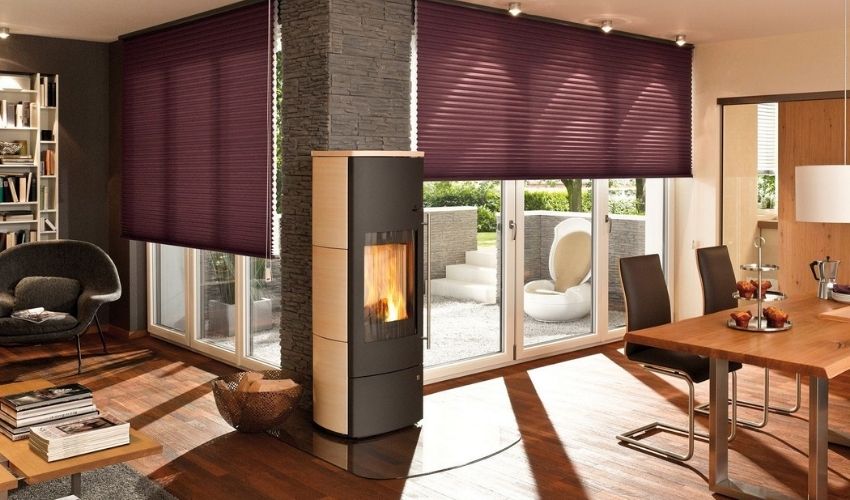 Various types of the latest blinds for windows are available in the market. Modern blinds for windows include vertical, Venetian, smart, roman, mini blinds, etc. Choosing the right blinds for your home to give a modern touch to your home's interior is sometimes a tricky task.
We will guide you step by step to get fantastic blinds for your home. You can easily choose the perfect modern blinds for your home after understanding these points:
Choose The Perfect Style Of Blinds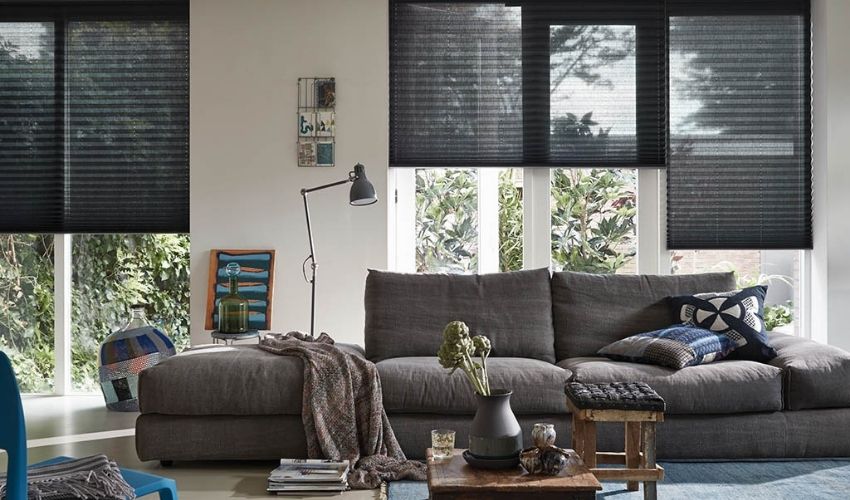 Select the best style from the window blind designs. Which can match the interior of your home and help to enhance the beauty and give a modern look to your rooms.
Roller blinds are considered being the best choice for you if you are looking for modern blinds. They have a modern/stylish look, offer a lot of amazing benefits, and would prove to be a safe choice for your home.
If your windows are large enough, then the modern vertical blinds would be the right choice for matching the height of large windows. After a few modifications in vertical blinds, you can make them versatile that can easily fit into any style and design of interior decor.
Choose the wooden blinds if you want to keep your home warm. They come with natural plain colors that can create a visual balance easily in a room. The best thing about these blinds is that they can be afforded easily.
Choose Blinds For Controlling Light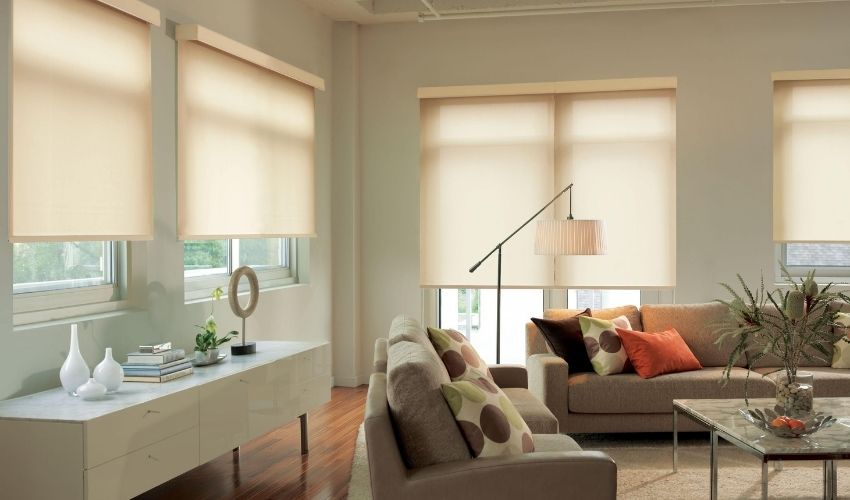 Blinds are contemporary window coverings that can help you control the natural light coming into the room. You can open the blinds when you need maximum light and close them when you need to block out the light and get a restful sleep.
There are different choices available for you; if you want to get the maximum natural light in your room, then we recommend the white fabric sheer curtains. They help to reduce the light at a minimum level. If you want to block more external light than dimout material, blinds would be the best choice for you. They add a modern touch and soft glow to your home.
You must choose the blackout blinds for bedrooms because they help you get a peaceful sleep and give you more privacy. You can also install double roller blinds on both sides of your window to block the light completely.
Select Modern Contrasting Colors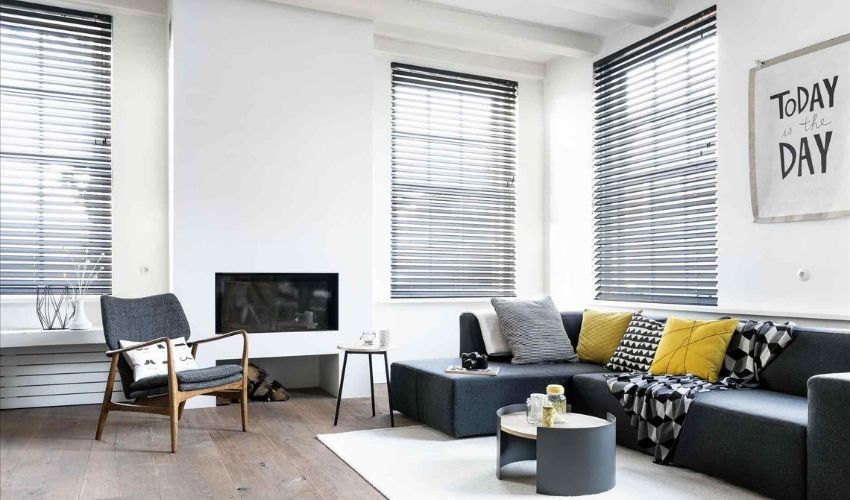 The color of blinds can affect the overall decor of a home, so try to choose them wisely. Whenever you want to purchase the blinds, you must get soft and elegant colors that can also match perfectly with your room walls.
To balance the interior decor of your room, you must add bold and contrasting colors of blinds for giving a lush look. If your room surface is built with concrete, bricks, or wood, then try to choose the plain color window blinds for your home. You can also get patterned color blinds that gave elegant look but avoid getting too intricate colors of blinds.
You May Kneed To Know: Blinds or Curtains For Living Room?
Blinds That Ensure Health And Safety
Whenever you are choosing the blinds, you must keep in mind to get those blinds that didn't harm your health and ensure your safety, too.
For example, if you are allergic to dust, then try to select blinds that can be easy to clean. Panel track blinds would be the right choice for that because they help in minimizing dust accumulation.
If you have small kids or pets in your home, then try to get cordless blinds so that they couldn't be harmful to the kids and animals. Panel track blinds and smart blinds are best for that situation.
Budget
Your budget is the major factor in choosing the perfect modern blinds for your home. Blinds come in different varieties and types with different functionalities, too. If you have enough budget to get the best type of blinds, then you can easily bring what you want to get.
The cheaper blinds might create more problems for you after their installation than the expensive ones. For example, mini blinds might be cost-effective for you, but soon they may need to be repaired or replaced as compared to the real wooden blinds that can last for years without being damaged.
Tips for Buying Perfect Window Coverings
Conclusion
This is all about choosing the perfect modern blinds for your home. I hope this guide will help you make the right decision in selecting the perfect blinds for your home. If you have any queries regarding this, then you can ask by posting a comment.