Mounting blinds on a window frame seems easy and a fun DIY task, right? However, this statement has to be completely changed when you're installing blinds on a bay window. Looking for a simple, straightforward, and easy-to-understand procedure for installing blinds on a bay window?
Well, you've come across the best post for this reason. Because in this post by Fixing Expert, we're going to give a step-by-step explanation to let you DIY install blinds on a bay window.
What Are Bay Windows?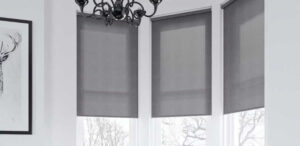 Bay windows are window spaces that protrude outward from the rooms and have three or more consecutive window panels within one frame. There are various designs of bay windows for appealing aesthetics and the approach to installing blinds over them also differ greatly.
The Amazing Benefits Of Having Bay Windows In A Room Design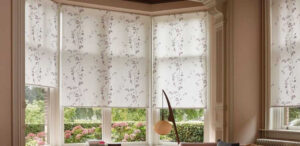 Even though it becomes somewhat difficult to mount blinds over bay windows, there are some amazing benefits to having them.
Because the window's overall surface area has increased, there is more incoming light and enhanced interior illumination.

Bay windows add significantly to the curb appeal of your home design.

Thanks to these extended windows, you enjoy the benefit of added interior space.

You can opt for a desirable bay window design from the versatile collection of options namely box-style, bow, circle, oriel, gable, etc.
Why Is It Challenging To Install Blinds On A Bay Window?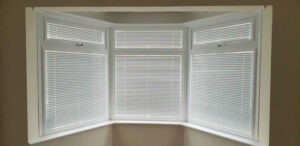 Before moving any further, let's answer the question popping into your mind right now. The most basic reasons are explained below.
Bay windows comprise three or more consecutive panels that are to be covered individually with blinds, therefore making inconvenience in installation.

Because of the limited space, it becomes really daunting to install standard-sized window blinds, and often custom-made options are the last possibility.

The sharp window angles and unusual shapes make it a challenging task for an inexperienced person.

The choice of ideal window blinds that keep up with the aesthetics of bay windows to create a focal point seems downright intimidating.
Look At The Various Varieties Of Bay Windows
There are various different types of bay window designs that account for sophisticated home appearances.
1. Box Bay Windows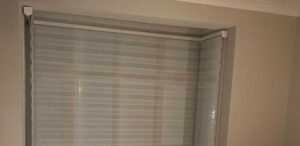 With a flat centralized front window panel, the box-style bay windows comprise the side panels angled at a 90-degree position thus, making the shape of a box.
2. Bow-Style Bay Windows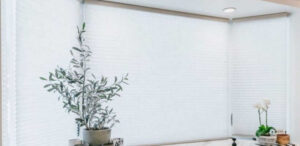 The addition of one more panel to the classic bay design of windows accounts for 4 casement windows named bow-style bay windows.
3. Oriel Bay Windows
The oriel-design bay windows are the oldest of all versions and are usually built into the sides and never on the front face of the home. For adding additional architectural support, a triangular-shaped decorative bracket is added to the window frame.
4. Circular-Shaped Bay Windows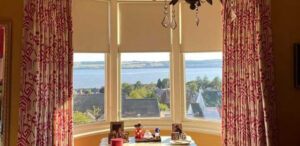 Just as clear from the name, the circular-shaped bay windows have no sharp angles but rather the panels are fitted side-by-side.
5. Gable Bay Windows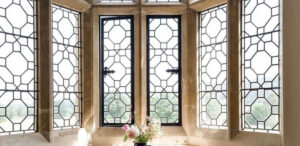 Structurally designed for the rooftop, gable bay windows can have many different shapes and designs. The most common and equally popular option is the arched-shaped gable window design. Additionally, hut-shaped gable windows are getting popular as well.
6. Turret Bay Windows
Nearly curved to 360 degrees, the turret window design is a complicated approach to designing home windows. Famous in the old days for castles and architectural structures, these windows are not so popular nowadays.
The Right Way To Measure Your Bay Windows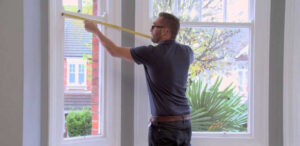 Unlike ordinary windows, bay-style windows require a different approach to measurement. Follow the steps explained below to take bay window measurements the right way.
Measure the width:

Start measuring from the left to the right at the widest point on each side. Note down the measurements from the top, middle area, and bottom of the window and consider the largest value.

Measure the height:

Take a straight measurement from the top of the window to the bottom part and note the reading. Repeat for accuracy.

Measure the depth:

Mark the top of the angled areas and measure using a tape ruler to the respective marks for the number of fitted panels in the window frame. Repeat the process for the bottom part of the window as well.
For window panels that can be opened, there may be obstructions due to handles, knobs, or essentials. So, you need to consider these obstructions as well to purchase ideal-sized window blinds.
Read More: How To Measure Blinds?
Get Your Blinds Fitting Kit Ready!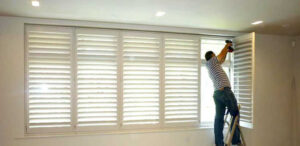 You need to arrange for the following essentials before you start DIY fittings of the bay window blinds.
Measuring Tape

Screwdriver

Pencil

Electric Or Cordless Drill

Level

Ladder
Follow The Steps To Install Blinds On A Bay Window
There are different techniques for distinct visual appearances of window blinds in bay windows. Below, we've explained all the techniques for mounting blinds on a bay window.
Inside-Mounted Blinds On A Bay Window
No matter the number of window panels, you will be mounting the headrail of blinds inside the window frame and at the top position.

Be mindful of the headrail projection that is different for different window blinds i.e. Roman, Roller, Venetian, etc.

Keeping in mind the depth of the window panels, plan the positioning of the headrail so that there are no issues of glare distractions.

Measure and mark with a pencil to idealize the headrail positioning.

Put the brackets in place and secure them with screws.

Position the headrail in brackets and test the functioning of your window blinds.
Outside-Mounted Blinds On A Bay Window
For outside-mounted blinds, there is no need to worry about obstructions like air vents, handlers, etc.

However, to deal with such situations, you can install a wooden batten painted in window frame color to provide the necessary lift and space for the blinds headrail.

To avoid collision or functional contradictions, the best approach is to leave a minor gap between the consecutive headrails when positioning.
Mounting Blinds On 3-Sided Or 5-Sided Bay Windows
The number of panels in bay windows varies, therefore the size measurements and installation procedure for blinds also differ greatly.
Using cardboard cutouts and measuring tape, you can take precise measurements for each panel of the bay window.

Don't forget to take into account obstructions like air vents, handlers, etc for added efficiency to the blinds installation process.

For proper headrail mounting and adjustment, you can use wooden battens.

Place the cardboard cutouts and mark the defined areas with a pencil to install brackets and screws.

Repeat the process for all the panels in the bay window frame. Not to mention that the measurement and depth vary for each panel accordingly.
Also See: How To Install Blinds Without Drilling Holes?
Three-sided bay windows will require 2 cutouts and 5-sided windows demand 4 cardboard pieces for idealizing the blinds adjustment and installation position.
How To Choose The Ideal Blinds For Bay Windows?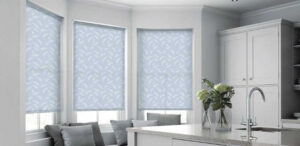 There is an uncountable number of versions and varieties available on the market when it comes to choosing blinds for windows. But, what exactly is the ideal option for bay windows? Yes, not all types of window treatments can fit in bay windows and therefore, the possibilities are narrowed down.
The best options that bay windows can perfectly accommodate include wooden, faux wood, roller, and roman blinds. Also, cellular shades and mini blinds are the high-demand choices in this regard.
Buyer Guide: A Guide To Choose the Perfect Modern Blinds for Your Home
For absolute privacy and ultimate control of light, the blackout versions of roman and roller blinds' ideally suit the bay window spaces. If you're more inclined toward the aesthetic side, the best options are wooden Venetian blinds and mini blinds.
FAQs–Frequently Asked Questions
1. What Type Of Blinds Are Suitable For Bay Windows?
Mini blinds and cellular shades are the favorites for framing bay windows. Also, custom varieties of roman and roller blinds can perfectly fit the bay window spaces.
2. Can I Install Blinds In A Bay Window Myself?
Yes, a DIY installation can be performed for blinds in a bay window. The trick is to position and secure the brackets ideally for efficient installations.
3. What Is The Best Way To Clean My Bay Window Blinds?
Dust the blinds using a feather duster to get rid of attached pet hairs, debris, and dirt particles. Wipe using a damp microfiber cloth (water + vinegar cleaning solution) and instantly wipe the blinds with a dry cloth afterward.
4. How Can I Ensure That My Bay Window Blinds Last Long?
Clean the blinds on a regular basis, opt for care and maintenance techniques, or a deep cleaning procedure is recommended every once in a while. Put oil or grease into the functional mechanism for smooth operation.
5. What Is The Average Cost Of Fitting Bay Window Blinds?
On average, the cost ranges between $250-$300 for fitting each panel of the window frame. However, the pricing standards fluctuate and are dependent on various factors.
6. Can You Fit Blinds To Angled Or Curved Bay Windows?
Yes, blinds can be mounted on curved or angled bay windows, however, it's not a DIY task to perform because of the complexity and increased risk of making errors.
7. What Are Some Other Options To Blind For Bay Windows?
You can hang curtains across the front of the window frame and not the inside. Shutters and cellular shades prove to be great alternatives as well. Customized roman shades fitted to the bay window panels also make perfect solutions.
8. Where To Buy Custom-Made Blinds For My Bay Window?
To buy the best quality yet inexpensive custom-made blinds for bay windows in the UAE, you can shop from the exclusive collection of desirable options at Fixing Expert.