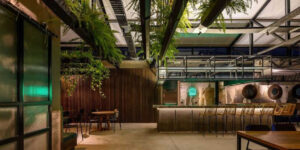 Restaurants, cafes, and roadside eateries are all about the first impression because customers would only like to dine in if the space offers an aesthetic vibe with calm, attractive, and sparkling visuals. When designing a restaurant interior, there's more than what can be mentioned for creating an appealing atmosphere.
However, when you're lacking money, it's quite a hurdle to overcome for interior design and most often, you would be looking for low-budget restaurant design ideas. We've got you covered with some of the most unique, innovative, and creative design solutions for your restaurant interior. Continue reading this post by FixingExpert to broaden your mind about low-cost restaurant design.
The Thrifty Hacks & Inexpensive Tips For Stylish Restaurant Design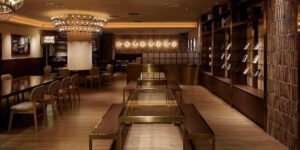 The best customer experience, increased sales & revenue, and customer satisfaction, all come with a stylish restaurant design in the first place. What if we tell you that space restrictions and financial limitations can't stop you from designing a restaurant that's rich in decor and elegance?
Yes, you can design your restaurant with sheer elegance, absolute comfort, and an attractive interior fitout. For this purpose, we've described below some cost-effective restaurant design solutions.
1. Specify A Theme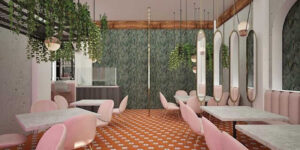 How do you want your restaurant's interior design to be perceived by the customers? For instance, an Italian touch demands rustic walls, marble floors, wall murals, antique showpieces, and wooden furniture in the interior.
Designing a restaurant interior demands you to focus on a particular theme. Adding to that, any particular theme chosen for the interior design has a range of essentials from low-cost to luxurious placements.
Thus, you can easily make purchases depending on your budget. However, you should opt for a theme that can be implemented simply and efficiently without much expenditure i.e. Chinese-style dining puts emphasis on a minimalist outlook with a plain, simple design.
2. The All-Important First Impression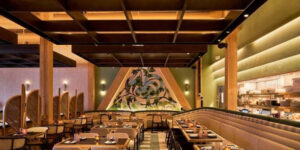 No matter if it's a low-budget restaurant, it should attract potential customers. This styling strategy should be your first priority when designing the restaurant. For this purpose, the entrance of your dining space should be embellished and should feature a design distinction. In this context, you can experiment with the following steps.
Odd-shaped entryway

Large glass panels as windows to let the customers see the inside of the restaurant

Art display on the entrance

Restaurant name in neon lights

Some outdoor seating (A table & a few chairs)

A Bold Color Scheme
3. Add Some Greenery Inside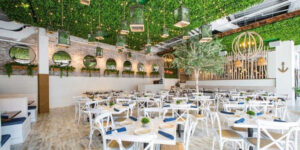 It's a great way to add calmness and bring about a refreshing, positive attitude toward the restaurant's interior. Hanging plants is a great idea to improve the air quality inside. For this purpose, you can have Devil's Ivy, philodendron, Boston fern, and many other amazing options.
Additionally, you can alos decorate with artificial greenery for bringing about a sense of amusement and delightfulness. The main idea is to decorate the restaurant but with a budget-friendly design approach. We've described some tips that might prove to be really helpful for you such as:
Pots of flowers on tables

Small plants hanging from the ceiling

Artificial flowers as wall attachments
4. Install Neon/LED Lights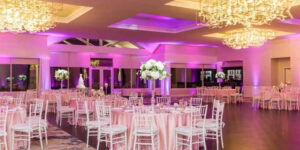 Neon lighting can play an important role in restaurant design by enhancing the ambiance, creating a distinctive brand identity, and attracting customers. In addition, it creates a warm and inviting atmosphere.
Neon lights can be used to highlight specific areas of the restaurant, such as the bar or the seating area, and can also be used to create a sense of depth and dimension. They can be customized to match the theme and style of the restaurant, whether it's a retro diner or a sleek modern space.
5. Repurpose Old Furniture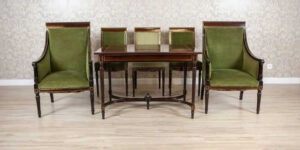 The furniture chosen for a restaurant can set the tone for the dining experience. The style, color, and materials used in the furniture can create a specific ambiance that matches the restaurant's theme or the cuisines offered.
For a low-budget situation, you can purchase used furniture sets and get them polished and revitalized. It's best to buy multi-functional furniture for restaurant space optimization and to overcome design challenges with improved functionality and aesthetics.
Why buy new furniture for your restaurant when you can remodel old, non-damaged furniture pieces? It's a great strategy that doesn't let you compromise on the aesthetic factor yet offers the benefit of low-cost restaurant remodeling.
6. Decorate With Wall Art & Showpieces
Wall decorations are an effective way to enhance the design and atmosphere of an inexpensive restaurant design. They add color, texture, and personality to the space without breaking the bank. 
Creatively crafted wall art and design add to the customer's positive remarks about your restaurant. You can design a Mexican restaurant interior with bright and colorful tapestries and paintings to create a festive atmosphere.
Similarly, a sushi restaurant might opt for simple and elegant Japanese-inspired prints. Hence, there is a wide variety of options available, from simple framed prints to DIY wall art made from inexpensive materials like paper or fabric.
7. Know Your Color Palette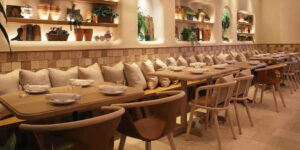 Your brand recognition is all about the logo and color theme as the restaurant's face identity.
The color theme of a cafe or restaurant is an important aspect of its overall design. The color theme can also reflect the theme or cuisine of the restaurant, such as earthy tones for a farm-to-table restaurant or vibrant colors for a Mexican restaurant.
Certain colors are known to evoke specific emotions or reactions i.e. excitement, energy, calmness, relaxation, happiness, optimism, etc. This means that the color theme can potentially impact how customers feel and behave while in the restaurant, such as how long they stay, how much they admire the surroundings, how much they spend, and how likely they are to return.
8. Employ Signage Ingeniously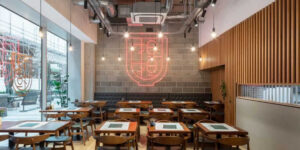 Signage is an important aspect of a business's overall marketing strategy. It can attract customers, create brand identity, and communicate important information to potential customers.
Use signage creatively to create a strong brand identity for your restaurant and improve customer reach. Handwritten chalkboards or creative window displays can add a personal touch to the restaurant and help to differentiate it from competitors.
9. Consider An Open Kitchen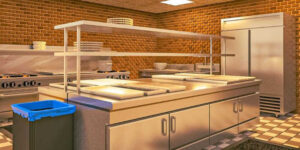 Want to create a sense of transparency and engagement with customers? You should consider an open-plan kitchen for your restaurant design. Not only is it a unique design element but also provides a more interactive experience for customers.
It will improve the trust of customers in your brand with no concerns over the quality, purity, and processing of the food being served to them. However, if you can't comprehend a complete open-plan kitchen for the restaurant, it's best to have glass panels installed as borders between the kitchen and the dining area.
The Best Design Tips For Inexpensive Restaurant Interiors
The cost-effective way to design the interior of your restaurant involves some important parameters to be followed. We've given a brief explanation of all these restaurant design considerations.
1. Plan Your Dining Space Wisely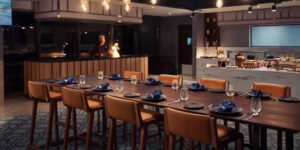 It involves maintaining a balance between functionality and aesthetics. For this purpose, you need to determine the seating capacity and design a layout for furniture placement. The furniture size and placement should be ideally selected i.e. small tables with efficient spacing for an individual's pathway.
2. Keeping The Design Simple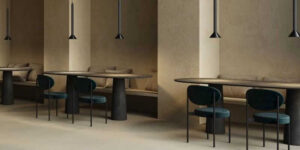 When on a low-cost budget, you should avoid expensive placements and purchases. There is no chance that you can include expensive decorative elements to make the restaurant appear more lush, inviting, and attractive.
And the same can be achieved with a minimalist design approach to elaborate all the minute decor details. It will help you reduce the cost of restaurant design and decoration while maintaining the comfort, style, and functionality of the space.
3. Prioritize Functionality
The dining experience is dependent on the quality of food being served alongside seating space, comfort, and adaptability. An effective restaurant design should prioritize functionality to ensure that the restaurant operates smoothly and that customers and staff have an enjoyable experience.
To optimize the practicality of the restaurant, there are plenty of important factors i.e. the arrangement of tables, the placement of the kitchen, the flow of foot traffic, the accessibility of the restaurant, the organization of storage areas, and the use of equipment and technology.
4. Maximize The Use Of Natural Lighting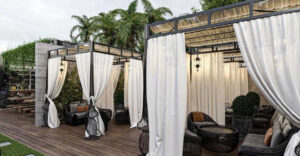 Lighting can create a mood and atmosphere in the restaurant. You should try to maximize natural light by positioning seating areas near windows. This will not only create a more inviting and pleasant atmosphere but also reduce the need for artificial lighting during the day.
5. Define Your Budget Limit
Setting a budget limit allows you to predict the project's viability and sustainability. You can't spend all the amount on interior design and need to allocate resources and prioritize the expenses i.e. kitchen equipment, furniture, decoration, flooring, electrical appliances, etc.
Maximizing Your Small Space
The Most Popular Restaurant Designs For Low-Budget Situations
Below, we've enlisted some of the most popular yet cost-effective styling approaches to design and decoration for the restaurant interior.
Industrial Chic

Rustic Charm

Pop of Color

Minimalism

Garden Oasis

Vintage

Outdoor seating
FAQs–Frequently Asked Questions
1. How Can I Make My Restaurant Stand Out?
Design your restaurant with a distinct yet stylish approach, interior decor is a must. Moreover,  serving quality food and drinks to customers, embracing smart technology, and providing a calm environment with comfortable seating are equally crucial.
2. What Is The Most Important Design Element In A Restaurant Interior?
A restaurant layout with better space utilization and improved aesthetics is the most important of all the design elements for a restaurant interior.
3. How Do I Create A Cohesive Design For My Restaurant?
The color scheme, materials, and design concept should all be closely coordinated to provoke a more unified, cohesive feel in the customer's minds.
4. What Is The Best Way To Incorporate Branding Into My Restaurant Design?
Creating a brand identity for your restaurant can easily be achieved through signage. It greatly helps with the overall marketing strategy of a business model.