Choosing the right curtain rod is essential to enhance the overall aesthetic and functionality of your space. That's why we offer an extensive range of 12 different types of curtain rods to suit every style and requirement. Let us help you explore the different types of curtain rods by FixingExpert, their advantages, and how they can elevate the look of your home.
Curtain Rods Unveiled: Discovering The Range Of Options
A curtain rod may look to be an insignificant design element of your home window treatment, however, plays a crucial role in uplifting the aesthetics of your window. There are various styles and varieties of curtain rods available on the market and we've summarized them here for your better understanding.
1. Standard Curtain Rods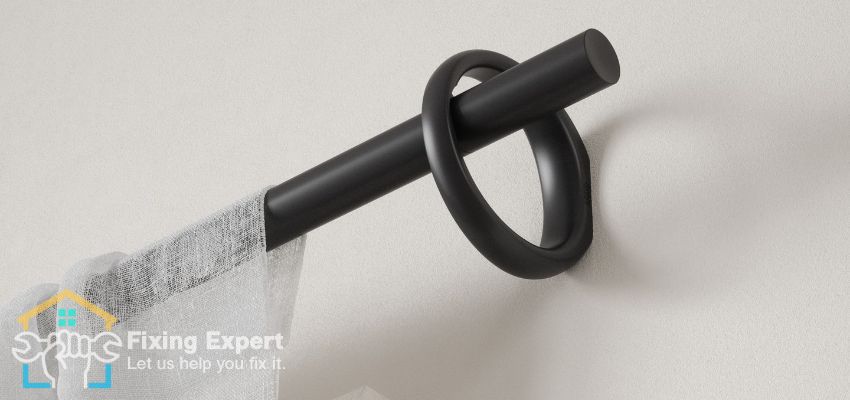 Standard curtain rods are the most common and versatile option available. They are typically made of metal or wood and come in various lengths to accommodate different window sizes. These rods feature adjustable brackets that allow you to customize the distance from the wall and ensure a proper fit for your curtains.
These rods are suitable for lightweight to medium-weight curtains and offer a simple yet elegant look. You can find various options under this variety of curtain rods namely;
Spring Tension Rods

are adjustable curtain rods that use spring-loaded tension to hold them in place, eliminating the need for drilling or hardware installation.

Sash Rods

are narrow curtain rods designed for lightweight or café-style curtains, fitting snugly within the window frame to provide privacy while allowing natural light to enter.

Cafe Rods

are small, typically narrow rods used to hang cafe-style curtains that cover only the lower portion of a window, creating a cozy atmosphere while maintaining privacy.

Traverse Rods

feature a cord mechanism that allows curtains to be easily opened and closed, making them ideal for large windows or heavy draperies.
Quick Note: How To Hang Curtains Without A Rod?
2. Decorative Curtain Rods
Add a touch of elegance and style to your windows with decorative curtain rods. These rods come in a wide range of designs, materials, and finishes, allowing you to find the perfect match for your interior decor. 
These window curtain rods feature ornate finials at each end, adding a decorative element to your curtains. They are suitable for heavier curtains and can transform your windows into focal points of the room. Some types classified under this category include;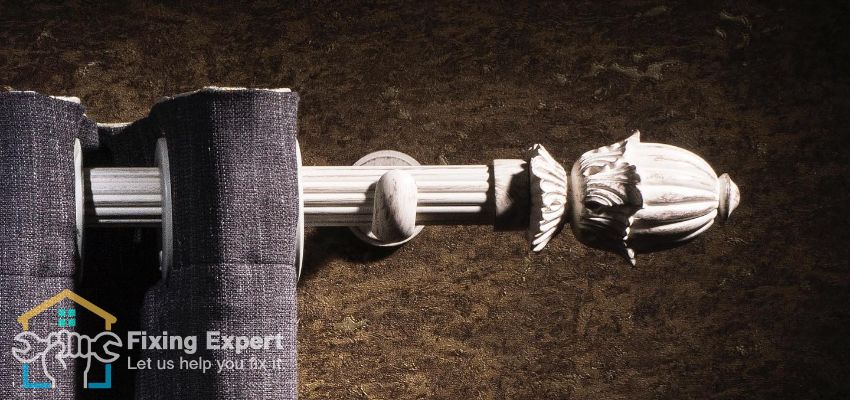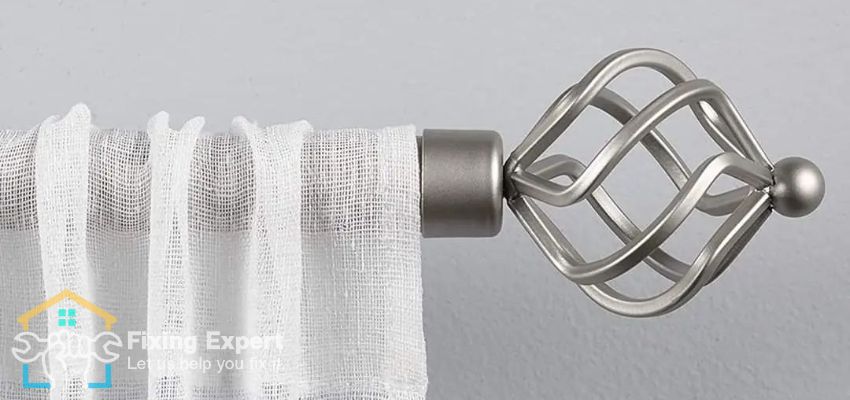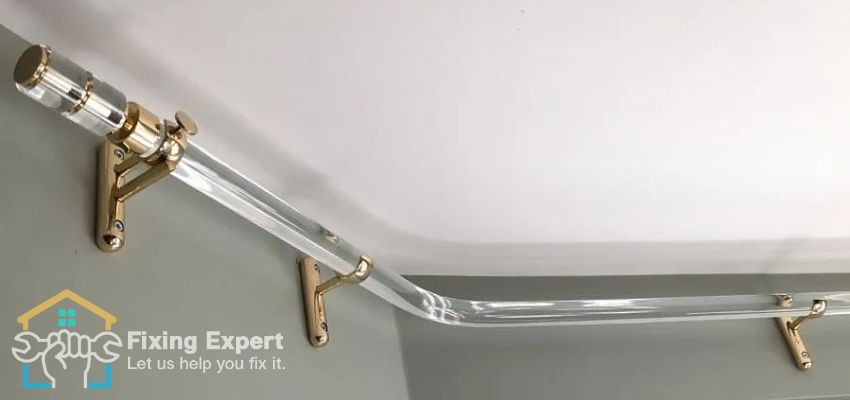 3. Magnetic Curtain Rods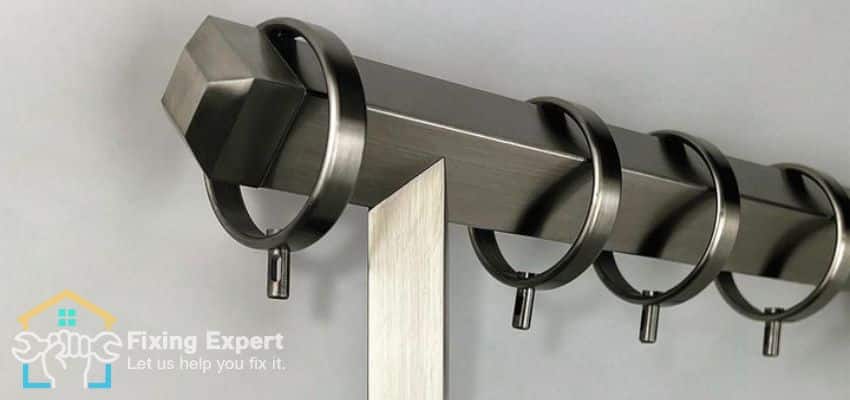 As the name indicates, these rods use strong magnets to attach to the metal surface, providing a secure hold for your curtains. These rods are a unique and innovative solution for metal-framed windows.
They are easy to install and remove, making them a convenient option for temporary or lightweight window treatments. Not to mention that you can choose from various lengths to find a perfect option.
Every positive is attached to a negative and just like that, magnetic curtain rods are not feasible with non-metallic surfaces. Plus, they offer limited suitability for heavy curtains and a weaker hold compared to traditional rods.
4. Double Curtain Rods
Double curtain rods consist of two parallel rods mounted on a single bracket, allowing you to hang two sets of curtains or drapes. They provide versatility and convenience by enabling you to layer curtains for added privacy, light control, or aesthetic appeal.
Related: How To Hang Pocket Rod Curtains With Pin Hooks?
With these rods, you can easily switch between sheer and blackout curtains or combine different colors and patterns to create a stylish and functional window treatment solution. You can find this type of rod in 2 different variations such as;
Double Traverse Rods

feature two parallel rods with independent cord mechanisms, allowing separate control of two sets of curtains for enhanced functionality and layered window treatments.

Double Tension Rods

are adjustable curtain rods with two parallel rods that rely on spring-loaded tension to hold them in place, providing support for two sets of curtains.
5. Bay Window Curtain Rods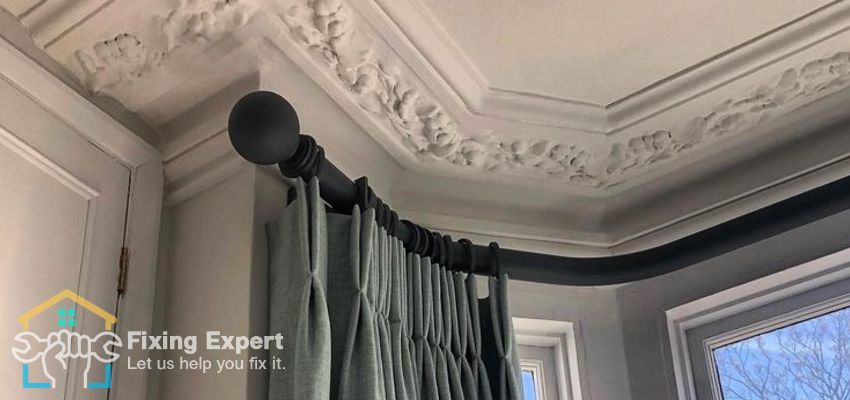 Bay window curtain rods are specially designed to fit the unique shape of bay windows, which often feature angled or curved sections. These rods typically consist of multiple adjustable segments that can be manipulated to follow the contours of the bay window.
These rods enhance the functionality and aesthetic appeal of bay windows by providing proper support and allowing curtains to be drawn smoothly. The different types of bay rods include;
Bay Window Traverse Rods

Bay Window Double Curtain Rods

Bay Window Flexible Curtain Rods
6. Curtain Rods With Curvature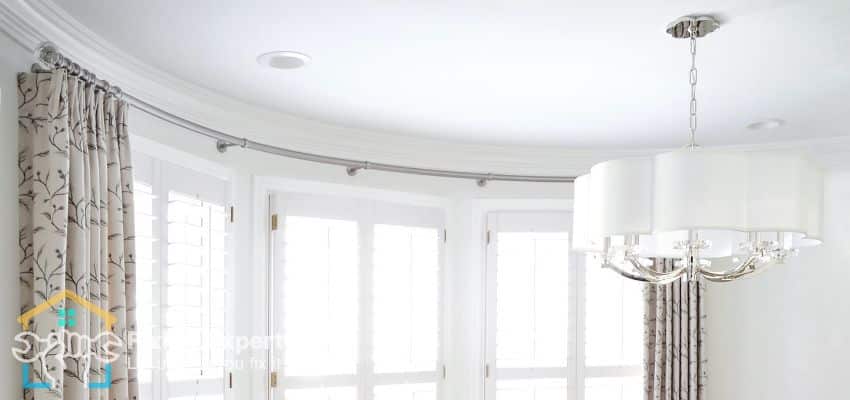 Curtain rods with a curvature are specifically used in showers for maximizing usable space, however, are equally as popular with window installations. On top of that, they can add a unique sense of elegance and sophistication to the windows. There are two different variations of this type of curtain rod including;
Circular-shaped Curtain Rods

offer a distinct and stylish alternative to traditional rod options and make your windows the center of attraction.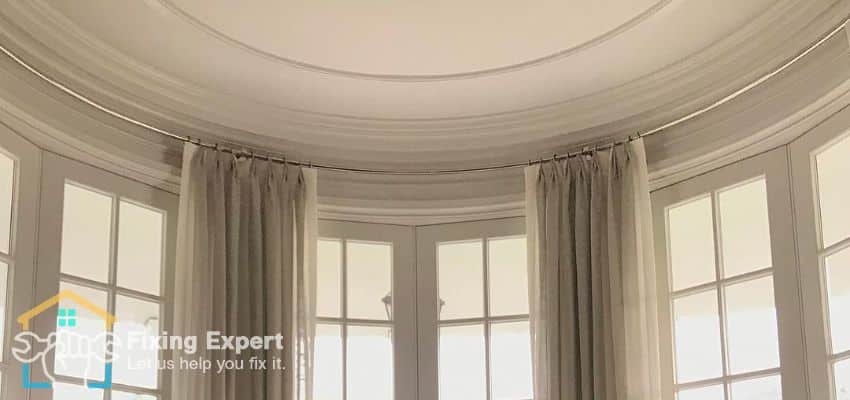 Half-Circle Curtain Rods

cover only one portion of the window and therefore, multiple such rods are required to completely dress the windows. Still, these rods create an eye-catching look and allow ample interior illumination.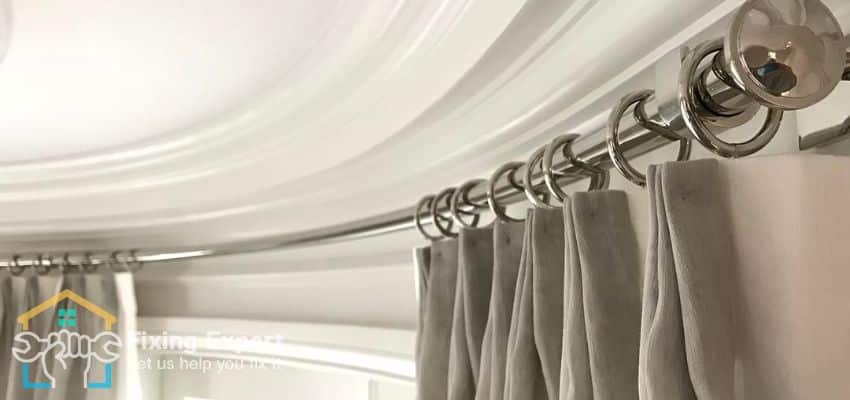 7. Curtain Rods For Specialty Windows
Each home doesn't have full-face broad windows to illuminate the interior. Some home interiors may have windows in corners or arched windows known as specialty windows.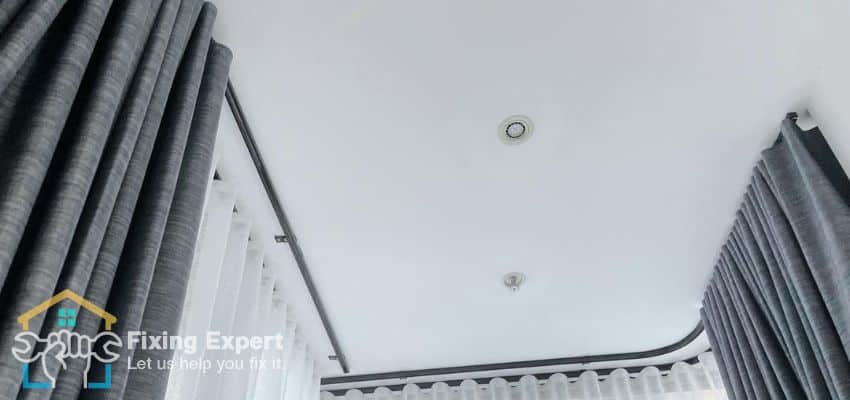 To dress such windows with curtains, you need special curtains. The two most common and equally popular rods available on the market include;
Arched/Curved Curtain Rods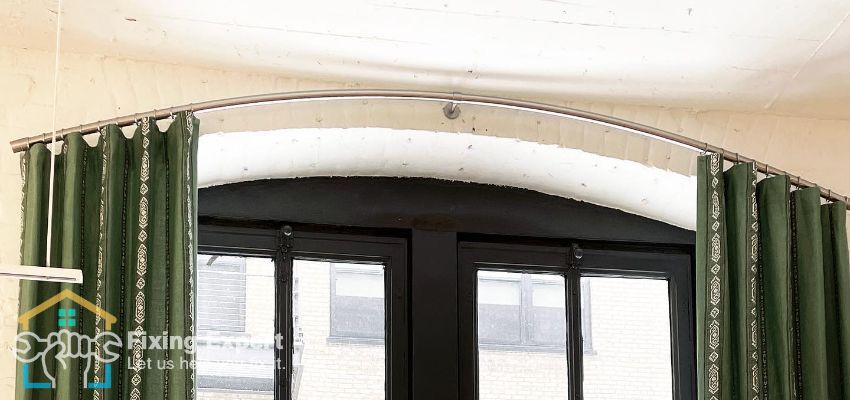 Corner Curtain Rods (These rods are bent at a 90-degree angle)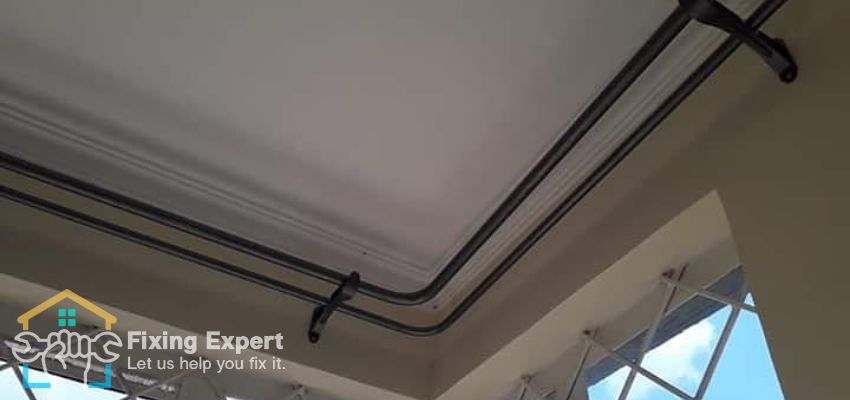 8. Electric Curtain Rods
Electric curtain rods add convenience to your windows operation by inducing ease of control options i.e. remote control, smartphone app, etc. Plus, you can effortlessly open and close your curtains with mere a push of a button.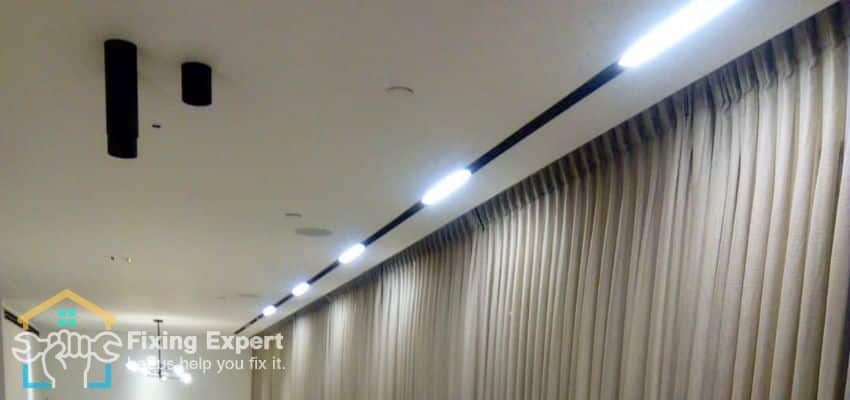 These rods are especially beneficial for high or hard-to-reach windows, providing easy operation and eliminating the need for manual adjustment. Motorized curtain rods add a touch of modernity and sophistication to your home while enhancing comfort and convenience.
9. Continental Rods For Curtains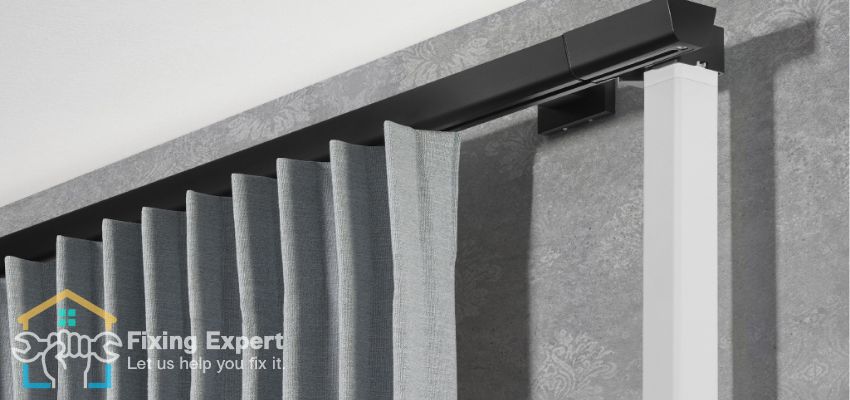 Continental rods have a flat face that is about 2 ½ inches wide, making them a wider option than traditional rod-pocket rods.  These rods provide a more solid appearance and improved support compared to smaller, flimsier rods. They are designed for panels or valances with fixed rod pockets.
These best-quality rods offer ease of installation and stand the test of time. You can hang heavy-weight curtains onto them without the fear of them bowing down. Within this variety, there are various styles available to be used with windows in corners, bay windows, and deeper valances.
10. Lock-Seam Rods For Window Curtains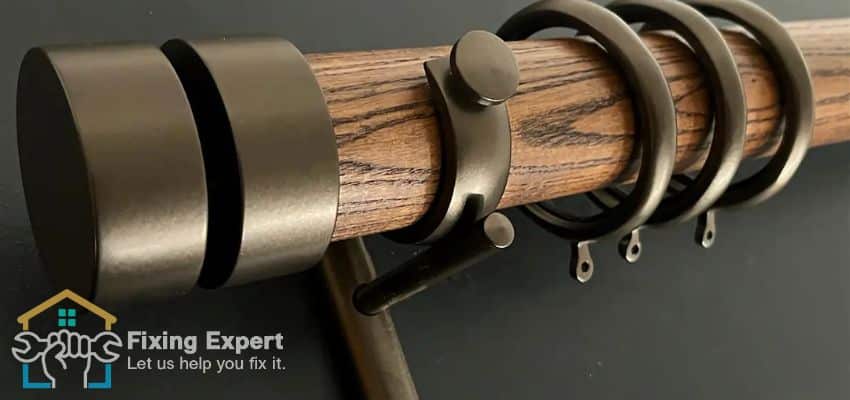 These window curtain rods feature a unique design and come with a locking mechanism to hold the rod in one place. These heavy-duty rods ensure stability and therefore, your window curtains, irrespective of their weight, stay firmly in position. Not to mention that these rods add to the streamlined window appearances with their sleek and stylish appearances.
11. Pressure-Spring Rods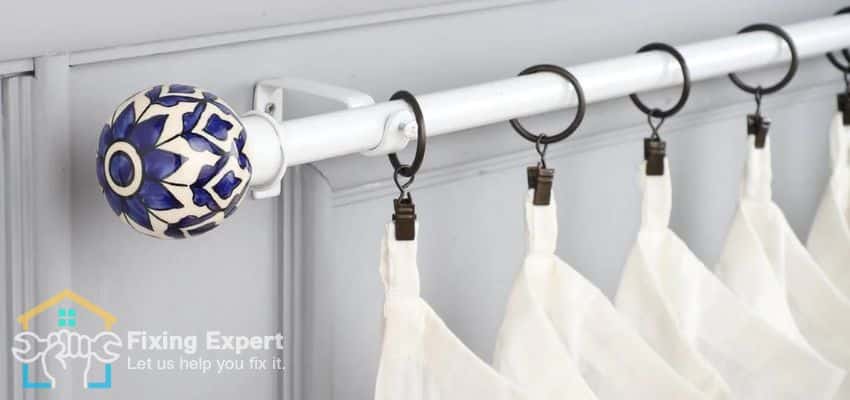 You have recently renovated the interior and don't want to cause an aesthetic glitch. But the irony is you have difficult-to-treat windows. So, what is the best option to deal with the situation for dressing your home windows?
Spring-pressure curtain rods can save you under such circumstances. These rods utilize a spring-loaded mechanism that creates tension, allowing them to be effortlessly mounted between two walls or surfaces.
With easy installation and a clean, minimalistic look, spring pressure curtain rods offer convenience and flexibility while maintaining a professional and polished finish for your windows.
12. Customized Curtain Rods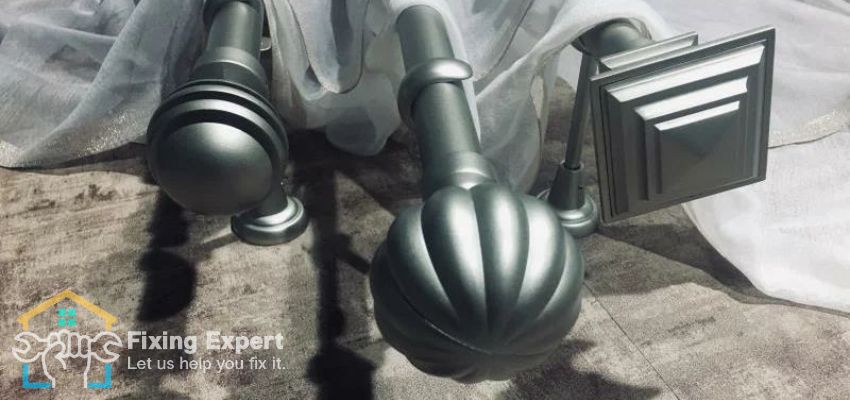 What if you've found the customized style of curtains but not in an ideal rod length? Don't worry, you can place an order for customization to get your desired curtain rod in the ideal length. The same goes for if you're looking to dress your arched windows but couldn't find the curtain rod curved at a desired angle to dress your windows.
Last but not least, you can customize your metallic curtain rod with intricate designs or get handcrafted unique wooden rods to dress your windows.
13. DIY Your Curtain Rods
There can be various reasons to not purchase a curtain rod i.e. cost savings, uniqueness, resourcefulness, etc. A DIY approach not only saves you a lot of money but also gets you to repurpose existing materials and therefore, proves to be a sustainable option. Some of the most common options to DIY your curtain rods include tree branches, PVC pipes, ropes, etc.
How To Purchase An Ideal Curtain Rod For Dressing Your Home Windows?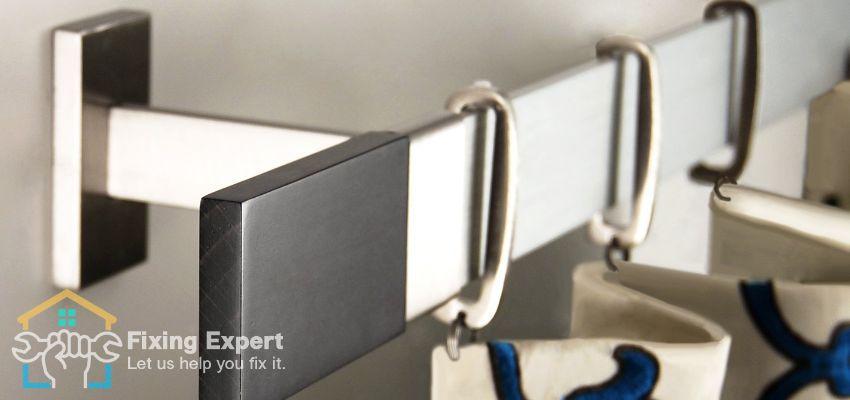 To purchase an ideal curtain rod for dressing your home windows, you need to keep in mind the following tips;
You should decide beforehand whether you intend to make a functional or decorative purchase.

Always take precise measurements of your window's width and add a few inches to your calculation for obtaining a perfect rod length.

The weight of the curtains is an important factor and you should buy a curtain rod that can easily support your curtains without bowing or breaking.

Depending on the finished look you desire to relish, pick the curtain rod material like metal, wood, plastic, etc.

Decide whether or not you want a curtain rod with imprinted designs or a plain option.

Last but not least, you should determine a budget before going buying for a curtain to prevent undesired financial consequences.
The Step-By-Step Guide To DIY Installing The Window Curtain Rod
To DIY install your curtain rod is a piece of cake for those who follow precisely the steps explained below.
1. Preparing The Windows
The first and foremost thing is to measure and mark the exact point above your window where the rod is to be positioned. After that, you need to ensure that both the marked points are at the same level and that can be done with the help of a level.
2. Install The Rod Brackets
Now comes the time to install rod brackets. Depending on the type of rod you choose, the installation process may differ. Because some rod brackets may require you to drill holes in the wall while others come with a peel-and-stick mechanism (adhesive type).
3. Position & Place The Rod
Finally, you need to position and place the rod onto the brackets to finalize your installation of the window curtain rod. Make sure that you don't make any mistakes while taking measurements. Because, if so, you'll have to repeat the curtain rod installation process.
Tips & Tricks From The Experts For Curtain Rod Maintenance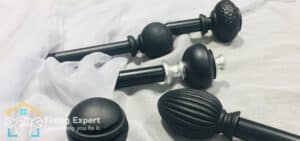 For effortless curtain rod maintenance and care, you need to follow these tips such as;
Regularly clean rods using a soft cloth or mild cleaner.
Lubricate moving parts, like rings or curtain rails, to ensure smooth operation.
Inspect for any loose screws or brackets, tightening as needed.
Check for rust or corrosion, treating affected areas promptly.
Gently vacuum or brush curtains to prevent dust buildup.
How To Hang Curtain Without Rod?
FAQs–Frequently Asked Questions
1. What Is The Standard Size Of A Curtain Rod?
The standard curtain rods range from 28-120 inches.
2. How High Should A Curtain Rod Be Hung?
The rule of thumb is to hang curtain rods 4-6 inches above the window frame.
3. How Can I Reuse Curtain Rod Brackets?
To reuse curtain rod brackets, you need to carefully remove them from one location and reinstate them in a new desired spot.
4. How Do I Clean A Curtain Rod?
To clean a curtain rod, wipe it with a soft cloth or use a mild cleaner suitable for the rod's material.
5. Can I Install Curtain Rods Without Drilling Holes?
Yes, you can install curtain rods without drilling holes by using alternative methods such as tension rods or adhesive hooks.