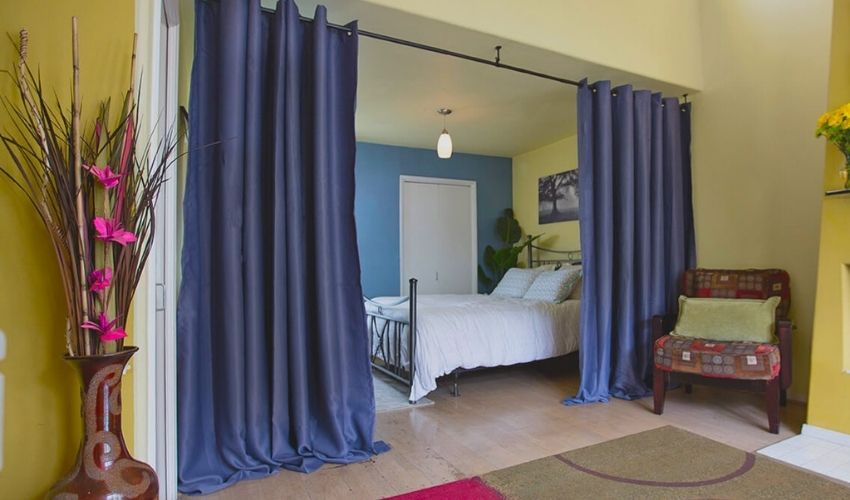 You can hang curtains in the rooms of your home the way you want to install them. But for hanging curtains in the apartment where you are living on rent, take care of the things. Like, hang the curtains so that they didn't cause any damage to the owner's property.
Use various techniques for installing curtains on someone else's property. Curtains are necessary for many purposes like they block the light coming from outside and help in insulation, so you have to install curtains or blinds even in a rental apartment.
Today, we will discuss the top 10 ways to hang curtains in a rental apartment without causing damage to others' property.
Top 10 Ways to Hang Curtains in a Rental Apartment
Let's look at the top 10 solutions for hanging curtains in a rental apartment:
1. Use existing Curtain Rods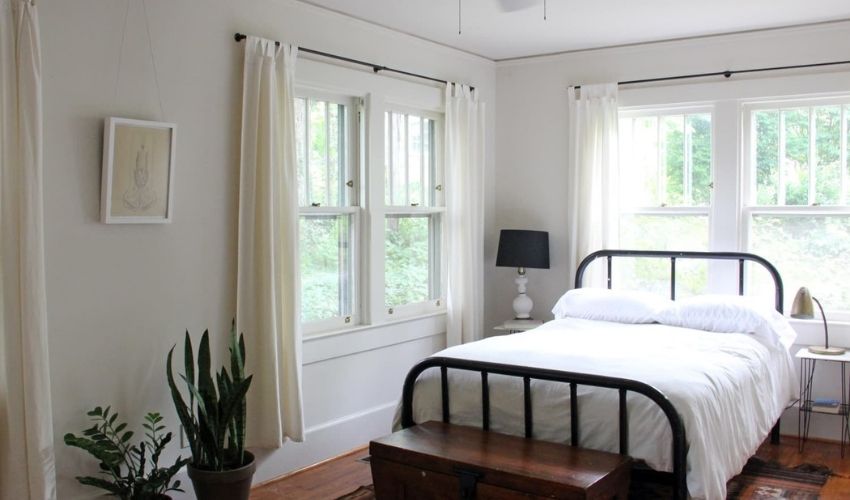 If the curtain rods are already fixed in the rental apartment and are compatible with your curtains, this will not happen most times. If you already have curtains that didn't accommodate your curtain style and you don't want to bear the expense of a new rod, then use the solutions given below:
Customize your curtains
You can easily customize your curtain size by sewing it according to the existing curtain rod's size and adding the curtain rings for easily hanging the curtain in the room.
Buy New Curtains
Measure the length of your doors or windows and buy new curtains for the apartment. Drape them on the existing rod, and you can open and close them when you need.
Drape the Curtains on an Existing Rod
If you live in a rental apartment and leave it after some time and don't want to spend too much money on it. Try to drape the curtains on the apartment curtain rods in a decorative manner. You can easily adjust them when you want to block the light coming to your room or when you need privacy.
2. Build Own Curtain Frame
You can easily build a curtain frame and customize it according to your needs. Event planners use these curtain frames for various purposes, facing no problems. It can be easily moved from one place to another with minimal fuss.
You can easily stand these frames in front of the windows with a curtain rail on its top that helps you to hang the curtains on them.
Measure the dimensions of your windows and then build a curtain frame according to your requirements. Decorate the frame so it matches your room walls and doesn't feel awkward while standing in front of your windows.
3. Use Clip-on Brackets
Many people don't like standard blinds, so there is a perfect solution. Mostly the Clip-on Brackets with hanging blinds are already installed above the windows in rental apartments.
You can clip these brackets to the top of the blinds and then hang the curtain rod with the help of these brackets. Use the NONO Bracket Mini clips and drill into the wall, and when you leave the rental apartment, you can easily remove them without damaging the wall.
4. Use Heavy-duty Magnets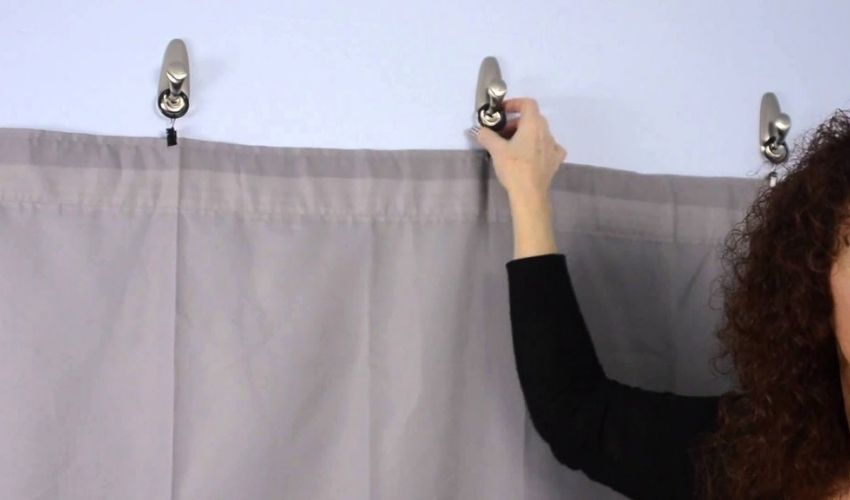 Suppose you want to install the curtain rod on the wall without damaging the wall, then you can use heavy-duty magnets, which work great with metal rods. These heavy-duty magnets can support the curtain and the rods and can't let them fall down, which is excellent for a rental apartment.
5. Use Spring Tension Rods
Spring tension rods are helpful because of their versatile characteristics that they can fit into any needed suspension rod space. You can use them for hanging light fabric curtains. It is the best method for hanging curtains in a rental apartment, as they can fit any window size without drilling into the walls.
6. Hang a Curtain Rail with the help of command brand hooks
Command brand hooks can be easily attached to smooth walls and other surfaces because of their sticky solid strips. You can use the command Jumbo Hook that can carry a 3.40 kg weight that supports both the curtain rails and drapes.
These hooks also come in stunning colors; you can easily get the color matching the curtain rails. For pasting them on the wall, attach the sticky strip to the wall and wait for 24 hours, then hang curtains rods for the apartment on them. Now you can hang curtains easily on the rod.
How to hang curtains link an interior designer?
7. Using the Roller Shade
If roller shades are already installed in some rental apartments to block the light and provide privacy. In case, they are not looking attractive, and you want to customize your living area by hanging curtains of your own choice.
You can roll the shade up, and now it comes to the shape of a rod above your windows like a horizontal tube. You can also remove the entire blinds from the brackets against the walls. Buy the curtains for apartment windows. Now use rubber bands and double-sided tapes for making a solid tube, then hang the curtains on this tube with the help of curtain rings.
8. Use Coat Hooks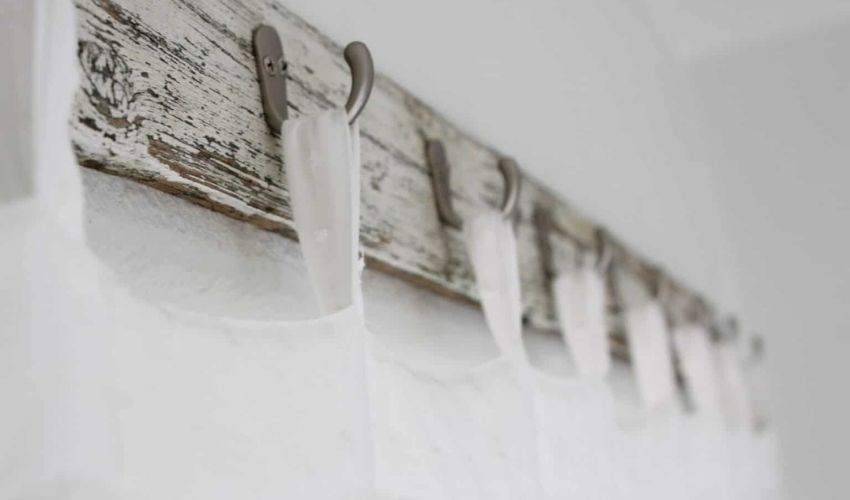 You can use coat hooks to hang the curtains temporarily because they don't require drilling to attach them; that's why they didn't cause any damage to walls. You can easily purchase these coat hooks which can be attached to the existing curtain rails. You can easily hang the curtains on the hooks and can easily open and close the curtains as per your needs.
9. Use Double-sided Tape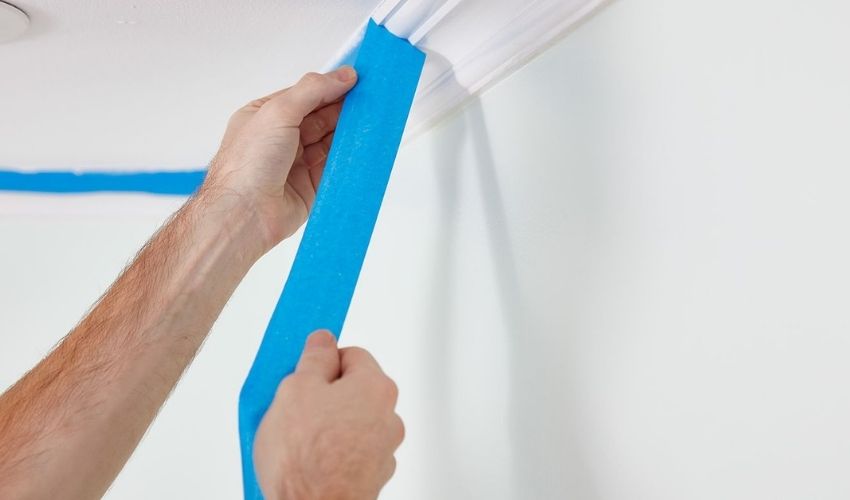 Use double-sided tape for hanging the curtains in front of your windows. If you have to live in a rental apartment for a short period, you can use this method. It will prove the best solution to your problem regarding hanging curtains without damage. It is also an excellent solution when you don't have much money to spend.
10. Suspend a Curtain Rod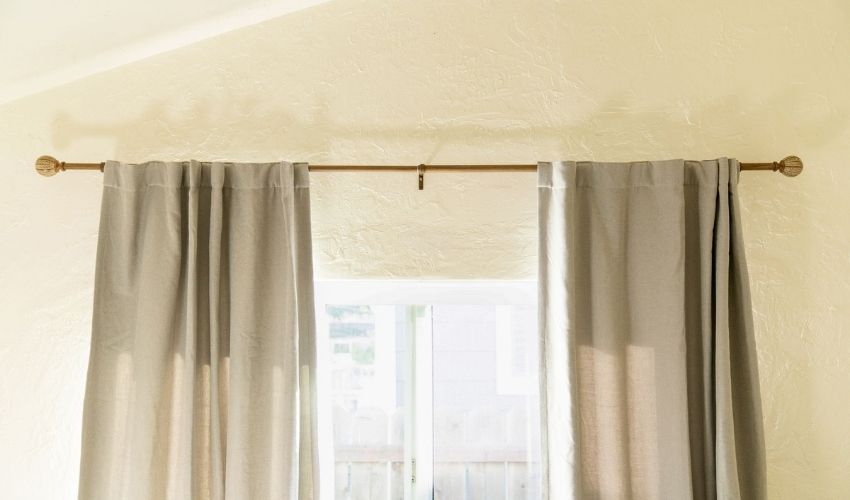 The last but not the least method is to suspend the curtain rod from the ceiling if you can't use other helping objects like surrounding walls or windows to install a curtain rail on it. With the help of a boom and hooks, you can easily suspend a curtain rail from the ceiling.
Conclusion
These are the top 10 solutions for hanging curtains in a rental apartment without damaging the walls. I hope this article helps you tackle problems like this, and you can easily manage these situations also if need more help with your interior decor you can read our articles. We are a top-notch interior Company in Dubai, we always help our clients to fix their interior layout with the best options!
Read More.