Now is the time to take advantage of your outdoor space, as summer has arrived! Whether you're having a barbecue with friends or simply perusing a book, a canopy roof can provide essential shelter and protection from the natural environment elements. 
Given the abundance of available materials, what criteria should be employed in selecting the optimal one? This article by Fixing Expe – Interior Fit Out Company Dubai will discuss the benefits and drawbacks of various canopy roofing materials to help you decide on your outdoor sanctuary. So unwind, enjoy a refreshing drink, and let's get started!
A Review of Materials for Canopy Roofing
Numerous types of canopy roofing materials are currently available on the market. Which option is best for your outdoor space? Here is a brief guide to help you choose the best roofing material for your canopy:
Glass Reinforced Polymer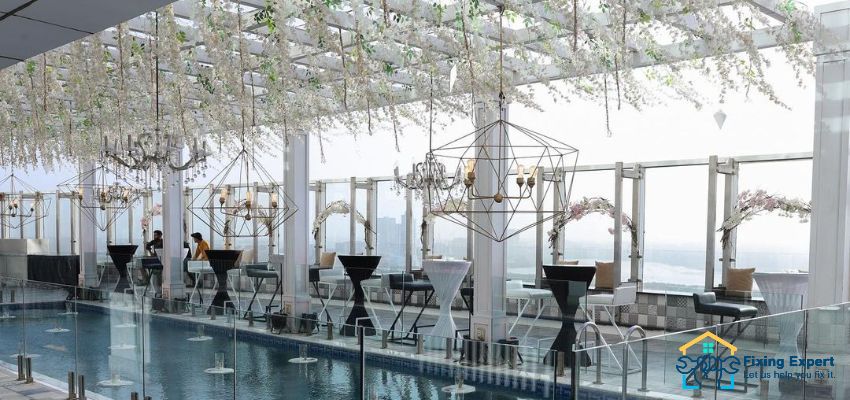 It is a composite material consisting of a plastic matrix and glass filaments for reinforcement. Due to its low weight, high strength, and resistance to corrosion and the elements, G.R.P. is commonly used to manufacture canopies. Due to these qualities, G.R.P. canopies are long-lasting and require little upkeep.
Glass Canopy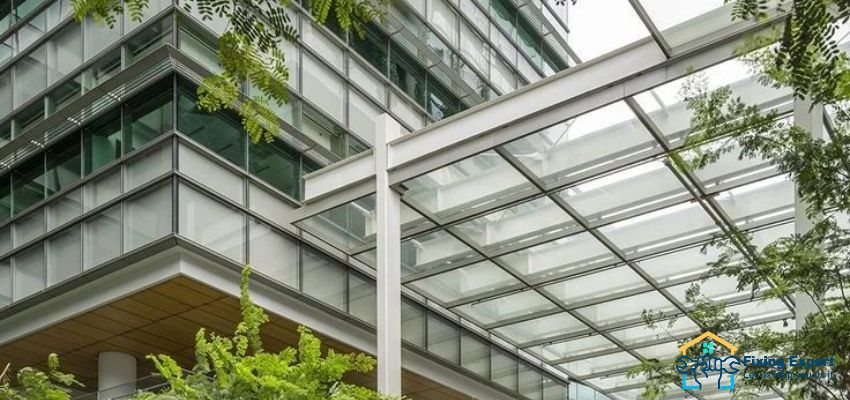 A glass canopy is a glass-and-metal structure that protects you from the weather while letting in natural light. This structure can serve as a canopy for an entrance, pathway, or outdoor seating area. Glass canopies have gained popularity in contemporary architecture owing to their streamlined and discreet design. They can be designed to complement the aesthetic appeal of the adjacent building by utilizing a variety of glass and supporting structures.
Polycarbonate Canopy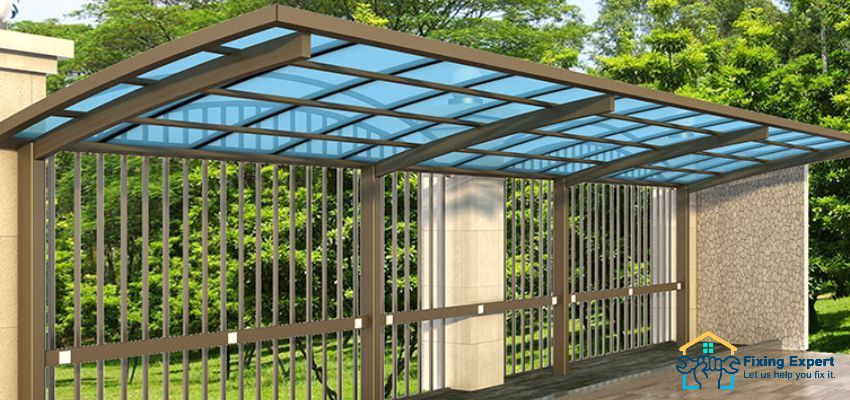 A polycarbonate canopy is constructed from polycarbonate panels, renowned for their exceptional impact resistance, durability, and U.V. radiation resistance. The canopies are lightweight, making their installation easier, and can be customized in various colors and configurations to complement the surrounding architecture. Polycarbonate canopies are frequently used in commercial and residential settings to protect from the elements as a cost-effective alternative to glass canopies.
Corrugated Umbrella
Unique and durable, a corrugated canopy imparts personality and texture to every space. These canopies are resilient and impervious to extreme weather conditions. They apply to parking garages, cargo piers, and storage areas in industrial or commercial contexts. Numerous customization options are available for corrugated canopies, allowing you to select various colors and sizes that complement the surrounding architecture.
Related: How to Choose Best Artificial Grass For A Roof Garden or Balcony?
What Material to Use for a Pergola Roof?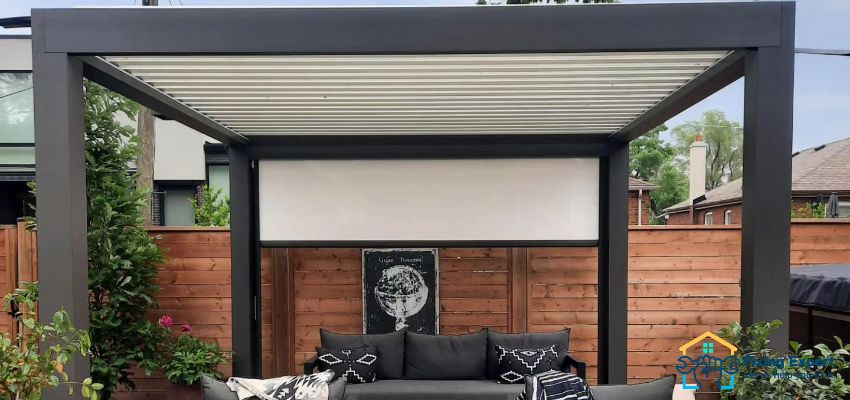 The roof of a pergola may be made from many different materials. Here is a brief idea of the major ones:
Polycarbonate sheets are lightweight, but they are also durable and transparent, allowing natural light to pass through.

Vinyl or plastic may initially appear aesthetically pleasing, however, over time they are prone to fading and distortion.  

Fabrics, such as shade cloth or outdoor canvas, offer a flexible and comfortable option for providing shade. 

Wood, such as cedar or redwood, can be stained or painted for a more modern take on a traditional and natural appearance.
What Material to Choose for a Gazebo Roof?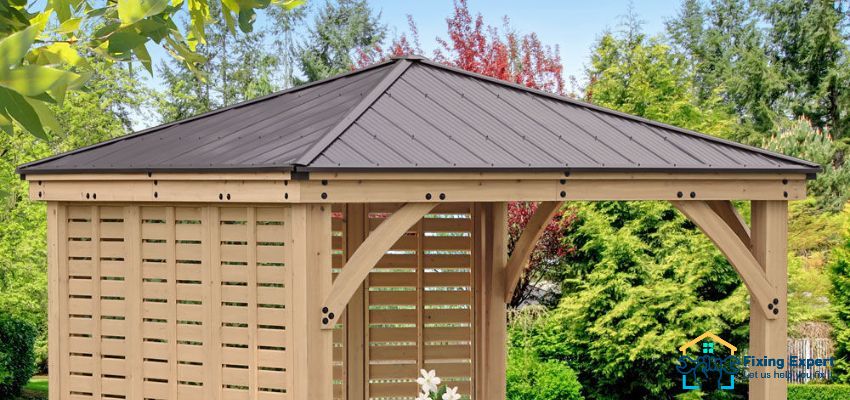 The selection of a suitable material for the superstructure of a gazebo is influenced by its overall design and intended aesthetics. Among the commonest materials are:
Asphalt roofing is a conventional and budget-friendly option.

Metal roofing, composed of copper or aluminum, is a durable and resilient option that offers resistance to extreme weather conditions.

Thatched roofs made from palm fronds or bamboo are commonly used to create a rural or tropical ambiance.

Polycarbonate or acrylic sheeting can achieve a contemporary appearance with minimal weight and abundant natural light.
Types of Canopies
Shade Canopies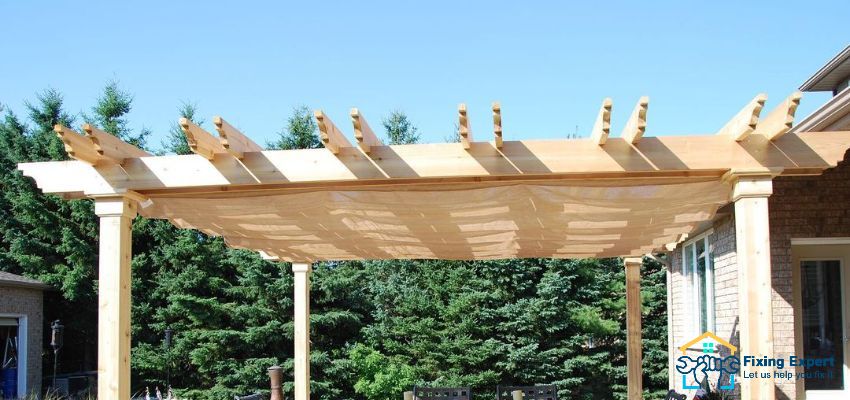 These canopies are specifically designed to offer shade and prevent the penetration of ultraviolet rays emitted by the sun. These structures have the potential to be freestanding or affixed to a building, and are typically constructed using materials such as canvas or polyester.
Garden Canopies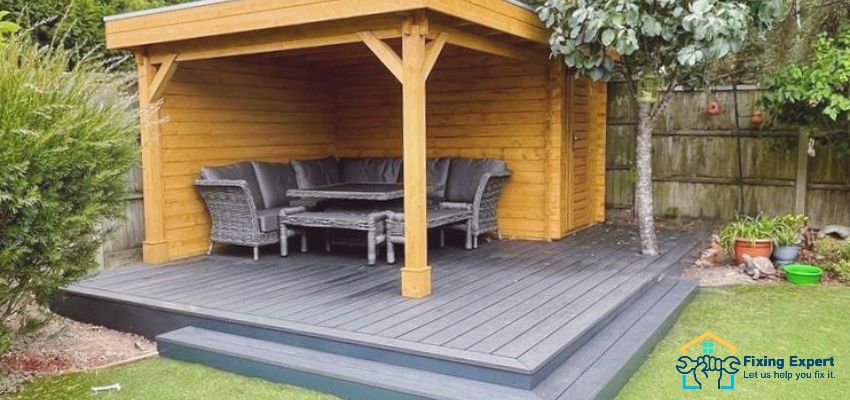 Small structures can be installed over a patio or terrace to provide shade and shelter. Wood, metal, fabric, and plastic are some materials that can be used to make them, and they come in various sizes and shapes.
Retractable Canopies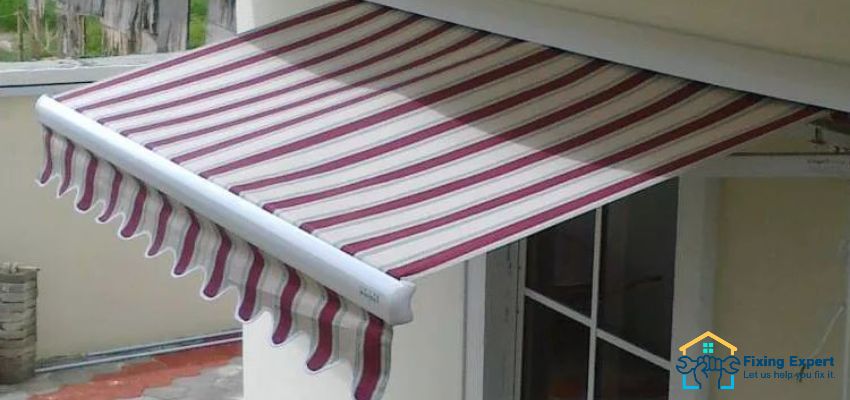 Canopies that can be extended or retracted as necessary are retractable. Manual or electric motors are employed to elevate and lower the canopy. They are frequently used to provide solar protection for patios and terraces.
Entrance Canopies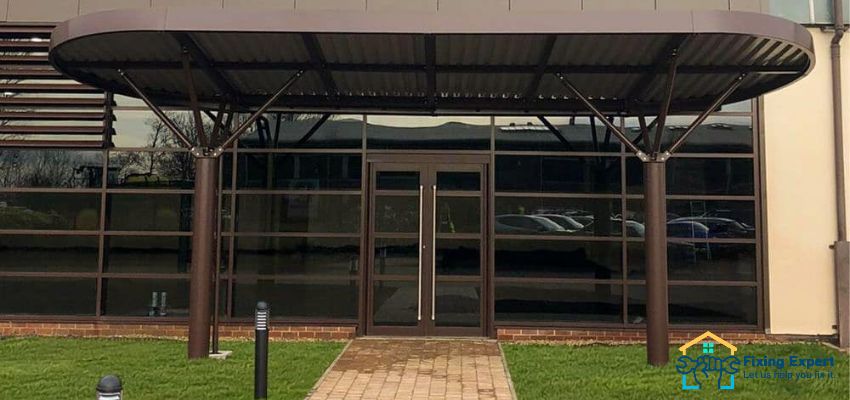 These are present near the entrance of a building or other property; canopies offer welcoming views with beautiful weather protection and shelter. They can be tailored to the design and aesthetic of the building by being fashioned from metal or glass, two of the numerous materials available.
Cantilever Shade Canopy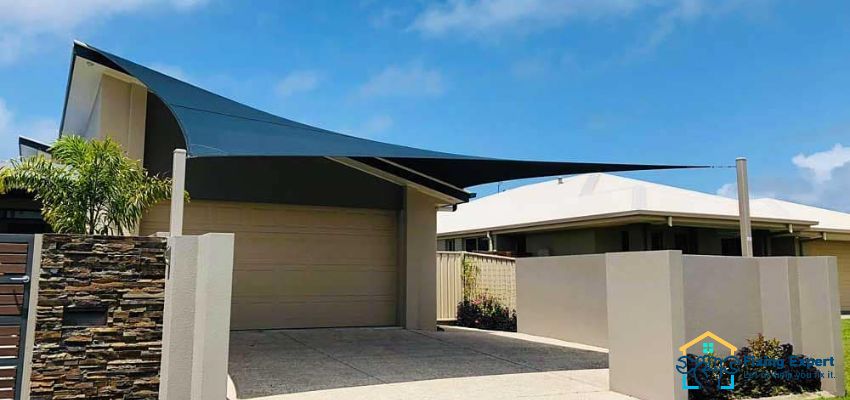 Cantilever shade canopies are a sheltering system supported by a single column or post, enabling optimal space utilization and unobstructed views. 
Carport Canopy
This carport canopy is an enclosed structure that rescue your car from wind, precipitation, and snow. They are typically made of metal or wood, have an open canopy and sides, and can stand alone or be attached to a building.
Canopy Tents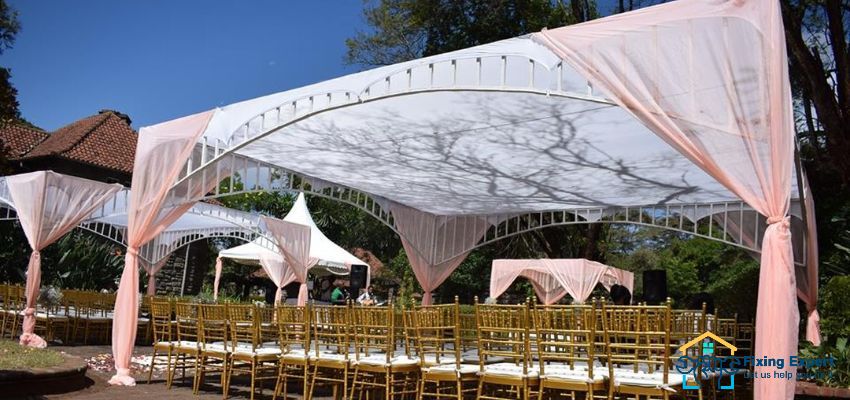 Canopies of this nature are portable and lightweight outdoor structures that offer protection from the sun and rain during camping trips, excursions, and various other events and activities. Constructed from lightweight materials like aluminum and polyester, these structures are easy to assemble and dismantle.
Shade Sails
Shelter sails, which consist of large portions of fabric or canvas suspended over outdoor locations, can provide sun protection and shelter. Commonly used in gardens, terraces, playgrounds, and commercial or public areas, they are typically attached to poles or trees.
Umbrella Canopy 
These Canopies serve as protective coverings for the metal structure of an umbrella. They are commonly found in outdoor dining and lounging areas, such as by the pool, and come in various materials, dimensions, and styles.
Related: Outdoor Upholstery in Dubai
Dome Canopy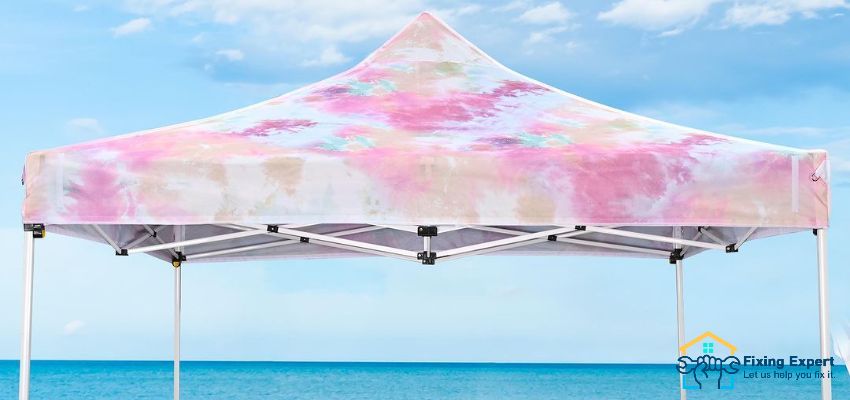 The frameworks of dome-shaped canopies can be constructed from various materials, including P.V.C., metal, fabric, or canvas. They shield weddings and celebrations from the sun and rain.
Sniper Canopy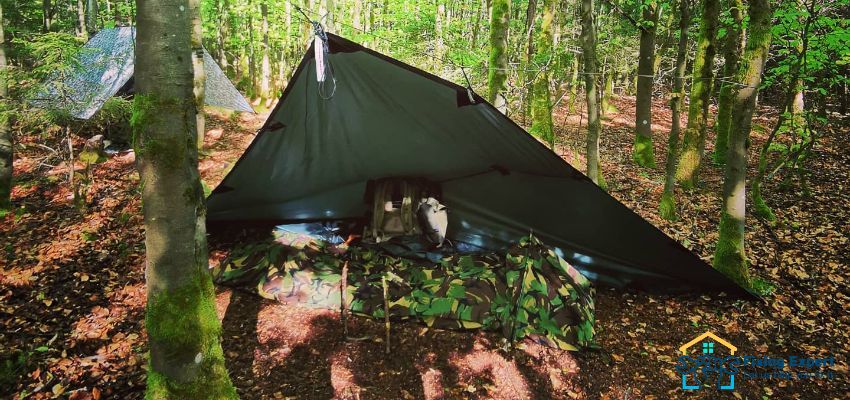 The Sniper Canopy is a specific form of camouflage designed for sniper hunting missions. This equipment enables hunters to conceal themselves more effectively from their prey. The canopy is adaptable to various environments, including forest, desert, and urban areas.
Metal Canopy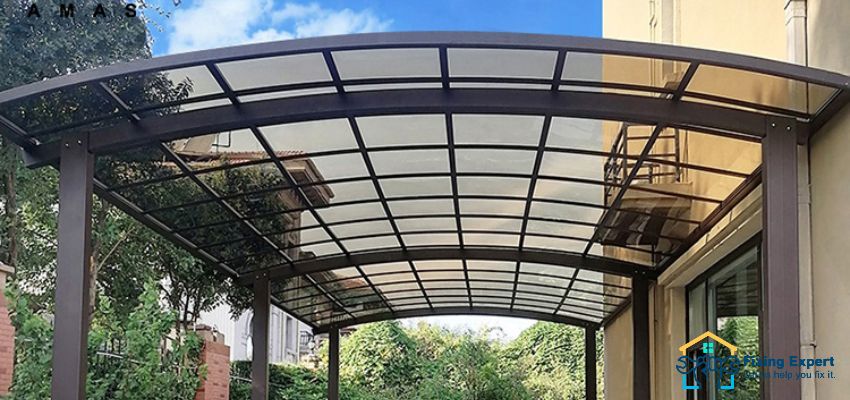 Steel Umbrella or metal canopy Roofing is the construction of a metal roof that offers protection from the sun and rain. There are numerous applications for metal canopies, including carports, patio shelters, and business entry canopies. They are adaptable to any design and necessitate minimal upkeep.
Glass Canopy Roofing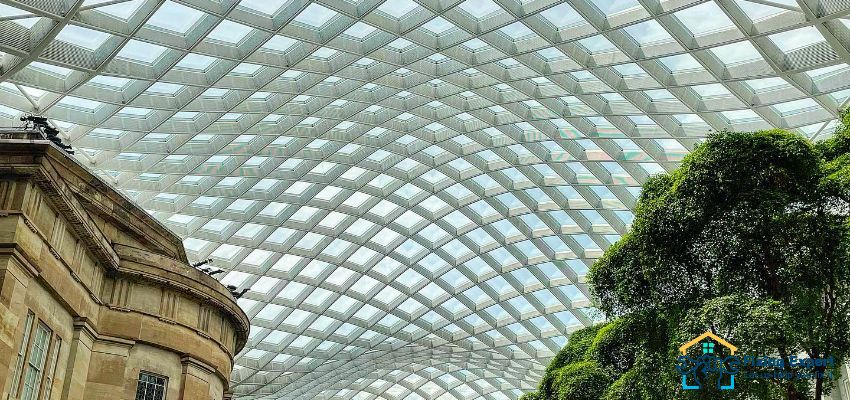 The term "roofing" describes erecting a glass-based protective superstructure or in other words a "Transparent Ceiling". Glass canopies are adaptable and lend a modern and refined look to various locations, including entrances, pathways, and patios.
Fabric Canopy Roofing
Using fabric canopy roofing presents a pliable and lightweight alternative for furnishing shelter and shade against environmental factors. The structure is commonly composed of a metallic or P.V.C. framework, covered by a fabric material that is tautly stretched over its surface.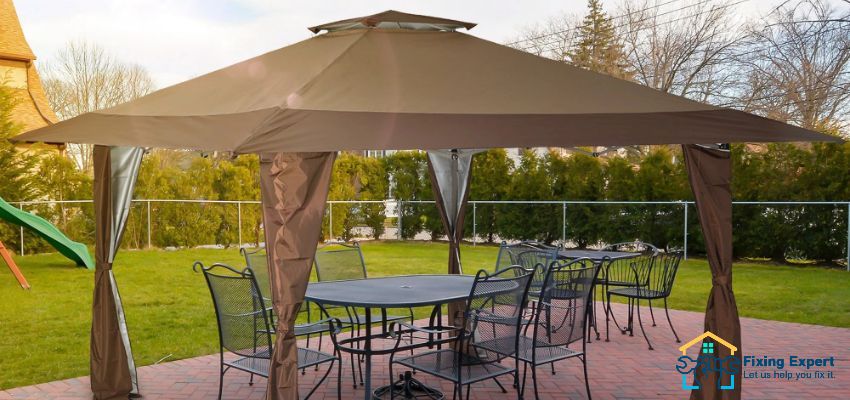 The textile can be tailored to various hues and designs and is frequently composed of substances like polyester or canvas. These canopies can be easily molded and sized to fit a variety of environments. They perform well for public and private events of all sizes.
Flat Canopy Roofing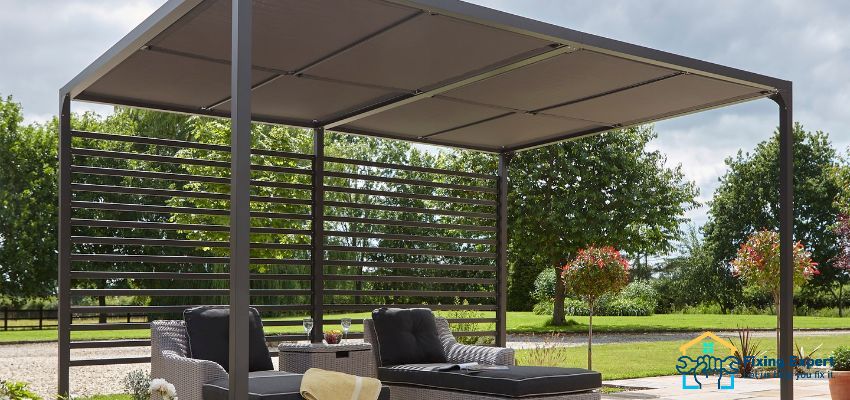 The flat canopy roofing system is characterized by a planar surface extending over a structure reminiscent of a canopy. The utilization of diverse materials such as metal, EPDM rubber, and P.V.C. is prevalent in constructing commercial and industrial edifices.
Gable Canopy Roofing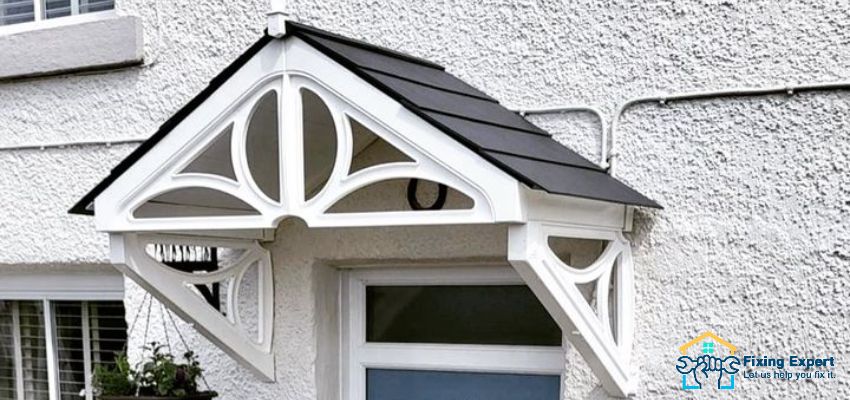 Gable Canopy Roofing is a style resembling the triangular shape of conventional residential roofs. This type of canopy, which may be made of metal, polycarbonate, or glass, is an excellent method to shield your outdoor space from the damaging elements and improve its aesthetics.
Hipped Canopy Roofing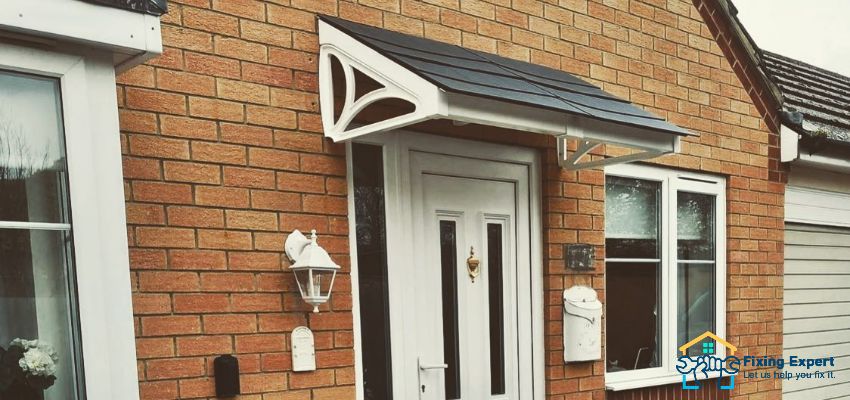 Hipped Canopy Roofing resembles a miniature pyramid with a peak and four sloped sides. Metal, polycarbonate, and fabric canopies are suitable for gazebos, entry canopies, and pergolas, among other uses.
Arched Canopy Roofing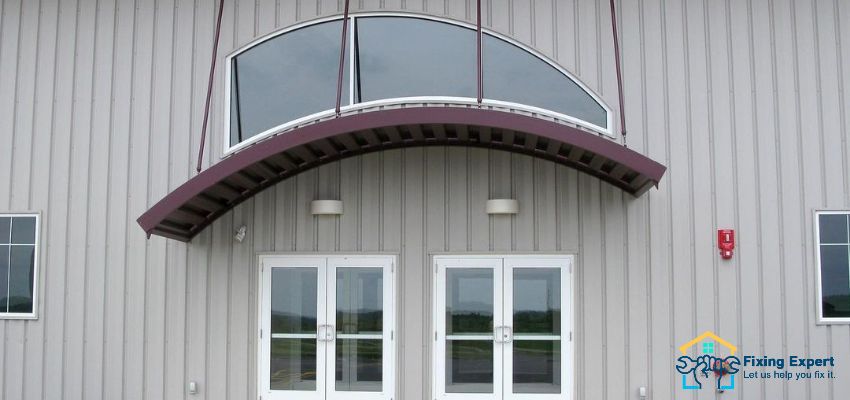 Circular Roof Roofing is an arch-like roofing style that resembles a half-circle. In interior design, metal, polycarbonate, and fabric canopies bring something unique. Additionally, they can be utilized as entrance canopies and pathway coverings.
Sloped Canopy Roofing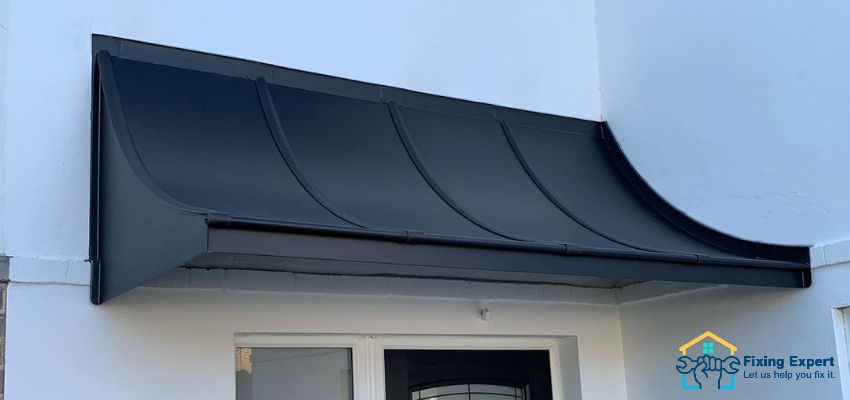 It's a canopy that slopes for water drainage and the roofs may be constructed with a single slope or multiple slopes. This form of canopy can be made of metal, polycarbonate, or fabric and is used for various purposes, such as patio covers, carports, and pathway coverings.
Awings Vs Canopy
In The End
We hope this article has assisted you in selecting the most suitable canopy roofing material for your outdoor space. Whether you opt for metal, fabric, or plastic, consider the local climate and choose a material that can withstand climate change. Enjoy outdoor comfort for years while entertaining your guests with the ideal construction and structural materials!