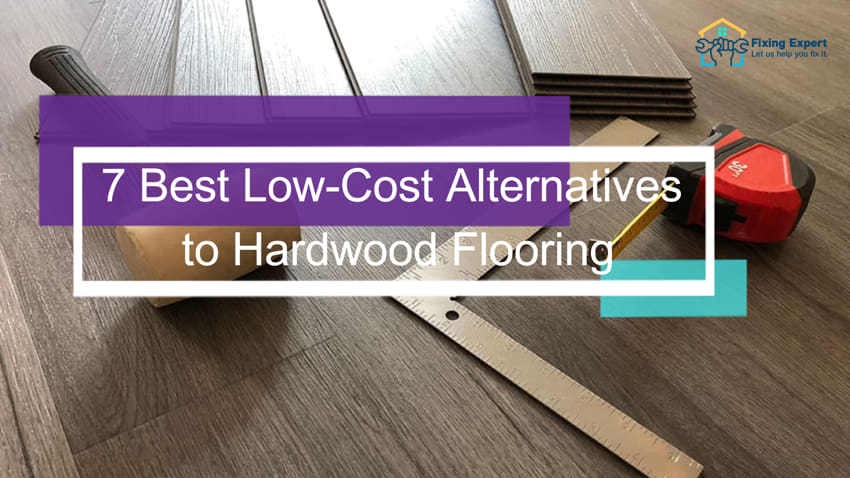 While designing your floor may be fun, it can also be stressful. It might be tough to pick which flooring would suit your space because there are so many fashionable, appealing, beautiful, and economical alternatives.
You want the best flooring for your house, but you also want to stay within your budget. Laminate Oak tiles, ceramic tiles, engineered bamboo, vinyl plank, and a variety of other alternatives are available. In this post, we'll go through the benefits and drawbacks of some of the greatest low-cost and cheap flooring options for 2023.

Trendiest Best Cheap Flooring Options In 2023
You may improve your house on a budget by installing low-cost flooring that only appears to be costly. Here we have mentioned the biggest selection of flooring alternatives to fit any budget.
If you pay close attention to this post, you will learn about the newest low-cost flooring solutions that will be popular in 2023. So let's dive into the Trendiest Best Cheap Flooring Options In 2023.
The First Cheap Flooring Idea Is Laminate Flooring
White Laminate flooring is the most popular option for flooring. You might argue it's the most affordable alternative for adding flair and quality to your room. This flooring is a fantastic, fashionable, and appealing option for any house. This flooring is also exceedingly simple to install and maintain.
Overall, it's an excellent choice for your living room, bedrooms, and dining room. The most significant downside of placing laminate flooring in your house is that, because of its fiberboard core, it is readily harmed by excessive water. On the other hand, stone composite spc flooring is a fantastic and extremely cost-effective option.
Vinyl flooring offers an infinite number of design alternatives to match your home's setting, ambiance, or décor. There are many different colors, designs, styles, textures, and patterns to choose from. This flooring is also quite simple to install.
You May Need To Know: Vinyl Vs Laminate Flooring
This flooring is strong enough to survive extreme weather and considerable foot activity. If you're looking to renovate your house, laminate flooring is the most cost-effective alternative.
Let's Talk About The Second Low-Cost Flooring That Is Luxury Vinyl Plank Flooring
Your mind automatically thinks of a high-end product when you hear the words "luxury vinyl plank flooring." We're here to tell you that you're half accurate but mostly wrong. Luxury vinyl plank flooring is, indeed, a premium alternative for your home.
However, you are incorrect because it is not at all costly. It is, in fact, one of the most cost-effective flooring options now available. Waterproof, moisture-resistant, and pleasant to walk on, luxury vinyl plank flooring is an excellent choice. As a result, you may put it in any room of your house.
Learn more about pros and cons of vinyl plank flooring
The Third Low-Cost Alternatives to Hardwood Flooring Is Ceramic Tiles
A low-cost ceramic tile might be the way to go if you're wanting to refurbish your bathroom on a budget. Because ceramic tile is both waterproof and stain-resistant, it completes the look of your house while also resisting floor swelling, sink spills, and other related issues. Ceramic tiles are also durable, easy to maintain, and can tolerate a lot of foot traffic.
The Fourth Cheap Flooring Option Is Peel-and-stick Tiles
Peel and stick tiles are a wonderful, cost-effective alternative for giving your home a quick, new makeover. These tiles are exceptionally easy to install because they don't require any special equipment, and they come in a variety of appealing styles and prints to choose from.
Peel and stick tiles are also water-resistant and easy to clean. As a result, in addition to other places, you may use them in your bathrooms, kitchens, entryways, and other aspects of your home. It is unquestionably one of the most cost-effective flooring solutions available.
Keep in mind that while they are simple to install, removing them from the current flooring surface might be difficult.
One of the Best Low-Cost Alternatives to Hardwood Flooring Is Carpet Flooring
For consumers searching for an excellent and affordable flooring solution, a carpet is also a popular option. Despite the fact that carpet prices vary greatly, there are several wonderful budget-friendly options for completing your home's décor.
Polyester carpets, for example, are quite affordable and maintain their color well. They are also stained- and soil-resistant. They do, however, have a tendency to flatten out quickly, so you may need to replace them from time to time.
The other low-cost flooring option is Engineered Wood Flooring
Because of its natural beauty and affordable cost, engineered wood flooring is quite popular among homeowners. Engineered wood flooring is more dependable, resilient, and cheap than hardwood floors. It closely resembles the natural appearance. Engineered bamboo flooring is easy to install and maintain, in addition to being durable and affordable.
Last but not least cheap flooring option is Vinyl Flooring
Vinyl flooring is one of the most long-lasting types of flooring. It's scratch-resistant, waterproof, and long-lasting. It's also simple to assemble, clean, and maintain.
Luxury Vinyl Tile LVT flooring is a wonderful choice if you have children or dogs that like to run about the house. It has the ability to handle high-traffic locations. It's also available in a number of shapes and patterns, providing you with a lot of options for complementing your home's overall design.
In The End!
In 2023, the above-mentioned are the greatest low-cost flooring solutions. You may follow the guidelines to find the most suitable and cost-effective floor for your home. It's critical to be aware of these factors while looking for the ideal floor for your house.