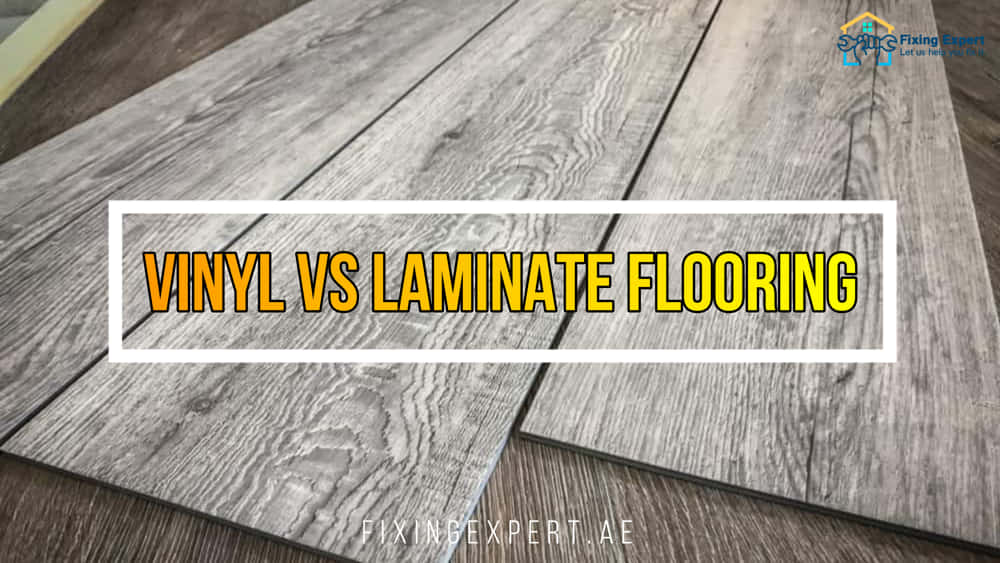 Vinyl and light gray laminate flooring are both durable and attractive options for homeowners looking to give their floors a makeover. However, there are some distinct differences between laminate and vinyl flooring that explain why one is better than the other in certain situations.
Over time, flooring manufacturers have continued to develop and update the materials they use, resulting in incredible choices for consumers. Long-lasting and low-cost flooring options include laminate and vinyl flooring. Both have a variety of styles that seem like real wood, tiles, and stone. So, how can you know which type of flooring is best for you?
If you want to discover more about vinyl and laminate flooring, you've come to the right place. Both of these floorings are more durable, less costly, and easier to care for than hardwood, but how do they compare?
Do any of these types of flooring hold their flatness when compared to more expensive flooring? We help you overcome these obstacles by providing you with useful information and access to our experienced team of floor professionals who can help you choose the finest flooring solution for your house.
Comparing Vinyl vs. Laminate Flooring
Vinyl and plastic laminate flooring have a lot in common, including the fact that they are both affordable and easy to install. Both of these synthetic flooring materials come in a variety of colors, patterns, and designs to match your existing home décor. Although the two types of flooring are similar in appearance, there are a few important differences. Take a look at these distinctive properties;

Let's Start Comparing With Appearance and Design 
In terms of appearance and design, laminate flooring is of higher quality. It has more realistic embossing that seems like it's been scraped by hand. Although vinyl flooring may be embossed to seem like wood, thicker core vinyl flooring looks the best and most realistic.
Vinyl and laminate flooring are made from a variety of materials. Vinyl is a man-made material. In most cases, the base layer of the vinyl board is made of glass fiber, which is subsequently coated with PVC vinyl and plasticizer. After that, the design is embossed, and a wear-resistant protective coating is added, such as wax-free polyurethane. The core of laminate, on the other hand, is made from by-products of the wood industry. Then seal it with resin.
Laminates are somewhat thicker than vinyl flooring, giving more warmth and comfort whether standing or walking.
Learn more about Cheap Hardwood Flooring Options 
Look At The Comparison In Terms Of Water Resistance
The main difference between laminate and vinyl flooring is water resistant, and vinyl comes out on top. The majority of today's vinyl flooring is made completely of polymer, which means it can withstand a lot of wetness. It may be soaked in water, dried, and used on a daily basis. Vinyl panels also allow you to put single panels across the room, which prevents water seepage at the seams.
Laminates have a limited moisture resistance. When exposed to moisture for a long period of time, the fiberboard core of most items may expand or soften. Because of the damp core, the top layer will eventually peel away. As a result, laminate may not be the greatest option for high-humidity locations like the bathroom or the laundry room.
Now, Let's Talk About The Installation Of Vinyl and Laminate Flooring 
Laminate and vinyl flooring are both relatively easy to install, depending on the type of flooring you choose. Each of them is an excellent option for those who appreciate DIY projects. Laminate flooring is installed using a Snap-On method. When the planks are held together, the plank snaps into the groove of the surrounding board, sealing the seam.
Vinyl offers a greater range of installation possibilities. With a click, you can also lock the table, as well as peel and paste, and so on. Vinyl boards are difficult to deal with since they are heavy and must be cut precisely to match the shape and angle of the area. As a result, professional installation may be necessary.
Learn More About Installation of Vinyl Flooring
Have A Look At The Cleaning and Maintenance of Both Flooring
Vinyl flooring is simple to keep clean and maintain. These floors may be mopped with damp mops; for more challenging problems, scrub them with certified cleaners. Vinyl can be cleaned in a number of ways and requires little upkeep beyond that.
Due to its low moisture resistance, laminate flooring maintenance and cleaning can be challenging. It's best to use a dry method like a broom or a dry mop. If you need to clean the floor, use a moist mop that is almost dry to the touch. Laminates may also be low-maintenance.
Want To Know About Pros and Cons of Vinyl Plank Flooring?
The Most Important, Cost Of Vinyl and Laminate Flooring
Vinyl and laminate flooring are both inexpensive. When it comes to luxury flooring selections, oak parquet floor design, on the other hand, will become more expensive. The price is decided on the thickness of your flooring as well as the design type you choose.
Choose The Best Flooring!
For those searching for a low-cost, long-lasting DIY project, laminate and vinyl flooring are fantastic options. When shopping for new flooring, keep your budget, practicality, and style preferences in mind.
Vinyl is the most water and spill-proof, and it is frequently less expensive than laminate. Laminate, on the other hand, has a more realistic wood look that will go well with your home's décor.