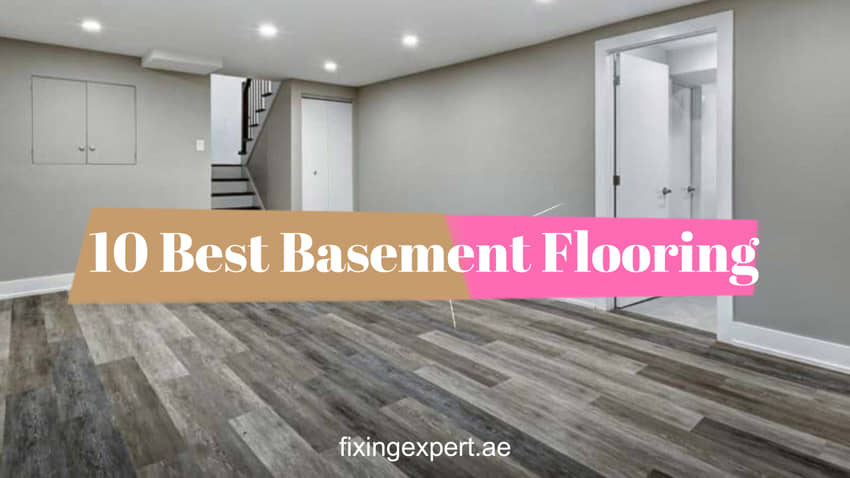 If you're renovating or remodeling your basement, you might need to replace the floor to make your space more comfortable, attractive, and easier to maintain. Decorating a basement is a terrific and reasonably inexpensive way to increase the aesthetic of your commercial or residential flooring.
However, the basement offers its own set of issues in addition to potential. Because your basement is below ground, it is prone to moisture problems, which can lead to rot and mold if the components aren't installed properly.
Top Trending Basement Flooring Options In 2023
Continue reading to find out what we think is the best basement flooring. We've compiled a list of the top ten basement flooring alternatives. So let's review them;

1. Luxury Vinyl Tile
LVT luxury vinyl tile floors comes in planks and squares. Most LVT systems, unlike traditional glued-down sheet vinyl, are meant to "float" on top of the subfloor, comparable to marble laminate flooring.
Because of its thickness, LVT may be embossed with textures and patterns to make it appear like real wood or stone. So, it can be the best option for your basement!

2. Marmoleum
We like to recommend Marmoleum for basements. This flooring comes in sheets and tiles, with a variety of colors and patterns to choose from. It is one of the Best Basement Flooring Options that has a significant influence on the appearance of your basement.
If you have children or pets, you can't go wrong with this flooring material. Because of its anti-static properties, it repels dust and is easy to clean. It's a low-cost, long-lasting basement flooring option.
3. Ceramic or porcelain tile
A tile is a terrific option for basement floors. It is fully waterproof, goes straight over the concrete subfloor, and will last a lifetime. The styles and formats that you may utilize are nearly limitless. Large-format porcelain tile that looks like spc planks are quite fashionable right now. So, you can go with this flooring!
4. Carpet
Despite the fact that carpet may not appear to be the best choice for a wet basement, it remains one of the most popular choices owing to its warm and soft feel. Because carpets absorb moisture and can cause mold, be sure your basement is totally dry before installing carpet.
5. Concrete
Leaving your concrete flooring exposed is one of the best methods to keep it in good shape. The industrial look is making a big resurgence in home design, and a concrete floor might be just what you're looking for.
Concrete is an excellent alternative for more utilitarian portions of your basement, such as laundry rooms or mudrooms. In a nutshell, it is one of the best basement flooring options available.
6. Epoxy floor coatings
Epoxy floor coatings are a great alternative if you can live with a hard surface floor. Epoxy comes in a wide range of colors, is entirely waterproof, and is easy to use. A concrete basement subfloor that has been epoxy coated will be waterproof and long-lasting.
Epoxies are available in a variety of colors and in water-based, solvent-based, and 100% solid solutions. Once a weekend, they might be applied to a basement floor.
7. Carpet Tiles
Carpet tiles offer the advantage of absorbing less moisture due to their backing and composition. Also, because carpet tiles are inexpensive to replace, if a few of them become stained, you won't have to replace the entire area.
Carpet tiles are more elegant and function like a hard surface. There are several styles from which to pick. So if you want to create a more vibrant and creative environment, this is an excellent option.
8. Engineered wood flooring
Engineered wood flooring gives real wood warmth and beauty with laminate's durability and moisture resistance. It is also one of the Best Basement Flooring Options for combining a functional and practical atmosphere, according to experts.
9. Rubber Flooring
Rubber flooring comes in a variety of shapes and sizes, including interlocking tiles and sheets. There are a lot of colors to select from, which makes creating your own designs fun. If your basement is intended to be a playground rather than a formal living space, you could be in luck.
10. Cork Flooring
Cork is a natural product that derives from cork trees. Cork flooring is a good choice for below-grade places because it offers soft underfoot, is simple to walk on, and is warm, but it is an organic material that may be damaged by water. You must first construct a subfloor structure before installing cork flooring in your basement.