Having pets at home is great for enjoying various benefits, especially dogs and cats. However, if you've got an adorable and fun-loving pet cat at home, then you must have experienced damage to various interior elements like sofas, curtains, and other small items.
In this concern, the most noticeable damage done by cats is scratching the curtains. Thus, robbing your neat, delightful set of window treatments of its elegant and classy appearance. But, we're living in modern times where every sort of problem has a solution.
And therefore, window treatment damage caused by pets can be eliminated with the introduction of cat-proof curtains. In this article by Curtain Fixing Expert, we'll recommend some of the best curtain types on the basis of material selection that won't get damaged when scratched by cats.
The 5 Best Material Types To Have A Selection For Cat-Proof Curtains
Our feline friends (cats) show an instinct to climb and scratch the curtains to damage them. Therefore, the ideal choice of material is all that matters for making the curtains resistant to damage by cats.
Read: 2023's Best Modern Curtain Design Ideas
For this purpose, we're going to describe the best material choices for curtains that can easily resist damage due to scratching and straining by cats. So, let's move on to the first recommendation on our list of options.
1. Velvet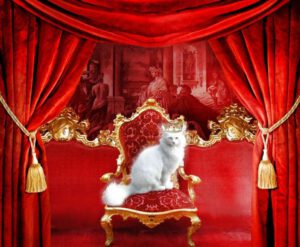 The first and foremost drapery material in our list is velvet design curtain. That's because not only velvet curtains are extremely luxurious and elegant in appearance but also truly practical and damage-resistant as well.
The texture of velvet material is richly durable yet smooth and therefore, can easily resist the effects of a cat's claws.
Adding further, velvet is a material choice that's available in both natural and synthetic options. Therefore, you can choose according to your personal preferences.
And no matter the type of velvet you opt for your customized home focus curtains you'll enjoy the benefits of a lavish, charming, and attractive window treatment that can resist damage due to cat scratching.
2. Microfiber
One of the best fabric choices for curtains when it comes to home interiors with pets. Yes, microfiber curtains are effective against all the pets in a household like dogs, cats, etc. On top of that, microfiber won't absorb pet odors as it is a non-breathable fabric in nature.
No need to mention the aspect of sheer fabric density of microfiber curtains i.e. fabrics are densely packed (woven) to create curtains. Having that said, your pet's hair won't cling to the curtain's surface and therefore, you will enjoy a neat, clean curtain appearance.
Also, the primary problem of curtain scratch damage by cats will surely be eliminated by having microfiber curtains. Besides, you can have the color, style, and design pattern of your choice because microfiber is available in versatile options.
3. Canvas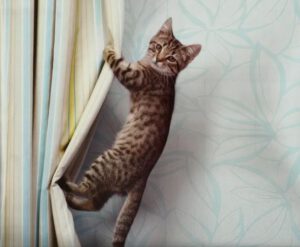 Coming toward another great choice, we've got canvas fabric for making your home window treatments resistant to damage by pets. You'll find canvas equally as durable and damage-resistant as velvet or microfiber.
Craftsy Sewing Tutorials: How To Sew Two Curtain Panels Together
However, there is an unnoticeable difference in the aesthetic appeal that's been rightfully covered by the fabric's cost.
And that insignificant difference doesn't make them any less stylish and attractive to be used as window coverings. Furthermore, canvas curtains can easily resist scratch damage and show no signs of wear and tear.
Tips: How Can You Cover A Window Without Drapery System?
Besides, you'll have to not take care of them on a daily basis and just minimal maintenance practices are enough for an attractive, charming window treatment. Adding further to that, you can machine-wash them for cleaning purposes.
4. Sunbrella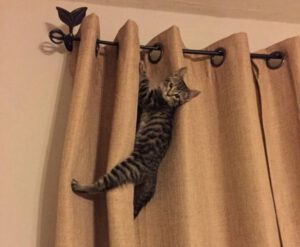 One of the most popular options of all the available fabric choices for cat-proof curtains is the sunbrella fabric. This fabric material is ideal for both curtains and blinds as it's manufactured using 100% solution-dyed acrylic.
Moving on, you'll find sunbrella curtains resistant to all forms of damage by pets like scratching, straining, hair attachments, etc.
Besides, sunbrella is a color-fast fabric option, and therefore, there's no need to worry about curtain fading as well. Additionally, being thick and tightly woven in construction, you'll enjoy the benefit of great interior insulation with this choice.
Learn More: 7 Best Curtains To Choose For Your Drawing Room in 2023
Thus, it can prove to be a long-lasting and valuable investment if chosen for home window treatments.
5. Synthetic Fabrics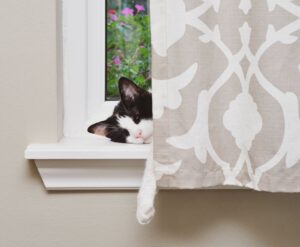 Just like natural fabric choices, there are many fabric material options available in the synthetic category as well. For this purpose, you can either choose polyester or nylon fabrics for the best cat-proof curtains. The reason for the choice of synthetic materials is their unmatched elasticity and sheer durability.
6. Blackout Curtains

These curtains are made of heavy-duty materials that can withstand scratches and damage from cats.
7. Polyester Curtains
Polyester is a strong material that is resistant to tearing and damage from cats.
8. Faux Silk Curtains
Faux silk is a synthetic material that looks and feels like silk but is more durable and resistant to damage from cats.
These fabrics won't get scratched when your pet cat tries to climb or pull the curtains. Besides, making a choice from synthetic materials means enjoying financial benefits as well.
Ideal Curtain Styles: 7 Perfect Curtain Styles For Your Bedroom
Because all these fabrics are super affordable. No need to mention that synthetic materials are available in a more versatile collection of styles and designs in comparison to natural material choices.
Having Cat-Proof Curtains Isn't Sufficient!
Yes, you've read that right! Cat-proof curtains will only put an end to your cat's curtain climb-up, however, can't change a cat's instinctive behavior. Yes, cats show an instinct to climb, scratch, and play with various elements in the interior.
And, when they'll not find a way to be engaged in some playful activity out of boredom, your feline friend will damage other valuable accessories in the interior. Therefore, we suggest you opt for one of the following suggestions alongside having cat-proof curtains.
Make use of nail caps to protect your valuable yet cat-accessible interior items from damage. As the name suggests, nail caps will cover the cat's claws and therefore, this trick will prove to be additionally effective.

Another option is to check and trim your cat's claw on a regular basis. Doing so won't only keep your pet cat healthy but also protect yourself, the children, and interior items from getting scratched.

Get your pet cat a tree tower to scratch in order to keep her away from curtains and other interior items. It is a brilliant way to protect the interior stuff from getting scratched by cats.
To Conclude!
It's a part of a cat's instinct to climb and scratch items and no one can change that. The best option is to opt for cat-proof curtains in order to protect the attractive appearance of your window treatment. For this purpose, we've suggested the 5 best fabric materials that are ideal for making your home curtains damage-resistant to cat scratching. Also, there are some tricks listed for some additional benefits in this concern.
Read More.