In most households, carpet fraying is a common problem. Some transition areas or poorly installed carpets play a great role in making a trip over and keeping your carpet edges fraying. So here that question is, "How to Keep Carpet Edges from fraying?"
So, for the proper answer to this question, first, you must be well informed about the reasons for fraying. There are a lot of reasons why fraying can occur on your carpets. Just like fraying can be worse if someone walks on the new or old carpet constantly with their roughly textured shoes.
Sometimes it may occur because of the movement of bulky furniture or if you directly expose your carpet to wood or metal furniture as well. If the frayed area is scratched by your pets, or you vacuum it, then it might get more creepy.
6 Most Common Techniques Used To Avoid Fraying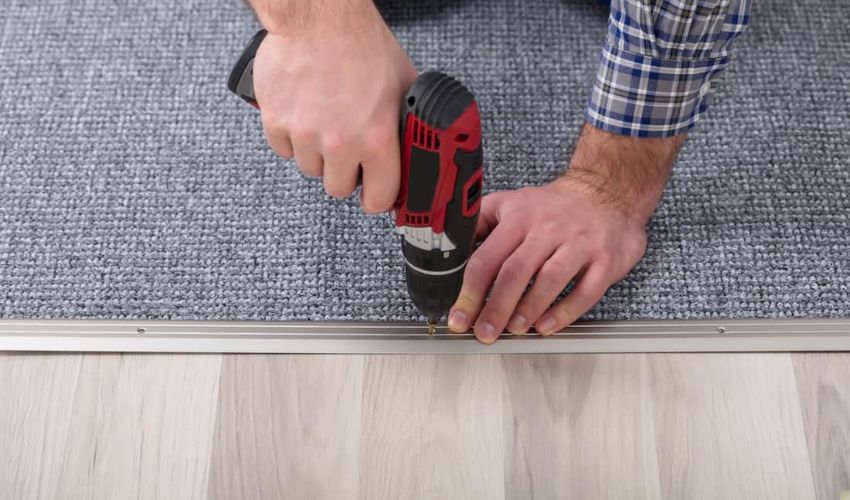 There are quite a lot of methods that you can employ to prevent fraying on your carpets. If your carpet edges have been frayed, then you should not worry, as these techniques are also helpful in repairing your frayed carpets.
It is critical to have your carpet repaired as soon as possible to prevent further fraying. Otherwise, your overall carpet will get damaged and negatively affect the visuals of your place as well. So, let us move forward and read about these amazing methods to avoid fraying.
1. By Using Binding Tape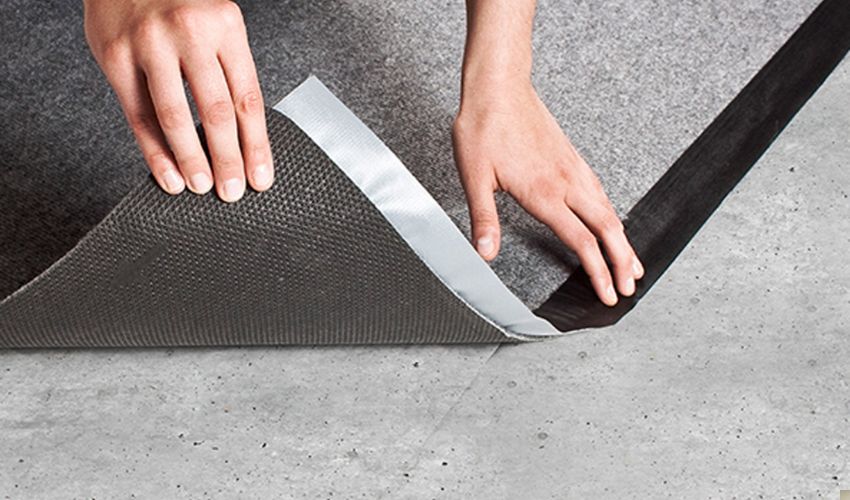 Binding tape can avoid the fraying of your carpet edges. On a serious note, the binding tape is very adhesive and can prevent the fraying of your wall to wall carpet. This tape will hold your rugs or carpet down to the floor, making them completely neat.
Taping down the carpets with a binding tape will avoid movements and, in such a way, the edges of your carpets or rugs will last for a longer period. Your carpet will now not anymore a tripping danger for anyone.
If you are looking for carpet gripping products or grippers, then you are more likely to see a lot of choices in the market. If you have got the reusable and washable carpet grippers, then they will serve you best for bathroom and accent types of rugs.
Carpet tape can also be used in this technique if you want to get a semi-permanent solution to avoid carpet edges fraying in your house. The major and most appealing plus point of using carpet tape is that you will not get any stubborn adhesive residue on the floor after it is removed.
2. Always Use Sliders For Moving Furniture
When you move your furniture from one place to the other, most of the house scrapes occur. You must take care of the entire movement of your furniture and observe the proper steps for a damage-free movement of the furniture products when moving large furniture items or couches.
The best thing that can be used for the best movements of larger furniture and other item are furniture sliders. Using these products for moving your furniture is a superb choice, and they are no less than a blessing as well.
These sliders act just like coasters and allow you to move your heavy/bulky furniture easily from one place to another without damaging the floor or fraying the edges of your carpets at all.
3. Cut The Frayed Edges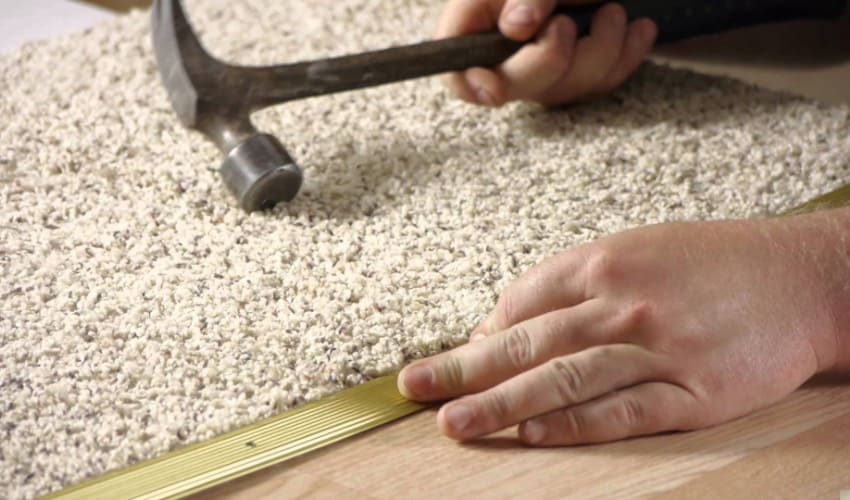 When you hear about the cutting of frayed edges, we believe you will think it is the easiest method to get rid of these frayed ends of the carpet. But this is the point where you are completely wrong. This process is quite technical and requires a high level of expertise as well. Otherwise, you can damage your entire carpet by cutting it wrong.
In cutting, first, mark the carpet with a chalk marker. Never ignore the marking step, as you may cut the other side of your carpet by ignoring this easy step. Then cut the edges of these carpets by using a utility knife, as you can handle them more easily. But there is no restriction on using any other type of knife as well.
When choosing the cutting tool, make sure that whatever tool you select must be exceptionally sharp. If the cutting tool is not sharp, then it can cause more damage. And by doing so, you easily turn your already bad carpet into a worse carpet. So keep these things properly in mind for better results.
4. Fix It by Using Carpet Bindings
You can get a lot of carpet binding products on the market that can be used as a DIY solution to avoid your carpet edges fraying. Besides the functional approach, these products can also be used for the enhancement of the beauty of your carpets and rugs as well. To carry out the entire process, you will need a hot glue gun, glue sticks, a long nozzle tip, and a pair of scissors.
Cut a bit from the starting point of your carpet binding product to give yourself a fresh start, and start it from the middle of the carpet. You can get different binding products from online platforms as well. After peeling the sticker off that binding, start applying it and use some weight over it as you have used no glue yet.
You can add it to the corner by cutting the bindings into the required lengths and measurements. Now, add glue to the bindings for sustainable adhesion. Now, using a hot glue gun, add a straight line of glue to which you can adhere to the binding easily.
5. By Using Transition Strips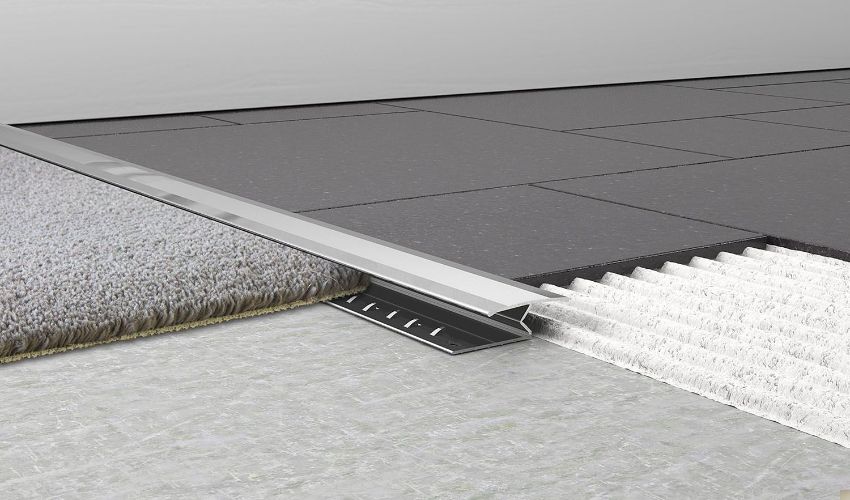 These strips are used to make transitions and can change the whole look of your floor easily. Let us make it easier.
Let's assume that you have got the edges of your carpets frayed. Here, the transition strips come to play their part. There are many types of transition strips present on the market, but you have to select one that is right for your palace.
Metal Transition Strips
The most common transition strips are metal transition strips. For their installation, put them in the desired place and then nail them down.
So the whole installation job should be done carefully because if the nails are not nailed perfectly, they can even hurt your feet badly. Use these strips on the frayed edges of your carpets to repair them and avoid further fraying.
PVC Transition Strips
If you are looking for a cheaper alternative to metal transition strips, then PVC transition strips are going to be a good choice for you.
These strips can be curved and molded easily for a proper and efficient installation. The major plus point of these strips is that they come in various vibrant colors, so they match your existing carpets easily.
6. By Using a Heat Machine
In most cases, many people do not prefer to add anything extra to their carpets. If you are one of them, then you can opt to use a heat machine to cure the frayed edges of your already installed carpets. By using a heat machine, you can easily maintain the original look and feel of your carpet.
To carry out this procedure, you can use a blow torch or any kind of heating machine as well. By using any of these tools, melt the edges of your carpet, and that is all. Here you go with a neat and perfect carpet that does not have fraying edges anymore.
This heating technique is considered the best, as it does not alter the original look of your carpet at all. So people prefer using a blow torch or a heating machine to remove the frayed edges of their carpets.
Takeaway!
After spending a significant amount of money, when your carpet frays from the edges, such a situation could be stressful for you. However, you should not panic in this situation because many methods and techniques can avoid these fraying issues.
All these techniques that we have mentioned are easy and can be performed on your own as well. Here on this blog, we have shared the most common techniques that you can use to prevent the fraying edges of your carpets.
If you have already got your carpet edges frayed, then you can go for these easy methods to give your carpets a quick repair. Doing so is very necessary if you do not want to have any further damage to your carpets.