Are you tired of drilling holes into your walls every time you need to put up window blinds? Or Looking for window blinds that don't require drilling? Whatever your reason may be, no-drill blinds are a convenient and hassle-free solution. Fixing Expert have rounded up the best no-drill blinds in the market!
How Do No-Drill Blinds Differ From Traditional Blinds?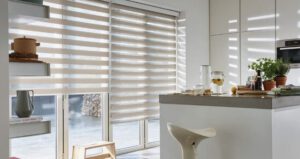 Basically, no-drill blinds are the same as traditional window blinds with the only difference in their installation mechanism. Yes, you don't have to cause any glitches in your interior design by drilling holes in the walls.
Rather, these window treatments can be hung via different options like peel-and-stick, magnetic force, tension rods, clamps, etc. On the other hand, traditional window blinds are hung with hardware and accessories drilled into the walls.
The Fundamental Significance Of Having No-Drill Window Blinds
Preferring no-drill blinds over traditional options must be backed by some strong benefits in terms of function and aesthetics. Here's a brief explanation of this aspect.
For rented homes and apartments when the homeowners allow no drilling into walls, you protect your home's privacy with no-drill window blinds.

Newly painted home interiors and gleaming finishes don't need to get any distortion, thanks to no-drill window blinds.

Just as it's easy to install no-drill window treatments, you won't have to spend a whole lot of a time removing them.

In the context of easy installations, you save a lot of money that otherwise has to be paid to the professionals.

No matter the choice of option, you get the benefit of improved functionality for opening and closing your window coverings.
The Different Versions & Varieties of No-Drill Window Blinds On The Market
Below, we've briefly explained different types of no-drill blinds so that you can have an ideal selection.
1. Peel-And-Stick Window Blinds
The first on the list are self-adhesive window blinds that comprise an adhesive backing secured with attached strips. These window coverings are also named stick-on blinds. The top part of these coverings comprises an adhesive strip that is to be removed for window attachment purposes.
And just as installed, you can easily peel these blinds off from the window surface for an efficient removal. Speaking of the benefits, these are ideal for temporarily dressing the windows.
However, it's not an ideal solution for large-sized windows because of the increased weight of the window blinds.
2. Magnetic Blinds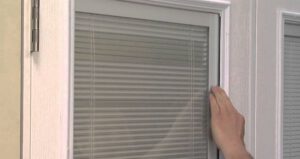 If you're thinking of a stylish solution to treat your glass window panels, magnetic blinds are just the right option. As in the name, these window coverings use powerful magnets that are integrated into the window frame for holding the blinds.
Along the side, there is a magnetic handle that's used to raise and adjust the slats of the window blinds at a certain place.
It's a more modern and sophisticated approach to dressing the windows, however, it can prove to be a costly option for large-sized window treatments.
3. Hanging Blinds With Tension Rods
Also named tension rod window blinds, there is no need to explain any further. Because all that it takes is a suspension rod or tension rod placed inside the window frame for hanging the blinds. Thus, there's no additional effort or cost that you have to put into dressing your windows.
How to hang blinds without curtain rods?
4. Clamp-On Blinds
Also named clamp-fixed window blinds, these window treatments don't require drilling holes into the walls but rather into the window frames. Yes, you need to screw the clamps into place to let the blinds headrail hang from it.
However, the screws or the holes in the wooden frame are masked until the blinds remain operative. Afterwards, you can opt for a filling compound and touch up the window frame for  clean and sleek appearances.
5. Static Cling Window Blinds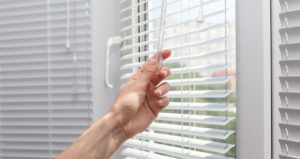 When thinking of a unique approach to framing your home windows, static cling window blinds are the perfect option to settle for. These window treatment films demand no glue or harmful chemicals for attachment purposes but rather can be adhered to the window frame with only a bit of soapy water solution.
Also, you can trim these window coverings to the required size for ideal adjustments. Adding further, these window dressings are super easy to remove and can be reused for different purposes, as well. Not to mention the aspects of cost-effectiveness and environment-friendly material construction.
6. Suction Cup Cordless Window Blinds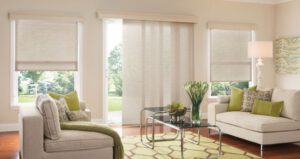 Looking to frame small-sized windows but don't want to drill holes in the walls? Well, we've got you an ideal solution in the form of suction cup cordless window blinds. Yes, you've guessed right that these window treatments require glass panel window surfaces for attachment purposes.
How do cordlress blinds works

One major benefit of having these window coverings is that there are no cords attached that can cause harm to children, pets, or the elderly. Similarly, the downside is that these window blinds are not ideally suitable for large-sized windows.
7. MagicFix Smart Blinds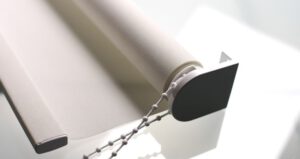 Coming towards an innovative option, smart roller blinds ideally fit the equation. These window coverings make use of a frictional mechanism and create tension to hang the roller mechanism.
Intalling Smart Motorized Blinds
The roller mechanism gets attached to the sides of the window frame by friction pads that can be adjusted for proper positioning. Thus, you get firmly stuck window blinds that can be operated using a remote, wall switch, and stylish motorized blinds.
Some Crucial Considerations For Ideally Choosing No-Drill Blinds
Always keep in mind the following factors for making an ideal choice of drill-free window treatments.
The window size and shape should never be overlooked as they can determine the type of drill-free blinds to choose.

Have clear-cut preferences for the amount of light you want to let in the interior while maintaining your home's privacy.

Never compromise on the quality material construction as well as the aesthetics factor when choosing no-drill window blinds i.e. choose the fabric and color of the blinds wisely.

Consult with professionals to idealize whether you can install certain types of drill-free window blinds or if you should look for some other options.

Define your budget prior to making a purchase so as to not get yourself into financial trouble later on. Always have more than one option in sight for comparative purchases.

Look for durable materials that can stand up to harsh environmental conditions and prove their worth for long-lasting periods.
Living in a rented apartment? Don't spend too much on drill-free window blinds. Also, try to find an option that can be removed easily from the windows and reused when you move from the place.
FAQs–Frequently Asked Questions
1. Can No-Drill Blinds Be Used On All Types Of Windows?
Yes, you can install drill-free blinds for all types of window surfaces i.e. glass panels, wood surfaces, aluminum, etc.
2. How Do I Clean My No-Drill Blinds?
Dust the window blinds and use clean water and a microfiber cloth to clean the slats. For treating stains, use a proportionate solution of vinegar and warm water. Wipe the blinds with a clean, dry cloth in the end.
3. Are No-Drill Blinds More Expensive Than Traditional Versions?
Yes, drill-free window blinds are somewhat more expensive compared to traditional versions because they're designed with a distinctive approach.