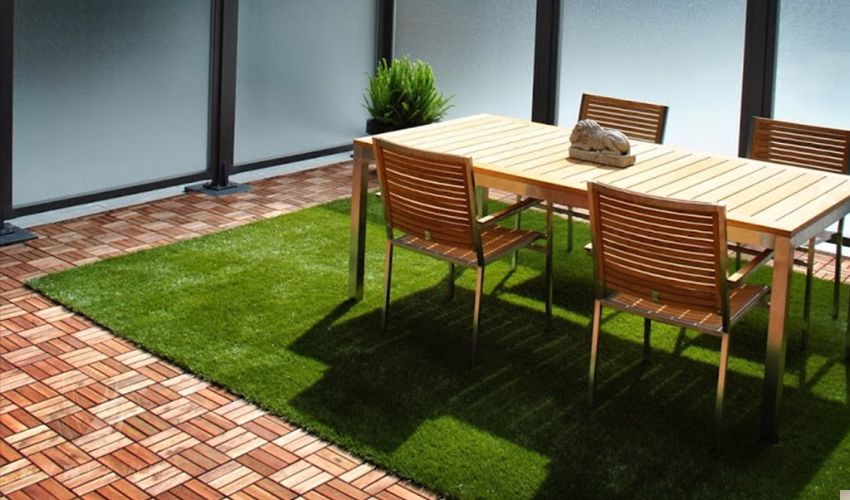 Decking looks tired and worn after the winter. You spend time cleaning and maintaining it. Do you not like to get rid of this decking and the laborious work? You wish to do this, but you don't know how to do it. Our team of "Fixing Expert" will assist you in solving this problem.
Is It Possible To Lay Astroturf On Decking?
Yes, it is possible to lay artificial turf on the deck; it is common for those families who have pets and children. It doesn't require any underlay, but it still looks attractive and works properly.
Why Install Artificial Grass On Decking?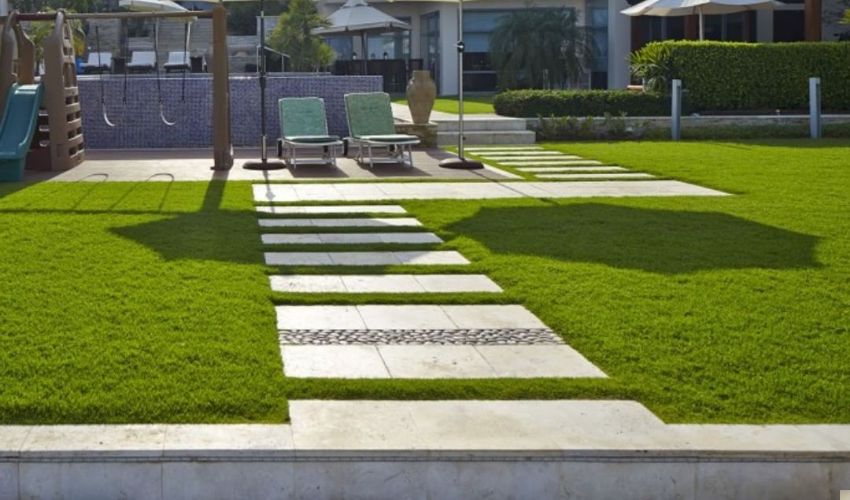 If your decking is destroyed and its color has faded, you must restore it by installing artificial grass. You should install artificial grass on your deck because you will.
Not fix it again
Eliminate the need to treat it
Just need an occasion hoover
Enjoy the actual beauty
We will undoubtedly provide a comprehensive guide to installing grass on the decking in this blog. Before proceeding in depth, we would like to inform you about the prerequisites for the installation of artificial grass on decking.
Prerequisite
If you are going to install artificial turf on your deck, follow these steps before proceeding ahead for the required outcomes.
Examine the quality of Decking
Examine for Wide Gaps
Clean/clear the Surface
Maintain Weed Membrane
Measure Gradient

Examine The Quality Of Decking
Before installing AstroTurf, make sure that the decking is in good health; otherwise, remove the installed artificial turf and repair it again, which will waste your money and time.
Examine For Wide Gaps
The gaps between the decking board should be less than 1 cm. If these gaps are larger than 1 cm, synthetic astroturf will fit into these gaps, creating a risk of tripping and an unattractive look. Therefore, fill these gaps before installing the astroturf on the deck.
Clean And Clear The Surface
Remove any decorations, plants, or garden furniture from the decking and give it a thorough cleaning, reapplying any protective layer if needed.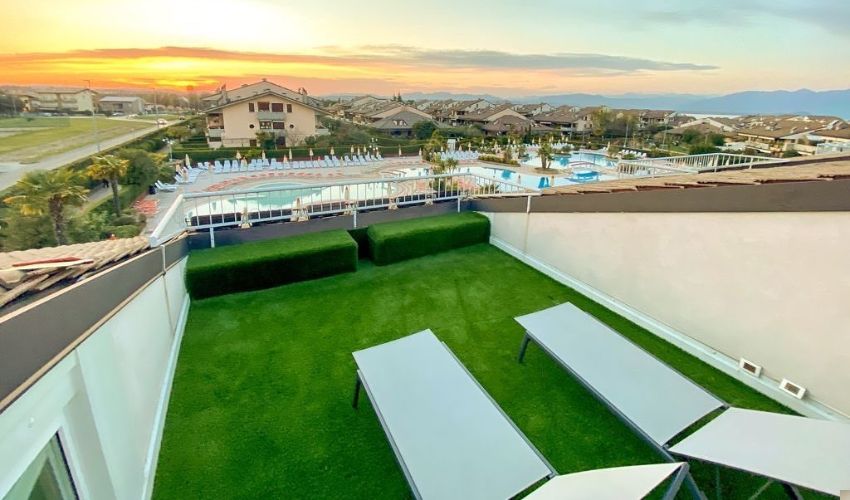 Remove all moss and algae from beneath the artificial grass to prevent growth. If any cracked or rotten deck boards are discovered, they should be removed and replaced.
Maintain Weed Membrane
A weed membrane was installed underneath your decking, whether done by you or by a professional, to stop weeds from growing through. Make sure your weed membrane is still in acceptable shape; replace it if necessary.
Lay down a thicker overlay on the decking if your existing weed membrane is not repairable before the installation of astroturf.
Measure Gradient
Examine that the little gradient that was constructed for water drainage is still in its place and that the supports haven't sunk in at all. The gradient is helpful for water drainage with astroturf, but if it has significantly risen, it may put stress on the fixing system of artificial turf, causing it to break down.
For artificial grass installation on terrace and balconies, read our guide "How To Choose Best Artificial Grass For Roof Garden or Balcony".
How To Lay Astroturf On Decking?
You have gained enough information about the installation of turf on decking. Finally, we should proceed with its installation. The installation requires special equipment and tools to carry out its procedure.
Required Tools And Materials
When you will install artificial grass, you will need the following tools and materials:
Joining tape
Joining adhesives
Stanley knife
Stiff bristle brush
Pins or nails
Procedure To Install Artificial Grass On Decking
Here is a step-by-step procedure to finish the process of artificial grass installation. You can complete it with no disturbance or hindrance.
Install Overlay
Begin by rolling out your artificial grass overlay if needed and trimming it to fit the space. Allow at least an hour to settle after walking over the overlay to ensure it is entirely flat. You'll need to roll out your artificial lawn at this point to allow it to flatten and the pile direction to settle.

Put Shock-pad
If you're putting in a shock-pad, it goes on top of the overlay and is installed the same way; cut back to a neat fit, walk over to confirm flatness, and let it settle for about an hour.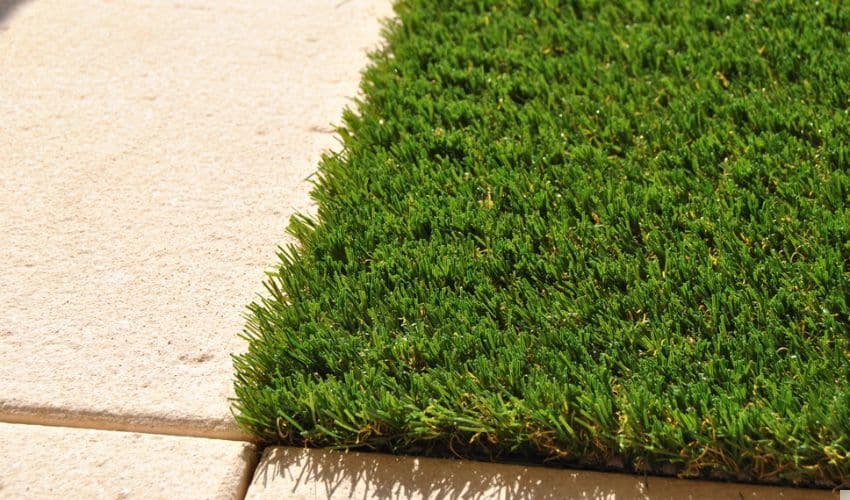 Install Artificial Grass
It's time to install the artificial grass after the area has been prepared. Think about which way you want the grass to grow. It's best to lay artificial grass with the pile facing the property if it's continuously in your line of vision from inside. Similarly, if you're placing artificial turf in your front yard, you'll probably want the piles to face your visitors as they approach the house.
Allow Astroturf To Settle
Allow your artificial grass to settle down and adjust to the atmosphere before putting it down. Permit it for 12 hours before installing artificial grass. Any necessary changes can be made much more easily than before.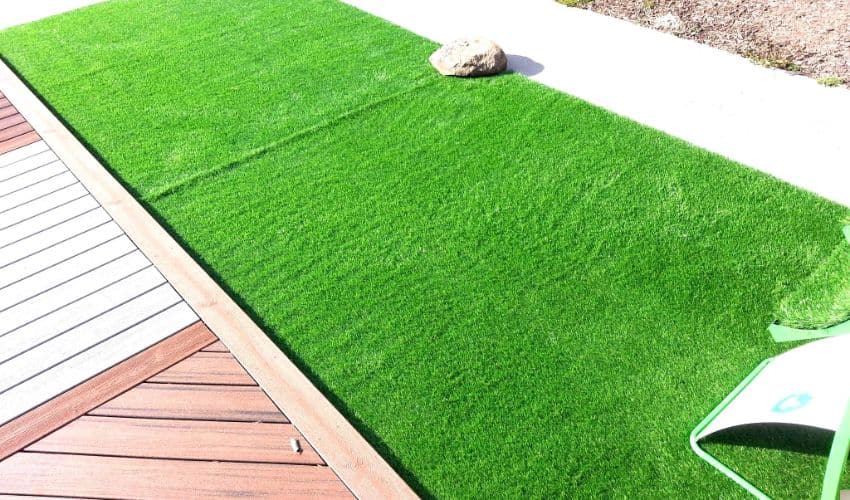 Join Sections
If you need to join sections of artificial grass, make sure the pile on both pieces runs in the same direction. Pull the artificial grass parts together and fold back the sides so you can apply the join tape down the middle of the join.
Trim the artificial grass's rear edges as needed, then apply the joining adhesive in two lines directly to the lawn. Then, on the joining tape, put the artificial grass down, allowing a 2-3mm gap for an inconspicuous connection. Until the joining adhesive has had time to dry, weight the seams with heavy boards, plant pots, stones, or other suitably hefty objects.
Penetrate Pins
Finish securing the artificial grass with pins, nails, or any type of fixing material. Be careful of the height that artificial grass, overlays, and shock-pads can add to the space. Use edging or reducing strips to prevent trip hazards when necessary.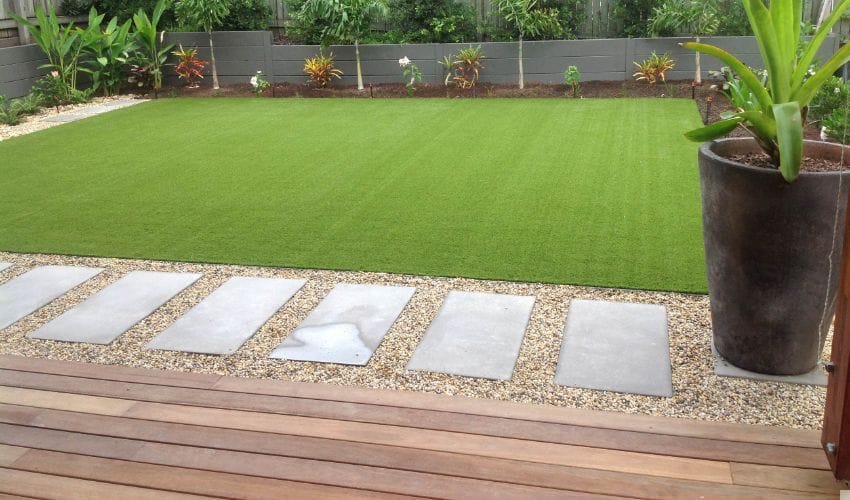 Brush Gently
To complete the installation, brush the grass piles upright using a stiff brush.
After Installing Artificial Grass
After you've installed artificial grass, you'll only need to brush it now and then to keep the grass pile straight. Pay special attention to places with a lot of foot traffic or activity, especially those used for children's play areas.
Remove any trash and leaf litter quickly to avoid clogging the drainage system, and clean up any pet waste as soon as possible, washing off the area if necessary.
Conclusion
After reading this blog, you have found the answer to this question, "Can Artificial Grass Be Laid On Decking?". The answer is simple: artificial turf can be installed on your decking to provide new, appealing, aesthetical, and amazing visuals. Our team of "Fixing Expert" has also elaborated on the installation process. You can also follow it to finish your problem.