If you are living in an apartment, it is possible that the only outdoor space that you might have would be your balcony. As your balcony is your only outdoor space, then it must be relaxing, unique, peaceful, natural, and soft, but it is not like this. We know you wish to have all the mentioned features on your balcony, terrace, or roof garden, but you don't know how it is possible.

Congratulations! It is possible to make your balcony, roof garden, or terrace luxurious, natural, and beautiful. The green landscape artificial grass will fulfill your desires regarding your balcony, and you will finally have a better outdoor that will be actually relaxing for you.
Why Choose Artificial Grass For Balcony?
After a hard and long day, people like nothing more than to relax, but it is not possible for those who live in apartments or flats. If you have a balcony, you can enjoy whatever you expect from an outdoor space.
You can install artificial grass because it will give an attractive and aesthetic look to your balcony. Artificial grass doesn't need much maintenance; it provides the best drainage; therefore, it is the best option for your roof garden, balcony, or terrace.

If you are motivated and willing to install artificial grass on your balcony but you don't know how to choose the best artificial grass and how to install it, our team of "Fixing Expert" will help you sort out all your concerns regarding this. Keep up with us and enhance your knowledge of the installation of artificial grass on balconies, roof gardens, or terraces.
Attributes For Best Artificial Grass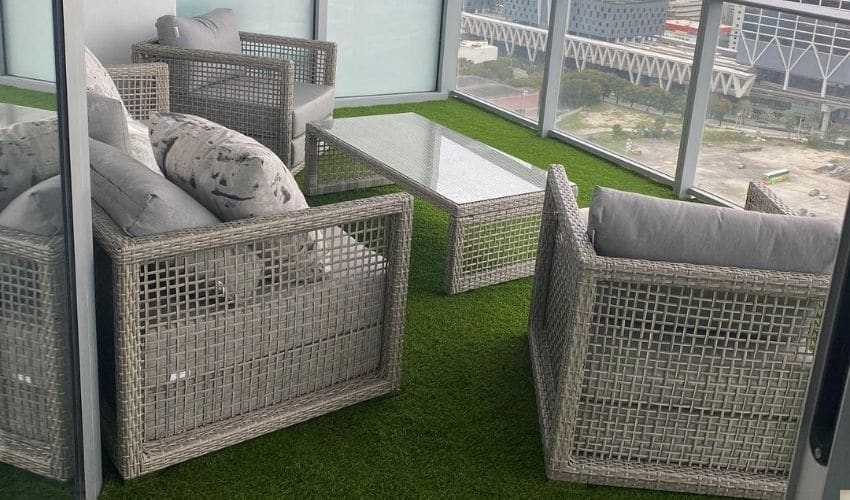 People decide to install artificial grass on their balconies, garden roofs, or terraces, but they get confused about the best option. There are a few attributes of the best artificial grass for balcony or terraces. They will assist you in selecting the best one.
Pile Height
Pile Density
Fiber Material
Instant Recovery Technology
Feel Good Technology
Natural Look Technology
Pile Height
When you decide to install artificial grass on your balcony, the question arises: What should be its pile height? Its pile height should be short because you will look at artificial grass from a distance. Therefore, it's better to install turf with a shorter pile height. Read our guide "types of artificial grass – Pile Heights and Fiber Material"
Moreover, long-piled grass is expensive as compared to short-pile grass; hence, save money and buy only what is necessary. We recommend a pile height of between 20 mm and 30 mm.
Pile Density
When selecting artificial grass for a roof garden, balcony, or terrace, we should prefer pile density over pile length. Because the artificial turf will be seen from above, it's critical to select a fake turf that won't appear thin. Therefore, you need to choose a dense pile. We recommend you choose artificial grass with at least 18000 stitches per square meter.
Fiber Material
The fiber material is one of the most important considerations in the installation of grass. Fibers must be soft, durable, and luxurious. There should be a balance between the resilience and softness of artificial grass. We recommend polyethylene for this purpose.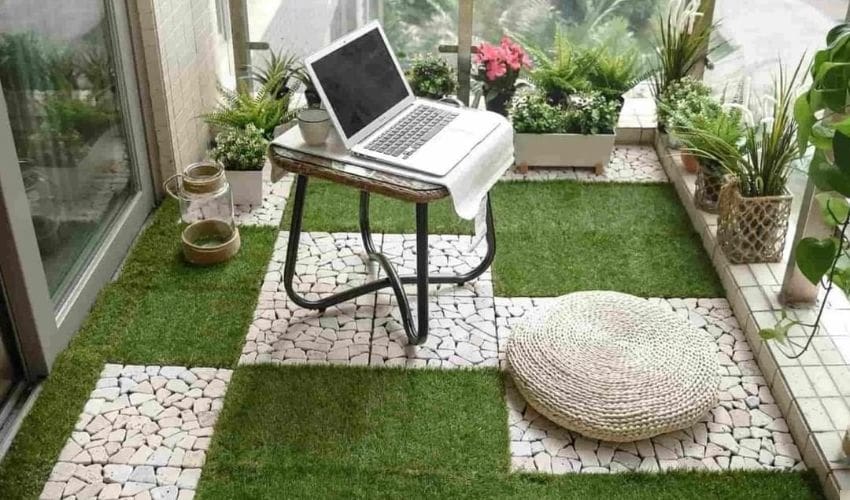 Instant Recovery Technology
Instant recovery technology means the recovery of artificial fibers to an upright position after facing foot traffic and furniture placement. Instant Recovery Technology works by combining nylon and polyethylene fibers because both are sturdy and resilient. If your roof garden, balcony, or terrace will face heavy foot traffic, choose a grass with instant recovery technology.
Feel Good Technology
Feel Good Technology deal with the temperature of your balcony, roof garden, or terrace. The sun's rays can warm the fibers and make them hot to the touch during the summer months. Feel-good technology keeps your balcony 12 degrees cooler than normal artificial grass.
The heat is dissipated and reflected away from your artificial grass. Feel-good technology may be a good idea if your roof garden, balcony, or terrace receives a lot of sunlight, but it isn't necessary if it doesn't.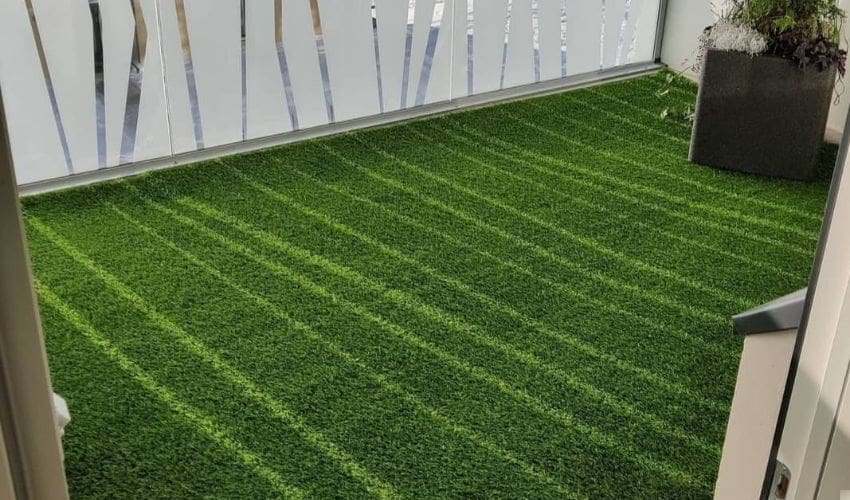 Natural Look Technology
Natural Look Technology makes sure that artificial grass must look like natural grass. Because of glare and reflections, artificial grass might seem to be a range of slightly different shades of green color depending on which angle you view it from.
In this way, artificial grass may look unnatural. Natural Look Technology will reduce this glare to produce a more natural look. We highly recommend natural Look Technology for your balcony, roof garden, or terrace.
Above are the attributes of artificial grass that you must consider when going to install it. These attributes will help you choose the best artificial grass for your balcony, roof garden, or terrace.
Other Considerations
There are some standard rules that apply when choosing artificial grass, irrespective of its usage. Artificial grass should be.
Fire-resistant
Free from toxic materials
Resilient
Able to withstand higher temperatures
How To Install Artificial Grass?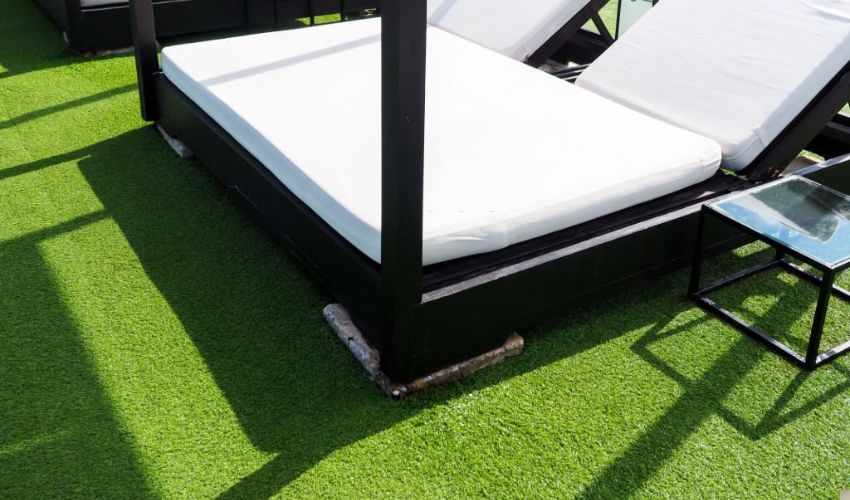 There is a comprehensive guide to the installation of artificial grass on the website of "Fixing Expert". You will find all necessary tools, materials, complete procedures, and artificial grass precautions at our website.
Recommendations
Based on our research, we recommend these two products: Tempo and Inverness.
Tempo has been particularly developed and designed for a roof garden, balcony, and terrace. Its pile height is 22 mm, but it beats other materials because of its high pile density. Its 48000 stitches per square make it a very dense product.
Inverness is another popular option for a roof garden, balcony, or terrace. Its pile height is 25 mm, and it is equipped with the latest technologies, such as instant recovery technology, feel-good technology, and natural look technology.
Conclusion
Choosing artificial grass for the roof gardens, balcony or terrace differs from other parts of the home. Each type of artificial grass is not right for every application. Every type of artificial grass has its own merits and demerits. You can choose the best option for your balcony, roof garden, or terrace based on its attributes and your usage.