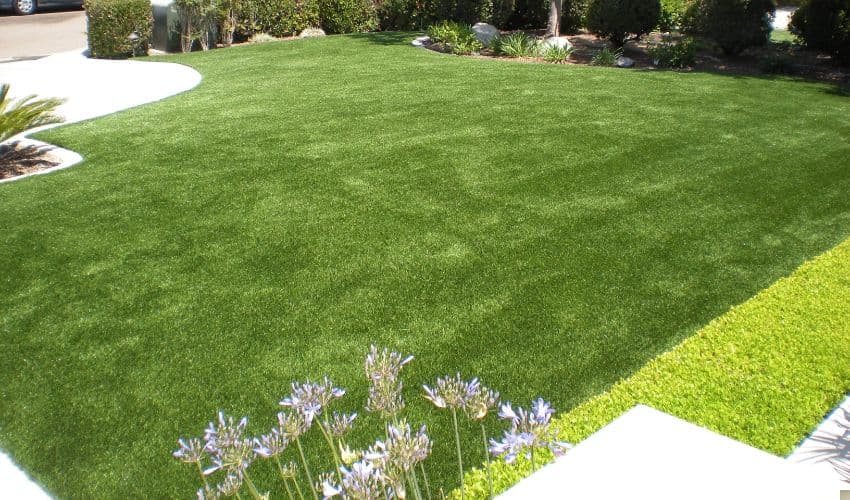 There is no other opinion that artificial grass has become very popular in recent years because it is easy to clean and maintain, which makes it more durable and gives it a natural look.
If you want to enjoy artificial grass, your installation must be perfect. One of the most important factors which contribute to installation is the edging system. Artificial grass will never be useful if its edging system is not up to the mark.
Importance Of Edging Systems For Artificial Grass
Edging is used to create a solid border that may contain the sand foundation of artificial green grass. Edging gives a perfect shape and a brilliant look to your artificial grass. Without edging, the turf will lose its original shape and its lifespan will decrease.
Therefore, there are many types of edging systems for artificial grass installations. This blog will shed light on 10 types of edging systems for turf.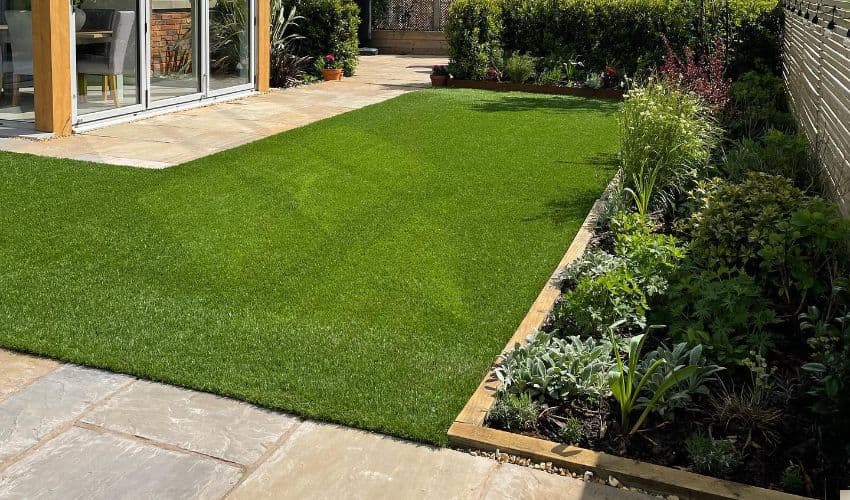 Types Of Edging Systems

Following are the abundantly used edging systems for artificial grass installations.
Timber edging
Composite plastic edging
Sleepers or railroad ties edging
Aluminum or steel edging
Bender board edging
Paving
Bricks or block stones
Concrete gravel boards
Rubber edging
Custom edging
Timber Edging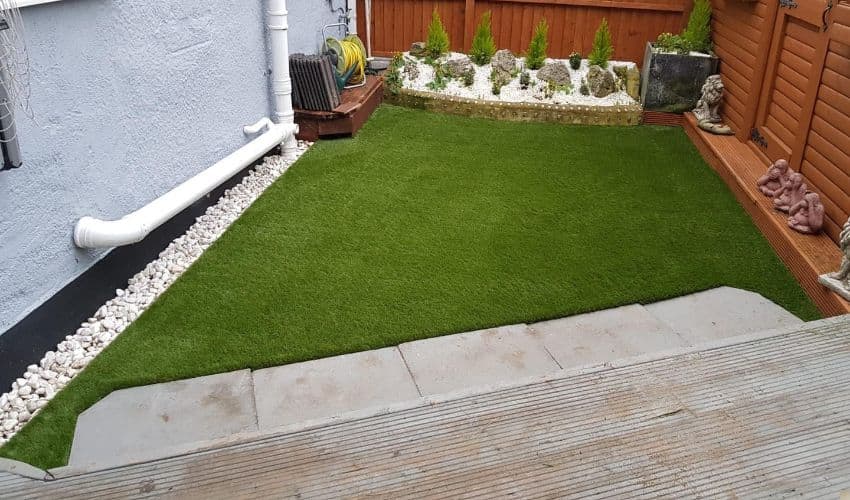 Because of its effective cost and easy trimming, timber edging is one of the most common edging systems. However, while timber is less expensive, it has a short lifespan.
Merits
Demerits

Short lifespan
Can rot due to moisture
Not flexible
Composite Plastic Edging
The composite edging system is an upgraded form of timber edging. It is easy to install and is secured with plastic stakes. It doesn't rot with moisture and has a longer lifespan.
Merits
Demerits

Easy to install
Long life span
Doesn't rot due to moisture
Sleepers or Railroad Ties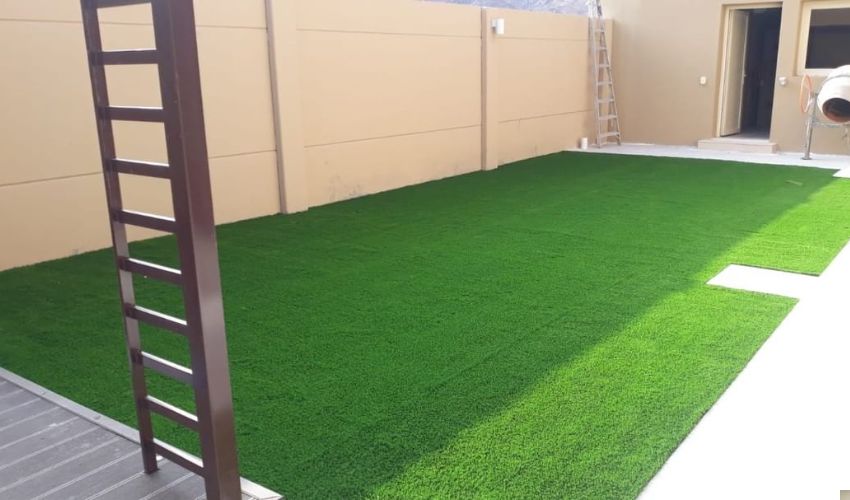 If you are looking for an alternative to traditional timber, sleepers or railroad ties are good options. They are also made from wood and pressure-treated for durability. They give a very solid platform to fix the perimeter of your artificial grass.
Merits
Demerits

Provide a solid platform
Give a better look
Can be stacked on each other

Installation is difficult
Aluminum Or Steel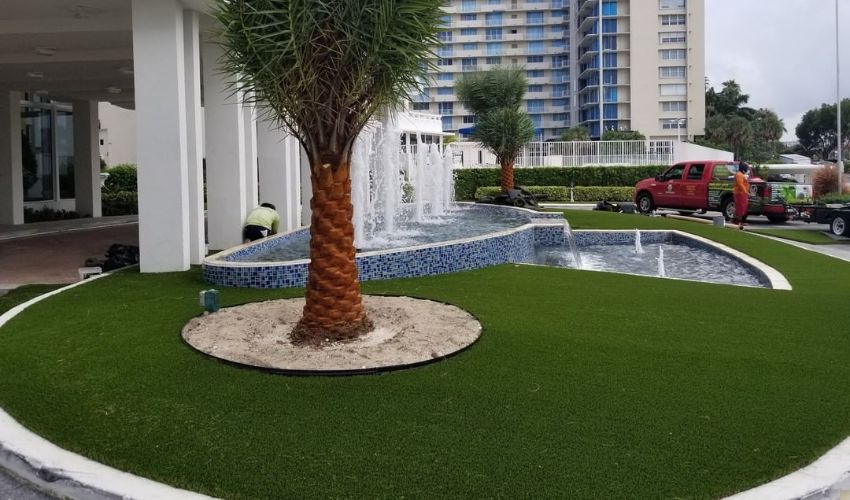 Metal is another popular option for edging systems; it has a longer lifespan. The metal edging can be quickly and easily installed. If you choose aluminum edging, make sure it is weather-resistant. If you go for steel edging, make sure it is galvanized.
Merits
Demerits

Longer lifespan
Easy to install
Durable

Expensive
Safety risks due to sharp edges
Bender Board Edging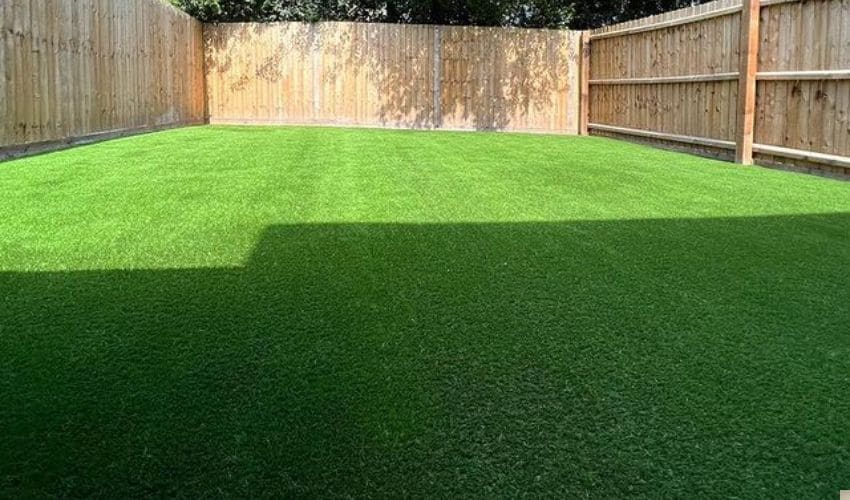 A Bender Board is a simple, affordable, and long-lasting edging system that is available with different features. This system is made from plastic and it is sufficiently flexible.
Merits
Demerits

Affordable
Long-lasting
Flexible
Paving
If your lawn is already surrounded by paving, you can install a paving edging system for your artificial grass. It must be elevated high enough to keep the sub-base in place and give a firm perimeter below the surface to keep the base materials in. When selecting paving, consider what materials are beneath the surface.
Merits
Demerits

Provide a solid base
Durable

Need additional edging
Hard to correct any mistake after gluing
Bricks Or Block Stones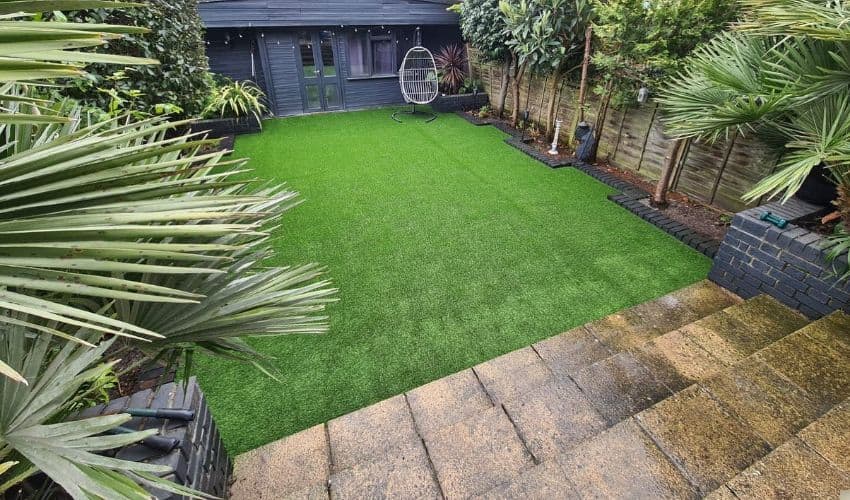 Another choice for artificial grass edging is Bricks or Block stones put in concrete to make a firm edge. Block stone borders look amazing, and they are very long-lasting.
Merits
Demerits

Amazing look
Longer lifespan

Perimeter has to be secured into the ground rather than edging
Concrete Gravel Boards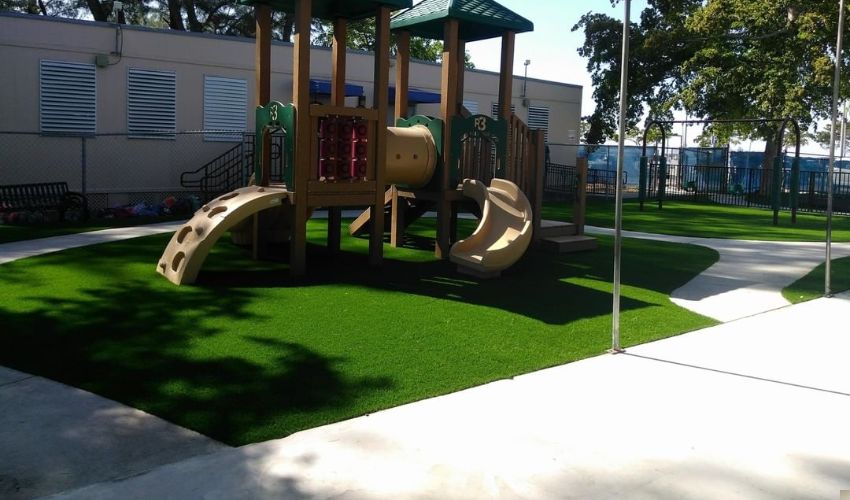 If you plan to install your artificial lawn up to a garden fence, concrete gravel boards are a terrific edging alternative. Because wood rots when exposed to moisture on the ground, a concrete gravel board is used alternatively. This is a unique solution for artificial grass edging, but it is a permanent structure that makes future fence replacement difficult.
Merits
Demerits

Don't rot
Moisture resistant

Replacement is difficult if needed
Perimeter has to be secured into the ground
Rubber Edging
The rubber edging of artificial grass is mostly a decorative element around the perimeters of your artificial grass. It has a curved rubber edge that conceals the cut edge of artificial grass and avoids trips. However, it doesn't fulfill the aims of traditional edging. It is used for commercial, such as playgrounds and showrooms.
Merits
Demerits

Increases aesthetic
Prevents trips

Doesn't give a solid foundation
It does nothing to retain aggregates in the base.
Custom Edging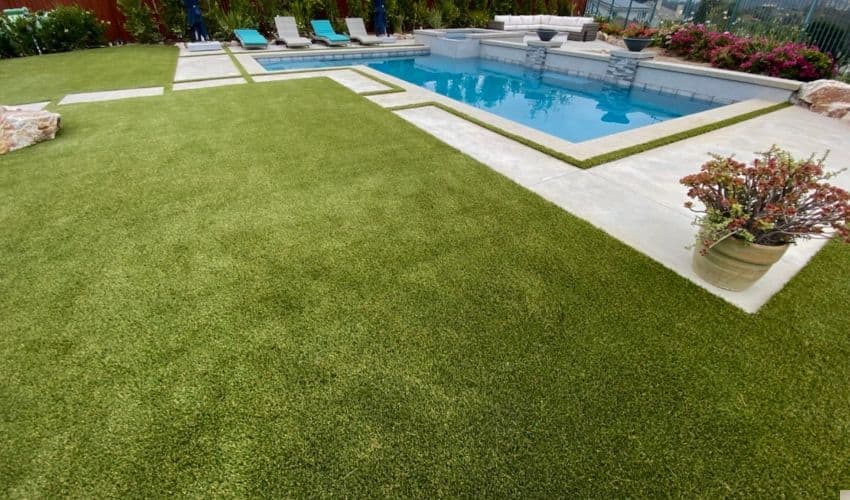 Instead of all other edging systems, you can also go for custom edging systems such as VertEdge, WonderEdge, and EverEdge. These come in a variety of materials and patterns.

What you prefer, though, is entirely up to you.
Merits
Demerits

Unique designs
Excellent features
No risk of tripping
Conclusion
You have gone through the importance and function of turf edging, as well as the various types of edging available. The lifespan and quality of your new artificial lawn will be determined by the installation. So take your time and be careful. Please contact a professional if you have questions!