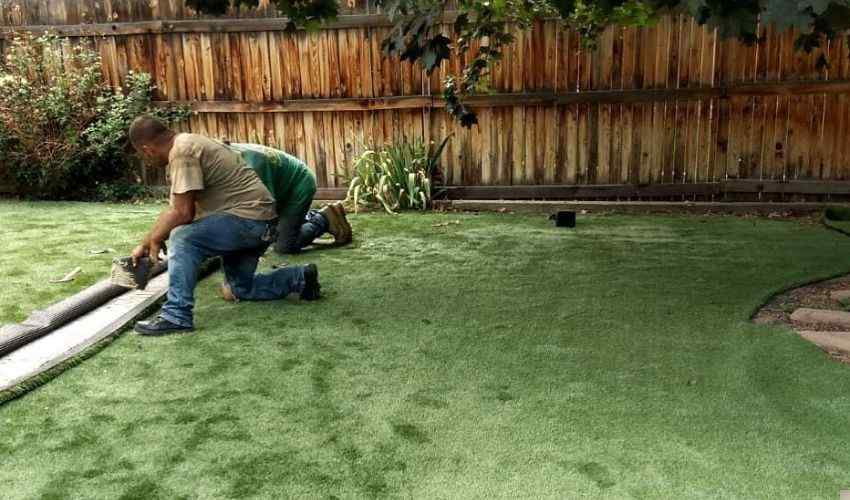 If you are tired/bored with your concrete slab, you may upgrade your yard by installing artificial grass on concrete. Artificial grass has become a very popular alternative to concrete or traditional lawns. Artificial grass looks like natural grass, but it offers more benefits than natural grass.

If you've decided to maximise your benefits by laying artificial grass on concrete, you've come to the right place. The team of "Fixing Expert" is going to elaborate on all the steps to install artificial grass on concrete. We will help you overcome all the challenges you may face during the installation of artificial grass. Before explaining the whole procedure, let's see How to Install Artificial Grass on Concrete.
Merits To Install Artificial Grass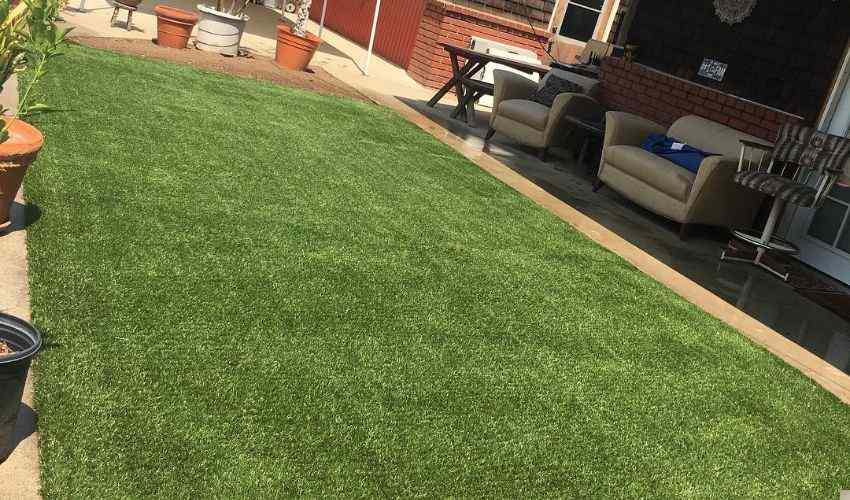 We should install artificial grass on concrete because
Fake Artificial grass gives an attractive and lavish look to the garden or lawn.
It creates a non-slippery surface.
Turf is less expensive and easy to install.
It reduces hard work and efforts to maintain lawns.

When you decide to install artificial grass on the concrete, it never means that you get up early in the morning and start installing artificial grass. Because there are some precautions that must be considered before laying grass.
Precautions
Make sure the concrete surface is suitable for this purpose. If the concrete surface is uneven and has cracks, it is not suitable for installation. On the other hand, if the surface is flat and even, you can use it for installation.
Make sure that you will have a proper drainage system so that all liquid can pass through artificial grass after installation.
There should be no bumps and unevenness on the concrete surface, otherwise it will not be aesthetic and attractive.
How To Install Artificial Grass On Concrete?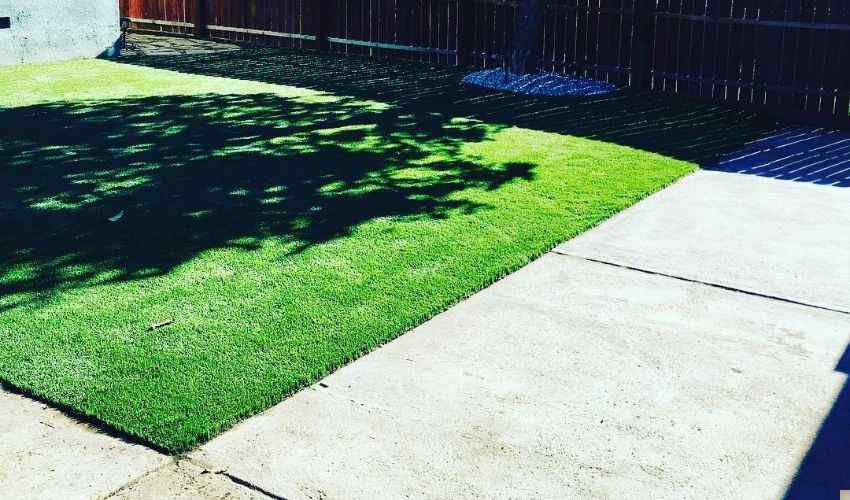 We always recommend you call professionals for the required outcomes. However, if you like to do it yourself, we will give you a complete guide that is very easy and comprehensive.

For the installation of artificial grass, you will need the following things:
Tools Required
You will need these tools for installation, have the following tools.
Stiff broom
Hose
Stanley knife
Stripping knife
Jet wash
Drill
Paddle mixer
Materials Required
You will need the following materials. You must have these materials before starting.
Artificial grass
Foam underlay
Artificial grass glue
Gaffer tape
Joining tape

Necessary Calculations
There are some important calculations you will have to do when installing artificial grass.
Measure the perimeter of the lawn in meters, and multiply it by 2 to get the required quantity of glue.
Measure the length of required joints.
Calculate how many tubs will you need?
Procedure To Be Followed
When you have collected all the tools and materials and made all the calculations, you will perform the following steps to install artificial grass on concrete.
Clean Concrete Surface
Install Drainage Holes If Needed
Install Foam Underlay
Cut Grass According To Size And Prepare Joints
Secure The Perimeter With Glue
Add Kiln Sand
1. Clean Concrete Surface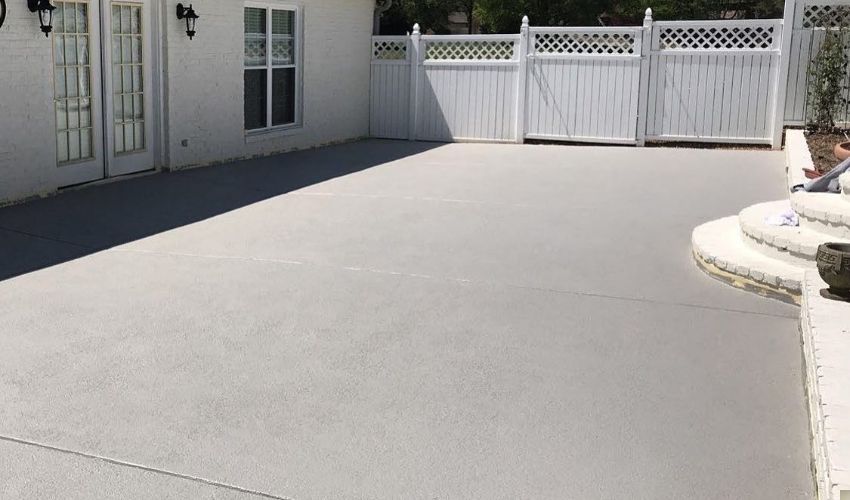 Clean the entire surface of existing concrete properly so that the adhesive may properly bond with the concrete. If there are weeds, remove them by applying a weedkiller. You can brush it with a stiff broom and wash it with a jet wash.
2. Install Drainage Holes If Needed
When you wash and clean your concrete surface, note how the water drains out. If the water drains out without puddling, you can proceed to the next step. If the water doesn't drain out, you can drill drainage holes for the proper drainage system.
3. Install Foam Underlay
When the concrete surface is dried up, the next step is to lay foam. Secure all pieces of foam with tape. After the pieces of foam are tapped, you can start the glueing process.
4. Cut Grass According To Size And Prepare Joints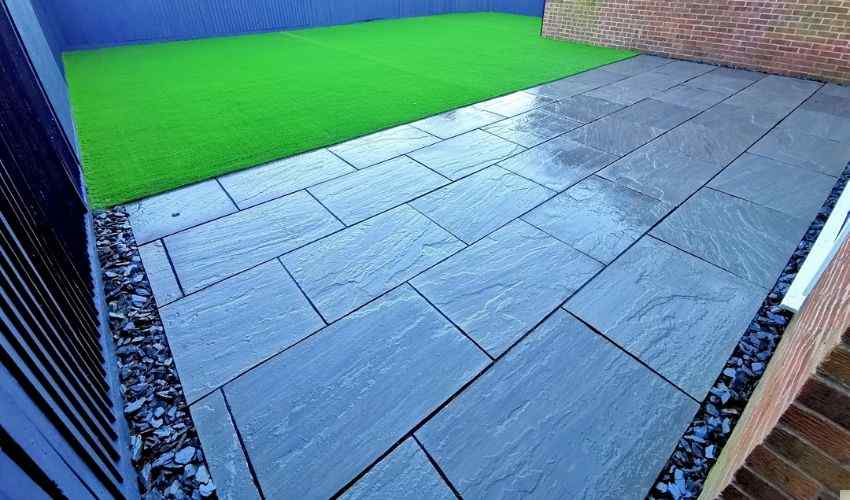 After installing the foam, you can install artificial grass by repeating the same process. Unfold it and roll it to cover the surface of the foam. Cut the grass according to size using a Stanley knife, and glue the joints using an artificial grass type.
5. Secure The Perimeter With Glue
Make sure to use the best glue so it could runs smoothly along every part of the perimeter without leaving empty spaces. Leave the artificial grass for a few hours to create a strong bond between the foam and artificial grass.
6. Add Kiln Sand
This is the last step of the installation. We recommend you use dried kiln sand to add your grass. It should be applied at 4-5 kg per meter square. You are done with the installation of artificial grass on concrete. Bravo! Bravo!
Conclusion
Installation of artificial grass is a perfect method to get rid of old and ugly concrete surfaces in the yard or lawn. We have learned that an old, worn, and uneven concrete surface can be turned into a new, lavish, and even surface by laying artificial grass.
We hope this guide has taught you a complete method for installing artificial grass, as well as its benefits and precautions. If you still have any queries, you can ask them in the comment section. The team of "Fixing Expert" will try its best to solve your queries.