Sometimes people like to enjoy DIY projects, whether they wish to keep them cost optimized. That is why they decide to install artificial grass on their own. These intelligent and hard-working people try their best to make this project successful by keeping the cost to a minimum. However, being intellectual and hardworking are different things from being a professional.

Therefore, during the installation of artificial grass, people make blunders, which decreases the durability and reliability of the grass. To avoid these kinds of common blunders, always call professionals for the installation of artificial grass for the required results.
Nevertheless, if you don't wish to lose this opportunity and still insist on this activity on your own, you are in the right place. Because our team of "Fixing Expert" will point out all the basic mistakes in installation and will tell you their solutions. This blog is about common artificial grass installation mistakes and how to avoid them. Stay reading.
Common Artificial Grass Installation Mistakes And Their Solutions
After comprehensive research, the team of "Fixing Expert" found basic mistakes that people make during artificial grass installation. Our professionals will share solutions to these mistakes.
Insufficient excavations
Failure to excavate soft spots in subgrade
Failure to lay weed membrane
Improper sub-base installations
Usage of sharp sand as a laying course
Improper compaction of sub-base and laying course
Uneven laying course
Failure to install a proper edge restraint
Failure to allow artificial grass to acclimatize
Pile faces a wrong direction
Incorrect cutting of seams
Insecure seams
Incorrect usage of seam tape
Improper usage of adhesives
Cannot secure edges of the lawn
Cannot install sand-infill
Cannot power brush the turf
Selecting poor quality turf
1. Insufficient Excavations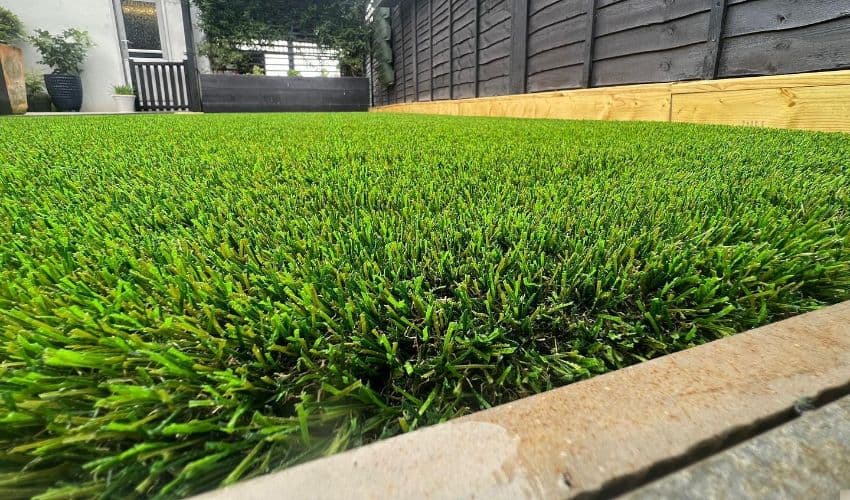 If you install artificial grass directly on the soil, it will not work. Direct installation of pasture like artificial grass on the soil will cause an uneven lawn for you.
Solution
Remove weeds and existing grass up to 4 inches.
Removes up to 5 to 6 inches for poor drainage areas.
Examine the depth of excavation.
Excavate to the minimum depth of 75mm.
2. Failure To Excavate Soft Spots In Subgrade
After the existing lawn is excavated, examine its soft spots under your weight. If your feet sink into the ground, excavate and backfill the area with subbase material.
Solution
Remove all soft spots when you are excavating.

3. Failure To Lay Weed
If you don't install a weed membrane, there is a possibility that you will host natural weeds on your lawn. You will never like to have weeds on your artificial lawn, certainly.
Solution
Lay a weed membrane into the subgrade.
Use the second layer of weed membrane on the top of the laying course.
4. Improper Sub-base Installations
When you install artificial grass, there are actually two layers that need to be installed before the artificial grass. One of them is the "sub-base," which provides strength to artificial grass to tackle the weight of foot traffic.
Solution
The sub-base should be at least 50 mm of MOT type 1.
You should use 50 mm of 12 mm granite for poor drainage areas.

5. Usage of Sharp Sand As Laying Course
The other layer that should be installed above the sub-base is the laying course, which makes the overall surface even and flat.
The laying course has to withstand foot traffic and rainfall. Some people use compacted sand for the sub-base, but sand doesn't bind together, which results in the movement of the laying course and an uneven surface.
Solution
Install the laying course to the depth of 25 mm comprising 0-6 mm of granite.
Granite forms a stronger layer than compared to sharp sand.
6. Improper Compaction of Sub-base And Laying Course
Make sure that the sub-base is properly compacted after leveling the laying sub-base and before spreading the laying course.
Solution
You can use a vibrating plate compactor.
To make sure the area is compacted, move around the whole lawn.

7. Uneven Laying Course
The compaction of the laying course is not important, but the evenness of the laying course matters a lot. Make sure that the surface is flat before installing the artificial grass.
Solution
To prevent bumps on artificial grass, iron the laying course using a plastic float.
8. Failure To Install A Proper Edge Restraint
Edge restraints are used for two purposes; the first is to keep the laying course and sub-base, and the second is to prevent the lawn from collapsing. People fail in choosing and installing proper edge restraints.
Solution
Use a secure edging system that holds the sub-base and laying course.
Use galvanized nails or adhesives to secure the perimeter.

9. Failure To Allow Artificial Grass To Acclimatize
Artificial grass is shipped as rolls. It gets ridges and bumps on its surface due to back holding.
Solution
Unfold the artificial grass on a hot day and leave it for a few hours, and bumps and ridges will disappear.
10. Pile Faces A Wrong Direction
If you examine the artificial grass thoroughly, it has little pile direction. It means that the fibers of the artificial grass are pointing in the same direction.
Solution
Make sure that the pile is facing the same direction when you join the rolls of artificial grass.

11. Incorrect Cutting of Seams
Artificial grass is supplied as rolls. Join these multiple rolls to cover the entire area. In this process, joins are cut incorrectly.
Solution
Before gluing the pieces, remove the strip of membrane connected to the outer edge.
For an invisible join, cut three stitches off the edge of artificial grass.
12. Insecure Seams
When you join two pieces together, make sure that they are secure and will not get apart. Some people don't secure these seams.
Solution
Use adhesives and seam tape to join pieces of artificial grass.

13. Incorrect Usage of Seam Tape
Seam tape is provided between the two joining pieces of artificial grass. This cannot be placed correctly and causes problems.
Solution
Make sure the upside of the rough side of the joining tape is facing upward before prior to applying the adhesives.
14. Improper Usage of Adhesives
When securing the joins, it is important to use the right amount of adhesives. Sometimes, people use too much or too little an amount which is not suitable.
Solution
Apply a 2 mm layer of adhesive to the complete width of the joining tape.

15. Fail To Secure Edges of The Law
The edging system is an essential part of the installation of artificial grass. It provides extra support to the entire system. Grass can lift upward if the edging is not properly done.
Solution
Secure the perimeter of the lawn using galvanized nails or adhesives.
16. Fail To Install Sand-infill
Sand is used to balance the artificial grass system; it prevents movement and rippling. It maintains the temperature and provides a better drainage system. If you cannot install sand infill, you may not enjoy the mentioned benefits.
Solution
Install the sand infill, you can get silica bags from local stores at an economically friendly cost.

17. Fail To Power Brush The Turf
The ultimate step in the artificial grass installation process is to power brush the lawn. If you don't, the sand infill will settle on top of the fibers, flattening them and puncturing the latex, leaving it exposed to sharp items.
Solution
Brush the turf to assure it falls to the bottom of the pile after adding the sand infill.
18. Selecting Poor Quality Turf
Our last problem isn't exactly an installation error, but it's still a potentially fatal one. Poor quality artificial grass will not be durable and luxurious.
Solution
There are several solutions available to fit your fake lawn requirements, so do some research to choose what is ideal for you.
Conclusion
At the start of this blog, we have told you that for long-lasting, better performance, you must call experienced professionals to complete this installation. If you are still interested in doing it on your own, must keep the above mistakes and their solutions in your mind. They will definitely be helpful for you.