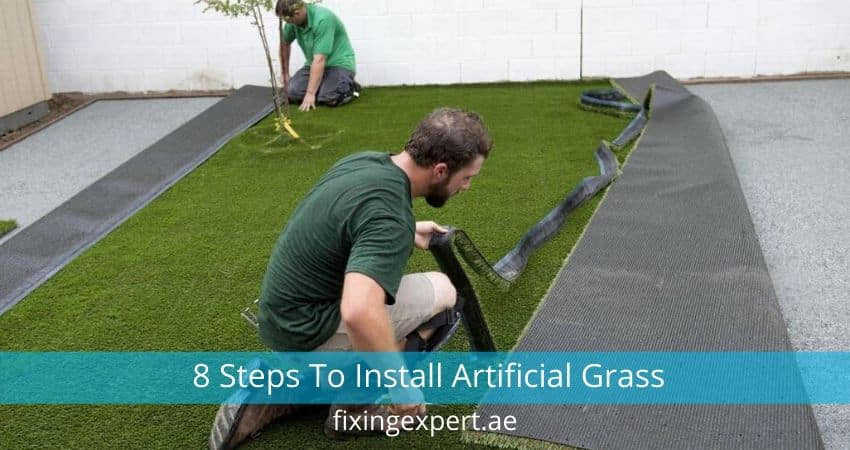 Artificial grass or astro turf is the same thing. Artificial grass is actually the surface of synthetic fibers that are used on lawns or playgrounds as an alternative to natural grass. Turf is preferred over natural grass because it doesn't need water, fertilizers, or regular maintenance. Because of these features, artificial grass is considered eco-friendly.
The installation of artificial turf is a professional task. However, if you are willing to do this adventure, you can do it. This installation needs some equipment and a proper procedure to be followed. This blog will manage your efforts in this respect. Let's learn how to install artificial turf.
Tools & Equipment Required To Install Artificial Grass
For the installation of artificial grass, we need the following equipment to make our work easier and reduce our efforts.
Cutter
Knife
Joining adhesive
Joining tape
Measuring tape
Hammer
Steel nails
Gloves
Stiff brush
Vert edges
Vert edges adhesive
Above are the types of equipment that must be on your hand before starting the procedure of installation of artificial grass. For better understanding and easy application, I have split the complete procedure into small steps.
8 Effective Steps To Install Artificial Grass
There are eight (8) unique steps in this procedure to install artificial turf. They are:
Make a Plan
Clear the Required Area
Install Edges
Install Base
Fix Weed Membrane
Install Artificial Grass
Trim Edges
Apply Finishing Touches
Above are the steps to be followed to install artificial grass on your lawn. If you follow those steps carefully in sequence, you will enjoy this adventure.
Make A Plan
Before starting this task, make an effective and clear plan of what kind of stuff will be used and how much area will be covered. You must be clear about all the basic measurements and steps.
Clear The Required Area
Remove the existing surface to a depth of 2 inches with a spade or turf cutter, whether it is natural grass or artificial grass, and replace it with a new one. Remove all stones, bricks, and other hurdles.
Install Edges
Install the edging system, and strike the edges with a hammer to insert them into the ground, leaving them 3 cm exposed. In the edging system, you can use Vert Edges.
Install Base
Place the granite dust at a depth of about 6 mm and smooth the surface with a piece of wood. If you want to use sand instead of dust, make sure its depth is around 20 mm, and also use hardcore to level it.
Fix Weed Membrane
After installing the base, lay the weed membrane over the area and fix it by inserting 4 inches of steel nails every 0.77 mm.
The purpose of the membrane is to stop the growth of weeds by allowing water drainage. Trim the excessive edges. If you want to join edges, overlap them and fix them with adhesive tape.
Install Artificial Grass
Unfold the artificial turf and place it on the under consideration area without moving the weed membrane.
Trim Edges
When you are done with installing artificial grass, trim the extra edges with a knife. During trimming, replace the blade every 3 to 5 meters for better results.
Apply Finishing Touches
When you have completed all the above steps, add kiln sand to the artificial grass to give it a natural look. Do this step using a stiff brush. Add 6 to 8 kg of kiln sand per square meter of the artificial turf.
It was all about the installation of artificial grass. However, the blog didn't come to its end. For the best results, there are some precautions that must be taken while installing the artificial turf.
Necessary Precautions While Installing Artificial Turf
There is a list of precautions that must be followed for desired consequences. Have a look at this.
Make the surface even
Make the drainage effective
Uniform joins
Edges
Turf quality
Make The Surface Even
During installation, people make the mistake of not making the surface level. It looks strange and offers difficulties while walking. Moreover, this uneven surface will decrease the life span of artificial grass. Therefore, make sure that the surface is even before installation.
Make Effective Drainage
This one is the most crucial consideration while installing artificial turf. An ineffective drainage system will cause the water to be gathered on the surface, which is not ideal. So, make an effective drainage system and add slop if needed.
Uniform Joins
Non-uniform joins destroy the appearance of artificial grass. It may cause costly damage. That is why you must make sure that joins are uniform during installation.
Edges
The process of installation is incomplete if the edges of artificial turf are not properly fixed. They can damage the quality of their appearance by curling. Therefore, make sure to secure these edges using steel nails or adhesives.
Turf Quality
If your installation was perfect, but the quality of the artificial turf was not up to the mark, it would not last long. Never compromise quality; choose the best quality artificial turf for installation.
The discussion on installing artificial grass or artificial turf is over here. However, you might have some queries in your mind. Read the following questions. They may be fruitful for you.
Complete Guide To Artificial Grass Maintenance
Frequently Asked Questions
People aptly ask these questions when they are going to install artificial grass. Let's see what they ask and what they find in response.
Can We Install Artificial Turf On Soil?
Yes, we can, but we have to clear weeds, grass, and soil to a depth of 3 to 5 inches. We will have to add a sub-base, a geo textile membrane, and sand. We cannot directly install artificial grass on the soil.
Can We Install Artificial Grass Over The Natural Grass?
Not at all. It isn't recommended. If we install artificial grass on top of the natural grass, we will face an uneven surface and weed growth under the artificial grass.
Which Sand Can We Put Under The Artificial Grass?
We can use sharp sand. It is also known as grit sand. It provides the best drainage and levelling for the surface.