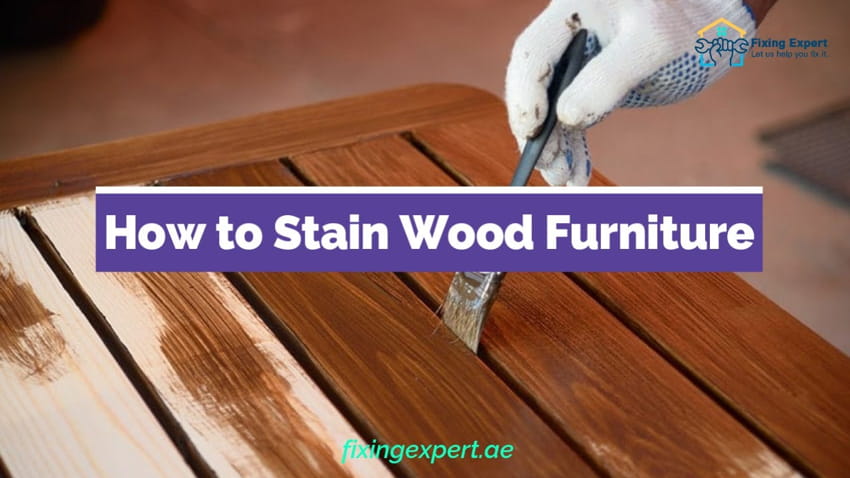 A common piece of advice when it comes to wood furniture is to "stain it before you use it." This is especially true for outside garden furniture, which is more likely to suffer from weather damage without a protective finish.
But what does staining wood furniture actually entail? What are the best methods and products to use? And how can you achieve the perfect finish?
We will address each of these queries in detail in this detailed tutorial. Whether you're looking to stain a brand-new customized furniture or want to refinish an old favorite, this guide will give you all the information you need to get started.
Have A Look At How To Stain Wood Furniture
Staining wood furniture is a great way to change the color and appearance of wood without painting it. This can be a great option if you want to maintain the natural look of the wood. Plus, staining is rather simple to perform and doesn't call for any specialized knowledge or equipment.
Quick Tip: How To Spray Paint Furniture? | Easy Step By Step Tutorial 
Read on for detailed instructions if you're interested in staining your wood furniture. Everything you need to know about staining wood furniture, from picking the perfect stain to using it properly, will be covered in this article.
1. Preparing Your Wood Furniture for Staining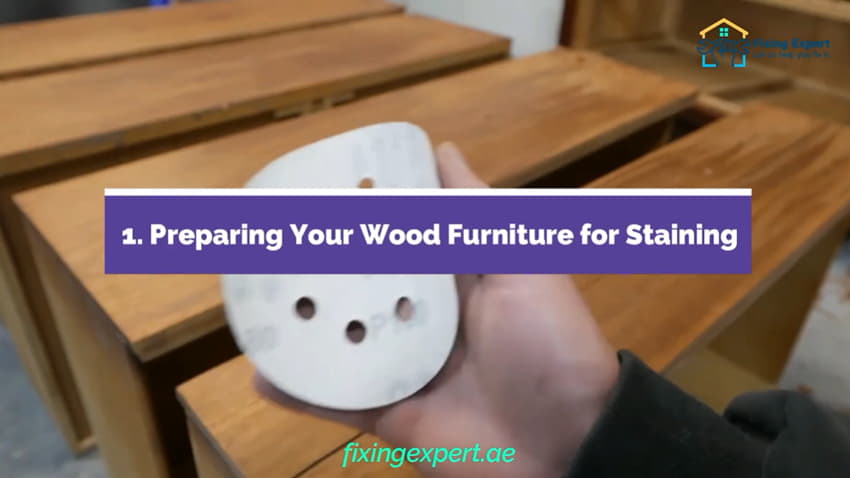 Sanding the surface is the first stage in staining wood furniture. This will help to create a smooth surface for the stain to adhere to and will also remove any existing finishes, waxes, or oils that may be present.
You may skip this step if you're starting with a brand-new piece of furniture. However, if you're refinishing an older piece, you will need to use medium-grit sandpaper to remove the existing finish. After sanding the surface, clean it with a moist towel to get rid of the dust.
Learn More: How To Refinish Wood Furniture In Easy Steps
2. Applying the Stain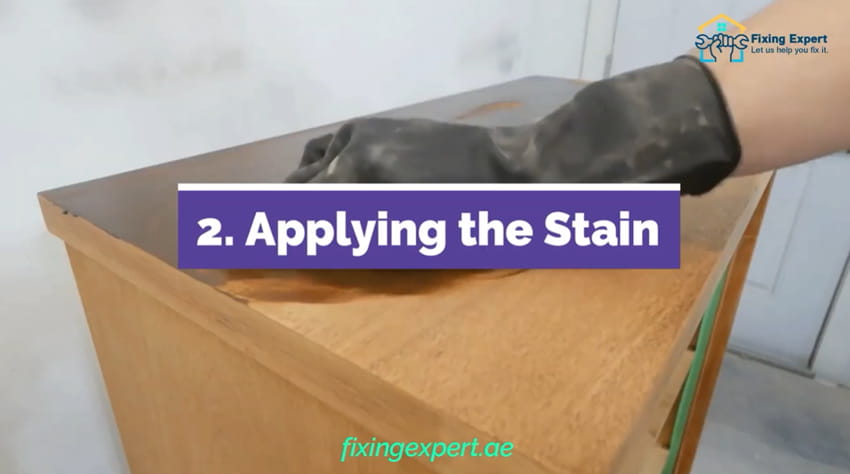 The next step is to apply the stain. For best results, use a lint-free cloth or a sponge brush to apply an even layer of stain to the furniture. Work in tiny parts and be careful to remove any extra discoloration as soon as possible.
You may like: Expert Methods to Varnish Wood Furniture
Stain can be applied directly to bare wood or over existing finishes. If you're staining over an existing finish, be sure to test the stain in an inconspicuous area first to ensure that it will not remove the existing finish.
3. Finishing the Stain Job
Once you've applied the stain, you'll need to seal it in with a finish. This will shield the stain from deterioration and make cleaning it easier.
There are many different types of finishes available, so be sure to choose one that is compatible with the type of wood you're working with and the look you want to achieve. For instance, you may select a beeswax finish if you desire a natural appearance. Choose a polyurethane coating if you want something more robust.
4. Maintaining Your Stained Wood Furniture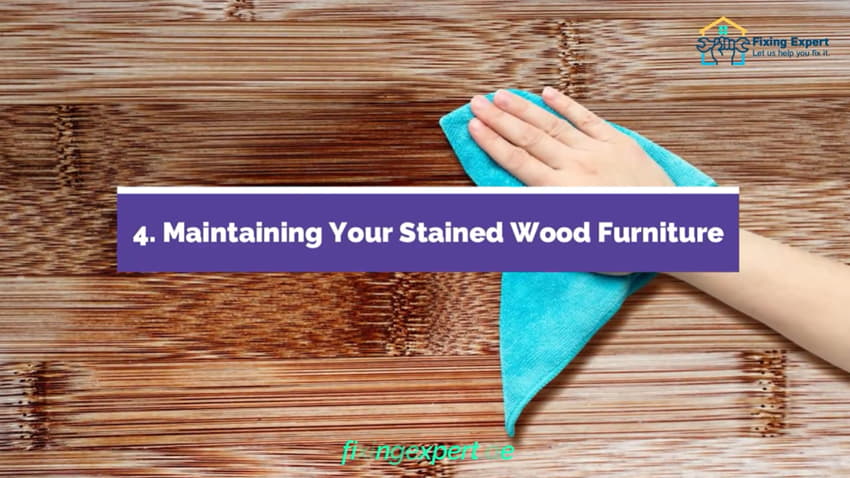 To keep stained wood furniture at its best, it needs some extra cleaning and upkeep. For starters, always use coasters or placemats when placing cups or glasses on stained wood surfaces. Water spots are difficult to remove and can damage the finish over time.
In addition, be sure to dust regularly with a soft cloth or furniture brush. Avoid using Pledge or other aerosols because they can build up on the surface and attract dirt.
And finally, when cleaning stained wood furniture, use only gentle cleaners like dish soap and water or white vinegar and water. Harsh chemicals can damage the finish and leave streaks or smudges behind.
To Sum Up!
In the end, I would highly recommend using all the tips that you have learned from this tutorial if you want to stain your furniture properly. Applying these tips will save you time and give your furniture a nice finishing touch.
I hope this guide will help you a lot and you have got all the information about how to stain wood furniture in an appropriate way. Now, follow these tips and make your furniture look admirable. Remember that first you have to check what type of finish you want to give your furniture and then start staining it accordingly.