A fantastic technique to guard wood furniture against dings, stains, and water damage is to varnish it. Additionally, it helps restore the luster and newness of your furniture. Don't worry if you don't know how to varnish wood furniture; we can assist you.
Instant Tip: How to stain lumber made furniture?
We'll demonstrate how to lacquer wood furniture expertly in this post. The entire procedure, from preparing the furniture to applying the varnish, will be demonstrated to you. We'll also provide you with some advice on how to achieve the greatest outcomes.
So let's get started if you're prepared to learn how to varnish wood furniture.
Essential Steps For How To Varnish Wood Furniture
Handmade Custom furniture may be well-protected from harm and maintained in pristine condition by applying varnish. And although it might sound difficult, doing it is actually fairly easy. You can simply varnish your own furniture and keep it looking fantastic for years to come with a little time and work.
We'll demonstrate how to lacquer wood furniture expertly in this post. We'll go through everything, from preparing the wood to coating it with varnish and making sure the finish is even and smooth. Therefore, if you're prepared to give your lawn furniture a makeover, continue reading for all the advice you require.
Here's a quick rundown of what you'll need to do:
1. Sand The Furniture To Create A Smooth Surface
Your furniture must first be sanded if you want to achieve a smooth finish. This will make the surface of the furniture smooth and eliminate any roughness.
There are a few things to keep in mind when sanding furniture:
Use medium-grit sandpaper to start with. This will remove any major imperfections on the surface of the furniture.
Once you've sanded with medium-grit sandpaper, switch to fine-grit sandpaper to create a smooth finish.
Sand that is oriented with the wood's grain. This will shield the furniture's surface from any dings or scrapes.
You may sand your furniture down and achieve a smooth surface by keeping these pointers in mind.
2. Apply A Base Coat Of Varnish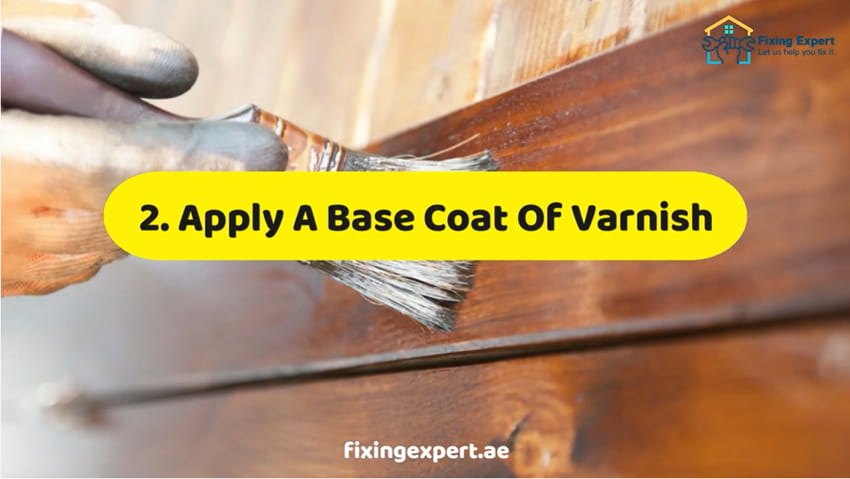 Applying a base coat of varnish is an important step in protecting your woodworking projects from the elements. A base coat will provide a barrier between the wood and the environment, preventing moisture and dirt from penetrating the wood. Additionally, it will help keep the wood from cracking or warping over time.
You will want a few materials in order to apply a base layer of varnish. To begin, you will want some sandpaper to rough up the furniture's surface. Once you have your supplies, you can begin applying the base coat of varnish.
3. Let The Base Coat Dry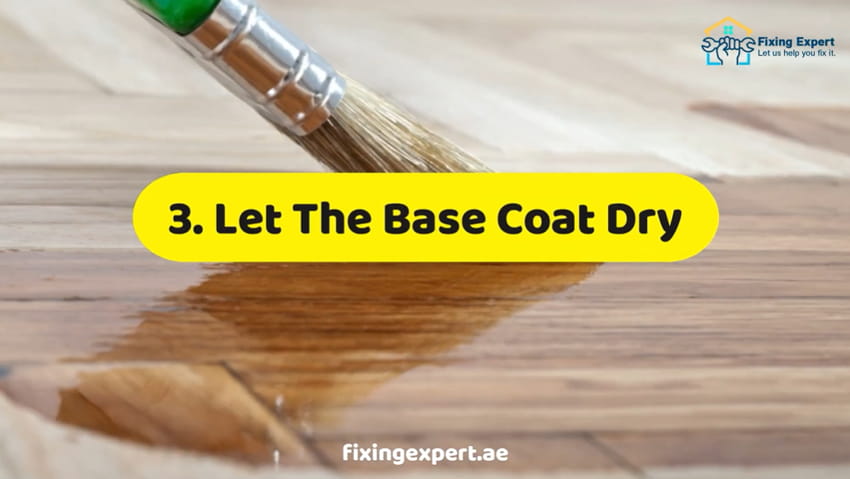 Your paint job's initial layer of defense is the base coat of varnish. Prior to applying the top layer of varnish, the base coat must be completely dry. If you don't let the base coat of varnish dry, the top coat will not be as effective and could even damage the paint job.
Quick Learning: Laminate Furniture Painting in 5 Easy Steps
4. Apply A Top Coat Of Varnish

It's time to apply a top coat of varnish to your wood surface after you've sanded and stained it.
A transparent sealant called varnish can shield your wood from moisture and deterioration. Additionally, it will give your wood a lovely, glossy surface.
You will need a clean, dry, lint-free cloth to apply varnish. Apply the varnish in the direction of the grain using long, even strokes.
Related: Expert Guide to Furniture Refinishing
To prevent any missed places, work in little parts and overlap your strokes as you go. Allow the varnish to cure for at least 24 hours after covering the entire surface before utilizing the furniture.
5. Let The Top Coat Dry & Enjoy Your Newly Varnished Furniture!
You've just finished varnishing your furniture and it looks great! However, you must wait for the top coat to dry before using it. Depending on the sort of varnish you used, this might take a few hours to a few days.
Once the top coat is dry, you can start using your furniture again. Just be sure to avoid putting anything hot or wet on the surface, as this can damage the varnish. With a little care, your newly varnished furniture will look great for years to come!