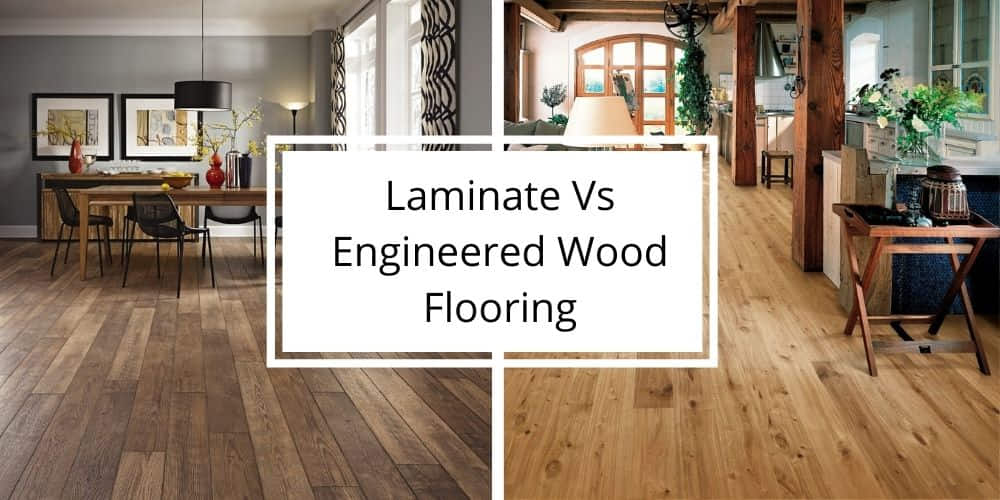 Laminate flooring and engineered wood flooring are two obvious alternatives if you want flooring that looks like genuine hardwood but is less expensive. Both floor coverings were designed to be less expensive and more versatile than solid hardwood flooring, which is the most popular form of flooring.
Both laminate and engineered wood have benefits and drawbacks that must be considered before making a decision.
Let's have a look at the main distinctions Laminate vs Engineered Wood Flooring.
Comparing Laminate and Engineered Wood Flooring
Engineered hardwood and laminate herringbone flooring both have benefits and drawbacks. Both options are beneficial in certain respects. What is most important is what is best for your home or business.
Before making a selection, be sure you understand where each alternative excels and where it falls short. By carefully watching this post, you will be able to make an informed decision and install the finest solution.

Let's start comparing with their Appearance and Comfort
Engineered wood flooring is more attractive than laminate flooring in terms of look. It can resist a lot of wear and tear because the top layer is composed of solid wood. Engineered hardwood flooring is constructed completely with solid wood instead of stone composite floor tiles. As a result, it feels harder underfoot than laminate flooring and is more akin to real hardwood. Because it is pre-sanded and treated, engineered hardwood flooring is smooth and splinter-free.
Laminate flooring might deceive you into believing it's real wood from afar. However, a closer look reveals that the likeness isn't as great as it first looks. The foam underlayment and synthetic core of laminate flooring give it a smooth, almost bouncy feel underfoot.
Look At The Water Resistance Properties of Laminate & Engineered Wood Flooring
Laminate flooring is more water-resistant than hardwood flooring, but only on the top surface. It's likely that if the flooring becomes wet on the sides and bottom, it will expand and distort.
While on the other hand, Engineered hardwoods are less water-resistant than traditional hardwoods. Because of its structure, it will not expand or contract in humid environments, making it ideal for installation in low-grade places where hardwoods are not permitted.
Now, Take A Look At The Installation Of both floorings 
Engineered wood flooring is usually installed using nail-down or glue-down methods. Certain newer variants of engineered flooring may be placed without a subfloor by using click-lock joinery. Because these floors have a real wood veneer but an HDF core, they are closer to laminate flooring than engineered hardwood flooring.
Engineered hardwood flooring requires significantly more time to install than laminate flooring. Laminate boards are only attached side-to-side as a floating floor, never to the subfloor or underlayment. Cutting laminate boards with a handsaw or even a utility knife is straightforward.
Learn more about How To Install Laminate Flooring?
Let's talk about the Durability of Laminate & Engineered Wood Flooring
The beauty of hardwood flooring cannot be overstated. However, they are readily damaged and may turn dull with time. Engineered flooring has a solid wood top layer, which makes it more durable. As a result, this sort of flooring is just as prone to damage as solid hardwood flooring. Scratches, dents, and dings are just a few examples.
Laminate flooring is a popular choice among families with children or pets, as well as anybody looking for a stain-resistant, low-maintenance solution. It is significantly more scratch-resistant and dent-resistant than hardwood flooring. Laminate flooring resists stains and fading. Laminate chips with time, and you won't be able to refinish them, so you'll have to replace them. When it comes to durability, laminate is the ideal choice in flooring since it is so resistant to scratches and other damage.
Last but not least, the Maintenance and Care of Laminate & Engineered Wood Flooring
Engineered and laminate flooring are comparable in terms of cleaning and maintenance since both are delicate surfaces that should never be wet cleaned. Using a dry brush or dry mop as often as possible is the simplest approach to keep these types of flooring clean.
Steamers and moist mops are not recommended. Ammonia-based cleaning solutions should never be used. Squeeze the mop as much as possible until it's almost dry if you need to apply the liquid to the surfaces.
Final Verdict!
Engineered flooring is the finest option for a floor that resembles real hardwood but is easier to maintain. Laminate flooring is a better alternative than engineered hardwood flooring if you want to save money on your floor covering, especially when combined with self-installation.
To match your needs, you may pick from a number of flooring solutions. Select the most appropriate choice for your location to feel safe and comfortable when out and about.