Vinyl or better known as PVC flooring treatment comes in a variety of versions with stone, wood, and many other options. Vinyl floors feature extreme durability, water damage resistance, improved aesthetics, easy installation, and many other noteworthy benefits.
Looking to DIY install your vinyl plank flooring? Well, you must be well aware of all the best tools that are used for cutting vinyl planks. Because vinyl plank trimming, when accurately performed, guarantees an effortless and precise flooring installation.
In this article by Fixing Expert, we're going to explain the different tools that can be used for this purpose alongside suggesting the best ones for this purpose, as well.
Why Is Vinyl Plank Flooring Popular?
Want a floor treatment that's aesthetically appealing, water-resistant, long-lasting, and cost-effective? Well, the best option that can fulfill all these requirements is Vinyl Plank Flooring. On top of that, you'll find vinyl plank flooring an easy-to-clean and comfortable flooring solution as well.
Types Of Tools For Cutting Vinyl Flooring
When it comes to the available choices, there are two different tool options to cut vinyl plank flooring as explained.
Manual Handy Tools
Power Tools
Check: Three Different Tools To Cut Laminate Flooring
1. Handy Tools
This category, of course, comprises tools that need to be operated manually for cutting vinyl planks. In this section, there're various different tools and we're going to explain all of them one by one.
1. The Hand Saw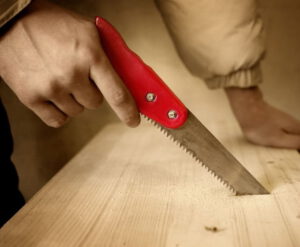 Almost all people can use a hand saw because it's too simple to operate and doesn't require any expertise. For this purpose, you'll have to take care of not damaging yourself (as with all other cutting tools). For this purpose, you need a hand saw with fine teeth (more than 12 blades TPI–tooth per inch) so as to easily cut vinyl planks.
2. Utility Knife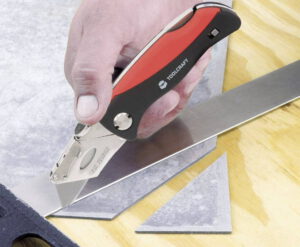 The next option is to make use of a utility knife to place minor cuts on vinyl flooring planks. In other words, you can give marks or indentations using a utility knife for where to start cutting through identifications. And of course, the whole flooring can't be installed just by using a utility knife. However, one can't also deny the importance of this tool when in the need of an hour.
3. Wall Trimmer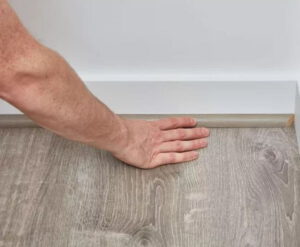 Wall Trimmer is a useful tool that can easily cut vinyl sheets applied along the wall surfaces (mostly used for after-application vinyl sheet reductions). It features a precise control knob and can easily cut through wooden planks of vinyl flooring.
4. Scissors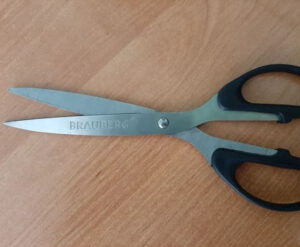 Soft sheets of vinyl flooring planks can be cut using scissors. Also, scissors can function the same as a utility knife, in case one can't be found in the household. Thus, you can also place cut marks to identify and cut through the vinyl flooring sheets.
5. Snap Cutter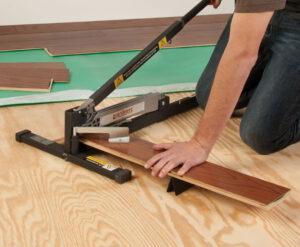 A snap cutter or tile cutter is a great tool to cut vinyl plank flooring. Keep in your mind that snap cutters come in various versions for cutting different surfaces. And, you should avoid renting out the one that's used for ceramic tile cutting.
For this purpose, you need to select a tile cutter used specifically for flooring installations. That's because it comprises a sharp blade to cut the vinyl sheets or planks without any crumbs. Read More: How To Remove Rubber Marks From Vinyl Flooring? 
Advantages & Disadvantages Of Cutting Vinyl Planks With Manual Handy Tools
Let's take a look at the plus points and drawbacks of using handy tools to cut vinyl plank flooring.
The Merits
There is no electricity usage for handy tools and therefore, the respective cost is saved.
handy tools are best for small-scale flooring installations.
handy tools require no expertise for operation.
The Demerits
Handy tools can't be used for large-scale flooring installations.
Manual tools require you to put more effort into cutting vinyl plank flooring.
2. Power Tools
Power tools are most commonly opted for large-scale vinyl flooring installations to efficiently complete the process. These cutting tools operate on electricity and the ones recommended for cutting vinyl plank flooring are explained below.
1. Miter Saw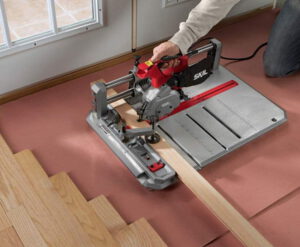 Miter saw is a power-operated cutting tool used in vinyl plank flooring installation projects. A miter saw cuts vinyl flooring planks just like a table saw. However, you'll not find it ideal in case you want to cut your vinyl flooring sheets longitudinally. Again, you'll need a fine-toothed blade when a miter saw is to be used.
2. Jigsaw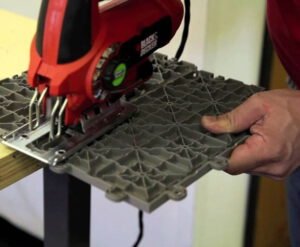 It's undeniably one of the best cutting tools for vinyl plank flooring installations. That's because a jigsaw lets you cut vinyl sheets in any direction and shape. Also, you'll find jigsaw to be most useful when cutting around odd corners and pipes for installing vinyl flooring.
3. Circular Saw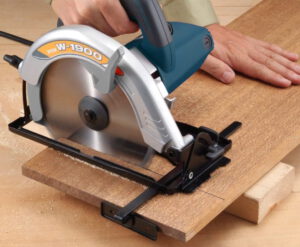 A circular saw is a cutting tool that's even better than a jigsaw for cutting vinyl flooring planks. That's because a circular saw can cut vinyl planks rapidly and efficiently. All you need to do is to keep the plank positioned rightly under the blade.
However, some of you may find the circular saw a bulky machine and therefore, would like to find an alternative. Don't worry, a mini-handheld circular saw is just the right option for you then. It's smaller in size and equally as efficient as the larger version. Quick Note: Best Flooring Options To Increase Home Value In 2023
4. Table Saw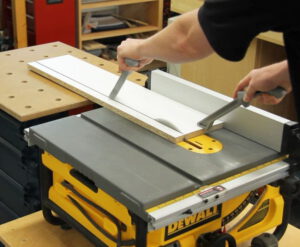 Speak of a cutting tool used mostly by professionals and table saw will be in the top few names on the list. A table saw can be used to shape the planks as you want prior to installation. Again, you should not use a blade with low TPI because there will be uneven, rough cuts with such blades.
5. Dremel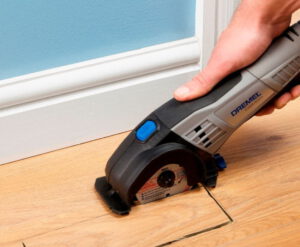 For grinding, shaping, and polishing the hospital vinyl planks and other commercial places, a Dremel is commonly used. This cutting tool comprises a rotary blade at one end for engraving and routing purposes. Even though small in size, there will be no efficacy complaints when using a Dremel for cutting vinyl plank flooring. The inexpensiveness of this cutting tool is what makes it compete with a table saw or circular saw.
Benefits & Limitations Of Cutting Vinyl Planks With Power Tools
Just as the perks and pros are enjoyable, the downsides of using power tools for cutting vinyl flooring planks can't also be overlooked.
The Excellence
These tools can cut the textured or embossed laminate tiles efficiently thus, the flooring installation project can be completed earlier.
There's no need to put that much effort as with manual cutting tools for vinyl flooring planks.
All the cuts are even and smooth when power tools are applied.
The Drawbacks
Mostly, power tools are large-sized equipment mounted in one place and can't be moved. So, you need to take individual planks and make cuts in the flooring planks.
Power tools for cutting vinyl flooring planks are the primary reasons for a surge in electricity bills.
Safety Tips For Cutting Vinyl Plank Flooring
When dealing with cutting tools, you need to be careful not to damage yourself. So, here's a list of some important guidelines that you should follow in order to keep yourself safe from any kind of harm.
Eyes Protection
You should wear safety goggles when dealing with cutting tools. It will keep the wood dust from harming your eyes at the time of cutting the vinyl flooring plank.
Hearing Protectors
It's obvious that there's immense noise from power-cutting tools and that can cause hearing damage. Therefore, it's important to make use of earmuffs or earplugs to have your ears well protected.
Rubber Gloves
Rubber gloves are mandatory when cutting vinyl flooring planks. That's because these gloves will protect your hands and fingers from damage due to any mishap or unwanted situation.
How To Cut Vinyl Plank Flooring?
The next step to determining the tool for cutting your vinyl plank flooring is to actually cut the vinyl flooring planks. Here's a step-by-step guide for an understanding of the process.
Cutting Short Length Vinyl Flooring Planks
First, you need to decide whether to give a longitudinal cut or a horizontal cut.
Measure the plank and mark the cut accordingly.
Now, you need to score the cutting line and snap off the cut section.
Cutting Longer Vinyl Flooring Planks
Determine and mark the cut area of vinyl plank flooring.
Score the cut line and secure the plank tightly in place.
Use a jigsaw to cut the flooring plank into pieces along the cut line.
Cutting Vinyl Flooring Planks For Around Pipes & Corners
Take the measurement around pipes or corners precisely.
Score the cut lines on the flooring plank surface to fit it exactly into the desired space.
Never Score the curved cut marks with bare hands.
Cutting Peel-And-Stick Vinyl Plank Flooring
Take measurements and draw the cut mark using a pencil.
Using a utility knife, cut the vinyl flooring to the exact size.
FAQs–Frequently Asked Questions
1. How fTo Ensure A Straight Cut When Cutting Vinyl Plank Flooring?
Never give it a second thought while giving a vinyl plank flooring cut. Make sure that the cutter blade comprises fine teeth with high TPI(tooth per inch) to give a smooth, regular, and even appearance.
2. How To Minimize Waste When Cutting Vinyl Plank Flooring?
When cutting vinyl plank flooring, make sure that you cut the plank to the desired size starting at the plank periphery.
3. How To Prevent Chipping Or Cracking Of Vinyl Plank During Cutting?
Most commonly vinyl flooring planks are chipped or cracked when cut with a rough tooth blade. That's why you should always apply a fine tooth blade with more TPI value to avoid chipping or cracking vinyl flooring planks.
4. How To Make Curves Or Irregular Cuts In Vinyl Plank Flooring?
Usually, you'll have to make curves or irregular cuts in vinyl flooring planks when applied around the edges and corners. To begin with, always take precise measurements of the area/space to fit in completely and draw cut lines. Make a cut following the drawn cut line.
5. How To Join Two Pieces Of Vinyl Plank Flooring After Cutting Them To Size?
First, lay the vinyl flooring planks and overlap the seams up to 1 inch. Then, glue down the overlapped seams for attachment purposes. Don't forget to match the wood texture when overlapping the seams for a continuous flooring design appearance. Read more about How To Combine Tile And Wood Flooring?
Final Thoughts
Cutting vinyl plank flooring for a DIY installation requires you to have proper knowledge of the process as well as tools available on the market for this purpose. In this article, we've categorized and explained all the manual and power tools along with their benefits used for cutting vinyl flooring planks to the desired shape and size. Additionally, the process of cutting vinyl plank flooring has been illustrated in detail as well.