When it comes to home décor, there are many ways to combine different flooring materials and create a unique and stylish space. One popular trend is to combine tile and wood flooring. This can be a great way to add beauty to your floors and create a one-of-a-kind look for your home.
If you're considering combining tile and wood flooring, there are a few things to keep in mind. First, you'll need to choose the right type of tile. You'll also need to decide on a layout and design that complements your existing décor. And finally, you'll need to make sure that the tile and wood are properly sealed and protected from water damage.
Different Steps to Combine Tile and Wood Flooring
There are many homes that feature both tile and cork wooden flooring, and this can be a great way to add both style and function to your space. However, if you're not careful, it can also be very easy to make a big mistake when combining these two types of flooring.
Here are a few tips on how to combine tile and wood flooring in your home:
1. Choosing The Desired Tile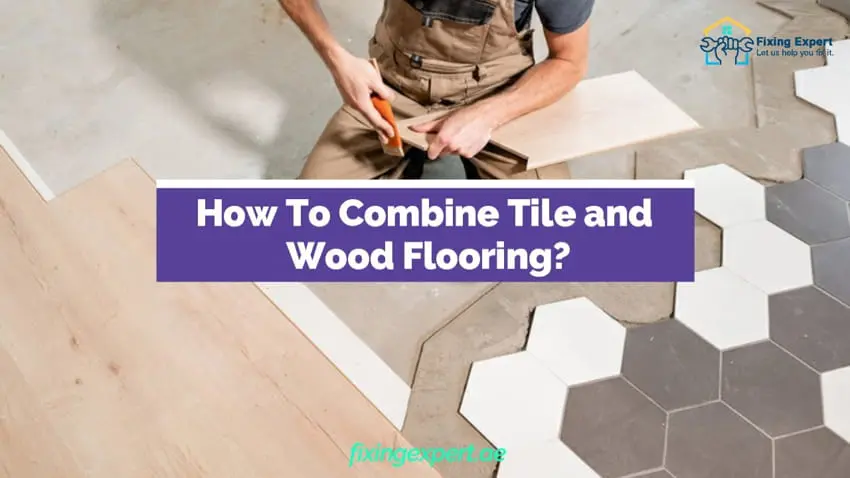 There are many factors to consider when choosing exceptional tile flooring for your home. If you are looking to combine tile and wood flooring, there are a few things you should keep in mind. The type of tile you choose will have an impact on the overall look and feel of your place, so it's important to select a tile that compliments your existing décor.
In addition to aesthetic considerations, you'll also want to think about the tile's durability and ease of maintenance. Some types of tiles are more prone to chips and scratches than others, so if you have active children or pets, you can go for spc flooring because it is a more durable option. And, of course, you'll want to make sure the tile is easy to clean so you can keep your home looking its best.
2. Marking The Area
When you are going to combine different flooring like tile and wood flooring, it is important to mark the area where the two materials will meet. This will ensure a flawless and appealing installation process without creating any fiss during the placing of flooring materials.
To mark the area, first, measure the width of the tile flooring. Then, using a pencil, draw a line on the engineered wood flooring that is the same width as the tile. Next, measure the length of the tile flooring and draw a second line on the wood flooring that is the same length.
Finally, use a ruler or a straight edge to connect the two lines, creating a rectangle that outlines the area where the tile and wood will meet.
3. Placing the Tiles and Wooden Flooring Planks
In the next step, you have to place the tiles and wooden planks on the marked area. Try to place these flooring materials very carefully in order to avoid any kind of messy appearance. If you are doing this on your own then take proper precautionary measures and take care of your personal protection at the very first priority.
4. Applying Grout
The tile and wood floors are two completely different materials that serve different purposes.
Check 5 Low-cost Residential Flooring Materials.

However, grout is an essential material that plays an important role in the overall appearance and feel of tiled surfaces. This is a great way to enhance the floor looks. If you're considering combining tiles and wooden flooring in your home, you'll need to know how to apply the grout to combine the two materials. Here's a quick overview of what you need to do:
Tip: 5 Best Soundproof Carpets And Flooring Materials
Finishing Touches
When it comes to finishing touches, there are several options to combine tile and wood flooring. Some ideas include using a chair rail or baseboard to break up the two colors, using a border or inlay to create a design, or even using different colors of tile and wood to create a checkerboard effect.
No matter which finishing touches you choose, be sure to consult with a professional before starting your project. They can help you choose the right materials and colors to achieve the look you desire.
Popular Methods To Combine Tile and Wood Flooring
Before we start with the installation guide about how to combine two different floor tiles with wooden floors, let's have a quick look at the most popular combination ideas. Here in this article, we have shortlisted the 4 topmost tiles and wooden floor combination ideas. So that you can have a better sense of understanding about this amazing flooring idea.
1. Color Blocking Method
If you want to create a distinctive and eye-catching look in any room then the color-blocking method for tile and wooden flooring is the best approach. This method requires two different sections. One section is dedicated to tiles and the other section is specified for the wooden flooring option.
But make sure that the color scheme of both these flooring options differs from each other. In this method, you have to make a proper flooring statement using two different types of flooring options i.e. tiles and wooden flooring. One floor shows up as a dominant and the other is placed as an accent.
2. Mixed Media Method
People who want to add a touch of drama and character to their floors should opt for the mixed media floor combination method. It is an interesting way to add charm and elegance to the floors of your space. In this style, you can combine traditional wooden planks with other flooring materials like glass, stone, metal, or ceramic tiles as well.
Each material can be placed and installed in its own unique way to create a distinctive floor appearance. But here we are talking about how to combine two different floor tiles with wooden flooring. When you go for this method to combine different floorings, you will definitely add to the resale value of your property.
3. Strips and Borders Technique
Combining tiles and wooden flooring in the form of strips and borders is another unique approach to making your floors look beautiful. In this method, you have to install both tiles and wooden floor planks in a linear pattern creating symmetry. Usually, both materials used are in the same texture and color. This option is the best choice for such people who want to keep their main focus on wooden flooring but also want to add a character to their space with tile flooring materials.
You can create depth and contrast by placing wooden strips. On the other hand wide wooden planks are employed to create the main flooring area. With the bold color tile options you can create literally intricate designs. Besides if you want to achieve a subtle look then you should go for neutral tile hues.
4. Patchwork Pattern Idea
To create a perfectly astounding visual effect on your floors, the patchwork pattern combination idea is the ultimate choice. In this pattern, different sizes, colors, and textures of wooden planks and tiles are arranged together to create intricate yet eye-catching designs. Besides being beautiful, these floors are insanely durable and can withstand the test of time very easily.
Mostly porcelain tiles with wooden flooring planks are used to create this type of patchwork pattern to give your floors an appealing aesthetic. There is no rule of thumb to use perfectly measured planks or tiles in this method. You can also go with chips and blocks of tiles or wooden flooring. Such a creative approach will make your design more beautiful and appealing.
Required Tools To Combine Different Flooring Materials
Following is the list of required tools that you will have to arrange before starting your work on the idea of how to combine two different floor tiles with wooden flooring. So come have a quick glance at the installation material that you will be going to use.
1. Measuring tape or ruler
2. Chalk or marker lines
3. Nails or screws (it depends on your design)
4. Adhesive for fixing tiles
5. A-grade sealant for grouting
6. Sealant solution for making your floors water-resistant
7. Hammer or drill (optional)
8. Level
9. Rubber Trowel
10. Personal Protective Equipment (Eyewear and Gloves)
Fixingexpert is recognized as Dubai's premier interior fitout company, offering unparalleled interior solutions as the preferred choice. Our dedicated team is always ready to fulfill your unique interior decor requirements.
Read more.