Making your apartment look expensive does not have to cost much money. You may give your apartment a high-end, elegant appearance with a few easy adjustments. Here are some suggestions for making your apartment look expensive on a budget.
7 Ways to Achieve an Expensive Apartment Look
1. Use Luxury Curtains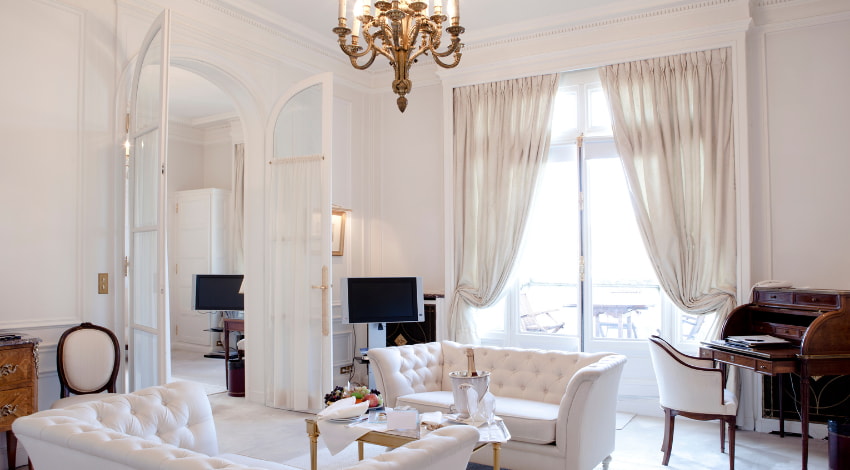 Using luxury window curtains is one of the simplest methods to give the appearance that your property is more expensive. A room's aesthetic can be changed through curtains. Here are some nice curtain options:
Blackout Curtains: These block out all light and give a sleek, modern look. Blackout curtains make a room feel more private.
Silk Curtains: Silk curtains look shiny and fancy. They make a room feel rich.
Velvet Curtains: Velvet has a plush, luxurious look. Velvet curtains in dark colors like navy or maroon look high-end.
Hang curtains high and wide to make windows look bigger. Use nice curtain rods, too, not cheap plastic ones. Nice curtains can make inexpensive furniture look better.
2. Upgrade Your Flooring
Changing your flooring can instantly make your apartment look more expensive. If you have old carpets or vinyl, consider upgrading to one of these luxury flooring options:
Laminate Flooring: Laminate floors have a real-wood look for less cost. It is a good budget flooring option that still looks high-end.
Vinyl Flooring: Vinyl flooring mimics the look of real wood or stone. It is an affordable option that looks great.
Parquet Flooring: Parquet floors are made of pieces of wood in geometric patterns. This classic flooring style always looks expensive and elegant.
If you can't change the flooring, use large area rugs to hide worn floors. Rugs also add color and style.
3. Use Specialty Lighting
Lighting can make a huge impact on the look and feel of a space. Upgrade plain overhead lights with these special lighting ideas:
Pendant lights over kitchen islands or dining tables
Sconces on walls for ambient lighting
Track lighting to highlight artwork
Dimmer switches for controlling light levels
Smart bulbs like Philips Hue for programmable lighting effects
4. Use Wallpaper or Paint for Interest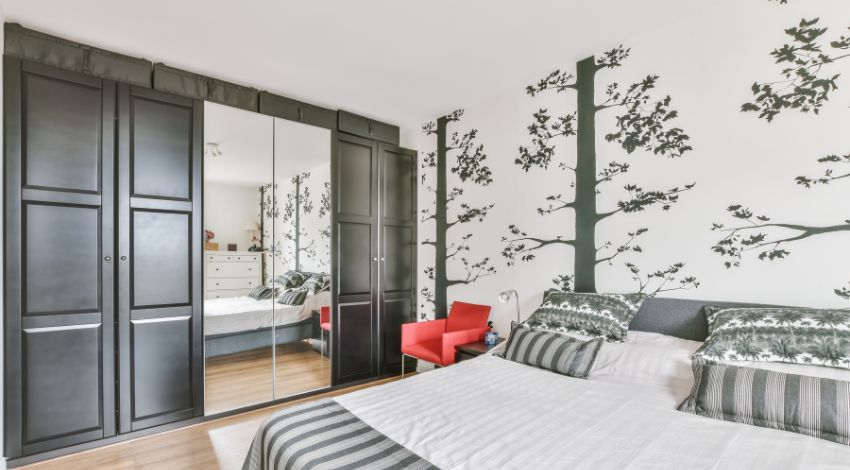 Boring walls make an apartment look cheap. To make your apartment look expensive, add some interest to your walls:
Wallpaper: Choose luxurious wallpapers like metallics, velvet, or damask prints. Wallpaper makes a bold style statement.
Paints: Paint walls in rich colors like navy, emerald, or wine red. Or do an accent wall in a bold print or color.
Molding: Add wide crown molding around ceilings for an elegant architectural detail. Molding is affordable but looks so fancy.
5. Get High-End Looking Furniture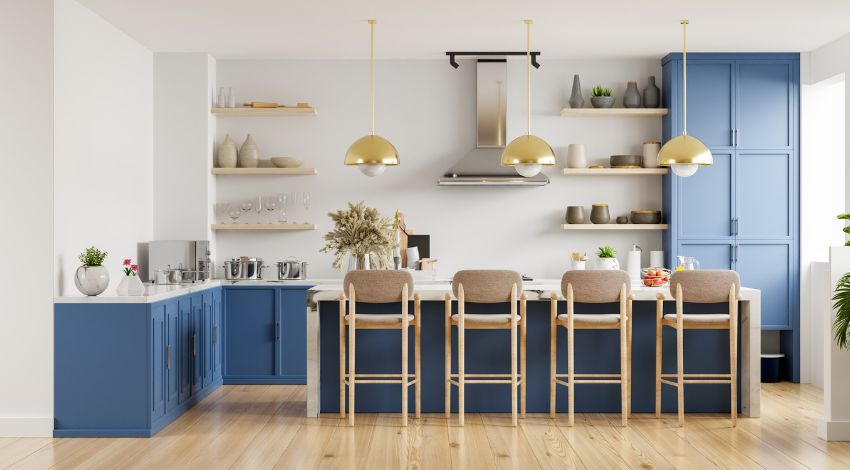 You don't need expensive furniture to make your apartment look luxurious. There are some tricks to make affordable furniture look more high-end:
Custom Furniture: Customized furniture always looks more expensive. You can customize inexpensive items like bookshelves to fit your space perfectly.
Covers: Upgrade furniture by adding nice slipcovers, custom-made chairs, and sofa covers. It is an easy fix.
Repurpose: Turn something ordinary into a fancy focal point. For example, repurpose an old dresser into a bathroom sink.
6. Add Stylish Decor Touches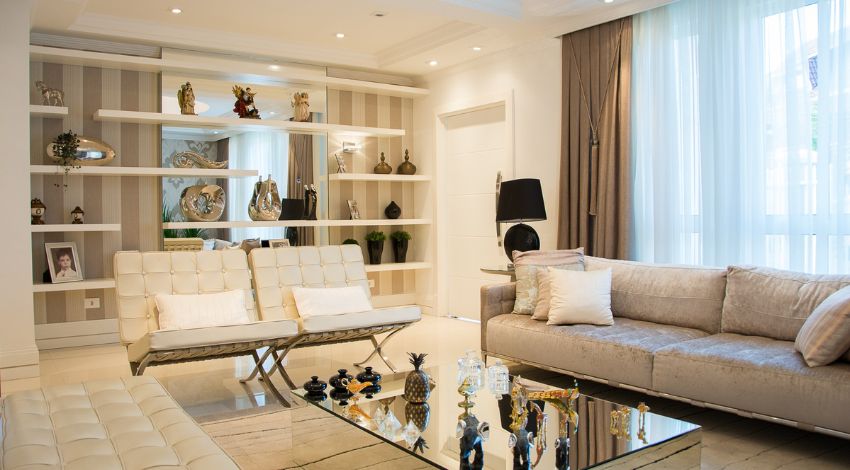 Expensive-looking decor touches can upgrade your space. Add some of these luxurious accessories:
Artwork: Frame interesting art prints or paintings. Gallery walls look trendy.
Sculptures: Minimalist sculptures add modern flair.
Books: Fill shelves with leather-bound books and objets d'art.
Flowers: Fresh flower arrangements instantly fancy up a space.
Candles: Light the space with scented candles in glass containers.
With clever decor tricks like these, you can make any basic apartment look a million bucks. Use nice curtains, floors, walls, furniture, and decor to create a luxury feel on a budget. With good design, small spaces can look and feel expansive and expensive.
7. Consult an Interior Designer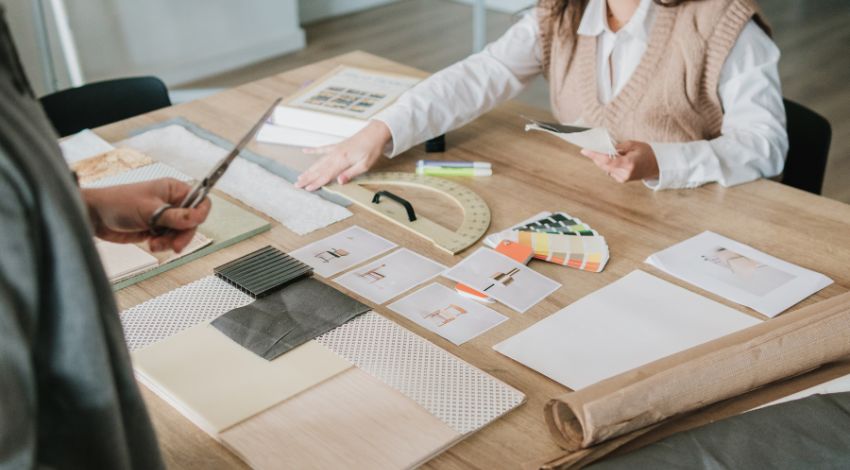 If you want high-end style but aren't sure how to achieve it, consider hiring an interior designer. Experienced designers know how to transform ordinary spaces into luxury dream homes. They can help with every aspect of your apartment makeover.
A talented interior designer will:
Analyze your space and lifestyle needs
Create a cohesive decorating vision
Make custom furniture arrangements and layouts
Select upscale yet cost-effective fabrics, finishes, and furnishings
Oversee contractors and installers
Manage the entire decorating project from start to finish
Hiring an interior designer may cost more upfront. But it can save money in the long run by preventing expensive mistakes. Professional designers have industry discounts and exclusive resources. Their expertise can help you create a Pinterest-worthy apartment on a real budget.
For a luxury apartment makeover, interior design service is money well spent. Designers have the skills to optimize every inch and choose pieces that work. The result will be a high-end home you'll love living in.
Benefits of Making Your Apartment Look Expensive
Achieving an elegant apartment look can bring many good things! Let me tell you about some of the benefits.
It makes your home feel nice and cozy. Having a tidy and stylish apartment makes it pleasant to be there. You'll love spending time in an apartment that looks so nice!
It helps you feel proud of your home. You can be proud to show off your exquisite residence to friends and family. Its beauty will impress them!
It can help you relax and feel calm. When your apartment is organized and neat, finding things and feeling peaceful is easier. You can enjoy your time there more.
It can improve your mood. Being surrounded by pretty things and colors you like can make you feel happier and more positive. It's like a little boost of joy every time you come home!
It assists you in staying organized. Maintaining order is much simpler when everything has an apartment. You won't need to look for your belongings because you will know their whereabouts.
You might be able to save money. You are less inclined to make unneeded purchases when your apartment is lovely. You'll be more watchful about what you bring into your home, which can ultimately help you save money.
You might feel more productive as a result. Concentrating on tasks like homework or creative endeavors is simpler when your workspace is tidy and organized. You'll be astonished by how much more you can accomplish!
So it's fantastic to have a stylish apartment! It enhances apartment comfort, self-esteem, rest and rejuvenation, stress reduction, time and money savings, and productivity. It's like buying yourself and your family gifts!
Final Tips
With clever changes, making an ordinary apartment look like a million bucks is easy. Start by upgrading your floors, windows, walls, and furnishings. Add stylish lighting fixtures, accessories, and greenery. Use an interior designer if you want to achieve a professionally-designed space. With smart decorating choices and high-end details, you can feel like you live in luxury.
Fixingexpert, the foremost interior fitout company in Dubai, has firmly established itself as the premier option for top-tier interior solutions. Our dedicated team is always ready to meet your interior decoration requirements.