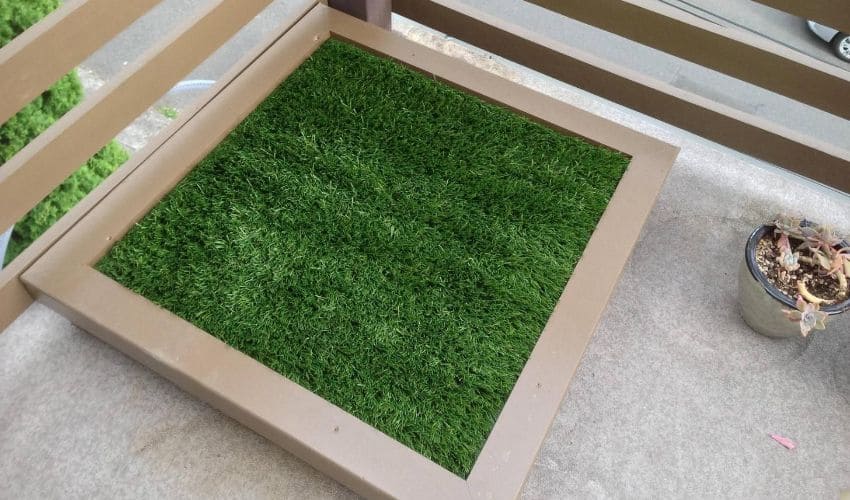 Dog urine does not mix well with natural grass. The nitrogen in dog feces harms grass by burning its roots and causing dead areas. As a result, your grass will not only have unattractive yellow spots, but you also cannot grow anything in those spots until you entirely alter the soil. Then there's your dog's burrowing into the grass, which exposes it to parasites like ticks and fleas.
Artificial grass, on the other hand, is the all-powerful solution to these issues. It doesn't yellow, cleans better, and is less enticing to parasites and reptiles because it's synthetic. Artificial grass will be the best option for your dogs with a safe and fine environment for urination.
Why Astroturf For Dog Potty?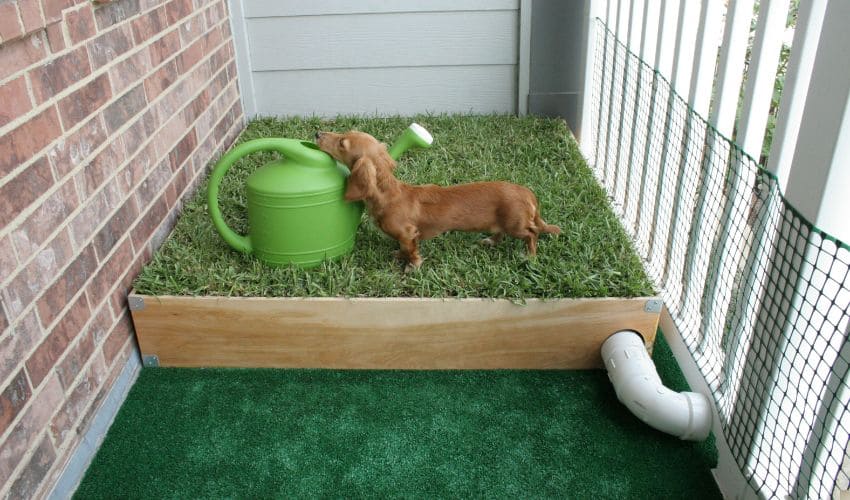 For the following reasons, artificial turf can be used for dog potty. Artificial grass will serve your dog if:
You work for a long time and don't have time to walk with your dog.
You are ill and can not go with the dog.
Pet is under treatment and unable to go outside.
Weather is too extreme to go out.
The dog is older enough and not allowed to go out.
Artificial grass for dog potty comes in various brands, just like any other dog product, but not every brand is ideal for your use.
Types Of Astroturf For Dog Potty
To assist you in making the perfect decision, our team of "Fixing Expert" researched artificial grass types and compiled a list of the top ten. We've also highlighted salient features, pros, and cons to make purchasing or using artificial dog potty grass easier.
Doggie Lawn
Down Town
Wee-Wee Patch
Pooch Pads
Pet Safe Pet Loo
Dog Grass Pee Pad
Piddle Place
PETMAKER Puppy Potty Trainer
BINGPET Dog Grass Potty Pad
Disposable Fresh Patch
1. Doggie Lawn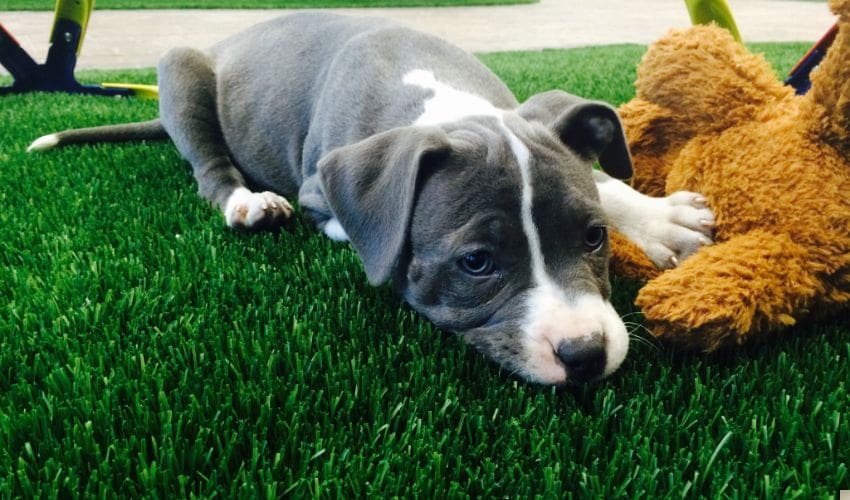 If you travel with your dog or you live in a small space, a doggie lawn toilet is the best option for you. In every case, a suitable home pot for a dog with lawn grass is useful. These grass mats can be used indoors, outdoors, on balconies, porches, and virtually anywhere else.
This toilet doesn't need maintenance. It is biodegradable, which is why it is eco-friendly and odorless. Here are the features, pros, and cons of a doggie lawn.
Salient Features
This is best for apartments, puppies, and busy owners.
Excellent for dogs with arthritis or incontinence.
It is portable and can be brought in boats or airplanes.
For pups that are undergoing vaccinations.
If needed, free dog training help is available.
Merits
Demerits

Easy to use
Easy to clean
Neutralize the odor
Absorbs urine

Size isn't ideal for traveling
2. Down Town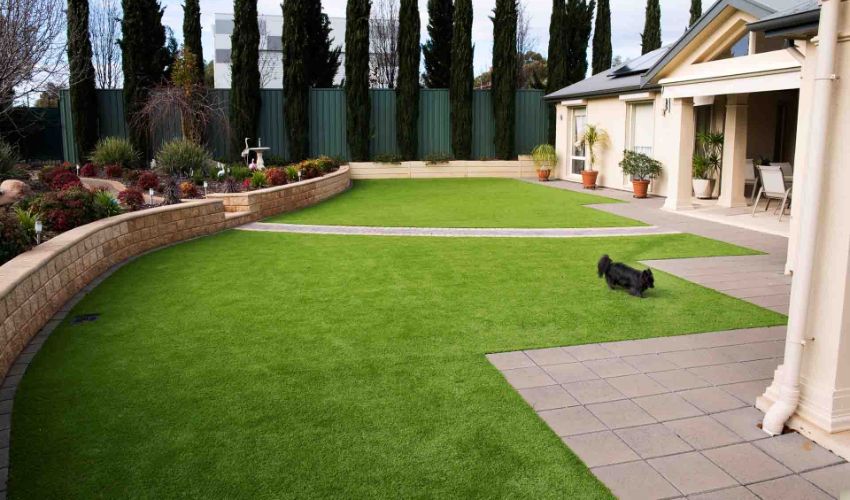 It has many advantages, like portability, uniqueness, and efficiency. This toilet would be a useful investment if you stay in a small apartment. Its dual-layer system beats other competitors in the market. Its upper layer is just like natural grass.
The lower layer is actually the mattress, which is easy to clean and traps all waste. This dog toilet is available in a small size and is easy to carry. The downtown potty grass is available with the following features, merits, and demerits:
Salient Features
Lightweight
Available with odor control technology
Portable
Having dual layers
Merits
Demerits

Soft grass
Absorbs all waste
Removable container

Owners complained about odor on first unpacking
3. Wee-Wee Patch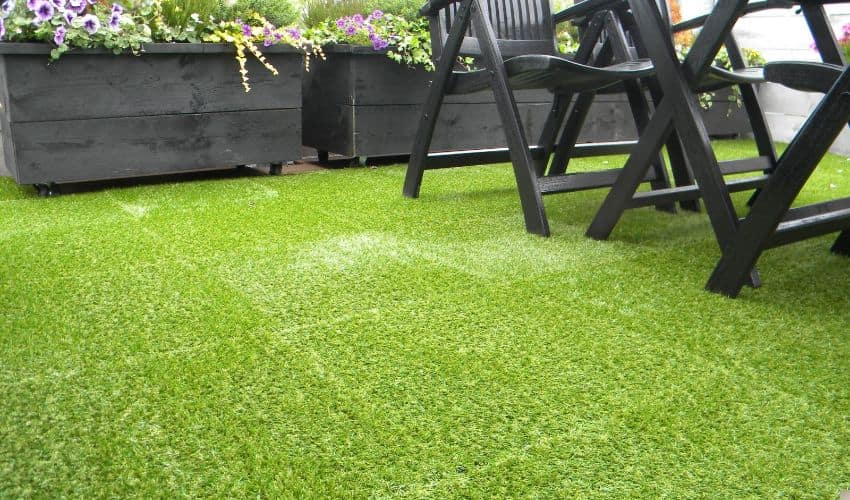 The Wee-Wee Patch grass toilet is an excellent way to provide your pet with a private space in the apartment. With this product, you can easily and quickly train your pet to use the toilet indoors. The durable toilet has a peculiar design that makes cleaning simple.
Because dogs prefer to relieve themselves in nature, this product will serve as a suitable substitute for natural grass. This puppy grass gives your pet a natural feel. This pot is ideal for both indoor and outdoor training purposes. Below are its salient features, merits, and demerits.
Salient Features
The pour spout is unique and allows for easy drainage.
The pad's built-in attractant draws the dog in.
Gives a natural and realistic sense.
Merits
Demerits

Lightweight and efficient
Pour spout is distinctive and allows for easy drainage
There are replacement mats available
4. Pooch Pads
The waterproof walls of this product provide maximum splash protection and odor control. The removable pallet system absorbs all waste completely and prevents foul odors from escaping. Reusable pads have built-in odor control and can be used for an extended period. This pot is ideal for puppy training.
Multiple pots can be linked to make the perfect size for your pet. The connectable system is ideal for pet owners who have multiple animals. Ideal for puppies and households with multiple dogs. Reusable pads can be washed in the dishwasher. To clean a grass mat, simply use a special pet cleaner or soap and water in the sink or shower. The following are the features, merits, and demerits of Pooch Pads Grass.
How To Clean Artificial Grass?
Salient Features
Available with reusable pads
Splash protection
Odor control
Waterproof walls
Merits
Demerits

All sides are connectable
Eco-friendly
Durable

It may not suitable for interior
5. Pet Safe Pet Loo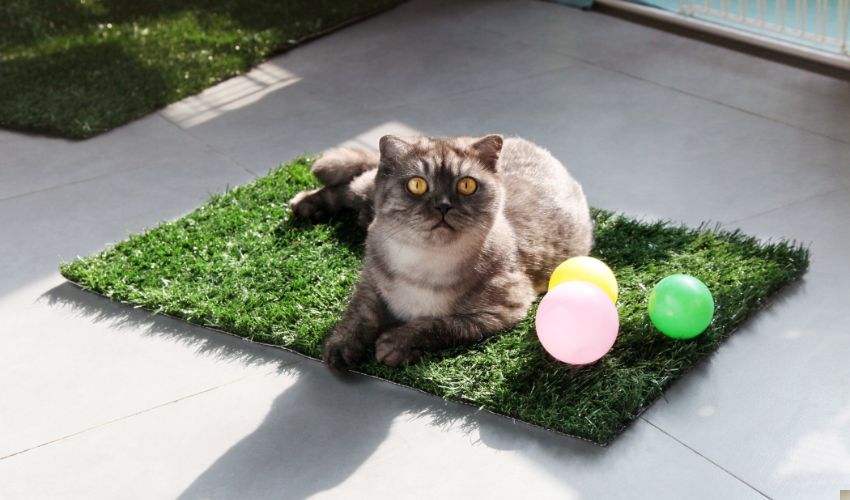 With different sizes, this portable home pot is suitable for all breeds. The Pet Loo is ideal for apartments because it fits well indoors and is ideal for training when you can't let your pet out. The urine can drain into the base because the top layer of synthetic grass permits it.
Furthermore, the base is tilted, and urine flows into a waste container, which accumulates the urine and is removed for cleaning. The waste container holds 2 liters of liquid and is made of odor-neutralizing material.
This item is available in three sizes. Choose the size based on the size of your pet or the size of the area where you aim to place the Pet Loo. The small size is ideal for confined spaces like mobile homes, campers, and offices. A slightly larger Pet Loo is preferable for pets who prefer more space. There are some features, merits, and demerits of pet-safe pet loo grass.
Salient Features
Suitable for all breeds
Container capacity is 2 liters
Available with a sloped base
Merits
Demerits

Feels like natural grass
Easy to clean
Easy to train dogs
6. Dog Grass Pee Pad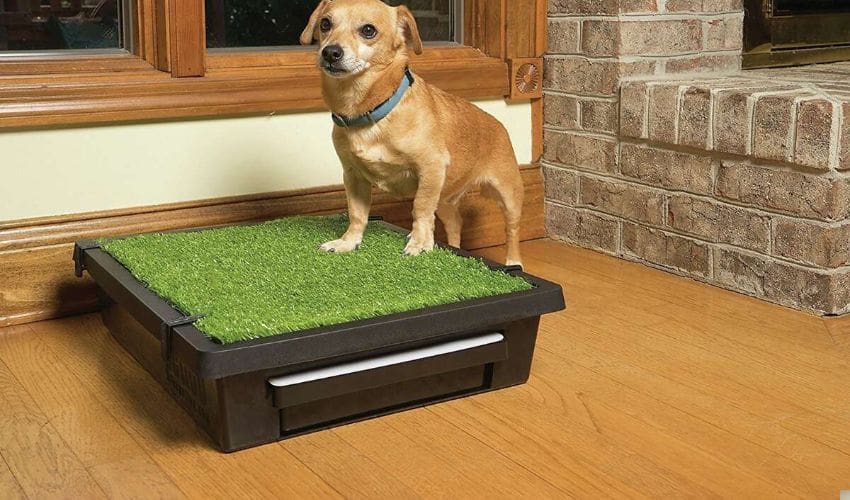 The Dog Grass Pee Pad Potty is a wonderful artificial grass for dogs. This pot is made of lightweight and long-lasting materials. It's a great option for people who want to train their pets to use the toilet at home.
This soft, lush lawn, like natural grass, is ideal for your pet's natural instincts. The waste will be collected at the bottom base after flowing through the artificial grass. It offers a quick and simple cleanup experience. It has the following key features: pros and cons.
Salient Features
Simple placement
Safe for puppies
Safe for children
Merits
Demerits

Easy to clean
Durable
Safe for kids and pups
7. Piddle Place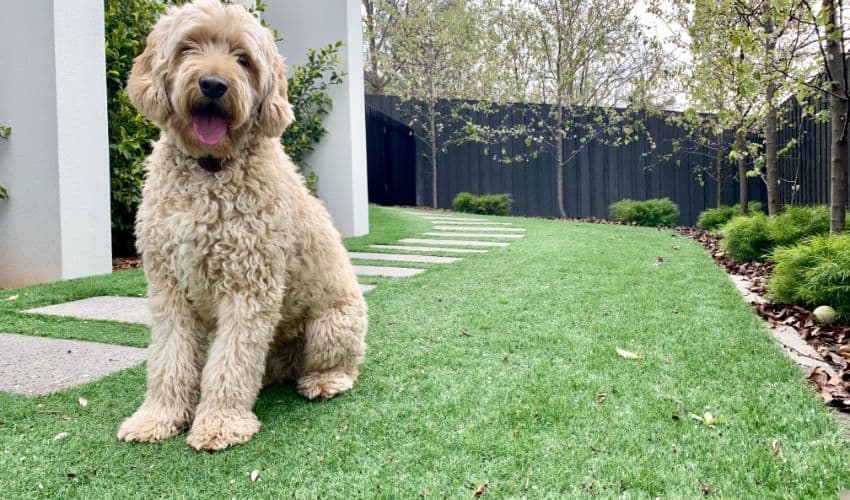 The Piddle Place products are produced with eco-friendly materials. This is an ideal portable remedy for homes, apartments, high-rise buildings, condos, and mobile homes. This product is lightweight, safe and clean, environmentally friendly, and relatively inexpensive.
Piddle Place is the ideal solution if you are potty training your pet or want to prevent bloating on the carpet or floor along the way. This pot is ideal for puppies, older dogs, and dogs who cannot relieve themselves outside. Let's discuss its features, merits, and demerits.
Salient Features
Eco-friendly
Easy to use
Available with bio-treatment to end odors
Merits
Demerits

Simple placement
Easy to clean
8. PETMAKER Puppy Potty Trainer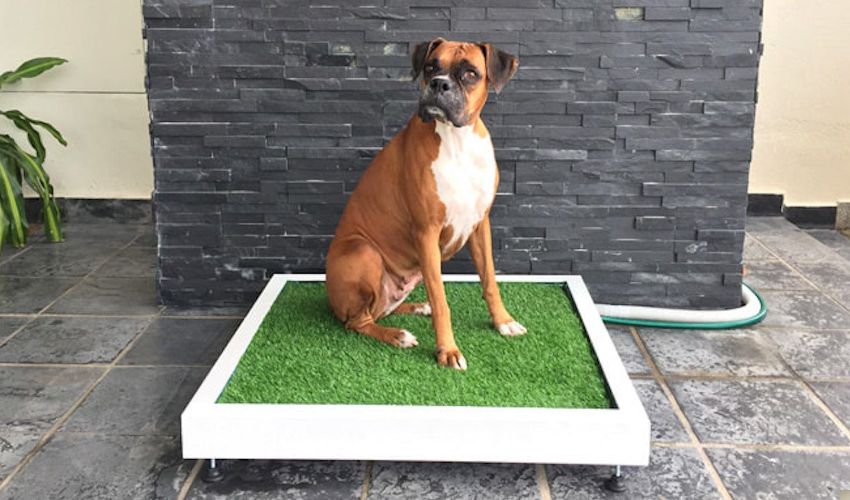 When dogs cannot go outside, they can relax on this potty grass. Antimicrobial and odor-resistant materials are used in making the artificial grass mat. Artificial grass radiates an organic scent that attracts dogs to use this toilet.
The mat sits on top of a plastic potty, allowing liquid to drain into the included base for easy cleaning. The features, merits, and demerits of this product are listed below.
Salient Features
Emits organic scent
Better drainage system
Antimicrobial material
Merits
Demerits

Three-layer system
Easy to clean
Simple placement
9. BINGPET Dog Grass Potty Pad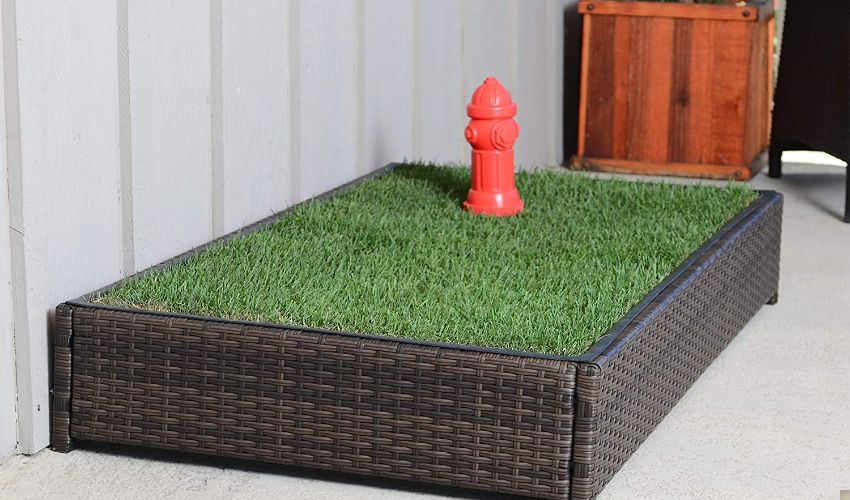 The product is manufactured for dogs who cannot go outside for multiple reasons. For example, if your pet savagely tears the grass to pieces, this product is for you. This product is suitable for owners with several dogs. This pad is built to survive any damage caused by pets.
The grass is made from non-toxic and odor-resistant material. Your dog will feel more comfortable with a realistic appearance. The pot can effectively absorb urine because of its good absorption, preventing leakage. This potty grass is made of a durable material that is simple to clean. Its features, pros, and cons are given below.
Artificial Grass Maintenance: Complete Guide with Pros & Cons
Silent Features
Resistant to wear and tear
Suitable for multiple dogs
Non-toxic
Merits
Demerits

Odor-resistant
Easy to clean
Safe for children

Less durable comparatively
10. Disposable Fresh Patch
Some pet owners cannot walk their dogs on the street regularly for various reasons. If you are one of them, this product is ideal for you. Moreover, it is completely natural and made from real grass with no chemicals. The grass is grown in a hydroponic system.
This potty grass is safe for pets, and this natural grass will lure dogs to use it. Furthermore, Fresh Patch is helpful because it is disposable. This removes the need for routine cleaning. This is an excellent method for training your dog to go potty in a house. Here are some salient features, merits, and demerits of the disposable fresh patch.
Salient Features
Completely natural
Natural odor
Disposable
Grows hydroponically
Merits
Demerits

Natural and real look
Easy to clean
Easy to use
Which One To Choose? | Conclusion
After reading this blog, you have gained plenty of knowledge about artificial grass for dog potty. You can decide to pick the best one according to your requirements, but in our opinion, a doggie lawn is the best option, as it has natural fibers that don't contain any chemicals and neutralize odor. It is portable, easy to use, and can be used for both indoor and outdoor purposes.
Frequently Asked Questions
There are a few questions that may arise in your mind, so we have already intended to reply to your queries and solve your problems.
[helpie_faq group_id='33'/]