When it comes to enhancing the aesthetics and functionality of outdoor spaces, awnings and canopies play a significant role. However, understanding the differences between awnings and canopies is crucial to make an informed decision for your specific needs. FixingExpert will help you make an informed decision about the awning vs canopy debate and select the ideal shading solution for your needs.
Difference Between Awning and Canopy?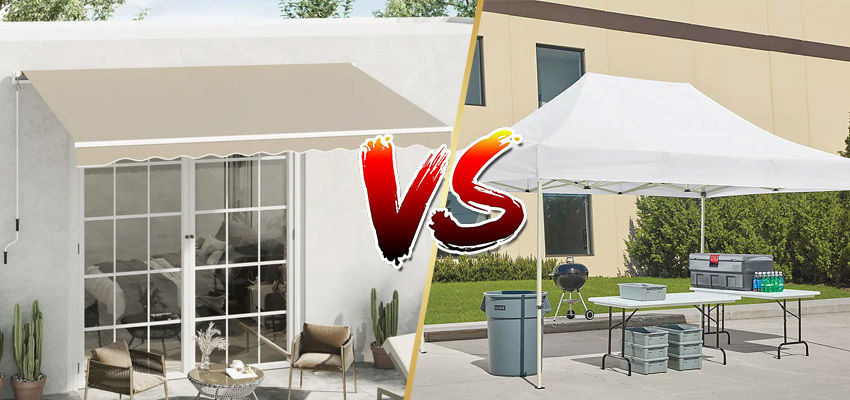 When choosing between an awning and a canopy for your outdoor space, there are a few things you need to consider. This simple guide will help you choose the best house option.
Awning?
An awning is a type of outdoor covering typically made from fabric and attached to the side of a building. Awnings often provide shade or shelter from the sun, wind, or rain. Canopies are freestanding awnings.
Canopy
?
Free Standing canopies offer shade and weather protection. Outdoor canopies are waterproof and UV-resistant. Canopies are in various shapes and sizes, perfect for small and large outdoor spaces.
Types of Awnings 
Fixed Window Awnings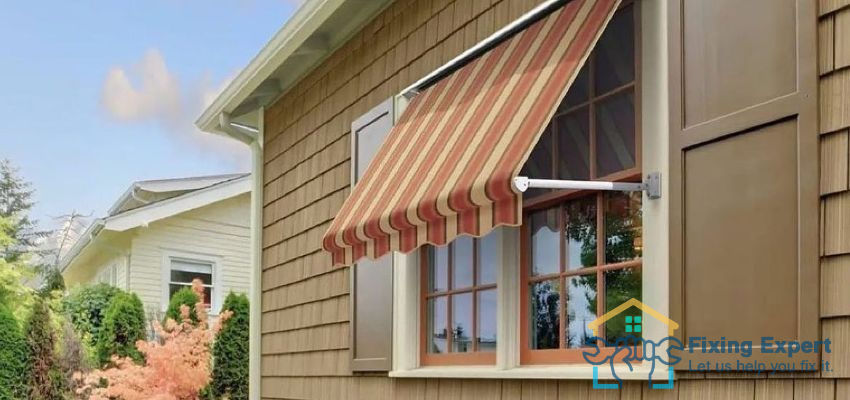 Awnings for windows permanently affixed to the outside of a building are called fixed window awnings.
Retractable Awnings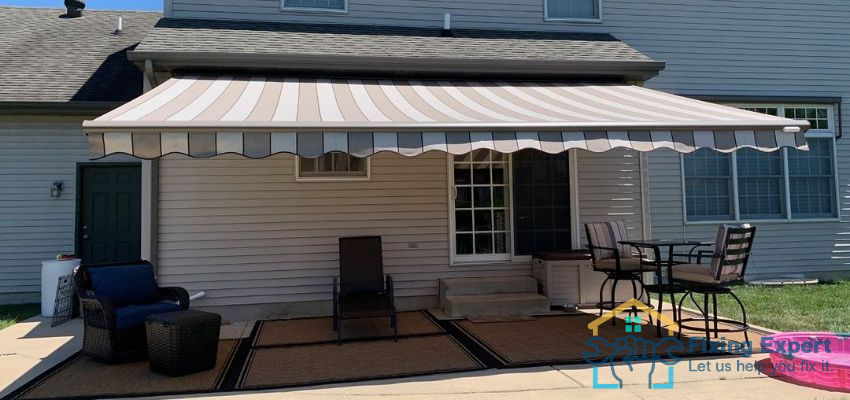 Shade and shelter may be provided with retractable awnings, which are coverings that can be extended when required and retracted to provide an unobstructed view of the outside when they are not in use.
Solar retractable awnings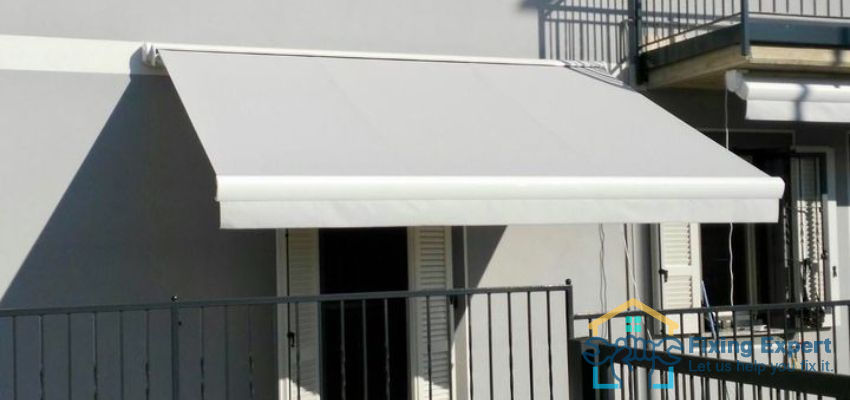 Retractable solar awnings not only block the sun's rays but may also generate power thanks to solar panels mounted on their surface.
Solar Screens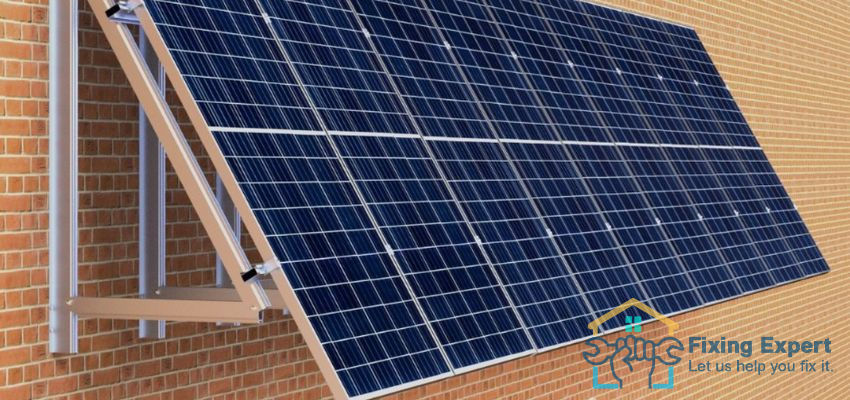 A solar screen awning is an outdoor shade device that employs a screen cloth to shield its occupants from the sun without obstructing their view or ventilation.
Porch awnings
Porch awnings are made to give protection from the sun, rain, and wind for outdoor areas, including porches, decks, and patios.
Patio awning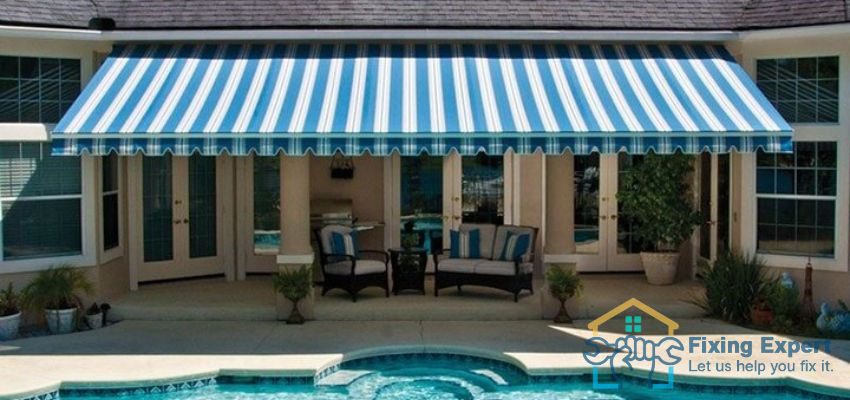 A patio awning is an outdoor shade system that can be put over a patio or deck to give shelter from the heat and rain without limiting outdoor use.
Garden awnings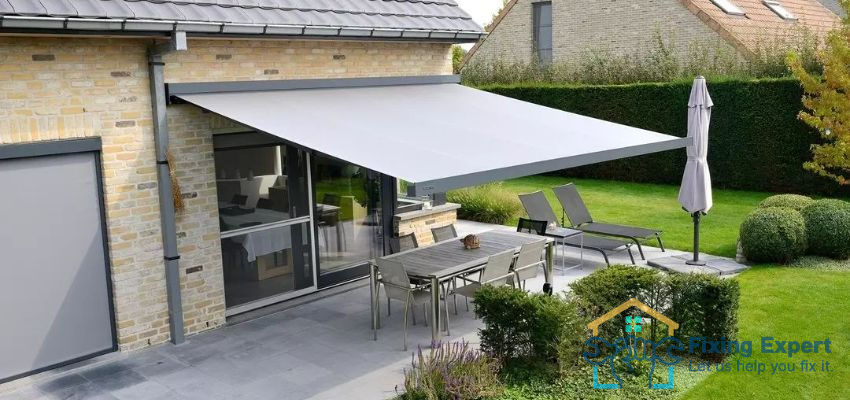 A garden awning is an outdoor shade system that may shield the garden, patio, or other outdoor living area from the sun and rain.
Types of Canopies
Shade Canopies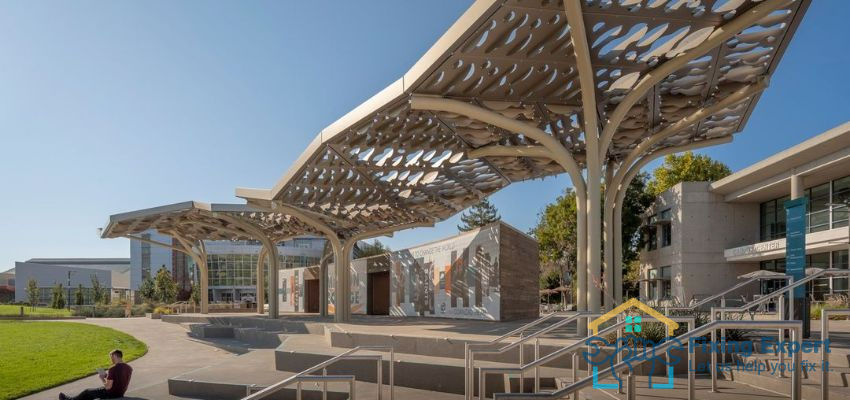 Shade canopies shelter outdoor eating, meeting, and retail spaces from rain and sun.
Pergolas
Partial shade is provided by pergolas, which are outdoor structures with columns or posts that support cross beams and an open lattice-style roof.
Portable Carport
Give your car some quick and easy shelter with a portable carport. Cloth stays put, thanks to a metal framework.
Door canopies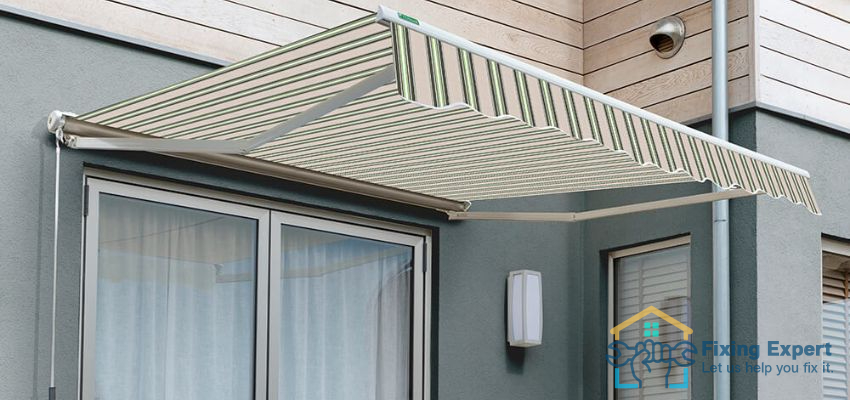 A door canopy is a tiny roof-like structure positioned over an outdoor door to shield it from precipitation and other weather conditions.
Patio canopies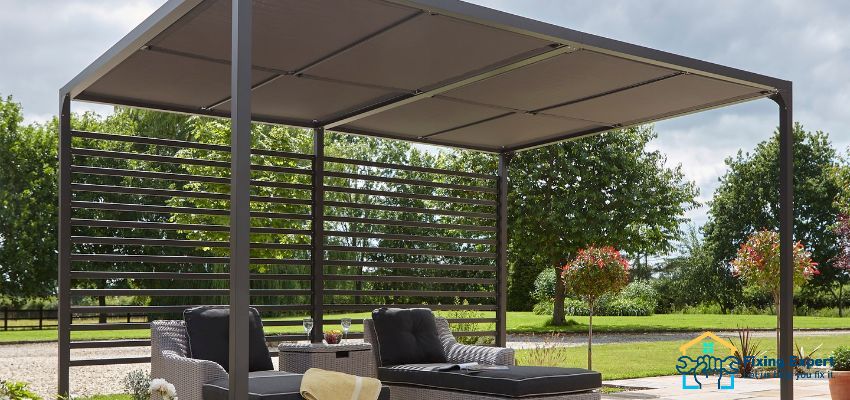 The installation of patio canopies over patios or decks provides shade from the heat and rain and improves the aesthetic appeal of outdoor rooms.
Sun canopies
Getting roasted like a turkey isn't a good look. These Sun canopies are usually made of fabric and can be slapped onto patios, decks, or any other outdoor hangout spot.
Porch canopies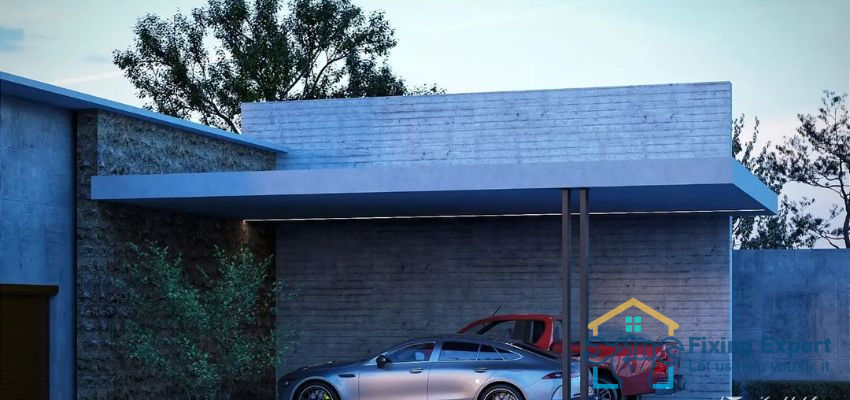 Porch canopies protect building entrances. They shield rain, snow, and sunshine from the roof. Metal, wood, or cloth may be used.
Garden canopies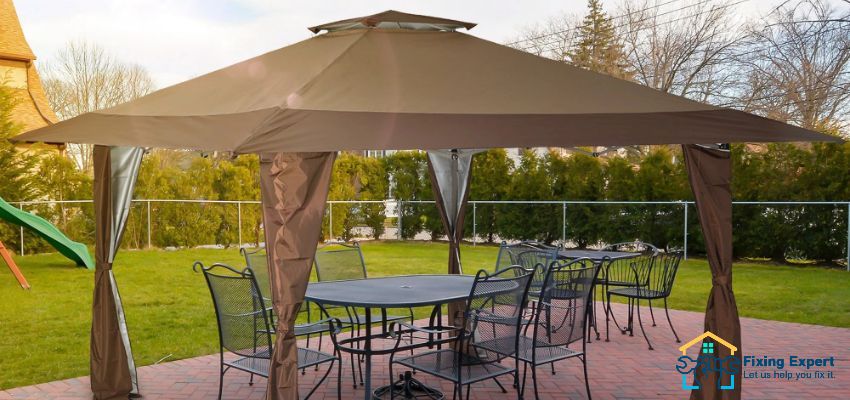 Canopies for gardens and patios are shade structures that offer overhanging roofs for outdoor areas. Both freestanding and connected varieties exist.
Related: 23 Different Types of Canopy Roofing
The Pros and Cons of Awnings and Canopies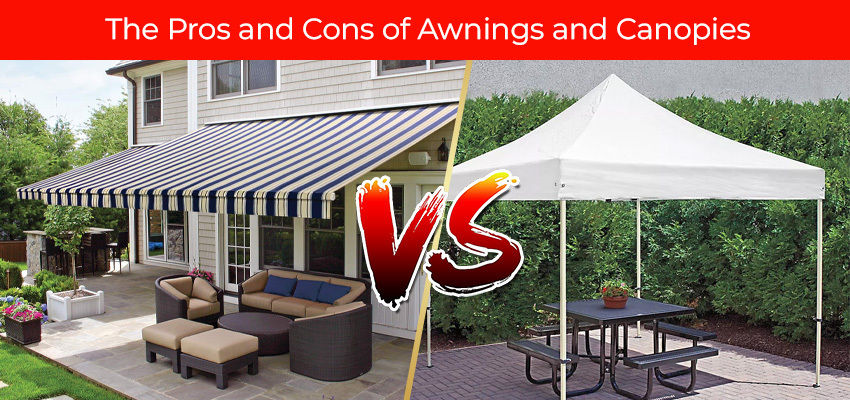 There are a few key differences between awnings and canopies that you should consider when choosing which one is right for your outdoor space. Here are some of the pros and cons of each:
Awnings
Awnings are typically made from fabric, which can provide better protection from the sun and rain than a canopy made from materials like plastic or metal.

Awnings may be stretched or retracted to regulate light and shade in your outdoor area.

Installing an awning can be less expensive than installing a canopy.
Canopies
Canopies are typically bigger than awnings, so they can provide more coverage for your outdoor space.

Canopies are usually permanent fixtures, so you won't be able to adjust the amount of sun or shade they provide.
Awnings vs. Canopies for Outdoor Spaces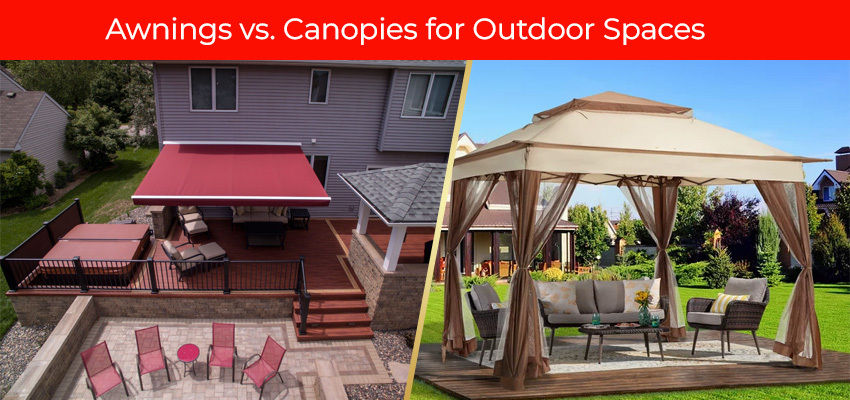 If you want to add shade to your outdoor space, you may be wondering whether an awning or canopy is the right choice for you. Here are a few things to consider when making your decision:
Consider the Size of Your Outdoor Space
An awning is best suited for smaller spaces, while a canopy can provide more coverage for larger areas.
Consider sun and rain protection. If you want shade, an awning may suffice. However, a canopy may provide superior weather protection.
Consider the Style of Your Home
Awnings come in various styles to match any home, but canopy is more basic decor idea.
Think About Ease of Use
Awnings can be manually operated or motorised, while canopies are typically manual only. Motorised awnings are generally easier to use, but they will also add to the cost of the unit.
End
awnings and canopies offer practical outdoor space benefits. An awning will shade you from the sun while protecting against the rain, while a canopy provides coverage over larger areas. Ultimately, deciding between an awning or a canopy depends on your needs and preferences. With this information in mind, you should have all the knowledge necessary to determine which option works best for you!