Are you tired of that worn-out armchair in your living room? Looking to give it a fresh new look without breaking the bank? Well, you're in luck! FixingExpert Dubai will show you how to reupholster an armchair like a pro, allowing you to revitalize your furniture and add a touch of personal style. you'll learn all you need to know to restore your old chair to its former glory.
Material Required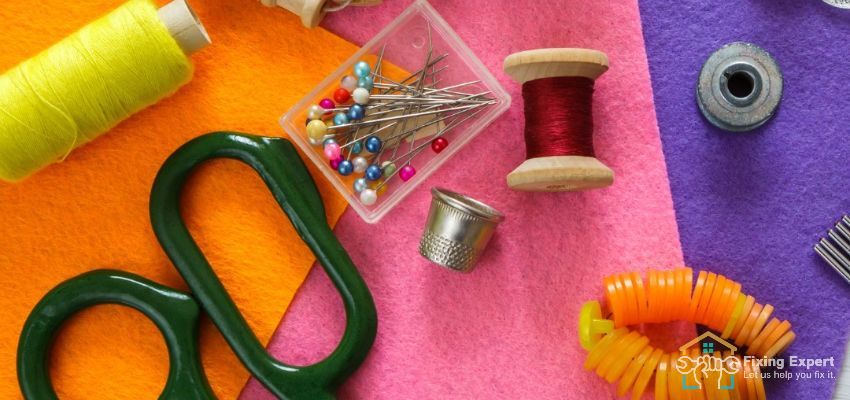 When reupholstering an armchair, having suitable materials is crucial. Besides, the fabric can significantly affect your chair's overall look and feel. Choose a durable yet stylish option that complements the rest of decor designs.
Nylon Thread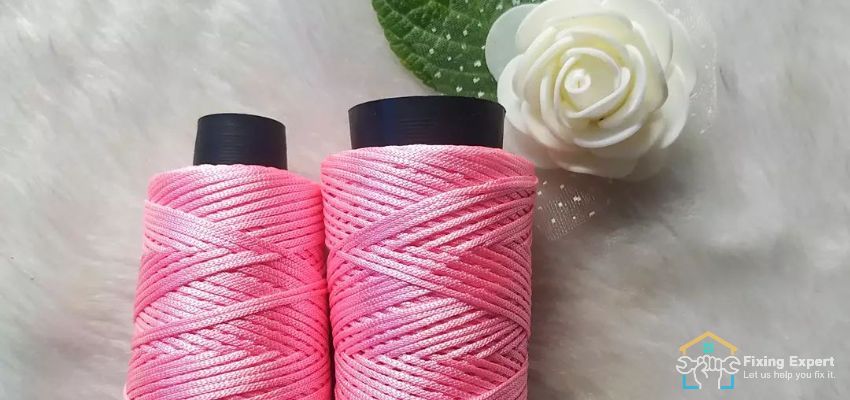 Nylon thread has the strength and durability to stitch through thick materials like leather or canvas. It is ideal for outdoor use because of its resistance to weather and wear.
Polyester Batting
Cushioning, insulation, and creative creations are due to polyester batting.
Pillows, cushions, and comforters made from this material are highly sought after because of their resistance to mould, mildew, and insects.
Cardboard Upholstery Tack Strip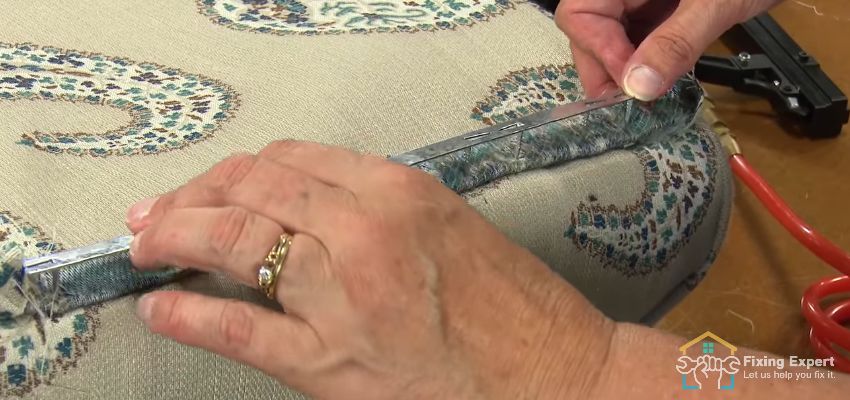 Cleaning up the edges and corners of your upholstered furniture is a breeze with the help of a cardboard upholstery tack strip. This rigid substance offers furniture a polished appearance and assists with fabric retention.
Dust Cover Fabric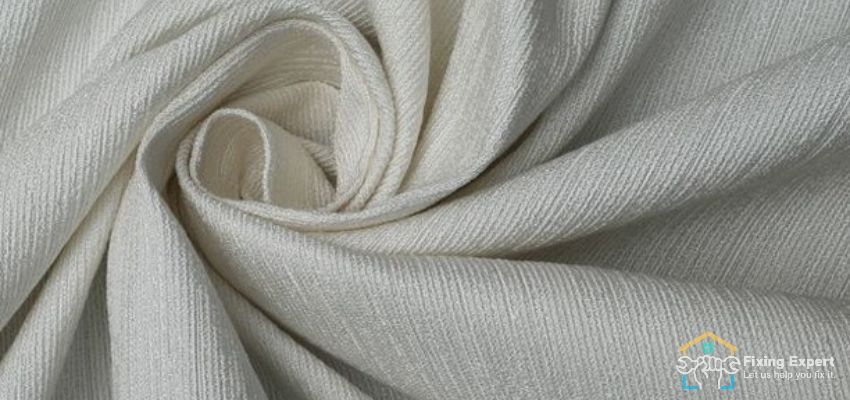 Dust cover cloth protects upholstered furniture's bottom from dust and filth. Because of its adaptability, it can be used for a wide variety of furniture.
Cotton Braided Piping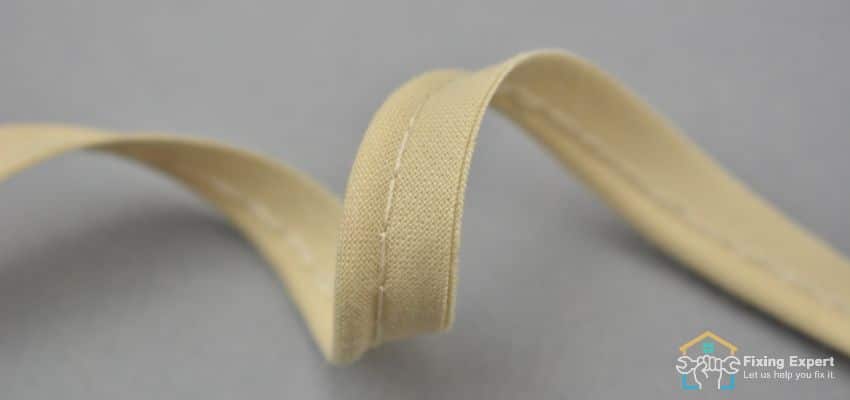 Pillows, cushions, and other home decor items can be given an extra touch of style with the help of cotton braided piping. It's often used as a decorative accent because of its smooth texture and varied colour palette.
Gauge And Staples 
When working on an upholstery job, you need a gauge and staples. The cloth is held in place by the staples, and the gauge determines the length of the staples.
Using a pneumatic staple gun can make upholstery of an armchair much quicker and more straightforward than using other methods, such as hand staplers or manual tack hammers.
Twine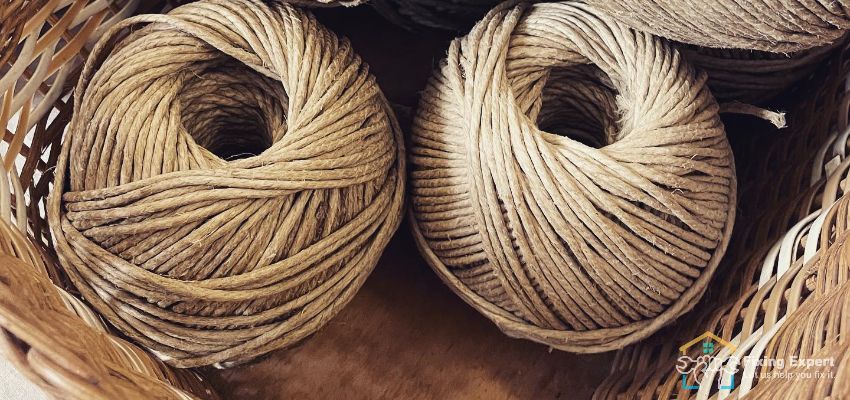 It is a multipurpose textile often used to tie down and secure upholstery components like springs, filling, and batting. Its sturdiness and resilience make it perfect for demanding tasks.
Zippers or Velcro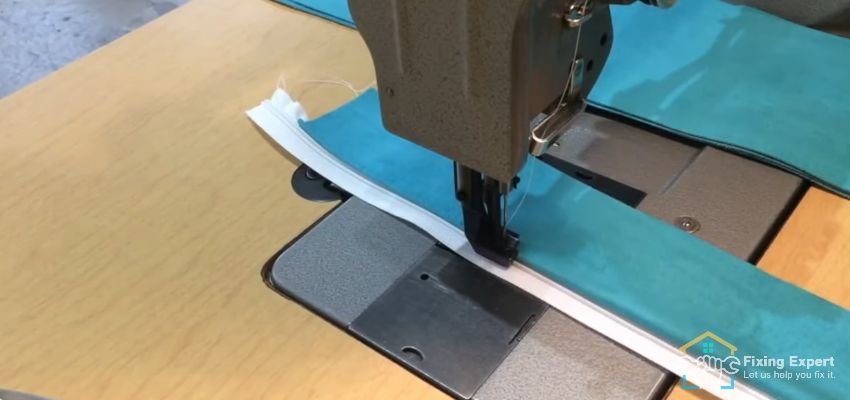 Closing and securing other home decor items is easy by using zippers or Velcro. They are available in different hues and sizes to suit your needs.
Tools Required 
Having the proper equipment is crucial when it comes to redesigning a chair. Some of the most important ones are as follows:
Flat head screwdriver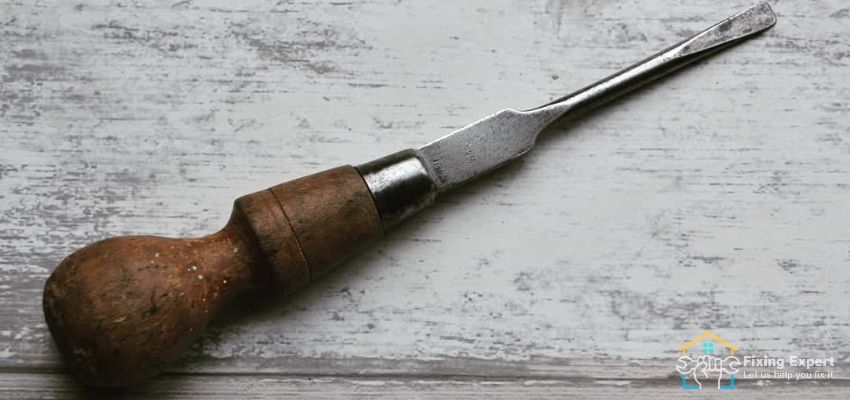 Flathead screwdrivers tighten screws and pry open items, a must-have tool for any upholstery project.
Curved Hand Sewing Needles
Required for effortless sewing through thick fabrics.
Staple Remover
No upholstery project is complete without the essential tools of a staple gun and staple remover. Fabric and batting are stapled to furniture frames using the gun, while the remover removes previous staples.
Sewing Machine
A sewing machine is necessary for faster sewing and effortlessly stitching straight lines with ease.
Rawhide Upholstery Mallet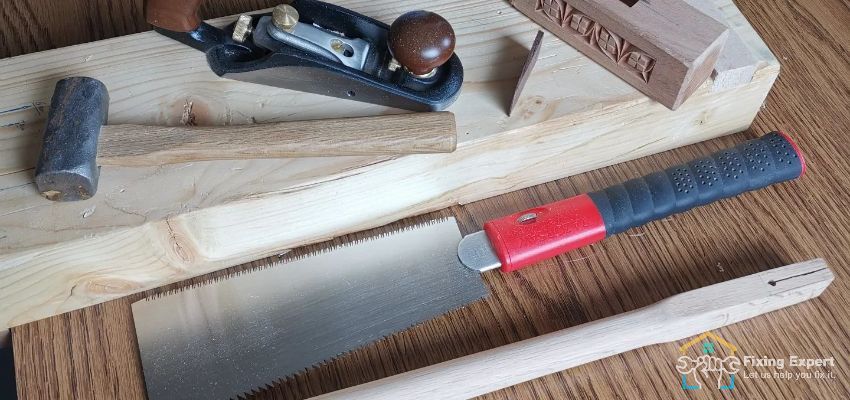 The rawhide upholstery mallet is the perfect tool for hammering in tacks and nails without leaving unsightly marks on your precious fabric. 
Seam Ripper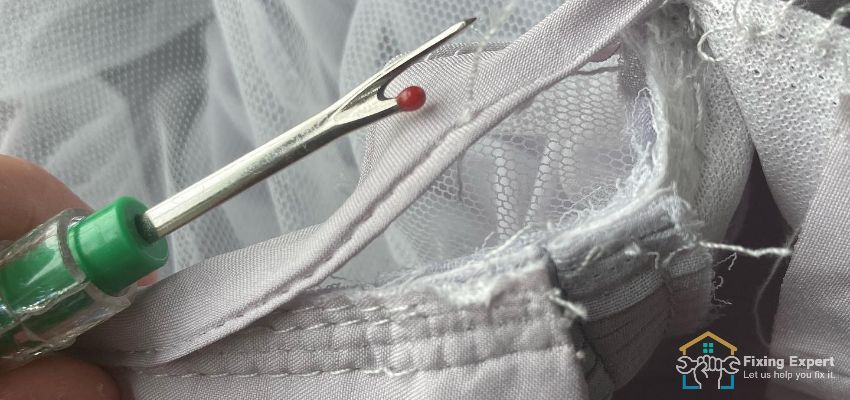 It is The best tool for effortlessly removing seams, basting stitches, and pesky threads from your fabrics. You can achieve flawless sewing with ease by using this product, which is specially designed to correct any mistakes.
Grip Rotary Cutter
The rotary grip cutter offers an effortless and comfortable use with its ergonomically designed grip handle.      
Cutting Mat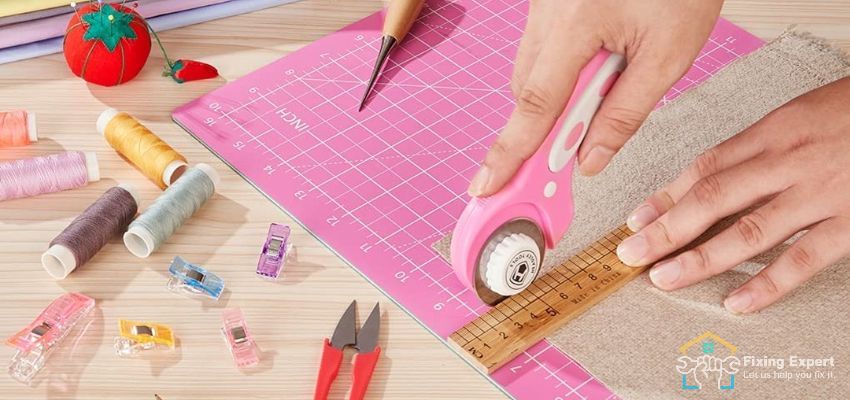 Safeguard your work surfaces while using a rotary cutter to slice through fabric with a reliable cutting mat. 
Read More: Best Tools To Cut Vinyl Plank Flooring
Acrylic Ruler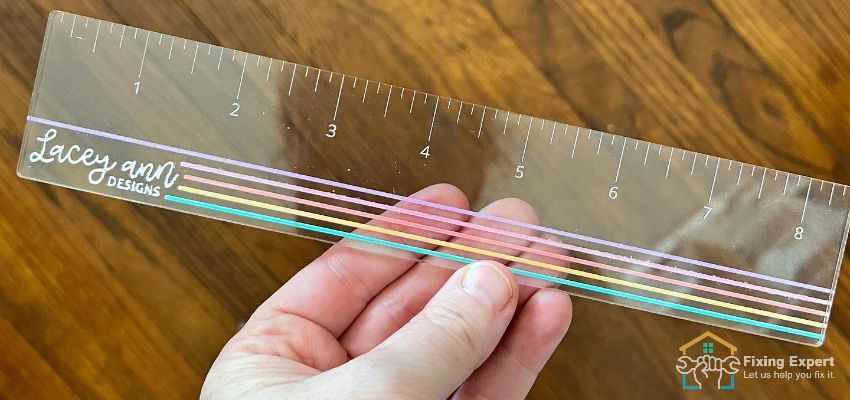 With its precise and distinct markings, reading and comprehending measurements becomes a breeze.
Strip Chair 
Reupholstering requires stripping the chair to its structure. Remove the old cloth and padding or foam below.
Reupholstering an armchair begins with removing the fabric. It's challenging but necessary for a fresh start. Carefully raise the fabric borders and remove them from the chair frame using a flathead screwdriver or upholstery staple remover.

Label each fabric piece as a pattern so you can use it to cut additional fabric. It will assist in cutting and matching your new components.

After removing the old fabric, remove the chair frame's staples and tacks. This takes time but ensures that your new cloth lies neatly on the frame.
Be patient and avoid damaging the cushioning or foam. After removing all staples, assess and fix any damage before cutting fresh cloth pieces.
Cutting the Fabric 
Having the cloth cut correctly is essential before you start reupholstering your armchair. How precisely you can cover the armchair and guarantee a proper fit heavily depends on the cutting procedure.
Your first step should be spreading your new textiles on a wide table or another workplace. Before measuring and cutting, ensure the cloth is smooth and creased-free. Mark the fabric with the tailor's chalk to show where each piece of the chair frame will go.

Next, cut along each specified strip of cloth using razor-sharp scissors or a circular cutter. Ensure your cuts are smooth and precise to avoid unravelling due to rough edges or frayed threads.

Be cautious while cutting around corners and curves, as this might cause the pattern pieces to no longer fit together correctly when you want to reupholster the item. After you've cut everything out, name it to find the right piece quickly while upholstering.
When preparing an armchair or sofa for reupholstery, it pays to take your time with precise cutting and labelling.
Reupholstering 
Reupholstering an armchair gives antique furniture fresh vitality. After labelling the designs, cut the new cloth, allowing enough fabric for tucking and stapling. A pneumatic staple gun simplifies reupholstering. Start by attaching the fabric to the chair back and tucking any excess.
Stapling Fabric on Chair During Reupholstering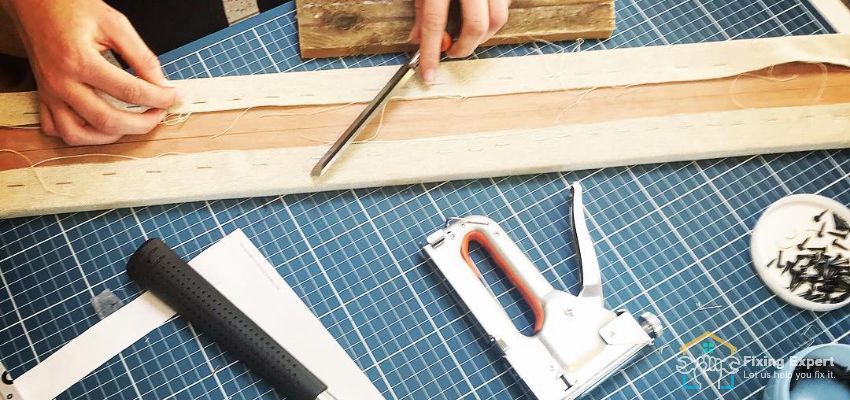 Stapling the fabric onto the chair during reupholstering is essential in giving your armchair a fresh look. To make this process easier, you will need a pneumatic staple gun. This tool allows for quick and efficient fabric stapling onto the chair frame.
Before starting to staple, ensuring that all wrinkles and puckers are smoothed out from the fabric is essential. Once everything is aligned correctly, begin by stapling along one edge of the fabric, ensuring it remains taut throughout.

As you work your way around the chair, remember to keep checking that there are no wrinkles or bunching in the material. Be sure to use enough staples so that everything stays firmly in place.

Only pull tight enough when working on corners or curves, as this can cause unsightly creases or folds in the material. Instead, gently ease around these areas until everything is snugly secured into position.
Upholster Chair Back and Its Procedure
Chair back reupholstery is crucial. If possible, eliminate fabric wrinkles. Cover all corners and edges with a cloth square larger than the chair's back.
Next, delicately tuck the fabric into the chair's back cracks using an upholstery tool. This ensures a tight and secure product.

After you've tucked in every last bit of fabric, tug each side to tighten it around the structure. If you want to avoid ripping or tearing more delicate textiles, avoid pulling on them too forcefully.

The cloth can be fastened to the frame with the help of a pneumatic staple gun. Cover all sides by stapling every few inches along each edge.
Upholster Seat and Inside Arms 
Reupholstering an armchair's seat and arms is necessary. Start by cutting cloth larger than the area you'll upholster to have extra for tucking and stapling.
Starting at one edge, staple the fabric to the chair's bottom, pulling it tightly as you go. Use a compressed-air staple gun for professional-looking results.

As you approach arm bends or borders, carefully fold and tuck additional fabric beneath itself and staple it down. This approach produces wrinkle-free edges.

Trim the leftover fabric with scissors after securing everything to the chair frame. Avoid cutting newly sewn seams or tearing upholstery.

After finishing them, proceed with your furniture project.
Upholster Outside Arms 
Remember to pay attention to the outside arms when reupholstering your armchair. For better durability, it's crucial to upholster these high-traffic areas with the utmost care.
First, measure and cut your external arm fabric. Leave extra fabric for tucking and stapling.

Next, centre the cloth on one arm. Start stapling the cloth at the arm's bottom using a pneumatic staple gun.

Pull firmly and staple every several inches down one arm. Before stapling, tuck extra material under corners and curves in the arm.

Before continuing, trim each outside border.
Repeat on both sides until both arms have new upholstery.
Procedure to Trim Fabric, Apply Trim
Trimming your armchair is an important part of the reupholstering process. The trim will give your chair a polished and finished look and provide structural support to your fabric. 
First, you'll need to choose a fabric for the trim that complements or contrasts with your main upholstery fabric. Then, measure and cut the fabric into strips long enough to go around each chair section.

Next, apply glue to one side of the strip and carefully attach it along the edge of your armchair's sections. 

Once all sections have been glued down, use gimp, a decorative rope-like cord, to cover up any visible raw edges or seams in your fabric. Glue this down in place using small dabs of adhesive.

After everything has dried completely, use sharp scissors to trim away any excess material from the main upholstery and trim fabrics until they flush against each other. With these simple steps, you can transform an old armchair into a stunning new piece!
In The End
So go ahead – gather all those essential tools and materials mentioned above, roll up your sleeves, and get ready to embark on a journey that will transform your space and perspective on owning timeless and statement furnishing pieces! Happy reupholstery adventures ahead!