Do you want to make your French doors more attractive while managing the amount of light that comes in and out? The solution is as close as the blinds. It might be difficult to decide on the finest window blinds for your French doors from the various styles and materials available. We promise not to leave you hanging, however. Today, Fixing Expert will discuss the best blinds for French doors, including where to purchase them, how to install them, what customization options are available, and which ones to avoid. The finest blinds for French doors may completely change the look of your house, so keep reading to learn more.
Best French Door Blinds
French doors are attractive, but they may make window treatments difficult. Blinds help! They complement French doors with seclusion, light control, and aesthetics.
Venetian Blinds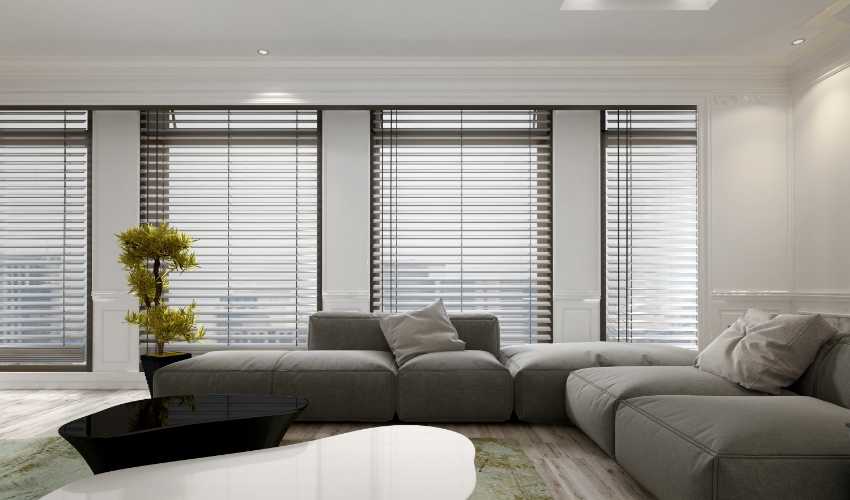 Because of their adaptability and modern appearance, Venetian blinds are often used on French doors. Light and privacy may be altered by moving the horizontal slats.
Venetian blinds are versatile since they may be made from real wood, imitation wood, aluminum, or even PVC.
Consider Venetian blinds if you're looking for an energy-saving solution for your French doors. They may be cleaned quickly and easily with a moist towel.
Think about the width of your French doors while picking out Venetian blinds. Thinner slats have a more traditional aesthetic, while thicker ones have a more contemporary one.
Venetian blinds may be the perfect window treatment for your French doors since they are aesthetically pleasing and functional.
Vertical blinds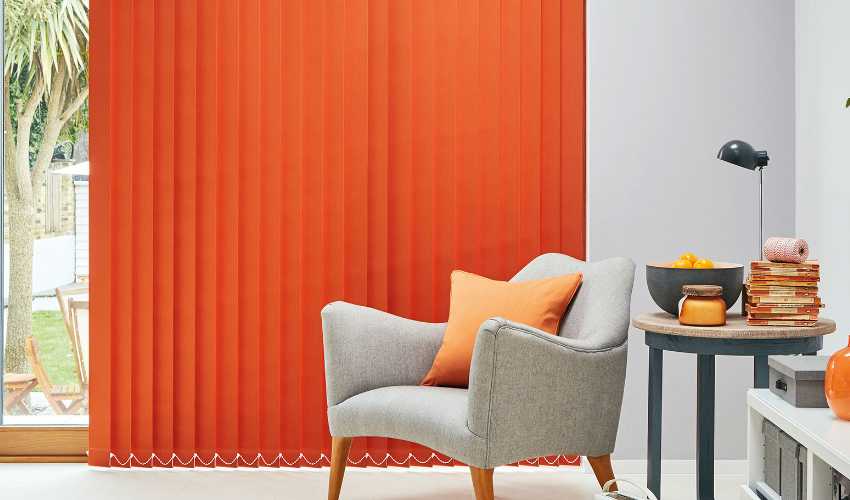 French doors often use vertical blinds to regulate light and privacy. Vertical blinds slide horizontally along a track at the highest point of the door.
Vertical blinds provide light control. Adjustable slats provide natural light and seclusion.
They cover more space than horizontal blinds, making them ideal for bigger windows.
 They were also available in cloth, Vinyl, and wood-like finishes. This lets homeowners select a material that complements their design and budget.
Roller Blinds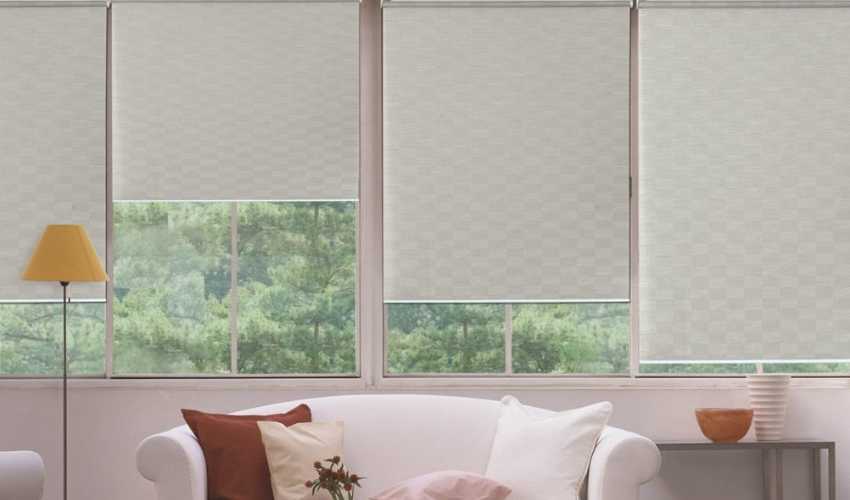 French door roller blinds are great. Their sleek, contemporary appearance matches any indoor decor. Roller blinds can adjust the light from sheer to blackout.
Their compactness is ideal for tiny places. They fit behind ornamental hardware when folded up.
French door roller blinds provide seclusion and natural light. Choose a fabric that fits your home's color palette, or add a flash of color with a vibrant patterned roller blind.
 Putting French door roller blinds inside or outside the window frame is a consideration. Installing them inside looks cleaner but requires precise proportions while mounting them outside provides greater size freedom.
Roman Blinds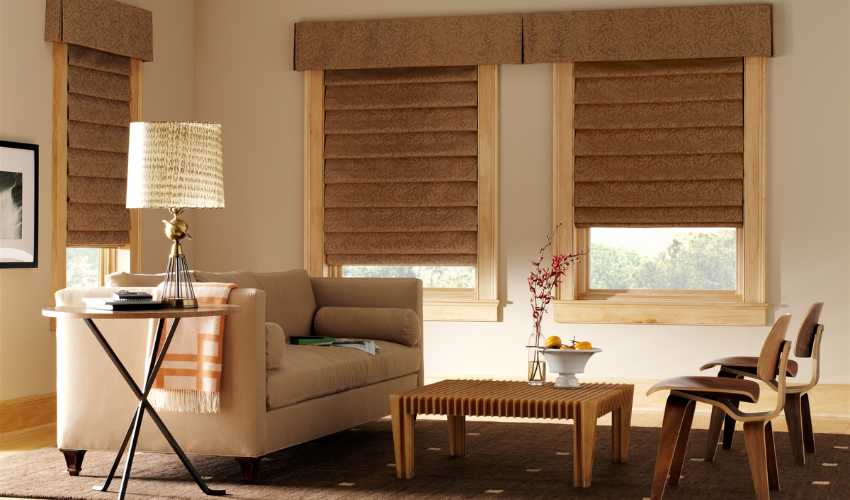 French doors look lovely with Roman shades. They're made of cloth and may be tailored to your door's dimensions.
Roman blinds come in many colors, designs, and textures, enabling you to match your décor.
Roman blinds insulate well, keeping rooms cool in summer and preventing draughts in winter.
No special equipment is needed to clean Roman blinds—just a Hoover or wet towel!
Custom-made Roman blinds are a cheap and beautiful method to cover French doors while allowing light in.
Cellular or Honeycomb Blinds
French doors often use cellular or honeycomb blinds owing to their distinctive appearance. Air-trapping cells insulate and save energy.
Single-cell and double-cell blinds are available. Single-cell types are good for mild climates, and double-cell ones for harsh ones.
Cellular or honeycomb blinds filter light. These shades disperse natural light and black out well.
They also complement any décor with many colors, textures, and patterns. These colors are dust-resistant, making them simple to clean.
Cellular or honeycomb blinds may be bracket-mounted to door or window frames. Customized choices may need expert installation.
Panel Glide Blinds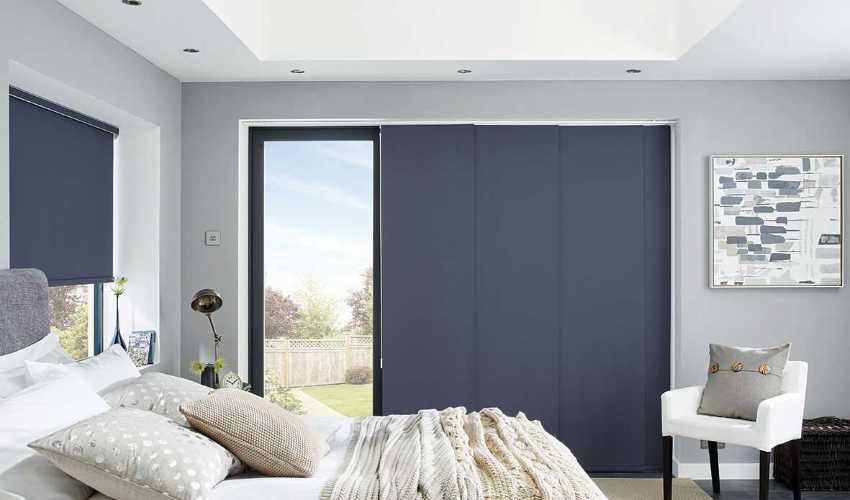 French door panel glide blinds are adaptable and contemporary. Large panels glide along a track system, making these blinds simple to adjust.
Panel glide blinds cover big areas easily. They cover more than vertical or horizontal blinds with broader panels.
Panel glide blinds give seclusion without obstructing light. Adjustable panels enable natural light and seclusion.
 Fabric or PVC blinds enable you to customize your space's beauty and usefulness. They're great for durability and style.
 Panel glide blinds for French doors are stylish, versatile, and practical.
Shutters
Shutters are timeless French door blinds. They enhance any area with elegance, light control, and seclusion. Wood, Vinyl, and composite shutters exist.
Wooden shutters suit naturalists. They're easily painted or dyed to complement any room's decor. Vinyl shutters resist warping and splitting, making them excellent for kitchens and bathrooms.
Composite shutters look like wood yet withstand dampness, termites, and rotting—Customize shutters with louver sizes, frame types, finishes, colors, and more.
Shutters are among the greatest French door blinds because they give depth and texture and are useful!
Best Materials for French Door Blinds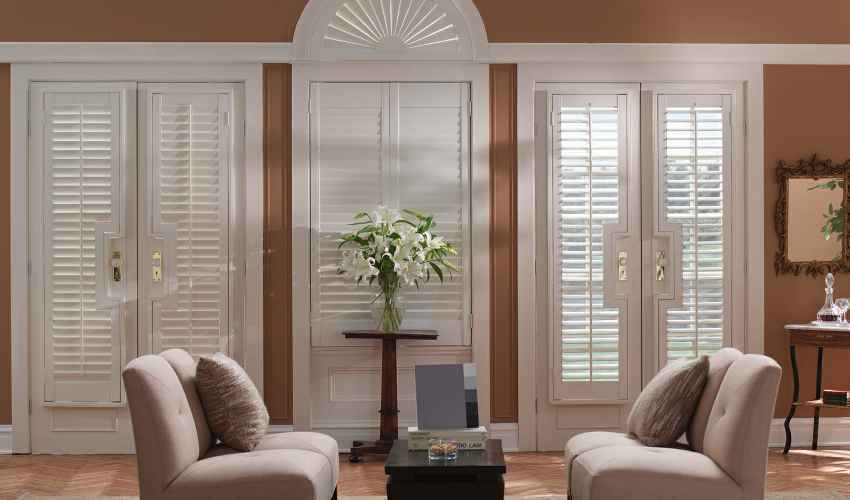 Picking the proper material for your French door blinds is as crucial as picking the right design. The material you pick will affect your doors' appearance and functionality.
Wooden blinds are a common accessory for French doors because of the coziness and variety they provide to a room. They're great for blocking off the light and insulating against the cold.
Like real wooden blinds with increased durability, faux wood blinds are a great choice for high-traffic areas or houses with dogs.
Blinds made of aluminum are another excellent choice for French doors. They are cheap, simple to clean, and don't weigh nearly as much as other materials. In addition, aluminum may be painted to complement any color scheme.
Fabric blinds are the most comfortable option since they are softer than any other. They are available in various styles, colors, and patterns for any decor. However, moist settings like lavatories and kitchens may hold up poorly.
Custom vs. Ready-Made Blinds for French Doors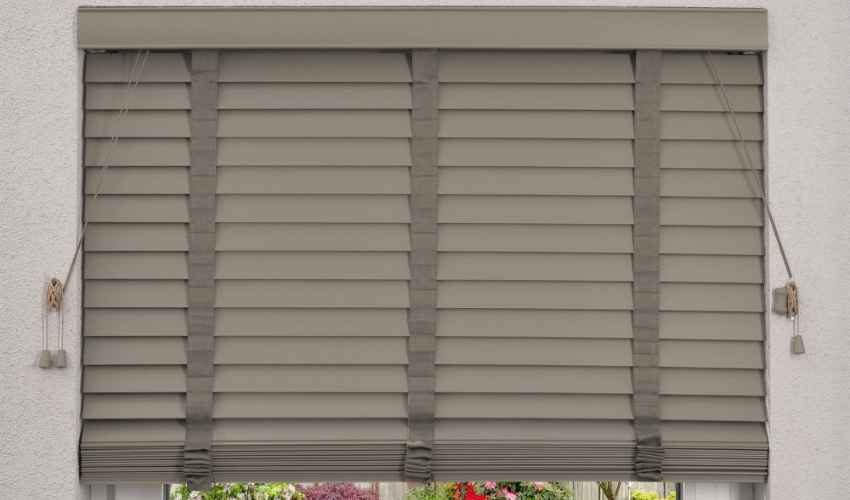 French door blinds may be bespoke or ready-made. French door blinds are custom-fitted. They may be customized to fit your door and are available in several materials, colors, and designs.
Window Curtains are now mass-produced and available for purchase in standard sizes. They're cheaper and available at most remodeling shops but need to fit better, like bespoke blinds.
Custom or ready-made is determined by budget and taste. Custom blinds complement your décor flawlessly. Choose ready-made if you've been on a budget or want something fast without sacrificing style.
Before choosing a blind for your French doors, consider your priorities. Both alternatives offer benefits and downsides.
Factors to Consider When Choosing French Door Blinds
French door blinds need various considerations. These include your French door design and privacy and light control preferences.
First, match your French door's blind style. Wood or imitation wood blinds look great with wooden French doors since they fit their classic style.
Second, consider natural light and seclusion. Cellular or roller blinds give full coverage while letting some natural light in, making them excellent for privacy.
Before purchasing door blinds, measure carefully. Exact dimensions guarantee the blind fits the window frame without gaps.
Check blind materials for quality. High-quality materials will last longer and need less replacement.
Different Types of French Doors
French doors are a popular choice if you want to add a touch of class to your house. The kind of door you have should be considered while selecting the appropriate blinds for French doors.
Single French Door
Roller shades and vertical blinds are the ideal window treatments for a single-hinged door with one panel on each side.
Sliding French Door
Sliding French doors need a functional covering, such as motorized shades or sliding panels that can be rolled up and stored out of the way.
Wooden French Door
Coverings made from natural materials, such as woven wood blinds or bamboo curtains, complement wooden French doors.
Glass French Doors
The addition of translucent textiles, light-filtering honeycomb shades, or elegant Roman blinds makes French glass doors appear fantastic.
 Metal French Doors
Cellular shades, roller blinds, and horizontal Venetian shades manufactured from aluminum slats are all excellent window treatment options for French metal doors.
French Doors With Sidelights & Transoms
When used with other window coverings installed over the primary glass area, specialty shutters such as plantation shutters are an excellent choice for sidelights and transom windows.
Composite French Doors
These are made from recycled materials, making them environment-friendly and cost-effective options that offer durability without compromising style.
Bi-Fold French Doors
Open your house to the outside and save space with bi-fold French doors. The foldable design makes it easy to go back and forth between inside and outside.
External French Door
Any home needs a gorgeous outside French door. These entrances come in several styles, colors, and materials.
Internal French Door
The timeless beauty of a French door for an interior opening cannot be overstated. These entrances may be customized to complement your house's aesthetic with various frame and glass choices.
UPVC French Doors
These are long-lasting and effective. These doors are often seen in contemporary dwellings because of their inexpensive maintenance and many aesthetic options.
Which Blinds Are Not Recommended for French Doors?
Blinds are a common way for homeowners to spruce up their French doors. But not all blinds are suitable for use with this kind of door. When choosing blinds for your French doors, try to stay away from these alternatives.
 Corded Shades
One of the certain kinds of blinds that should be avoided while shopping for French doors is corded blinds. That's because they aren't always the ideal choice because of the potential risk they offer to children and pets.
Mini-Blinds
Mini blinds are notorious for collecting dust and may need to be cleaned more often than standard blinds. Unlike other blinds, they do not block out enough light or provide adequate privacy.
Horizontal Blinds
Because of their unique structure, French doors may be difficult to fit with horizontal blinds. They may be a danger for anyone walking by, and they might make it hard to open and close the door.
Practical Tips for Installing Blinds on French Doors
Putting blinds on French doors is simple with the correct equipment and methods. French door blind installation tips
Before buying blinds, measure the door width and height. Your blinds will fit tightly without gaps or overlaps.
Second, pick a French door-compatible blind installation. Install them inside or outdoors.
Thirdly, fix blind brackets to doors using bolts or adhesive strips.
In the fourth step, check the functionality of each blind by repeatedly opening and shutting the door. This will verify that the blinds move freely without snagging or causing friction with one another.
To prevent blind movement, put hold-down brackets on each door.
Steps to Customize Blinds for Unique French Doors
If you have odd-shaped French doors, customizing blinds might be difficult. You can make French door blinds that match the correct methods and supplies.
Measure your door frame first. It will set the blind size for each door part. Select a blind that suits your area and style.
After choosing a blind type, match materials and colors to the door and surrounding décor. Add motorization or light-filtering features.
Consider contacting a professional installer to accurately and securely install your bespoke blinds on your unique French doors accurately and securely. You can have lovely custom-made blinds on all your French doors with up to three easy steps!
In The End
The material you choose for your French doorway blinds should reflect your tastes and requirements. Before deciding on a material, consider your finances, needs, and aesthetic preferences.
FAQ
What are the most durable blinds for French doors?
The best blinds for French doors are Vinyl, aluminum, polyester roller, or honeycomb shades.
What blinds are best for patio doors?
Patio doors fit vertical, sliding panels, and panel track blinds.
What types of blinds are easiest to clean?
Easy-to-clean blinds are Faux wood, roller, and vertical blinds.
How do I measure my French doors for blinds?
French door blind measurements can be done by measuring the inner door frame width and height and subtracting 1/8 inch for clearance.
Are there child-safe blinds available for French doors?
French door child-safe blinds are Child-safe blinds that are cordless or motorized.
How often should I replace the blinds on my French doors?
If the shutters on your French doors exhibit signs of deterioration, it may be necessary for you to change them. Good shutters have a long lifespan.
Fixingexpert, the preeminent interior fitout contractor in Dubai, has unequivocally secured its position as the ultimate selection for premium interior solutions. Our devoted team is consistently at your service, ready to fulfill your interior decor needs.