Do you want stylish, functional window coverings? Day and night blinds are excellent options. Are you tired of feeling like a vampire at home? Do you want to reduce sunlight in your room so you don't need sunglasses? Day-and-night blinds can keep the day on or stuck light for the night. These Window blinds cover the globe like a window mullet as by night and day mechanism. Prepare to isolate your neighbours unthinkingly! Fixing Expert reviews the best day and night blinds. We will also help you pick and put them up without going crazy.
Why Day and Night Blinds Are Different from Each Other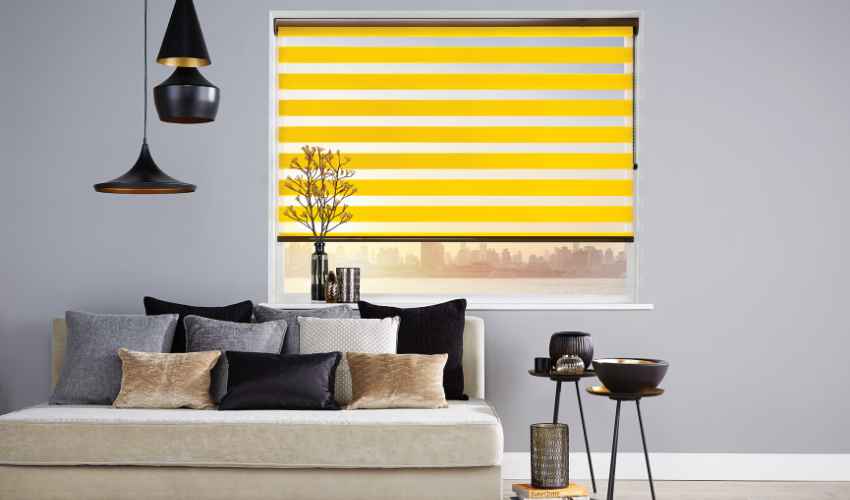 Day and night blinds are two distinct window treatments that serve different purposes. While both can block out light, day blinds are designed to filter natural light while still allowing some visibility from the outside. However, night blinds are meant to completely block out all light for a more restful sleep environment.
 The main difference between these two types of blinds lies in their fabrics. Day blinds typically feature lighter materials, such as mesh or sheer fabrics, that allow you to see through them while offering privacy during the daytime. Meanwhile, night blinds are made with heavier blackout materials that obscure any light from coming through.
 Another key distinction between day and night shades is how they operate. Daytime shades often come in various styles, including roller, vertical or Venetian options, which can be adjusted by pulling on cords or using remote controls.
On the other hand, nighttime blinds are often only available in a single design, which consists of immovable slats that cannot be repositioned after they have been placed.
Day Blinds and Its Types 
Day blinds are a common window covering because they let in daylight while enabling the user to adjust the amount of sunlight streaming in. Roller, vertical, and Venetian blinds are just a few examples of the many varieties of day blinds available.
Those who want a more uncluttered aesthetic would like roller blinds. They come in a variety of colours and designs to go with different design themes. Roller blinds block out the sun well and have a simple system for quick adjustments.
Slats in vertical day blinds are arranged vertically rather than horizontally. They may be conveniently retracted when unused, making them an excellent choice for bigger windows or sliding doors. Their one-of-a-kind fashion also lends them an air of refined sophistication.
Wood, aluminium, or PVC, Venetian day blinds may be adjusted to manage natural light. These shades come in several hues, so homeowners may easily match their décor.
These three traditional window treatments can enhance your home's decor and keep you private.
Night Blinds and Types of Night Blinds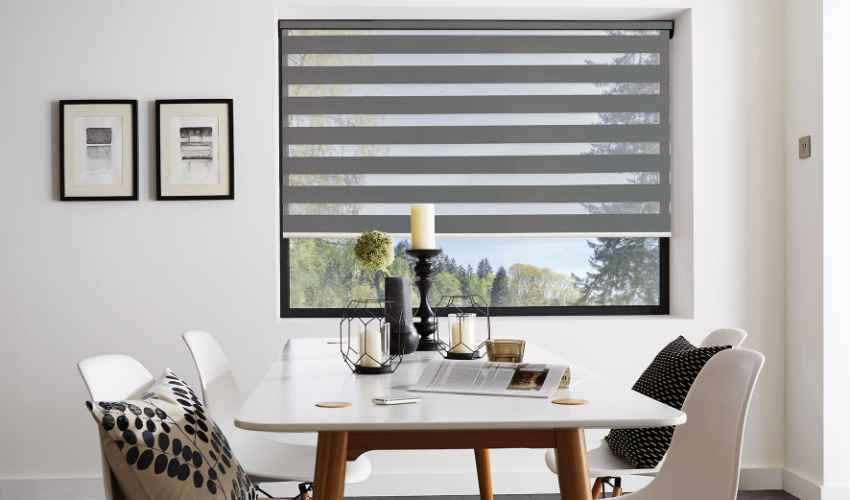 A house with a set of night blinds is complete. They're a chic addition to any decor and a practical way to have quiet time and darkness. Night blinds may be classified as either blackout, dim-out, or sheer.
If you like total darkness in your bedroom, blackout blinds are the way to go. They are constructed from thicker materials that completely obstruct the passage of light. This kind of blind is perfect for bedrooms since it reduces noise and light pollution, allowing for a more restful night's sleep.
Dim-out blinds provide a level of coverage that allows some light while still blocking the view outside. You may choose from various designs for your night blinds, including roller and vertical options.
Light may pass through the sheer fabric of the blinds without compromising your privacy. Sheer hues may be used in many décor styles.
Each kind of night blind has benefits adapted to the buyer's needs.
How to Choose the Best Day Blinds for Your Home
The first step involves measuring the available space and choosing a window treatment that works well with the existing furnishings. Blinds of many types, including roller, vertical, and Venetian, are widely used.
The blinds' construction material is also important. Aluminium and wood are two options that come to mind if you're looking for something that will endure a long time. If discretion is necessary, use opaque materials like imitation silk or linen.
Day blinds' colour is also essential since it has a major impact on the mood of any space. The use of light colours may make a space seem more open, while the use of dark colours can make it feel cosier and more private.
Check out the prices and quality of many different brands of day blinds before settling on a purchase. Always use accurate measurements to ensure a proper fit when purchasing window coverings.
Finally, but most significantly, make installation as easy as possible by hiring a professional or following the manufacturer's instructions for a do-it-yourself job. Follow these guidelines and bling up those windows all you want to!
How to Choose the Best Night Blinds for Your Home? 
Choose the finest night blinds for your home with the same amount of consideration that you give choosing the best day blinds for your home. Because they can completely block out light without sacrificing privacy, night blinds are an excellent choice in bedrooms and other places that must be kept in total darkness.
When searching for night blinds, there are a few different aspects you should keep in mind in order to choose the very finest ones for your home.
Choosing the right kind of night blind is crucial. Blackout shades provide total darkness by excluding all ambient light, whereas dim-out alternatives lessen illumination but let some light through. Options that are sheer or transparent let some light in while still protecting privacy.
When selecting a night blind, it is essential to take the material into consideration as well.
 Vinyl and PVC are resilient and inexpensive, but there may be better choices if you're after more upscale aesthetics.
The choice of colour for a night blind or other window treatment is crucial for its visual appeal. Lighter colours like ivory offer appeal with their delicate neutral tones, while darker colours like black or dark blue block the most light.
Together, these considerations can help you choose the perfect night blinds for your house, both your taste and your demands.
Decorating Tips for Incorporating Blinds into Your Home Decor 
Did you know that the kind of window treatment you choose can significantly impact the ambience you end up with in your room? These blinds can assist you in managing the amount of sunlight that enters the area and establish the mood for the space. Day and night blinds are an excellent choice if you are looking for something to enliven the atmosphere of your house.
Choosing Best Day Blinds 
You may make them disappear into the walls by selecting a neutral colour like white or beige. Another option is to coordinate them with throw cushions or window treatments for a splash of colour.
Layering several window coverings is something to consider. Try combining sheer day blinds with drapes for a chic design that lets in natural light yet gives seclusion.
Take note of any patterned upholstery or carpets in the room. Find blinds with a texture and colour scheme that complements these designs.
Hardware is an important consideration. Choose matching curtain rods and finials.
By implementing these pointers into your design plan, you can get a professional, put-together appearance in every inch of the space day and night blinds occupy.
Our Top Picks
Are you looking for window treatments for your residence or office? They let you modify the quantity of natural light entering a space and provide an air of refined elegance.
Venetian Blinds 
Because they come in such a broad range of materials, colours, and end types, Venetian blinds are a fantastic option for every room in the house.
Wooden Venetian Blinds 
Your house will have a touch of sophistication as a result of the classic allure of wood. Choose a stain and finish that best complements the style of your home decor from the available options.
Aluminium Venetian Blinds 
Stylish and modern aluminium Venetian blinds are durable, easy to clean, and available in various hues and finishes to complement any interior design.
Vinyl Venetian Blinds 
Vinyl coverings are economical, functional, waterproof, and simple to maintain. To achieve the desired appearance, a variety of colours and surface patterns are available for selection.
Roller Blind
One style of window covering, a roller blind, is made from a single bit of cloth that rolls up or down by a link or spring system. They are easy to operate and come in various colours and materials, making them a flexible and fashionable addition to any home or workplace.
Roman Blinds
Window coverings such as Roman blinds provide a chic and elegant alternative to other options. Fabric is pleated into folds to produce a gentle, draping impression in these blinds. Because of their adaptability makes them a wonderful furnishing choice for any room with a window. Roman blinds are popular among both homeowners and interior decorators because of their classic look and adaptability.
Cellular Shades
Honeycomb or cellular blinds are eco-friendly window treatments that keep your home cool year-round. Their air-trapping cells give insulation to your home, making it pleasant in summer and winter. These are energy-efficient and keep your house cool in summer and warm in winter. Cellular blinds are a fashionable solution to control light and privacy in your home.
In the End
Blinds that work both during the day and at night are an excellent addition to any house. They provide usefulness as well as aesthetics by letting you adjust the amount of light entering your home. With many types of day and night blinds available today, there is something for every preference. No matter what type or look you're after, these window treatments will enhance your space while providing practical solutions at affordable prices. Take some time to compare different options before making a final decision.
FAQ
What Are the Advantages of Day and Night Blinds over Traditional Blinds?
Compared to conventional blinds, day/night blinds provide superior light control, energy savings, privacy, and a contemporary look.
How Do I Clean Day and Night Blinds?
Use a lint-free cloth or Hoover attachment to wipe down your blinds, and spot-treat any particularly tenacious stains with a mild detergent.
How Do I Measure My Windows for Day and Night Blinds?
Determine the width and height of the inner window frame or the outside wall space to determine the size of the blinds needed for day and night.
Can Day and Night Blinds Help Me Save on Energy Costs?
To provide privacy and a sense of style, day and night blinds can assist in cutting down on heating and cooling expenses and light pollution.
What Is the Average Lifespan of Day and Night Blinds?
Day and night blinds have a lifetime that varies from several years to a decade, depending on quality, use, and maintenance.
How Do I Operate Day and Night Blinds?
Adjust the day/night blinds' opaque and sheer sections by pulling the rope or waving the modern control system.
Are Day and Night Blinds Safe for Children and Pets?
When used correctly and with supervision, day and night blinds are completely safe for children and pets.
Can Day and Night Blinds Provide Privacy During the Day and at Night?
Yes, day and night blinds can be closed at any time, or the strips can be angled to offer privacy.
How Much Do Day and Night Blinds Cost?
The price of day/night blinds may vary from AED 290 to AED 490 per window, depending on brand, size, material, and features.
How Do I Install Day and Night Blinds on My French Doors?
Tension rods or mounting brackets may be used to fasten day/night blinds to the inside and outside of a French door's frame.
Where to Buy Day and Night Blinds?
You may find day/night blinds at any hardware store, on the web, or at a business specialising in window coverings.
Being the foremost interior fitout company, Fixingexpert has firmly established itself as the premier option for top-tier interior solutions. Our committed team is always available to fulfil your interior decoration needs.