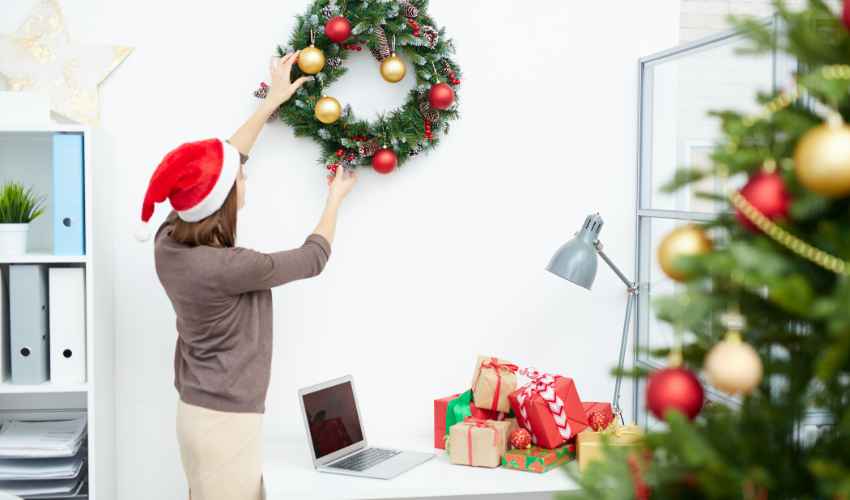 Countdown to Christmas is in full swing; the holiday is just a few months away. The greatest approach to get the whole office in the holiday spirit is to decorate the common areas. It's a win-win condition that brightens the mood at work and inspires people to pull together. Fixing Expert has got you 50 fun and inventive workplace Christmas decoration ideas, ranging from dangling candy canes to making bird ornaments, that are guaranteed to wow your coworkers. Come on, then, let's just get right in.
Hang Candy Canes
Hanging candies from the roof or walls of your workplace is a fun way to inject some whimsy into the space. You could also use them as centrepieces for your tables or put some of them into a jar for a touch of sweetness.
Transform Desks into Gingerbread Houses
Hold a desk decoration contest where teams decorate their office to resemble a gingerbread home to foster innovation and teamwork. Offer props like candies, paper shapes, and icing to encourage creative thinking.
 Hang Christmas Boots on the Walls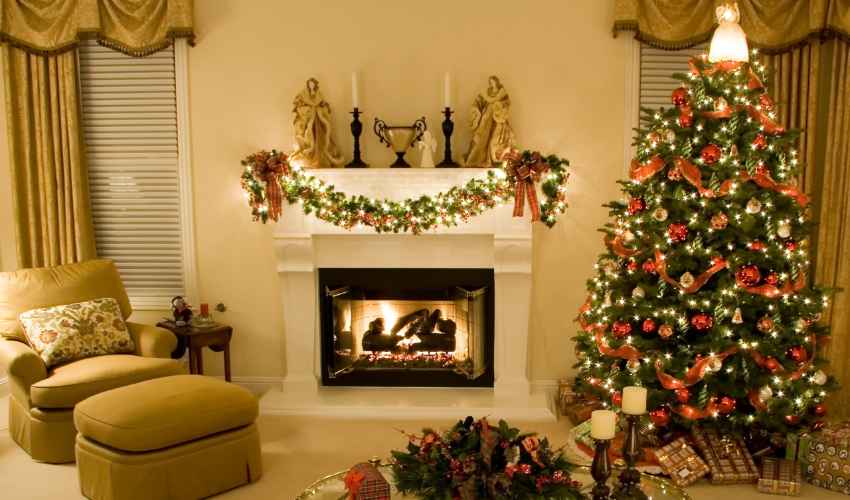 Displaying Christmas boots stuffed with evergreens or little presents may help create a warm and welcoming atmosphere in the workplace. It's also a terrific way to give each worker's space a unique feel.
Make a Snowman
Use your imagination by constructing an indoor snowman out of white air balloons, fabric batting on top, and buttons for the eyes. Have a good day playing dress-up with your hats and scarves!
Decorate the Door With a Christmas Wreath
By adorning the front door of your workplace with a merry wreath created from cones, berries, strings of ribbons, or decorations, you can ensure that everyone who enters your space feels welcome.
Cover the Ceiling With Stars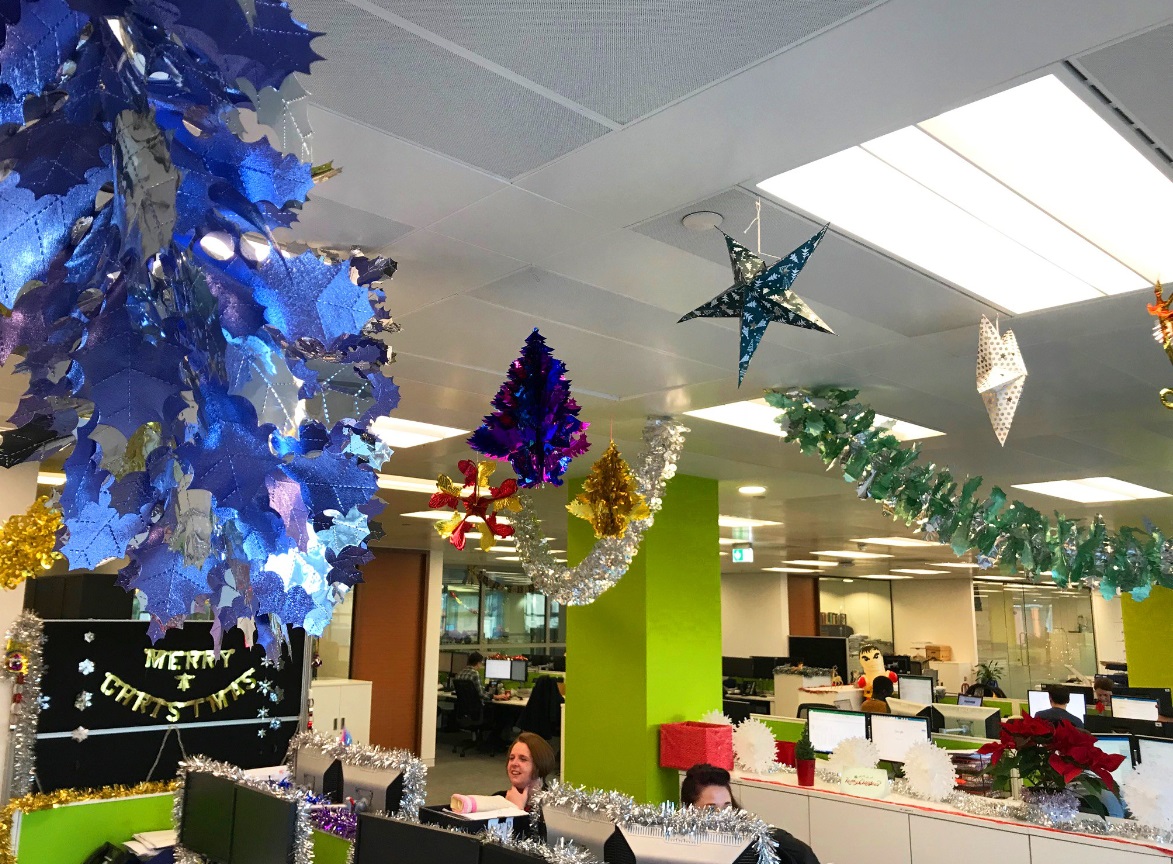 You may create the look of a winter wonderland on your ceiling by decorating it with cardboard stars of varying sizes. Using cords, you may create the illusion of depth by hanging them at varied heights.
 Make Paper Santas
Stick Santas of varying sizes and shapes you've cut out of paper to the walls of your cubicles. It's painless yet productive!
Get Playful With Balloons
Spread bright balloons in the form of snowflakes or reindeer noses about the room. Anybody who sees these decorations will instantly feel happier.
Striped Ribbon Welcome Gate
Put up two poles at your workplace's entrance and tie up a string of striped ribbons over them horizontally to make a welcoming entrance.
 Layer Up The Office With Streamers
Decorate your office with a whirl of colourful streamers by stringing them from the ceiling and wrapping them around the pillars.
Dangle Santa Stockings
Placing stockings on shelves or desks is a simple way to add holiday cheer to the workplace. It's a great way to spread Christmas happiness and a fun way for employees to swap presents and sweets.
 Light up the Workplace
Use candles and fairy lights to create a warm and welcoming atmosphere in your office this holiday season. Avoid using natural flames in favour of artificial lighting.
Festive Floral Arrangements
You may give your workplace a facelift and festive holiday spirit by decorating with plants like poinsettias, holly berries, and mistletoe. Planting little Christmas trees here and there would be a lot of fun.
Decorate the Office Walls
Deck the walls of your office with tinsel garlands, coloured paper chains, or hand-drawn snowflakes to spread holiday happiness.
Decorate the Office Floor for Christmas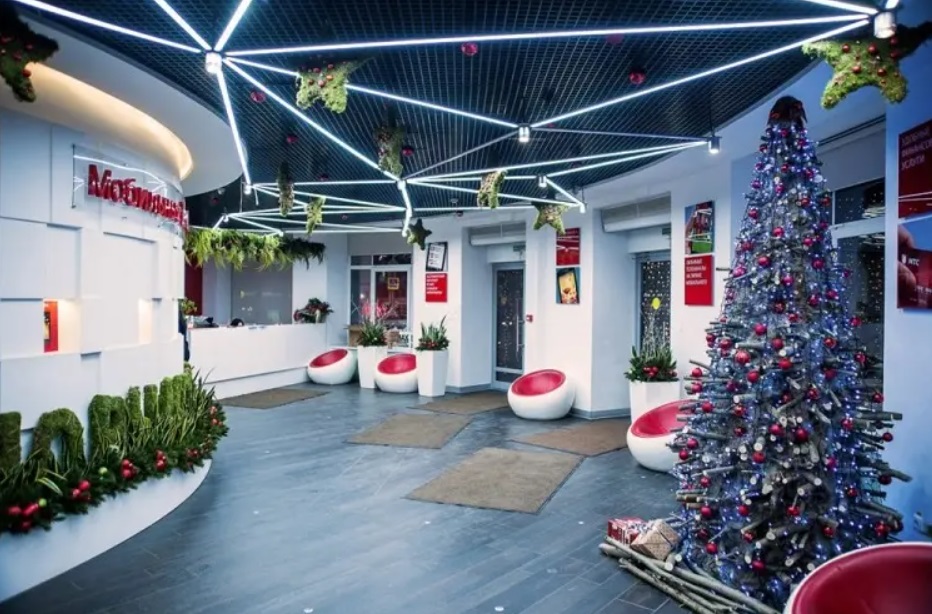 Rugs in the shapes of snowflakes and reindeer may be laid out on top of the flooring, and imitation snowballs can be placed everywhere for an added festive touch.
Accessorize Twig Tree
Make sure to decorate your office's twig tree with festive ribbon and decorations like shiny baubles, pine cones, and candy canes.
Christmas Window Decorations
Make advantage of display space by creating Christmas wonderland scenarios with ice skaters floating across frozen ponds and sleighs packed with gifts and other fantastical treats!
Hang Pictures Of Employees
Framed images from previous celebrations may also serve as lovely ornaments. They are simple enough that everyone can participate in sprucing up their own space.
Use Pine cones as Ornaments
Pinecones make lovely decorations that can be hung from trees or put on tables, and when combined with cinnamon stick-scented candles, they can set the mood for the holiday season.
Consider Using Pom Poms
Pom poms garlands can be strung on walls, cubicles, and Christmas trees in various colours and sizes. They brighten any office and increase the Christmas spirit. Having a DIY pom poms garland is always enjoyable.
Craft Bird Ornaments
Ornate your tree with handmade bird decorations for a really special display. Knitted feathers and beaks may be used to make lifelike birds. These are also a great option for giving to loved ones as presents.
DIY Deer Cups
With only some gummy eyes, brown tube cleaners, and red pom poms, you can turn plain plastic cups into cute reindeer faces. These holiday-themed cups are great for serving beverages at parties or making them as a craft project with kids.
Hang Mini Wreaths
Hanging little wreaths from the backs of your workplace chairs might bring some holiday spirit into your workspace. Try tying an ornament onto the chair's backrests with some ribbon or twine to add a touch of Christmas décor that is simple yet still quite effective.
Christmas Chair Adornments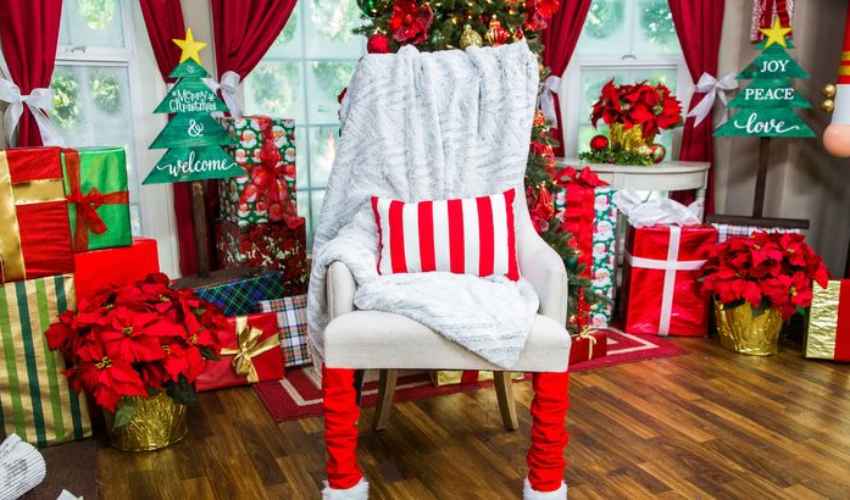 Make your office chairs seem more festive by adding details such as red flowers or tinsel garlands wrapped over the seats' cushions. It's a simple move that can bring additional Christmas cheer to your place of business.
Turn Mittens into an Advent Calendar
Make a unique advent calendar from used mittens by decorating them with numbers (1-24) using fabric colouring or markers. Put something fun and tiny in each mitten for each day coming up to Christmas.
Add Christmas Sparkle
This holiday season, create a warm and welcoming atmosphere by decorating your workspace with lights, snowflakes, and decorations. Adding a touch of glimmer may do wonders for creating a wintry wonderland atmosphere.
Make a Snowy Wreath
Make a beautiful bouquet with fake snow spray over artificial fir stems or holly leaves. Try adding some silver bells or white berries for a touch of class.
Top The Christmas Tree With Bells
Add some jingle bell decorations to the top of the office tree for the finishing touch! Hearing those joyful bells toll over the holidays will surely put a grin on everyone's face.
Gift Wrapping
Always add ornamental bows, ribbons, and gift wrap to your presents. To add Christmas cheer to your gift-giving, choose from a large selection of Christmas-themed wrapping paper, including designs like snowflakes, reindeer, and poinsettias. To make your gift stand out beneath the tree, tie it up with some bright ribbon and a bow. Include a kind note on a gift tag for friends and family.
Nutcracker Suite
It's a time-honoured tradition, and it'll make your workplace seem like a scene from a ballet. Use nutcrackers of varying sizes and colours as ornaments, whether table centrepieces or wall decorations.
The 12 Days of Christmas
This topic is ideal for a fun and engaging interactive activity in the workplace. Create groups of coworkers, and give each group a day of the song to sing. Each group is responsible for creating original decorations for their designated day. And this should be started before 12 days of Christmas.
For Decoration, Grab Bag
Put together a box or bag full of seasonal decorations and give each worker the option of taking one to use in their office. This improves things with a little unexpectedness and originality without breaking the bank.
Cosy Cabins
Include woodsy garland, chequered sheets, and little cabin figures placed on desks to create a cosy environment.
Choose Teams
Promote collaboration as teams compete to create the most creative workplace decorations. Coworkers are more likely to get along because of the competitive atmosphere.
Decorations for the Reception Area
Create a celebratory atmosphere for guests entering your office this holiday season. Decorations, including lights, garlands, wreaths, poinsettias, and even reindeer figurines, are always encouraged for the guests for the welcoming environment.
Tinseltown
Evoke opulence by embellishing the interior with gold and silver tinsel, ornaments, and other metallic elements hung over cubicles and light fixtures.
Office Corner Arrangement
Fill empty spaces in the workplace with holiday decorations, such as pine branches wrapped in twinkling lights draped over floor lamps and comfy couches piled high with Scottish shawls next to little Christmas trees.
White Christmas Trees
create beauty with snowflake decorations, natural pine cones on its branches, and white string lights around window sills! Finally, decorate the coffee table with cinnamon sticks, cranberries, new plants, or a little Christmas village with figures.
Brass Ring Wreath
Brass ring garlands are a great way to liven up your workplace. These stylish accents are the ideal way to improve any room's ambience. Put them on show by hanging them in prominent places like windows, doorways, and walls.
Making Mini Trees
Make little Christmas trees to decorate your desk or cubicle. You may make a little Christmas tree out of paper or even a few small branches and some decorations. Spread seasonal happiness by putting one of these trees in each cubicle.
Lined Candle Jars
Lined candle jars are a great way to bring light to your desk. Put a tea light in each glass jar you've decorated with holiday-themed fabric or paper. Put these illuminating accents throughout your workplace to produce a relaxing mood.
Garland Accents
Draping garlands around desks, stair railings, and door frames is a simple way to bring quick holiday cheer to any room in the house.
Jumbo Outdoor Lights
Use oversized outdoor lighting to make a bold statement. These enormous lights may be strung around fences or draped from trees to create a festive atmosphere before employees enter.
Snowflake Presents
Wrap presents with snowflake-patterned paper for an added dose of holiday cheer during office gift exchanges.
Hangings 
Bring the holiday spirit into your office by hanging ornaments such as pipe cleaner snowflakes or cardboard reindeer cutouts from the ceiling.
Rope Lights
Rope lights strung in interesting patterns over ceilings and walls look great and offer more light to the room. Adding festive chair coverings sporting Santa hats would bring instantaneous happiness to the office and usher in the spirit of the season.
Festive Banner
Craft a custom banner featuring phrases like "Merry Christmas", which could be placed above entryways – make sure everyone feels welcome! Banners with Christmas messages and bright colours can get people in the spirit. Display it in the dining room, over the mantel, or in the living room for an instant holiday feel.
Christmas Chair Covers
Add some holiday cheer to your dining room with these Christmas chair coverings. You may add a warm and whimsical touch to your holiday décor by selecting from various styles and designs, such as Santa hats, reindeer antlers, and snowflake patterns.
In the End
Decking the halls for the holidays and Christmas is on its way. The options are almost limitless. Decorating your house or workplace for the festive season can be as simple or elaborate as you choose, with ideas ranging from red and green additions to fresh and fun DIYs. Create a welcoming environment for your loved ones, friends, and coworkers to celebrate the holiday by decorating with Christmas tree decorations, flowers, lighting, and other seasonal décor.
Fixingexpert, the preeminent interior fitout firm in UAE, has solidified its position as the ultimate selection for top-quality interior solutions. Our devoted team is consistently available to cater to your interior decoration requirements