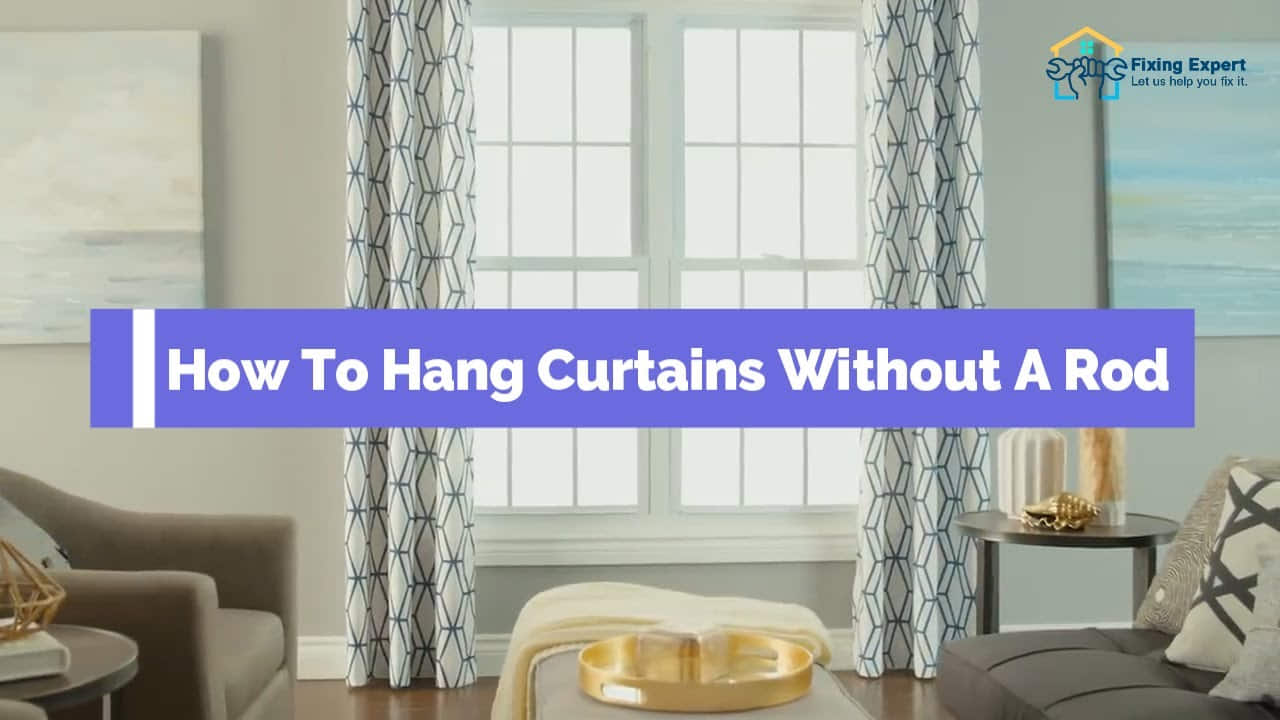 There is a lot to move with for people considering shifting from one house to another. And settling into a new place necessitates a number of things. After you've finished arranging your furniture, the following step is how to hang curtains without a rod.
If you have left your curtain rods to carry with you in a rush or purposefully. So, how are you going to hang your curtains? No worries, there are a few additional options for hanging curtains without a rod.
Have A Look At The Most Appealing Ideas to Hang Curtains Without a Rod
Curtain installation and rod fastening are simple, but it is an ancient, traditional, and permanent method that everyone uses. However, for individuals who enjoy being involved in their home design and adding unique effects that may be adjusted frequently.
Having said that, we've compiled a list of 5 Unusual Ways to Hang Curtains Without a Rod. You'll undoubtedly like hanging curtains in a variety of ways and transforming your windows. Let's get going!
1. Use Hooks
One of the most simple and efficient ways to hang curtains without a rod is to use curtains hooks. In reality, there are a variety of hooks available that you may use to hang your curtains too. Self-adhesive curtain hooks may be found at any curtain accessory store.
To use these hooks to hang your curtains, you must first measure the distance between the grommets on your curtains. Attach the hooks to it, and your curtains will be ready to hang.
2. Use Drawer Pulls
If you enjoy a little traditional home design, this is the one for you. Drawer pulls may be found at any furniture hardware shop. These drawer pulls have the appearance of hooks. Find one that fits your curtain eyelet hole perfectly.
To complement the color of your curtains, you may get them in any color, size, style, or finish. Allow your curtains to hang correctly by moving them across the eyelets.
3. Use Rope To Hang Curtains Without A Rod 
You may use the rope to hang drapes in a western design if your home is decorated in a style. This is the ideal setting for hanging curtains without a rod. All you have to do now is choose the rope color you want and measure the width of the curtains you want to hang.
So, look for a strong rope that can easily pass through the curtain's eyelets. Purchase it from any of the local hardware stores and add a few inches to the actual width. To hang curtains properly, connect that rope to the hooks and make sure they appear flawless.
4. Use Nails
You may use nails to create a basic and attractive home décor. However, nails should be used for curtains made of lighter materials, such as shower curtains. Determine which nails are capable of supporting the curtain.
Consider drawing a straight line on the wall to secure nails. After that, you may hang your curtains and arrange them in a ripple effect. This method for hanging curtains without a rod is straightforward and uncomplicated.
5. Use Wire
The heavy-gauge wire may be an excellent solution for hanging drapes. Another simple, quick, and low-cost way for hanging curtains without a rod. To wrap the wire, all you need is wire and two brackets to attach on both sides. This will guarantee that your curtains are correctly hung.
In The End!
If you don't have or don't want to utilize curtain rods in any form, the 5 Unconventional Ways to Hang Curtains Without a Rod listed above are for you. Use any of the preferred ones to make your perfect curtain hanging style stand out!
FixingExpert is here to help you out with curtains hanging without drilling & get installed without damaging the walls.
Read more.