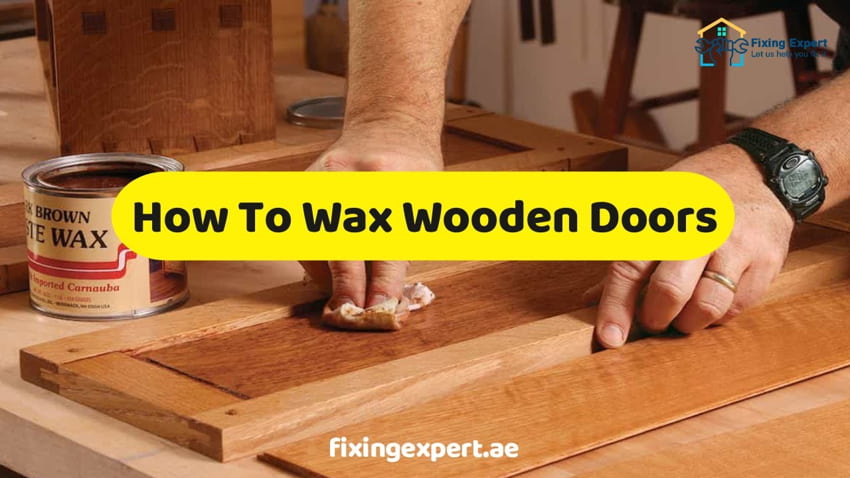 Waxing wooden doors is a great way to protect them from dirt, water, and other damage. Additionally, it offers the door a wonderful sheen that might enhance the invitingness of your house. Read on for some advice if you're looking to learn how to wax wooden doors.
Although it is possible to purchase a can of wax designed specifically for treated wood, it is not necessary. You can use a variety of common household products to get the job done, including lemon oil, olive oil, and even mayonnaise. Just make sure to avoid using products that contain petroleum jelly or wax, as these can actually damage the wood.
Essential Steps On How To Wax Wooden Doors
Waxing your wooden doors is a great way to protect them from water damage and scratches. It also makes things appear brand-new and sparkling. However, before you start waxing, you need to make sure that your doors are clean and free of dirt and debris.
Keep your wooden doors looking their best by regularly waxing them. Wax protects the wood from dirt and moisture, and it also gives the door a nice shine. Although you can buy door wax at most hardware stores, it's easy to make your own door wax at home.
To make door wax, you will need the following ingredients:
– 1 cup of beeswax
– 1 cup of carnauba wax
– 1 cup of mineral oil
– 1 tablespoon of lemon juice
Instructions:
Combine all of the ingredients in a double boiler or a heat-resistant bowl set over a pot of simmering water.
Stir the mixture until it is completely melted and combined.
Pour the wax into a clean, dry jar after removing it from the heat.
Consequently, how do you wax a wooden door? It simply takes a few minutes to finish the procedure, which is actually quite straightforward. The steps you must take are as follows:
Start by using a soft cloth to dust the doors. Getting rid of any dirt or debris that can hinder the wax from sticking to the wood correctly will assist.
A clean cloth should be used to apply a light coat of wax to the door. Be certain to cover the door's whole surface, including the edges and top.
After the wax has been uniformly applied, rub the surface with a soft cloth.
After the wax has dried for about 30 minutes, polish it with the towel to a sheen.
To Sum Up!
Keep your wooden doors looking their best by regularly waxing them. A lot of homeowners prefer wooden doors because of their timeless beauty and dependability. But in order to keep them looking their best, they need routine maintenance just like any other kind of door. This also entails routinely waxing them.
It is a simple procedure that only takes a few minutes to wax your wooden doors. But in order to avoid harming the door, it's crucial to do it properly. We've provided you with a step-by-step tutorial on how to wax wooden doors in this post, along with some advice on the finest supplies to use.