When you think about making your basement more decorated, enchanting, and touchy, carpets are a popular subject. There are a number of varieties of carpets available, so you get confused about which one to choose for your basement.
What Is Different About Basements?
Basements are always damp/moist because they are close to the ground. A wet basement can develop a nasty smell. It is mainly caused by mold, rot, and dust mites. Generally, synthetic carpets are preferably used for carpeting basements. This guide will assist you in finding the best carpet for your basement.
Why Synthetic Carpet For Basement?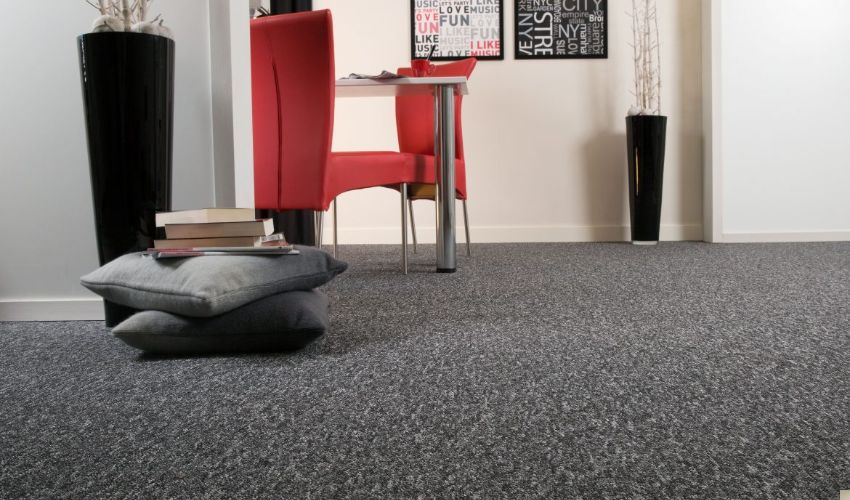 Basement carpeting is highly recommended to be completed with synthetic fibers because synthetic fibers repel moisture. Natural materials like wool or cotton are prohibited from being used for carpeting basements as they can absorb water and moisture. Synthetic materials have stain protection and can easily be cleaned. The following are different types of carpets that can be used in basements:
Most Common Basement Carpet Types
Nylon carpet
Polyester carpet
Olefin carpet
Triexta carpet
All the above carpets are manufactured with synthetic fibers, which are always the best option to be used for carpeting basements. This blog will give you enough information that will enable you to choose the best carpet. Let's discuss the above carpets with their pros and cons.
Nylon Carpet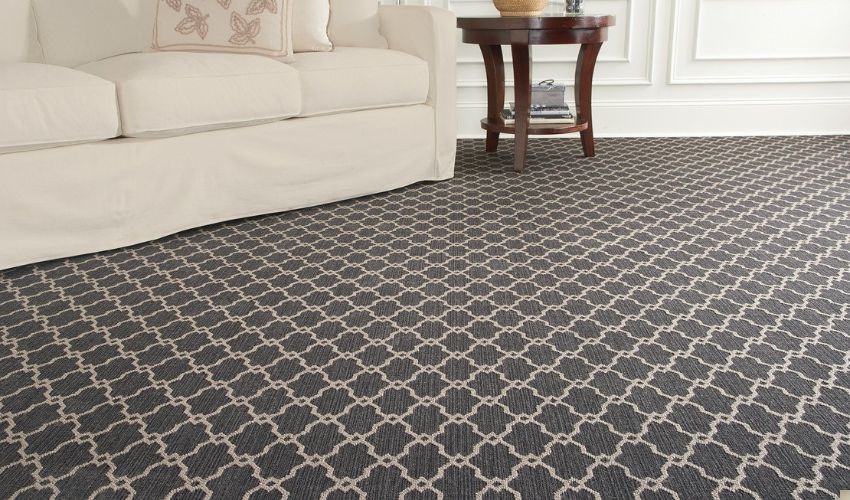 If you are looking for durable, soft, and moisture-resistant carpets for your basement, nylon is a nicer option for you. Nylon carpets can be installed in those basements that are used as event halls or for entertainment.
Pros
It is more durable.
It is easy to maintain.
It provides stain protection.
Cons
It is comparatively expensive.
It is less soft comparatively.
It produces an electrostatic charge.
Polyester Carpet
If you are looking for a collectively versatile carpet, go for a polyester carpet. The polyester carpet provides protection against accidents, spills, and moisture. Polyester carpet is better to use in storerooms.
Pros
It is durable/reliable.
It is easy to clean.
It is made from the recycling process of bottle caps and tires.
It is less expensive than other carpets.
Cons
It is not suitable for high traffic locations
It requires more care.
Olefin Carpet
Olefin carpets are manufactured from plastic bullets and recycled materials. They also protect your basement from excessive moisture. Olefin based carpets looks like wool and is stain-resistant. It is reliable and comfortable to boot. It is used where foot traffic is very low.
Pros
We can use it both indoors and outdoors.
It is also moisture resistant.
It is stain-resistant.
Cons
They are easily torn and worn.
It will be worn soon in high foot traffic.
It is not resilient as others.
Triexta Carpet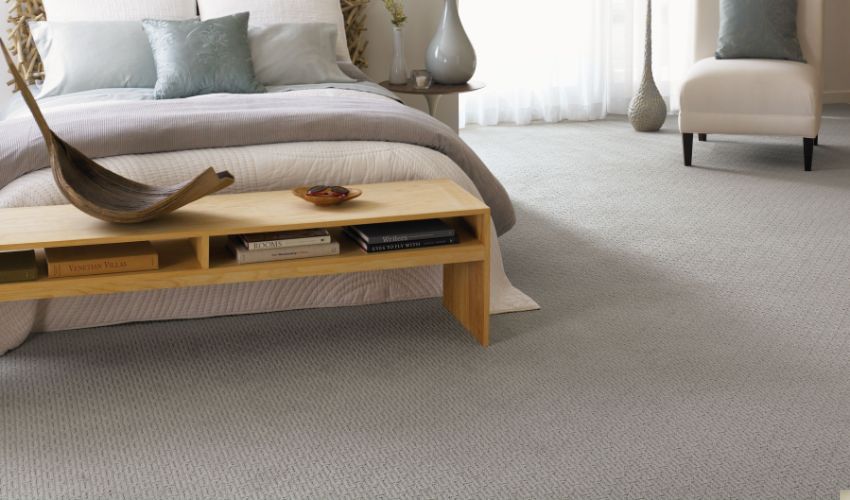 Triexta carpet is a luxurious and the latest type of synthetic fiber. Triexta is the subclass of polyester. It looks like nylon, but it's more reliable and durable than others. For its reliability, triexta is also the best option to use in basements that are used for entertainment.
Pros
The most reliable and durable.
It can be used for high traffic.
It has more resistance against moisture.
Cons
They produce electrostatic charge.
They trap dirt because of electrostatic.
Their cost is very high.
You have studied the best types of carpet for your basement, but you are still not clear on what to choose. Sometimes you get confused when you have many best options to choose from. Don't worry, keep reading this blog. I'll show you how to select the best carpet for your basement.
How To Select Perfect Carpets For Your Basements? | Complete Guide
There are some important factors that will help you select carpets for basements. These are the qualities that you must keep in mind when you go to select a carpet.
Waterproofing
Sectioned or not?
Material Type
Padless or not?
The pile of the carpet
Some homeowners may need waterproof carpets, some may need sections. You may choose your carpet based on the material it is made of. Some of you are looking for a pile carpet, which is perfect for your basement, which we are going to reveal now. Let's see which one is perfect for your basement.
Waterproofing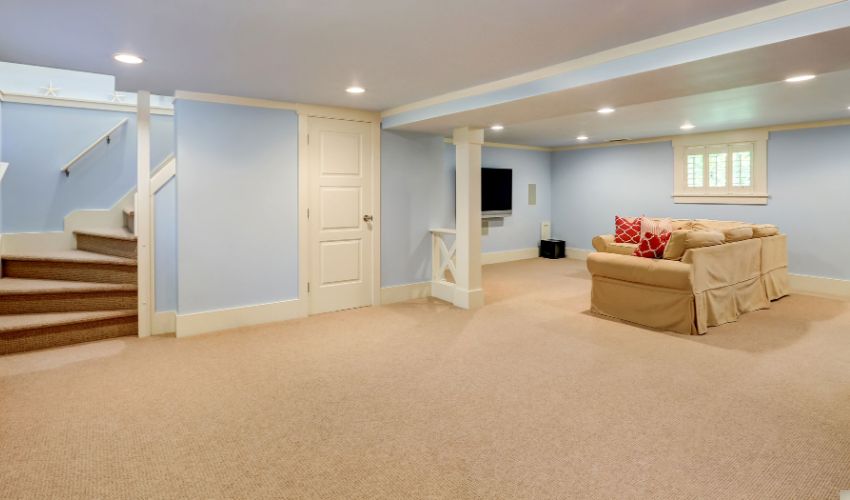 There are lots of carpets that absorb water. That is why they get damaged soon when we expose them to water for any critical reason. Whenever you are going to choose a carpet for basements, always buy a waterproof carpet as it will be reliable and have better results.
Sectioned or not?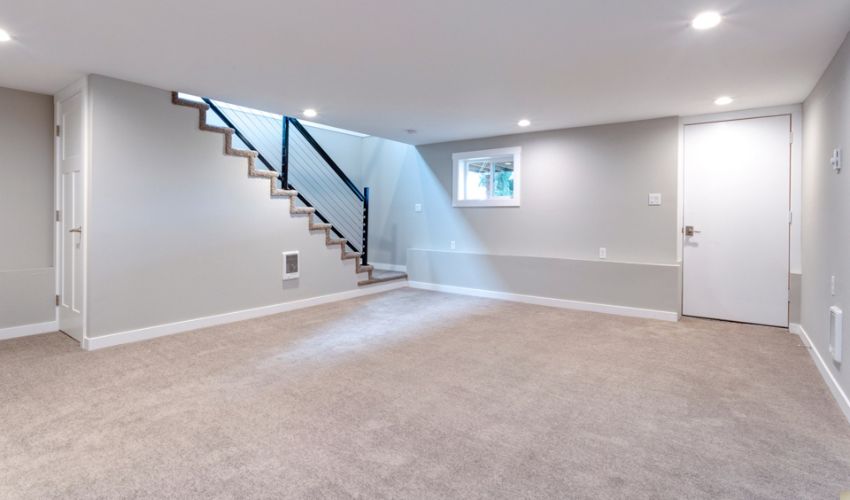 People make a mistake in this selection when they opt for wall-to-wall carpets. Wall-to-wall carpets are fine, but they cause big trouble when they are exposed to water and get damaged.
In this situation, you either cut the damaged part or have to replace the unbroken carpet, which is not as easy as it seems. Therefore, decide to have a sectioned carpet. You can replace the damaged part easily. You won't need to replace the whole one.
Material Type
There are two types of materials; one is synthetic, which means man-made, and the other is natural carpet material. Natural material absorbs moisture, which is not suitable for basement usage. So, select synthetic carpet as it doesn't absorb moisture and will keep the basement warm.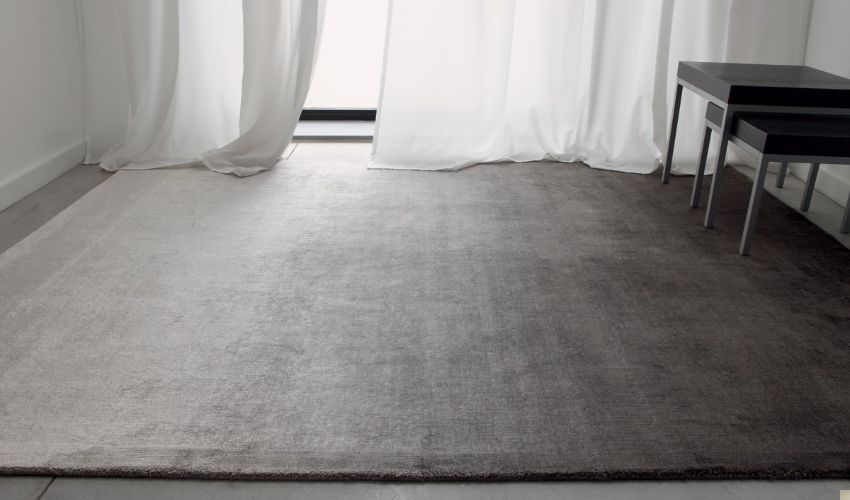 Padded or Padless
Padded carpets are also good to use in your basement as they are warm and soft, but they act like sponges, which is why they will take in moisture, which you never want in your basement. Because it will make the environment cold again and cause discomfort in the basement. Hence, find a padless carpet for your basement for better comfort and reliability.
The Pile of Carpet
Carpet comes in mostly two pile options: low-pile and high-pile carpets. Low-pile carpets are less thick carpets, and high-pile carpets are thicker carpets. High-pile carpets are difficult to install, wash, clean, and dry, whereas low-pile carpets are easy to install, wash, clean, and dry. You should definitely go for low-pile carpets in your basement.
It was all about the best carpets, their pros and cons, their features and materials. You are now able to select the ideal carpet for your basements.
10 Best Basement Flooring Ideas

Conclusion
Based on the usage of your basement, budget, durability, and foot traffic, you can decide what carpet to use in your basement.
If you use your basement as a storeroom, install polyester carpet as it is inexpensive and moisture repellent.
If you use your basement for the event hall, install nylon carpet, or preferably triexta.
If you don't want more durability and save your money, go for the olefin carpet.