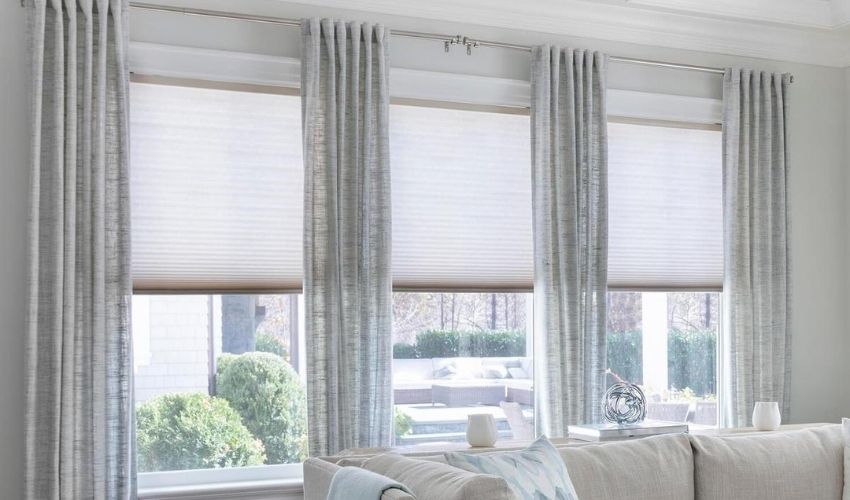 Curtains and blinds both are the best treatment for windows. Both gave the privacy and block-out lighting features. Some people have a question: do curtains and blinds go together? The answer is yes; you can use blinds and curtains together.
Blinds & curtains can work together on the same window. When we use blinds and curtains together, they can easily block out any excessive light. Using curtains with blinds behind will give an aesthetically pleasing look to your room's interior.
You can get more privacy by pairing blinds and curtains together, and no one can see the view inside the house. Various blinds are present that can easily be combined with the curtains. But for many people, it is the most challenging task to choose the right blinds and curtains that can blend and enhance the room's interior decor.
We have brought this article for you to help you cope with this problem. In this helping guide, you will learn about the best ways to blend the multiple window treatments.
Reasons To Use Blinds and Curtains Together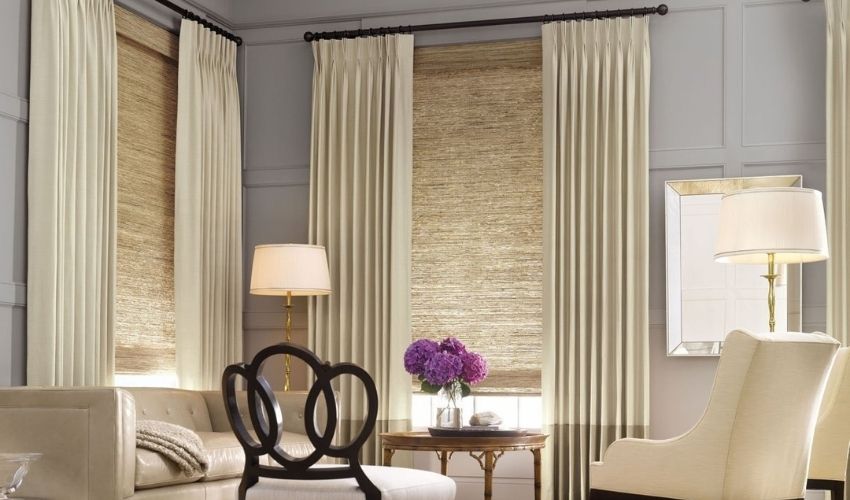 Although installing bedroom blinds and curtains together on a single window will be expensive, there are some outstanding benefits that we can't neglect. When we use curtains and blinds together, we will get the following benefits:
Blackout Curtains and Blinds Block the excessive light 100%. You can allow varying amounts of light to come into the room as you desire.
You can keep heat in the winter by closing the curtains and blinds.
You can also keep your room cool by blocking the sunlight that heats your room. Your room temperature will remain normal by closing both blinds and curtains, and you don't need to run the air conditioner 24/7 in summer.
Match the vibrant design with solid color, mix, and get excellent eye-catching results.
You can close curtains for privacy concerns while leaving the blinds open for natural light.
How to Use Blinds and Curtains Together?
Although there is not only one exact way to blend the blinds with curtains, there are a few guidelines. You can follow these rules and prevent your room from resulting from a mismatched disaster.
You can decorate your room using multiple window treatments by following a few steps:
1. Choose Right Blind Style
The first step is to choose a blind style that goes great with the curtains. Not all blind styles work well with all curtain styles. Also, you can't use the same type of blinds in all rooms of your home. To create a decent and cohesive look, choose different blind styles while in the same color. Roller blinds with any kind of curtains work absolutely fine in your bedroom and give a beautiful look as well.
2. Choose Curtains Style
You can use several types of curtains that can match your blind style. This Includes single-panel curtains, pencil pleat curtains, eyelet curtains, etc. The pleated style curtains usually mix well with the blinds, but simple designs look more modest with the blinds. Selecting the right style depends on the preference that you are trying to create.
3. Match and mix the Colors
The first trick is to avoid choosing the different prints of curtains and blinds. Because the patterns will give an ugly look with blinds. Try to choose solid colors of curtains that match with blinds. You can also choose solid color blinds that fit easily with custom-made printed curtains.
This will create a decent and fantastic look. You can choose different colors and prints for each room.
Types of Blinds and Curtains Go Great With Each Other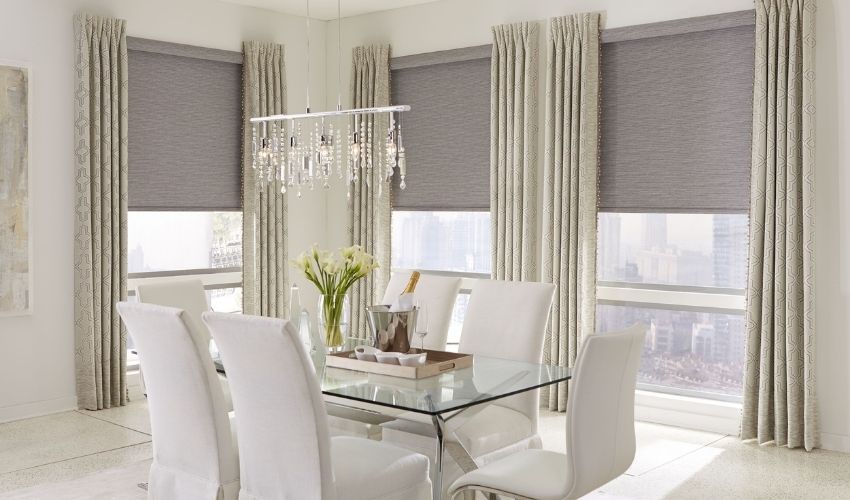 Some people want to put multiple window treatments on a single window but get confused and wonder about do curtains and blinds go together. Choosing the best blinds and curtains that can blend perfectly is a heck for many people.
Try these tricks for selecting the correct type of blinds and curtains that can go great with each other. Let's look at blinds and curtains together ideas:
Lines curtains with Roller blinds.
Chiffon curtains over honeycomb blinds.
Lines or sheer curtains with shutters.
Sheer curtains with Venetian blinds.
Shutters over Roman blinds.
Sheer curtains over blackout roller blinds.
These combinations would create the best designs and give your room's interior an aesthetic look.
Few Tips on Installing Curtains and Blinds Together
Installing the drapes and blinds together accurately is another major problem for many people. Therefore, we are giving you a few tips on hanging the multiple window treatments together in the right place.
You can install the curtains and blinds together perfectly so that not give an odd look by following these steps:
Take the Perfect Measurements
Measurement plays an essential role while installing blinds and curtains together. This step can make or break the entire look of your room. So try to take the exact measurements to make blinds and curtains go together perfectly.
These measurements include:
Height of blinds.
Width of blinds.
Height of the curtain rod.
Height of curtains.
Width of curtains.
How to measure for curtains in 2 minutes?
Use Long Blinds with Wide Slats
Using the long blinds with wide slats makes your windows look taller and wider, giving a fantastic look to your rooms. Try to measure the extra width and height for the blinds compared to the window frame size.
Use Long Curtains
Installing long curtains will help you cover the blinds perfectly. To get the best results while using multiple window treatments, hang the curtains higher than your window blinds.
This will create a luxurious and stylish look give you more privacy and block out light options. Small size curtains will provide an ugly look when they cannot adequately cover the window and blinds.
Apply Different Window Treatments for Different Rooms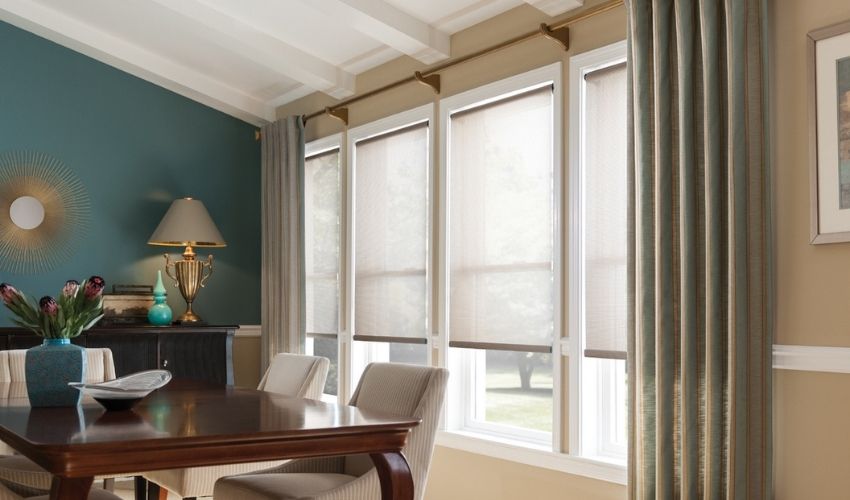 Try to match different styles of curtains and blinds in each room. Use different colors, patterns, textures, and fabrics to enhance the look of your windows. This will create a distinct and decent look for each room which is an excellent thing for the interior design of your home.
Conclusion
This is all about Do Curtains And Blinds Go Together? I hope this article will be helpful to you if you are also facing problems like that. You can easily cope with such a situation by following the guidelines mentioned above. If you got nothing, you could ask by posting a comment. Fixing Expert is a trusted interior fitout firm in Dubai, We love to listen to our customers and clients, so do not hesitate to ask your questions from us!
Read more.